Tropical Boho Wedding with Mountain Backdrops
Tropical Boho Wedding with Mountain Backdrops
8 / 29 / 19 | Inspirational Photo Shoots
Venue: Emerald Peak
Photography: Alison Brynn Photography
Event Planning: Alexi Events
Menswear Style: Rose Pink Suit with a green velvet bow tie
When planning a topical wedding, do has those who live is tropical areas do….wear bright colors! Summer and spring weddings lend themselves to sunshine and good vibes, and that should show in your wedding- and even more we believe that it should show in your style. This amazing wedding shoot designed by Alexi Events and was oozing with tropic glamour. From the bold pink florals with palm leaf detailing on the uber chic geometric arch (or should we say triangle) at the ceremony, to the bright balloons covering the mobile bar at the reception.
We love that this wedding style was not afraid to be bold. The bridesmaids wore soft flowing floral gowns in various styles that are perfectly complimented by the groomsmen's light blue suits. The bride wore a trendy bohemian style gown with a lace bodice and thin straps, while the groom wore a bold pink suit with deep emerald green velvet bow tie. The group combination of pinks, blues, and green perfectly flows with the overall design and makes the photos pop with colorful excitement! Want to have a fun combination like this for your own bridal party? Take a look at our gallery to see all the colorful combinations available for you today!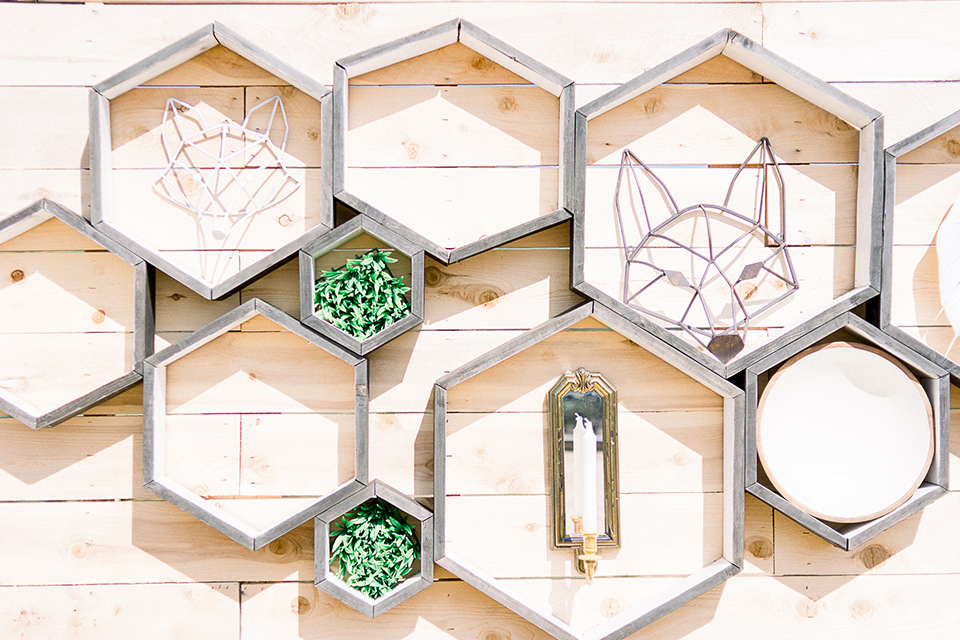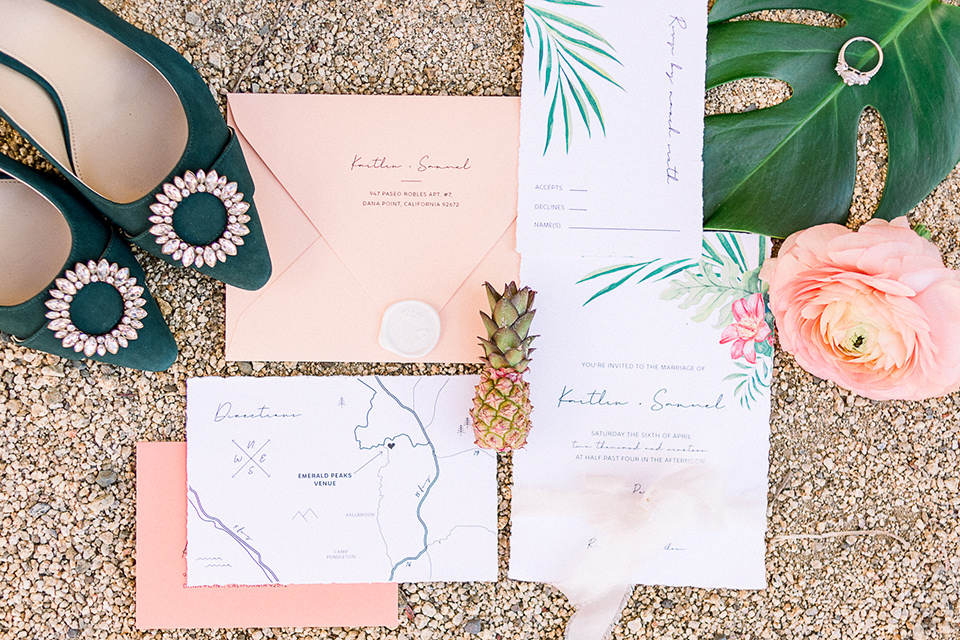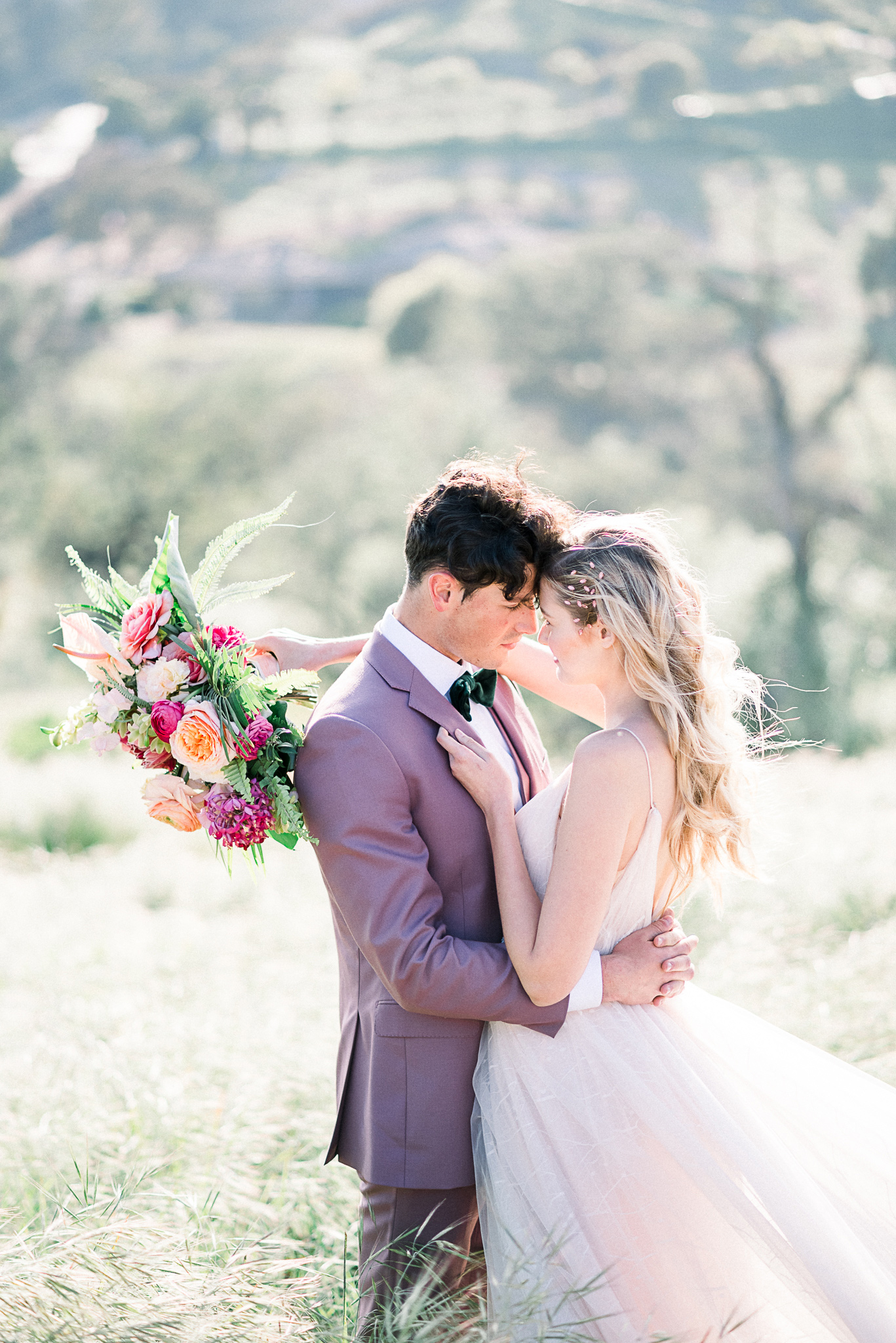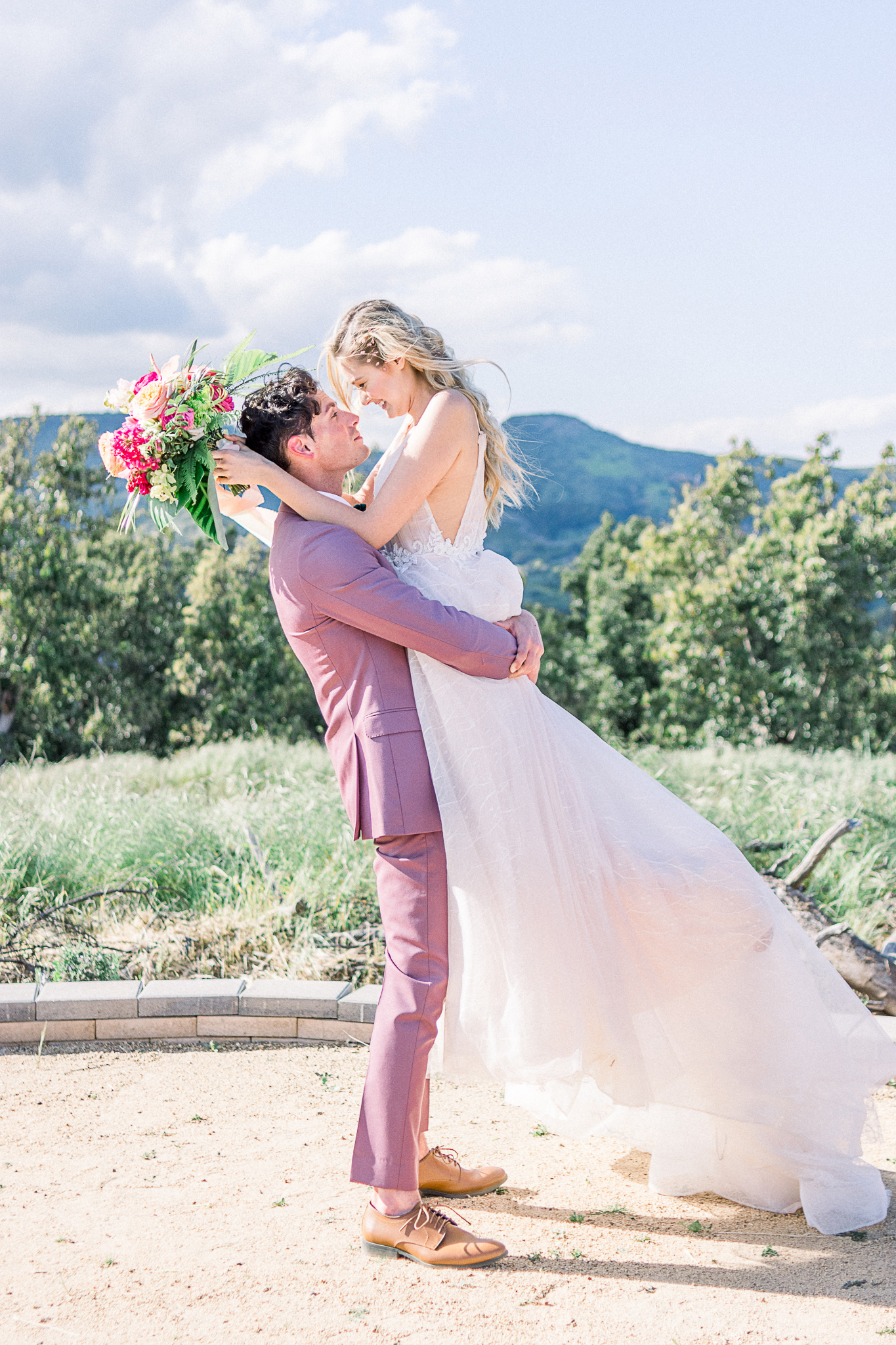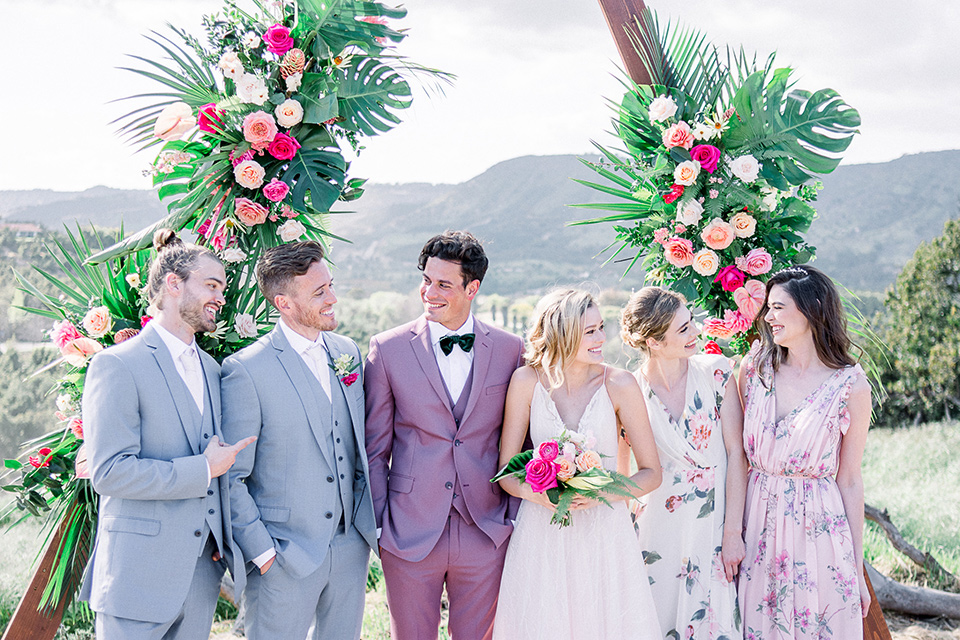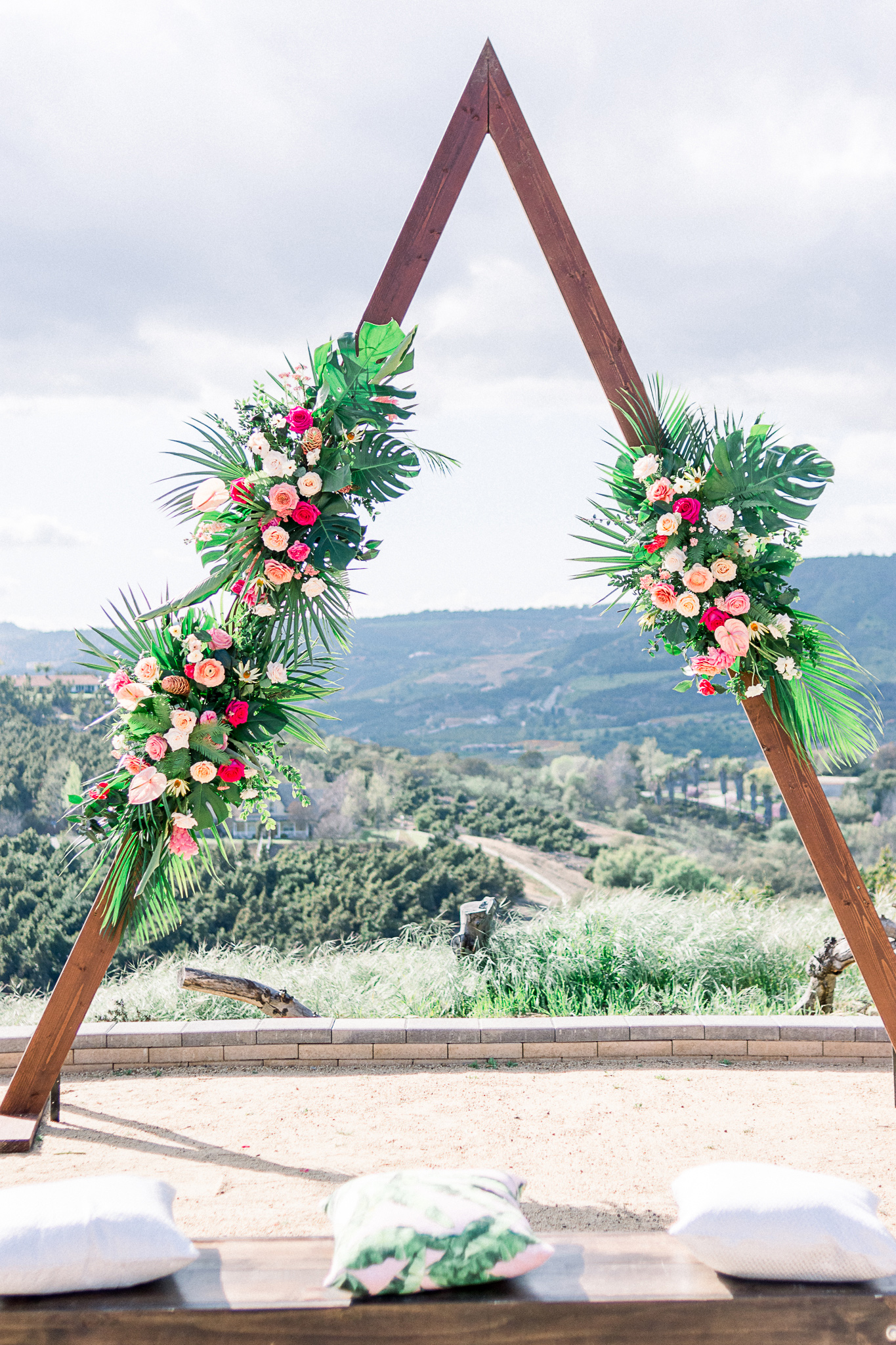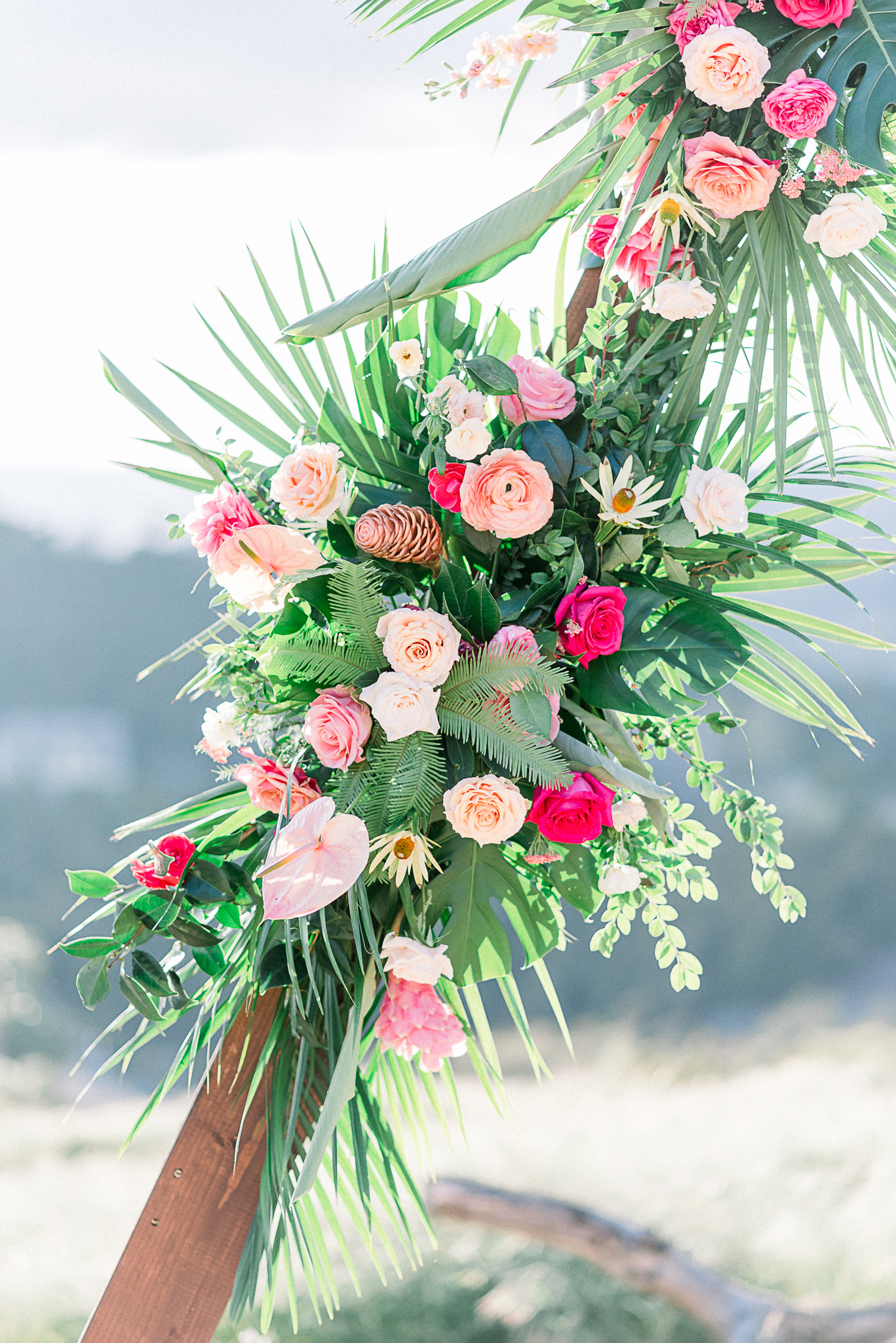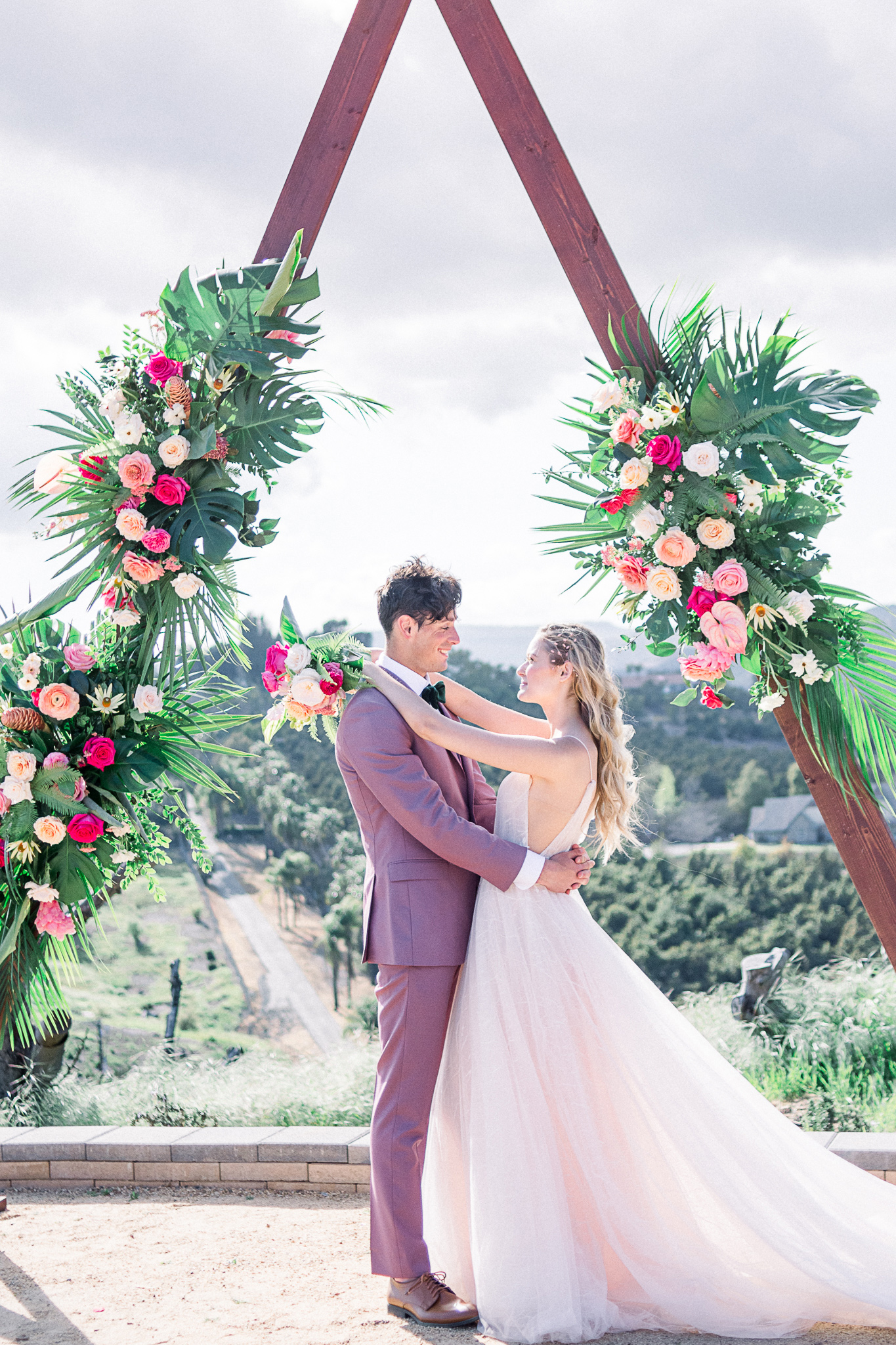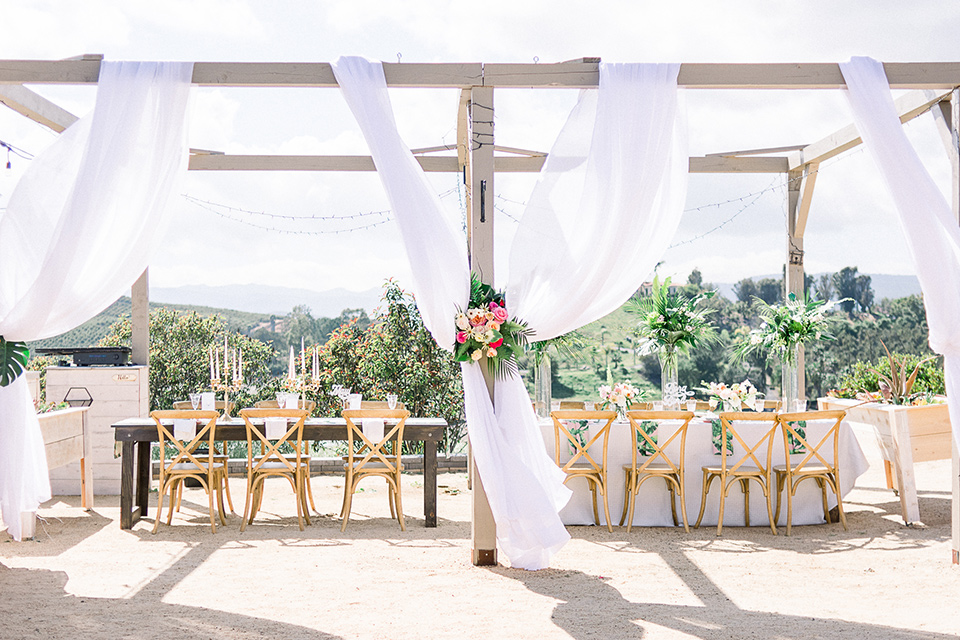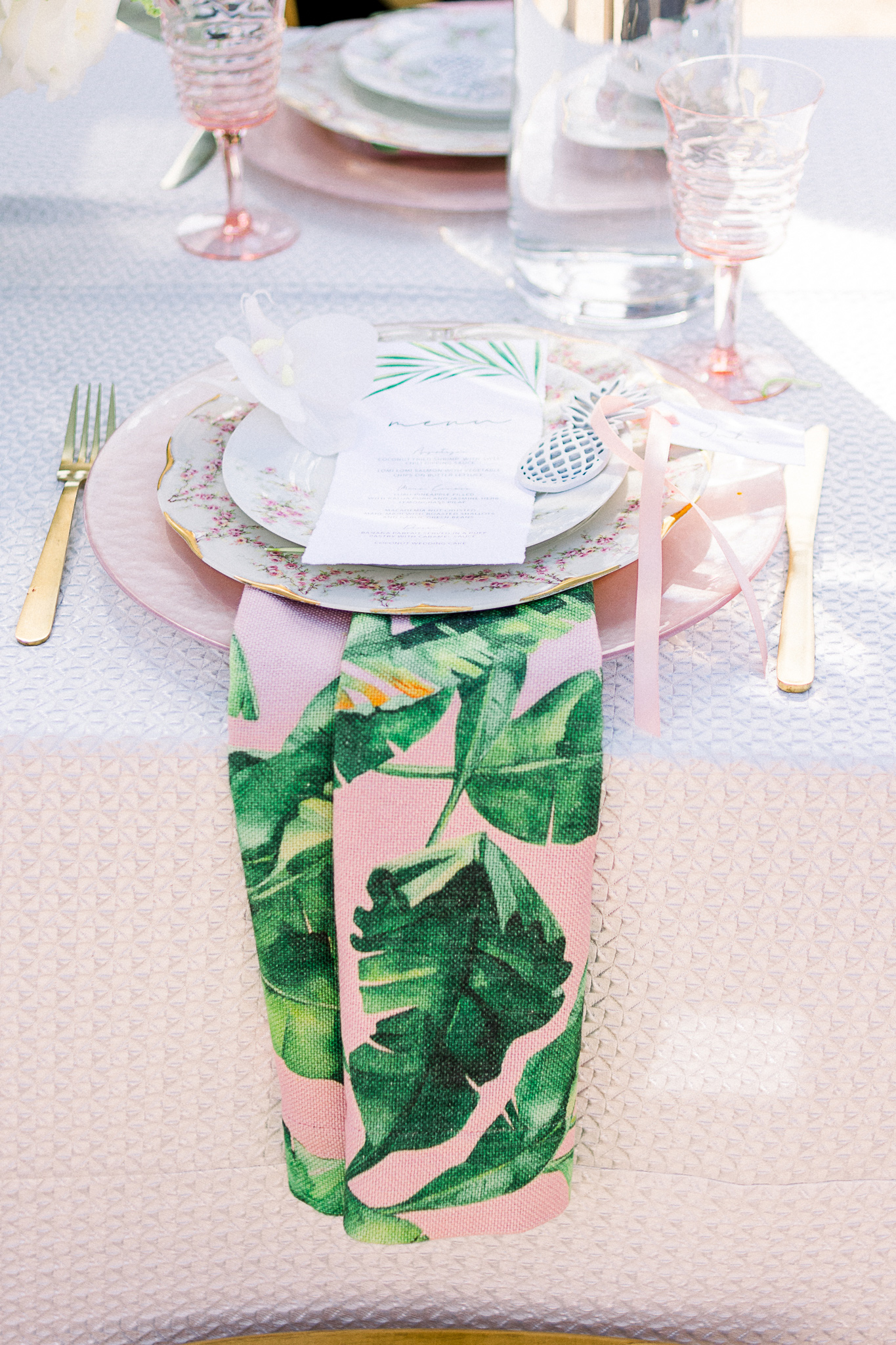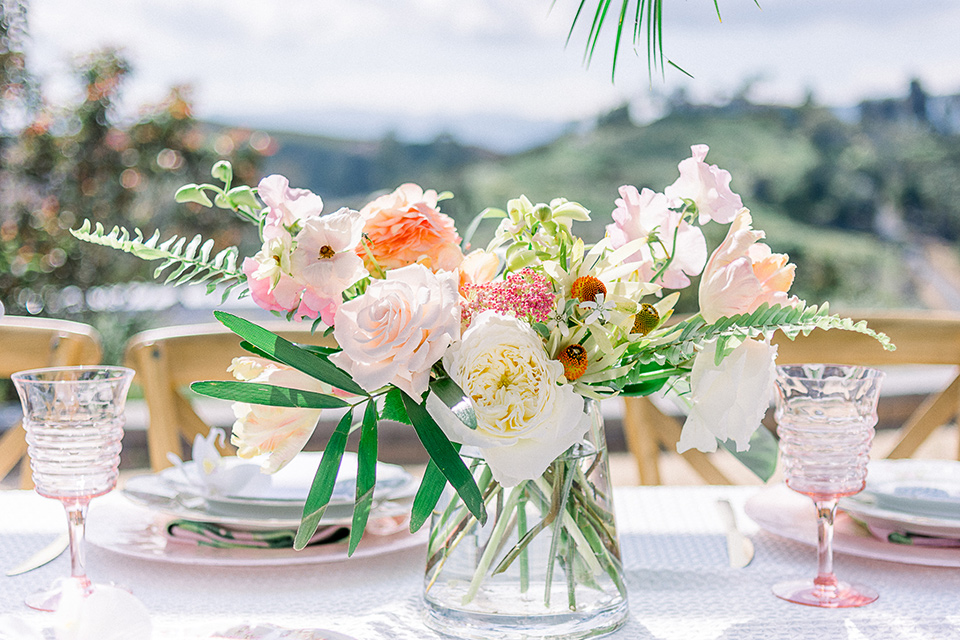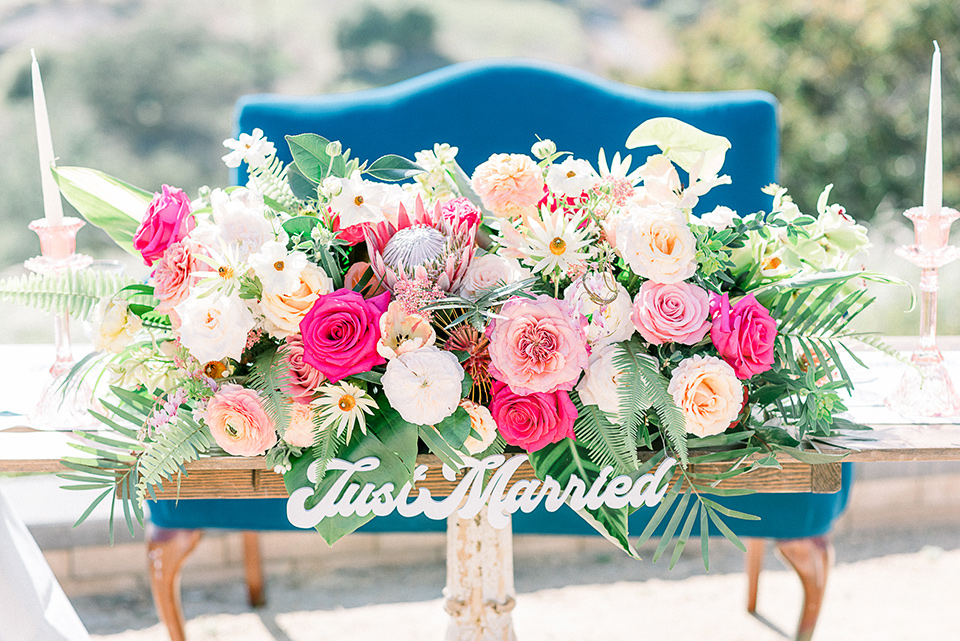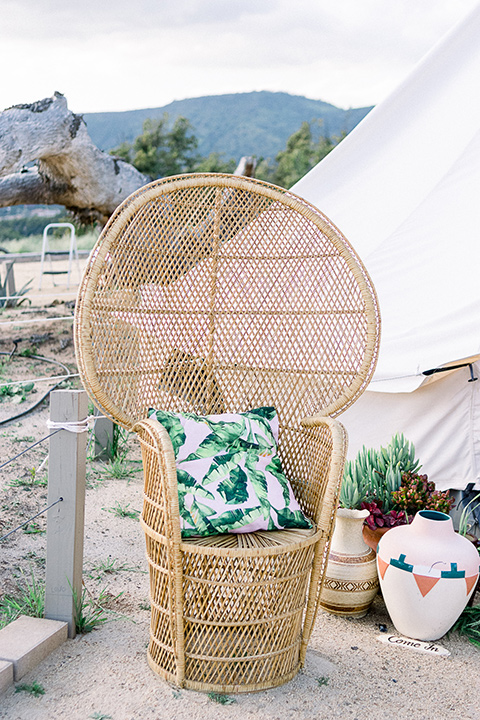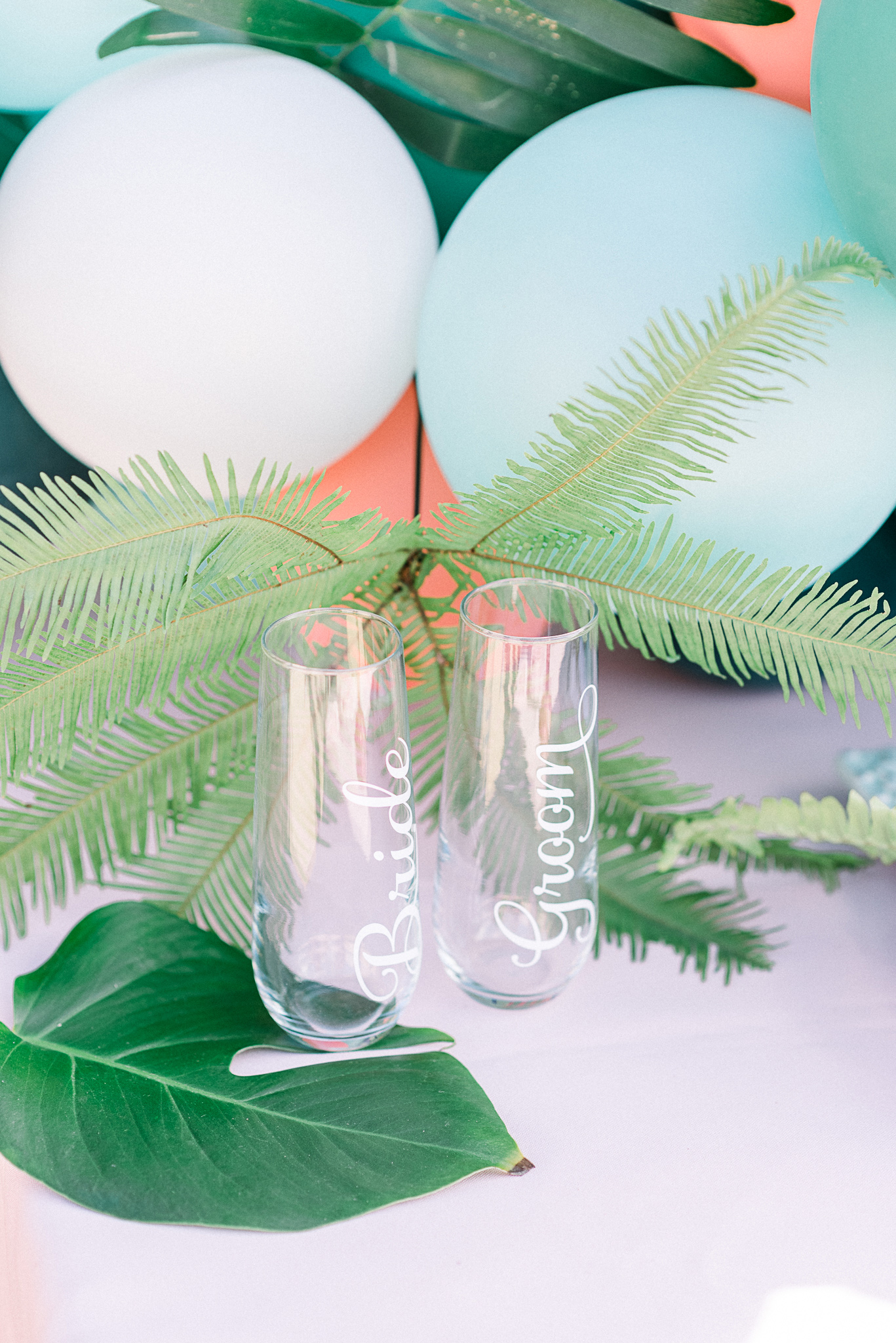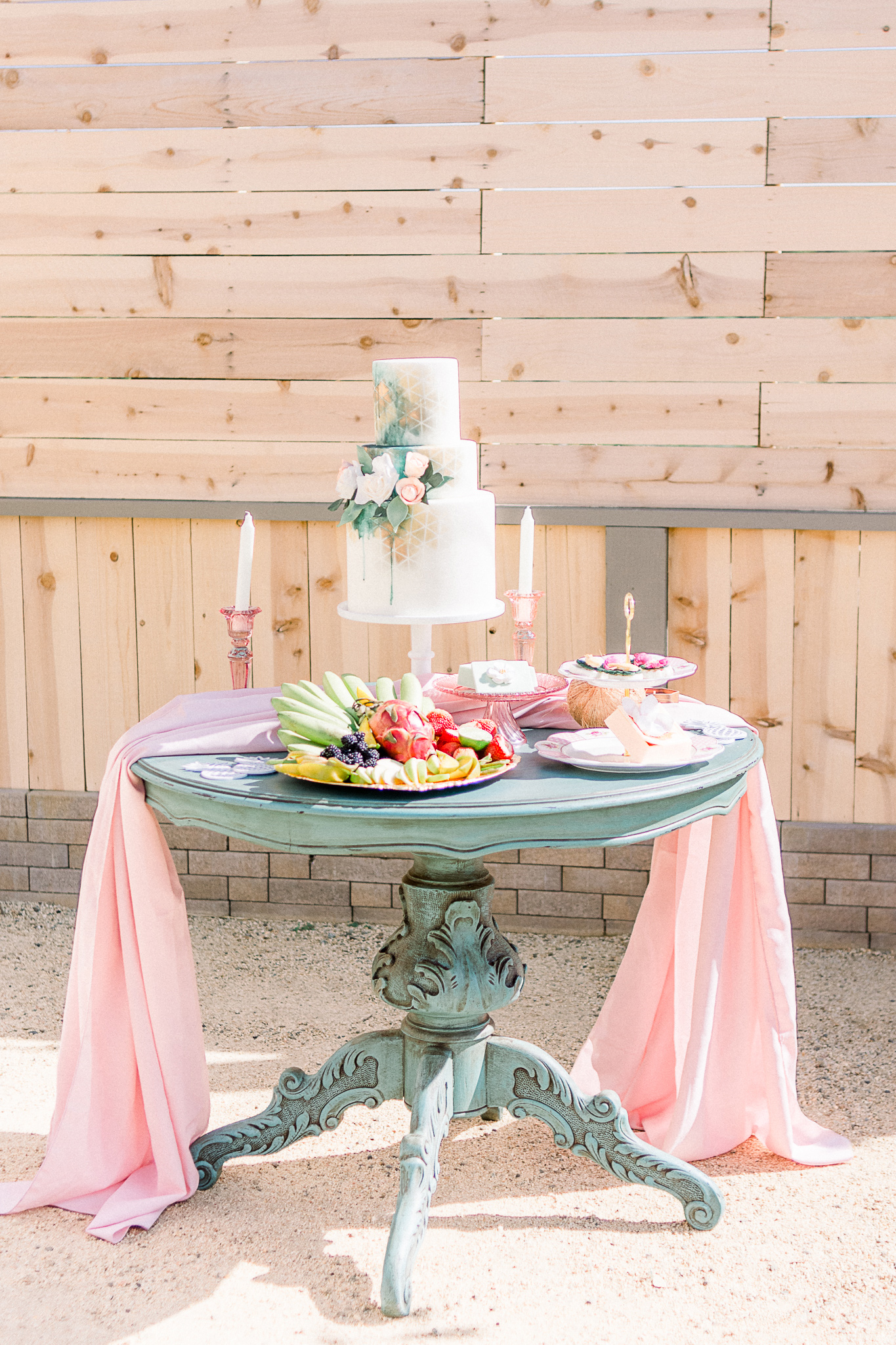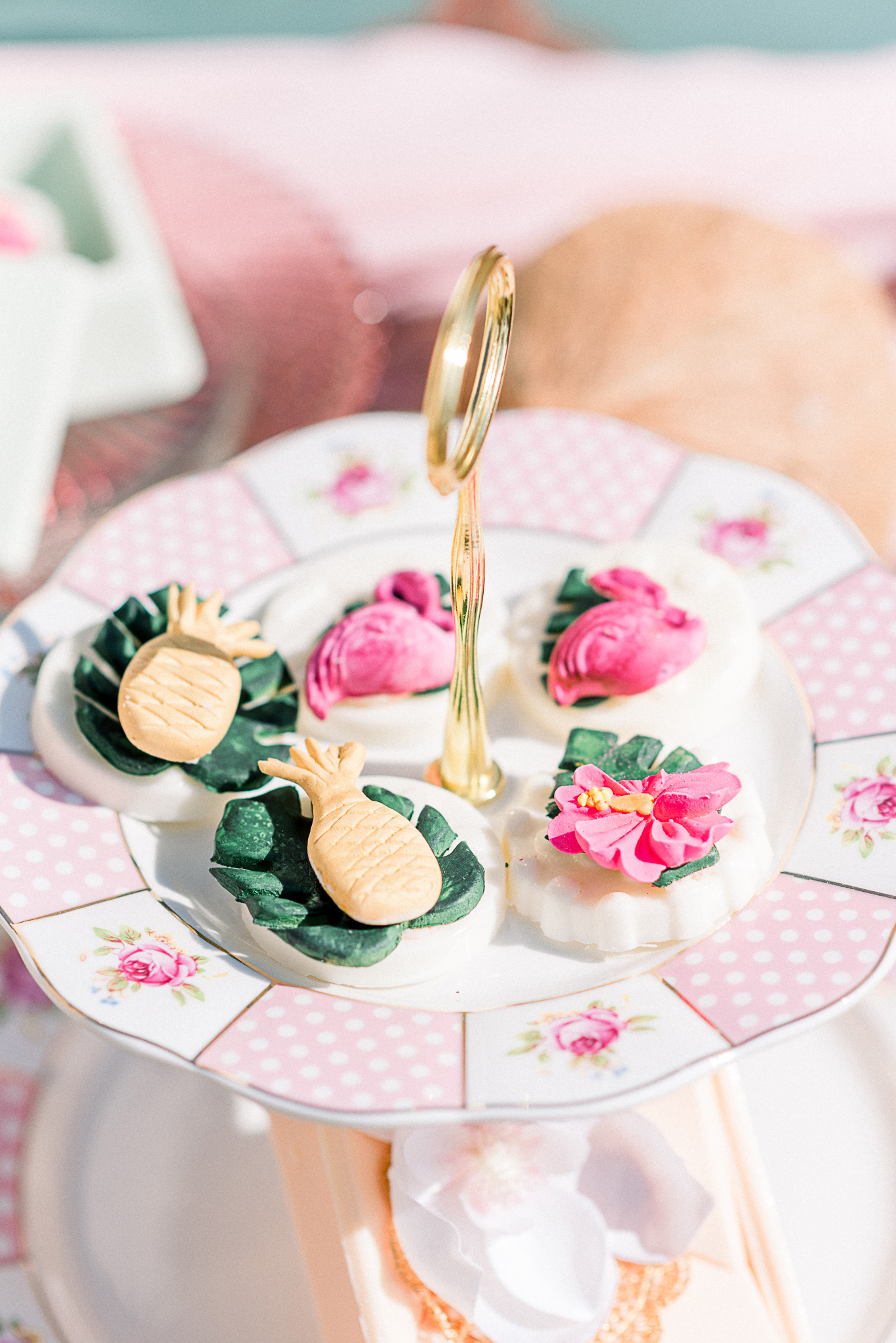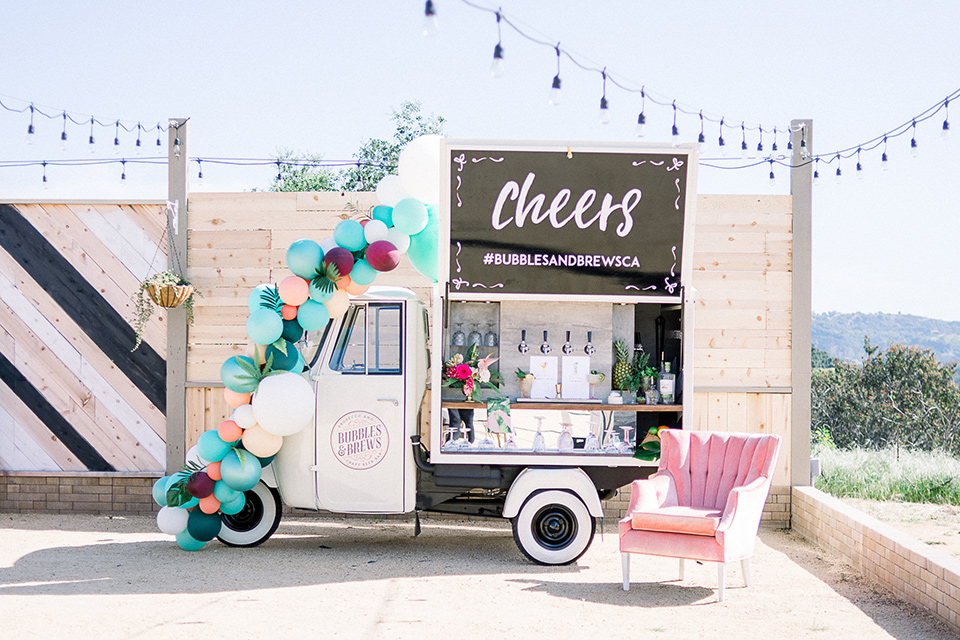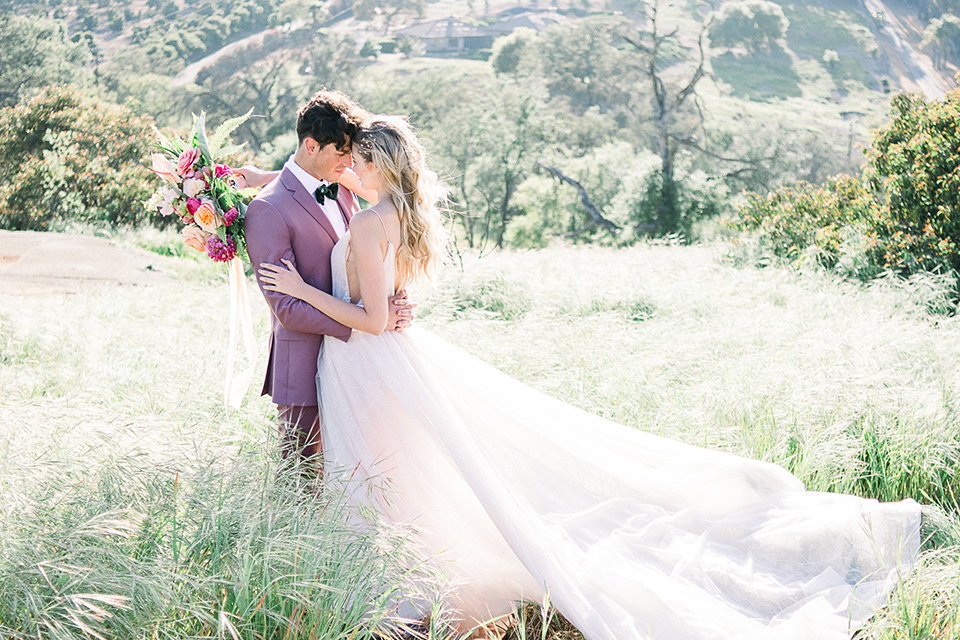 Invitations + Paper Goods: Kokomo Creative | Custom Laser Cut Signage: Invitation Maven | Cake: Sweet + Saucy Shop | Drinks: Bubbles & Brews | Rentals + Decor: Rustic Pony Co. + Touched by Time | Linens + Coverings: Nuage Designs | Balloons: Mommy Poppins Balloons | Hair Accesories: Epanoui Grace | Bridesmaids Gown: Bella Bridesmaid | Bridal Boutique: Mary Me Bridal | Florals: Taste of Honey Co.
MOST READ BLOGS
NATURE INSPIRED GRAND CAN...

22 / 5 / 17 | Inspirational Photo Shoots

Event Design: Deanna Nash Events
Photography: The Argus Image
Menswear Style: Slate Blue Notch Lapel Suit with a long silver tie

WOODLAND BOHEMIAN WEDDING

17 / 5 / 17 | Inspirational Photo Shoots

Coordination: Jenne Chanthaboury
Photography: Lin and Jirsa
Menswear Style: Gray Notch Lapel Suit with a long floral tie

PARK HYATT AVIARA BLACK T...

17 / 5 / 17 | Inspirational Photo Shoots

Venue: Park Hyatt Aviara
Photography: Evelyn Molina Photography
Menswear Style: Black Michael Kors Notch Lapel Tuxedo with a black bow

COLORFUL BOHEMIAN STYLE W...

16 / 5 / 17 | Inspirational Photo Shoots

Venue: Sherwood Country Club
Photography: Lucas Rossi Photography
Menswear Style: Navy Shawl Lapel Tuxedo with a black faux leather b

RUSTIC ROMANCE WEDDING

16 / 5 / 17 | Real Weddings

Venue: Villa San Juan Capistrano
Photography: Katelin Wallace Photography
Menswear Style: Navy Shawl Lapel Tuxedo with a black bow tie

HOW TO STYLE A WOMEN'S TU...

9 / 5 / 17 | Inspirational Photo Shoots

Venue: Franciscan Gardens
Photography: Christine Bentley Photography
Attire: Women's Black Shawl Lapel Tuxedo

2017 MET GALA BEST DRESSE...

2 / 5 / 17 | News and Events

The 2017 Met Gala theme was "Rei Kawakubo/Comme de Garcones: Art of the In-Betweens," check out how the celebs interpreted this on the red carpet

SAN FRANCISCO CITY HALL W...

1 / 5 / 17 | Inspirational Photo Shoots

Venue: San Francisco City Hall
Photography: Tenth & Grace
Menswear Style: Black Shawl Lapel Tuxedo with a black bow tie

BOHO CHIC VINEYARD WEDDIN...

14 / 3 / 17 | Inspirational Photo Shoots

Venue: Triunfo Creek Vineyards
Photography: Wisteria Photography
Menswear Style: Slate Blue Notch Lapel Suit with a long grey tie

LOVE STORY INSPIRED WEDDI...

13 / 3 / 17 | Inspirational Photo Shoots

Venue: Le Meridian Delfina Santa Monica
Photography: Anna Delores Photography
Menswear Style: Charcoal Gray Michael Kors Shawl Lapel Tu

CITY ENGAGEMENT PHOTOS IN...

10 / 3 / 17 | Inspirational Photo Shoots

Venue: The London House
Photography: Rosanna Hanson Photography
Menswear Style: Charcoal Gray Michael Kors Notch Lapel Tuxedo with a na