Teal and Marigold Wedding Under an Open Air Chapel!
Teal and Marigold Wedding Under an Open Air Chapel!
8 / 13 / 21 | Inspirational Photo Shoots
Venue: The Meekermark
Photography: Sarah McKenzie Photography
Event + Floral Design: Mibellarosa
Planning + Coordination: Two be Wed
Production: Ruffled Blog
Menswear Style: Dark Blue Notch Lapel Suit with a tan matte long tie
Looking for a wedding venue that is as unique as you are? Why not one with an open-air chapel reconstructed from a 200 year old barn?! That is the gorgeous details you get when you wed under the stars at The Meekermark.
This wedding design itself pulled far eastern elements, bold colors, and laid-back whimsy to create a unique and stunning I-do moment. We absolutely love the way the ceremony had romantic hanging flowers cascading down from the ceiling as the backdrop. The watercolor invitations in teals, blues, and corals pulling in more of the bold colors. We are also beyond obsessed with this cake by Becca Cakes with a watercolor style color scheme and koi fish details!
The bride wore a vintage wrap dress in a light cream color and her hair soft and flowing. The groom wore our Dark Blue Notch Lapel Suit that fit him like a dream and paired his look with a light champagne/tan matte long tie to keep his look bold in color, and soft with the accessories.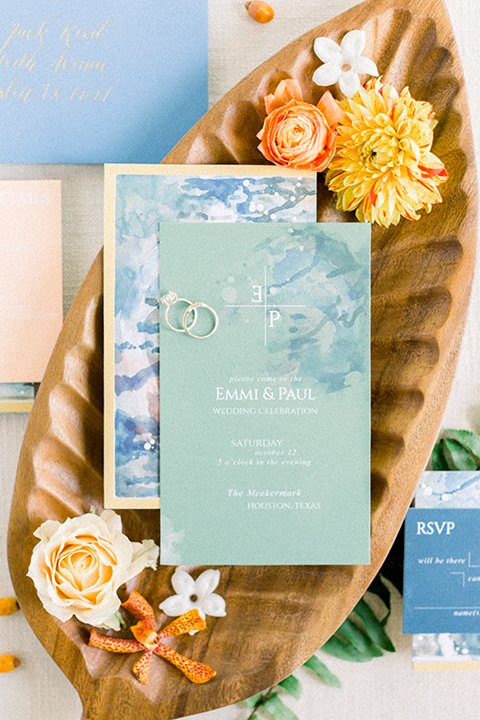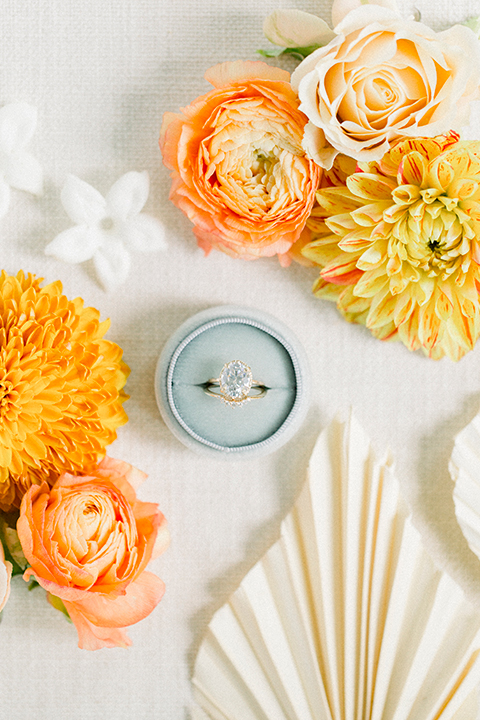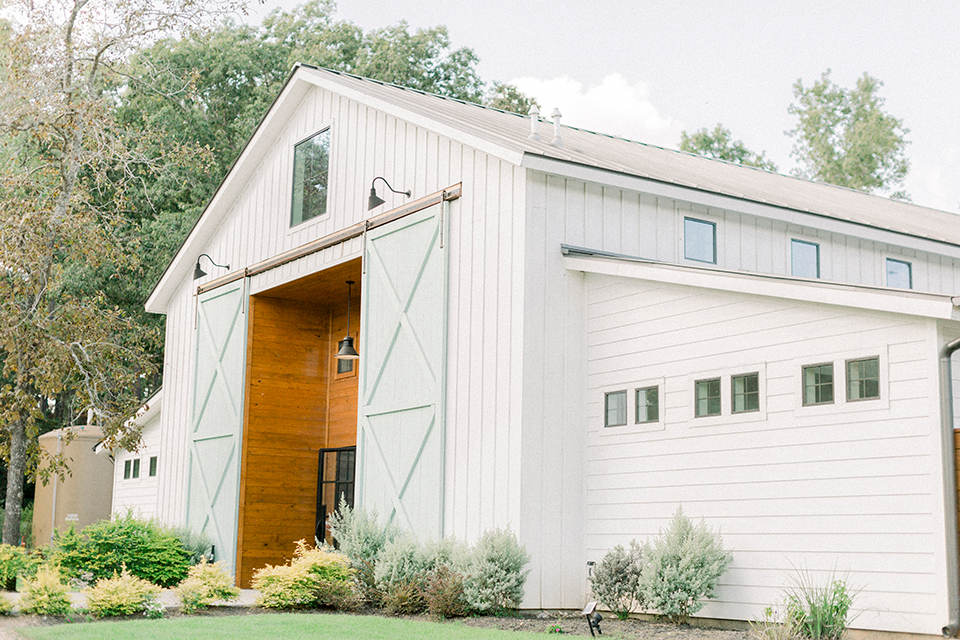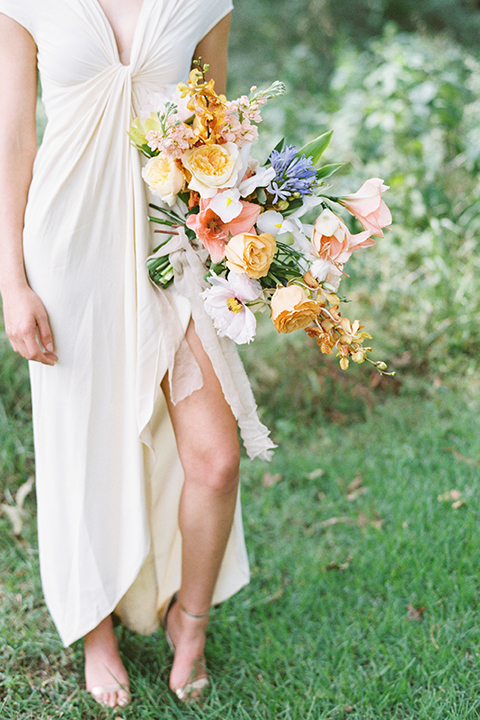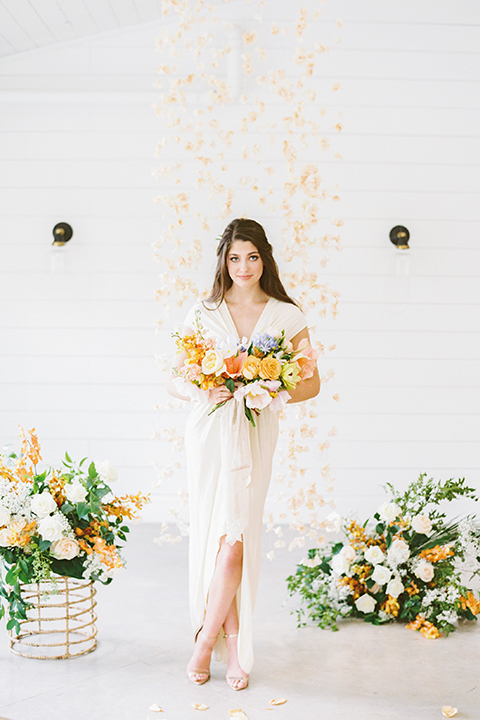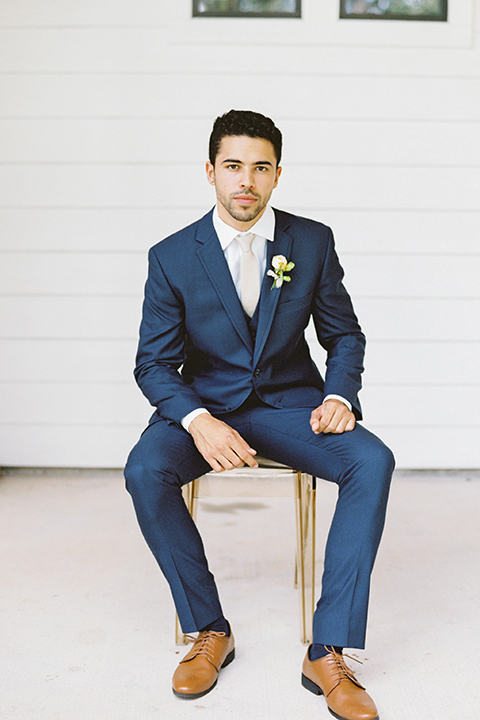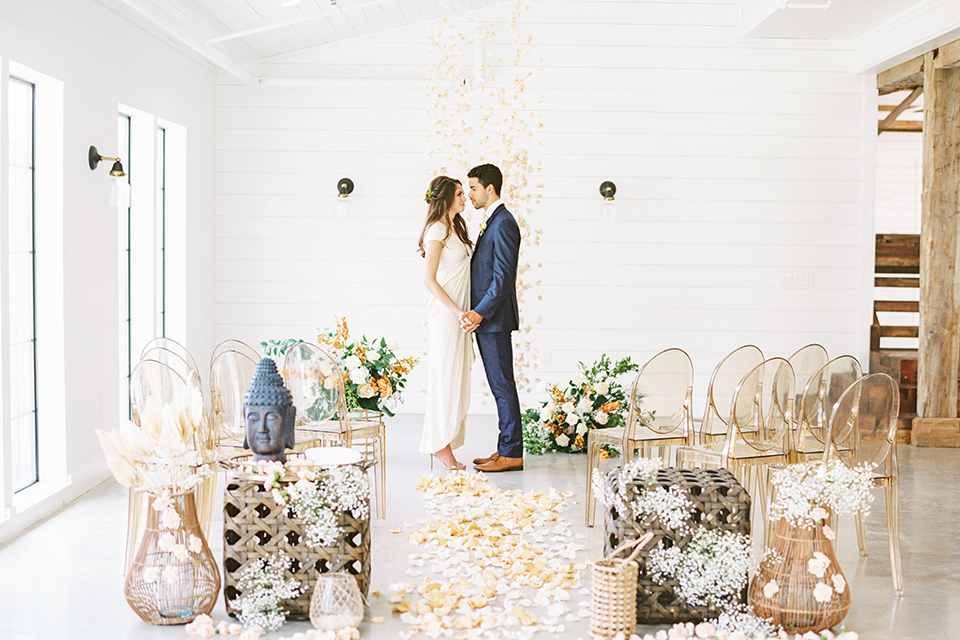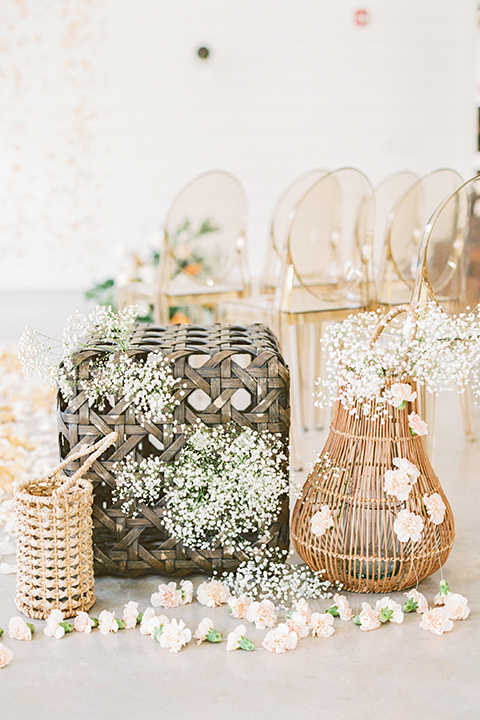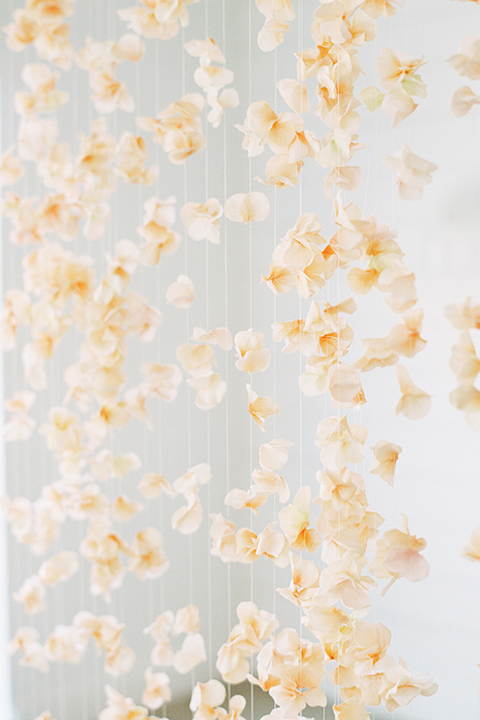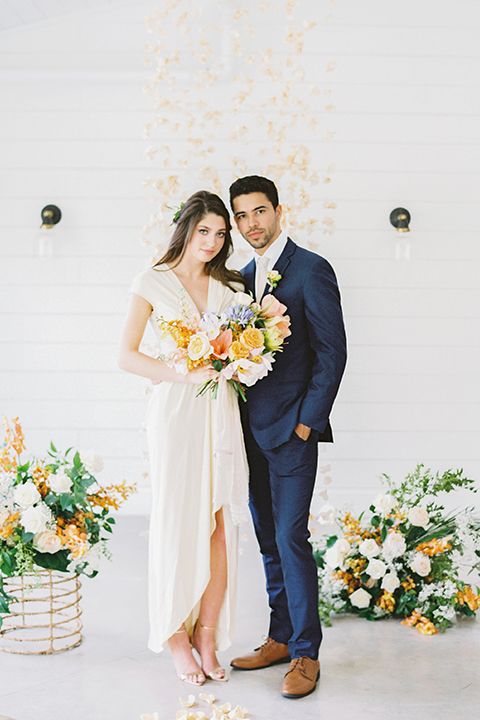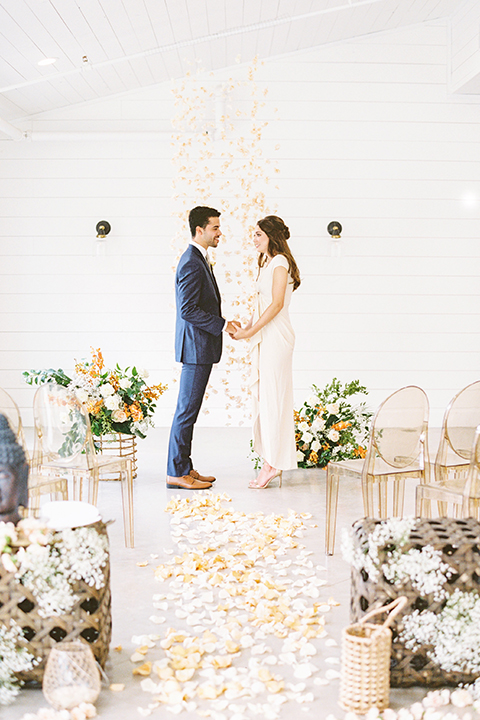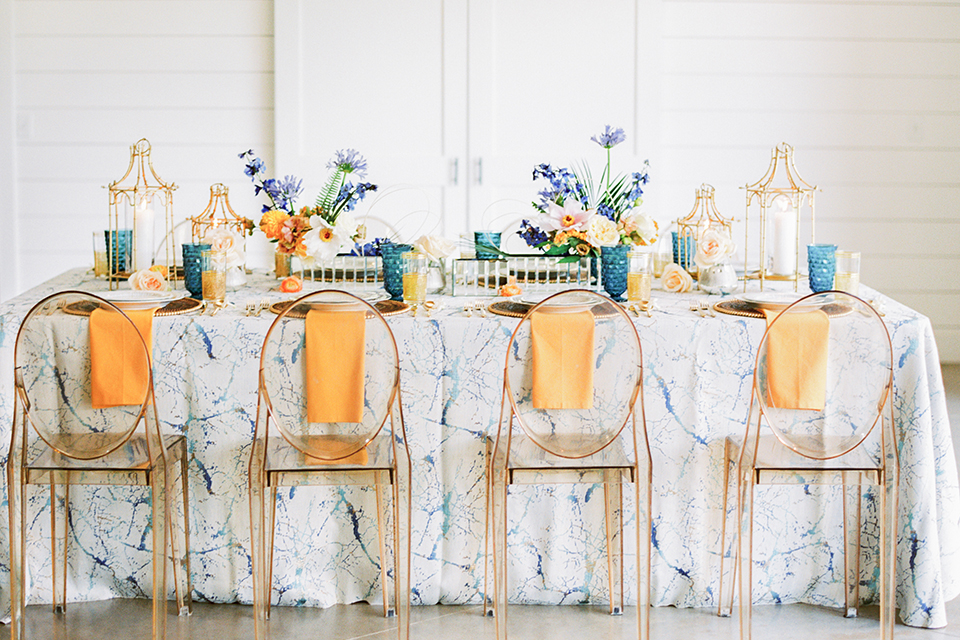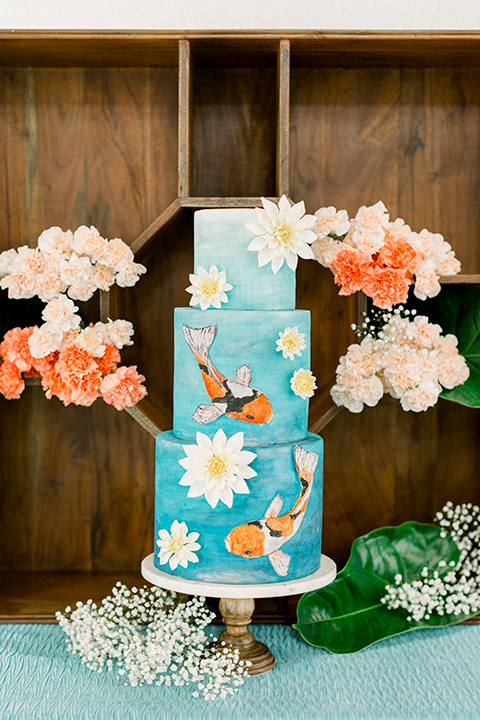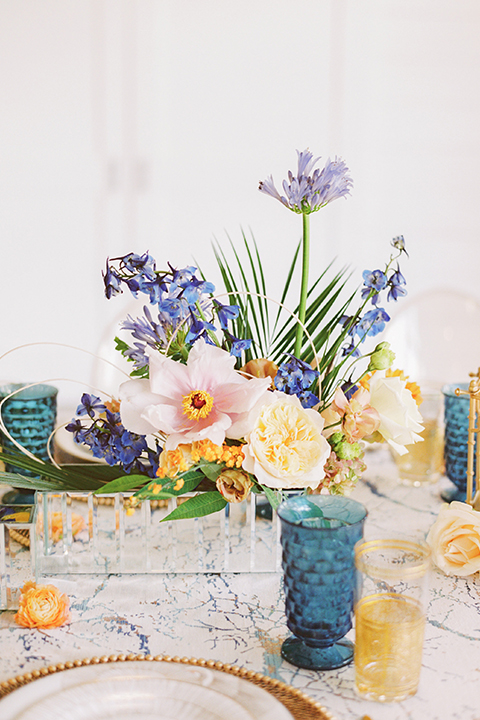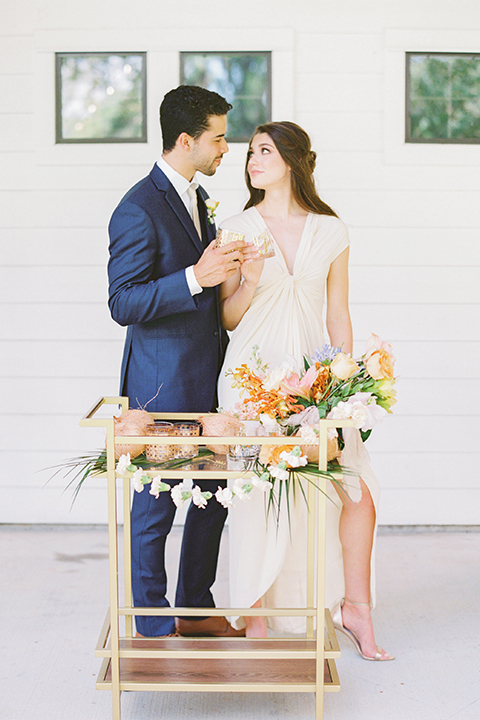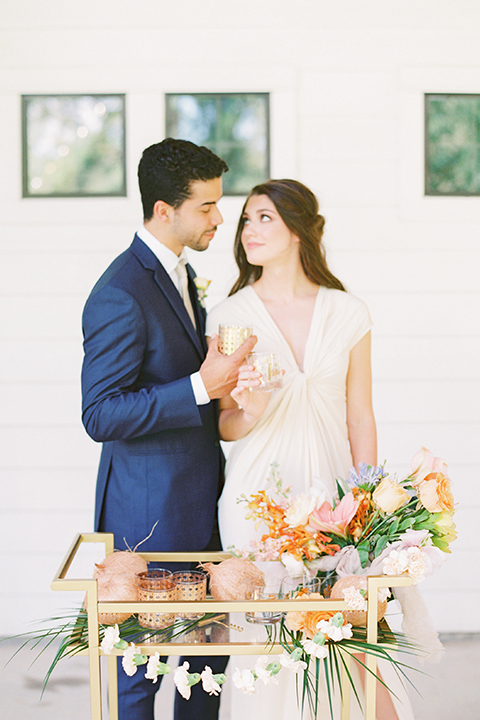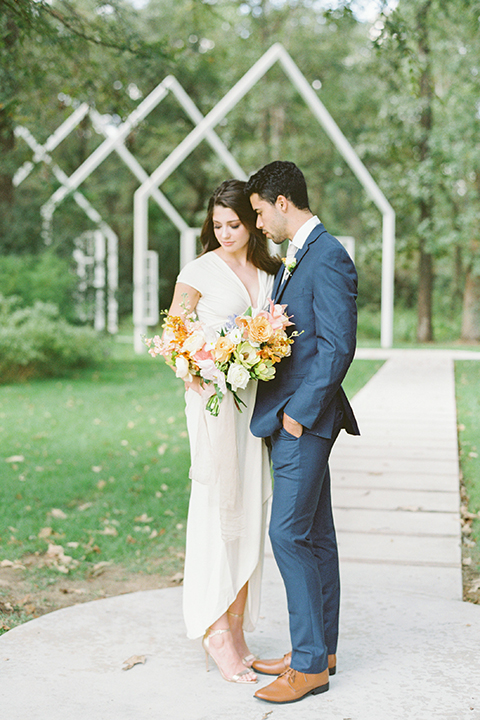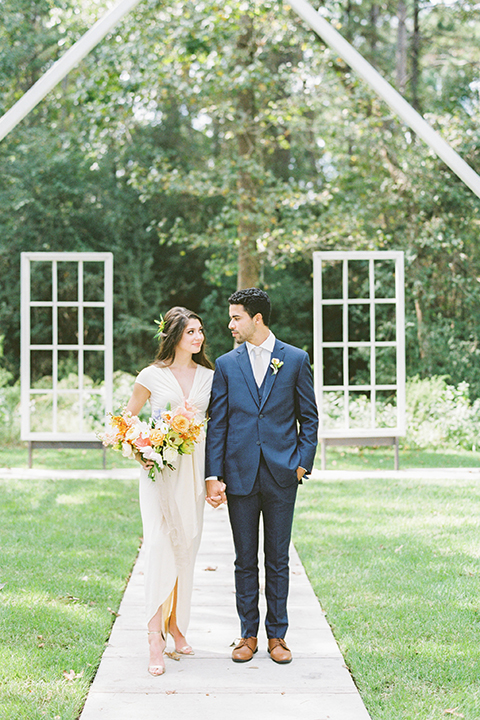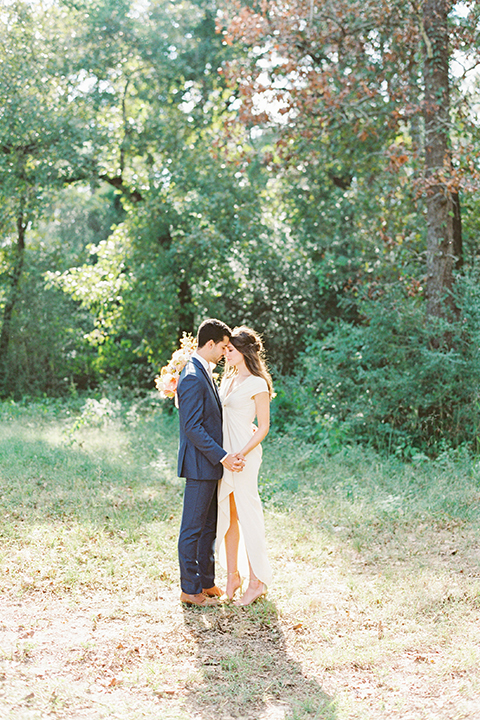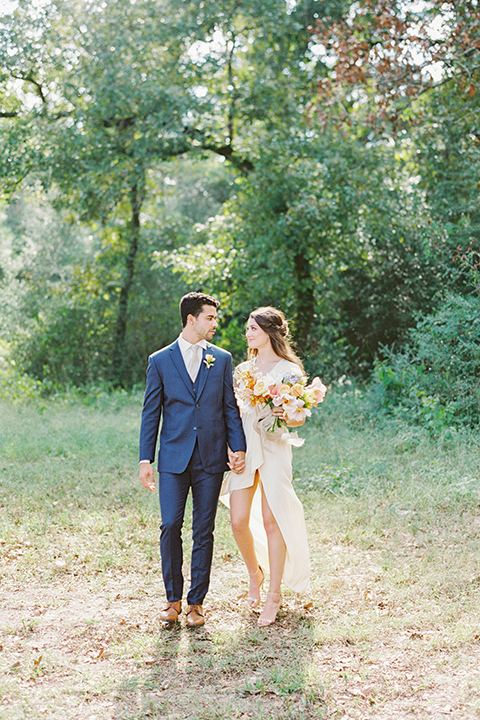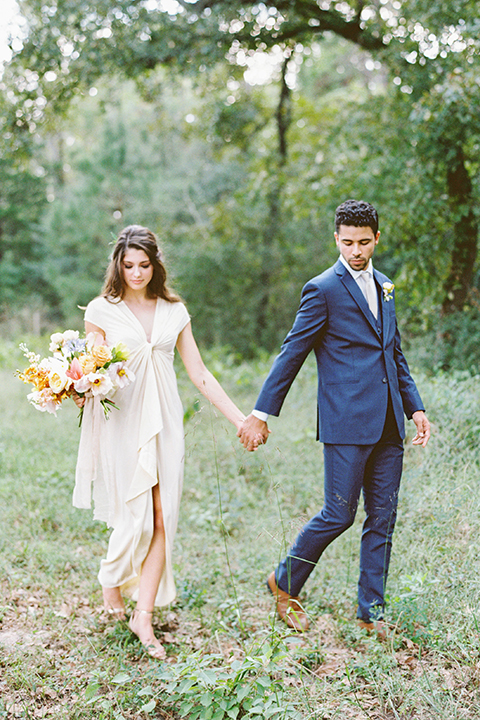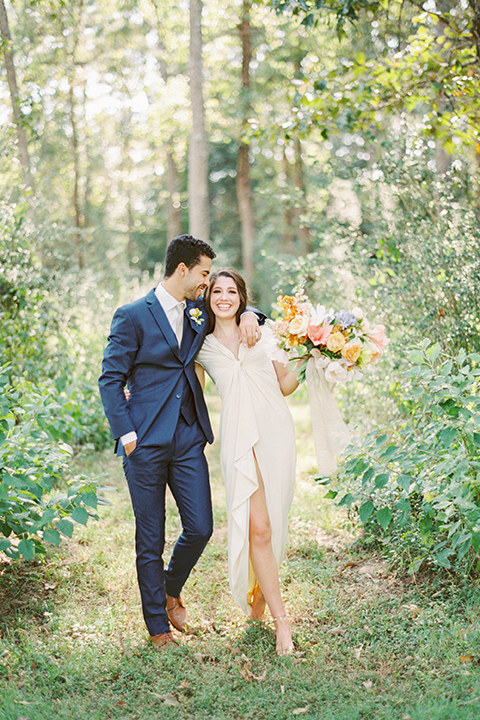 Gown: Gossamer | Rings: Melissa Tyson Designs | Hair + Makeup: Hey Lovely Makeup | Tabletop Rentals: Your Butler's Pantry | Linens + Chairs: Aztec Events & Tents | Paper Goods: Dionne Christiansen | Cake: Becca Cakes | Bridal Shoes: Bella Belle Shoes
MOST READ BLOGS
PROVENCE GOLDEN BLISS AT ...

17 / 9 / 21 | Inspirational Photo Shoots

Venue: The Sunstone Winery Planning + Coordination: Couture Events Photography: The Ganey's Menswear: Gold Velvet Shawl Lapel Tuxedo with a lo

TIMELESS LOVE AT CYPRESS ...

2 / 11 / 21 | Inspirational Photo Shoots

Venue: Cypress Grove Estate Photography: Matlock and Kelly Photography Planning: Melanie Paige Events & Design Menswear Style: Black Performan

NORDIC BLUE INSPIRED WEDD...

2 / 11 / 21 | Inspirational Photo Shoots

Venue: Ethereal Garden Venue Photography: Melissa Fe Chapman Planning: Nicole Burbank Events Groom Style: Cobalt Blue Suit + Groomsmen Style:

MOODY CELESTIAL ELOPEMENT...

2 / 11 / 21 | Inspirational Photo Shoots

Venue: Blue Barn Events Photography: Alexandria Michelle Photography Hosting + Styling: Styled HWY Groom Style: Café Brown Suit

GOLD AND LACE WEDDING DES...

2 / 11 / 21 | Inspirational Photo Shoots

Venue: Higuera Ranch Photography: Ashley Rae Studio Planning: Wild Heart Events Groom Style: Asphalt Grey Suit

COLORFUL ELOPEMENT AT VAS...

17 / 1 / 22 | Inspirational Photo Shoots

Venue: Vasquez Rocks Photography: Stephanie Weber Photography Menswear: Rose Pink Notch Lapel Suit + Light Grey Pants

WHEN THE MUSIC AND CITY I...

18 / 1 / 22 | Real Weddings

Venue: Kimmel Cultural Campus Photography: Asya Photography Planning + Design: Truly You Events Groom Style: Light Dark Green Notch Lapel Suit

AMBER + TOM'S STUNNING WO...

18 / 1 / 22 | Real Weddings

Venue: The Barn at Back Acres Farm Photography: McKaila Singer Photography Groom Style: Light Dark Green Notch Lapel Suit with a tan matte long

MODERN CHIC WEDDING WITH ...

18 / 1 / 22 | Real Weddings

Venue: Black Swan Photography: DeGroot Film Co. Planning + Design: Wendi Ward Groom Style: Charcoal Grey Black Lapel Tuxedo with a black bow t

AN AMBER AND EMERALD WEDD...

18 / 1 / 22 | Real Weddings

Venue: Detroit, MI Photography: Emily Kyle Photography Groom Style: Caramel Notch Lapel Suit

BLACK TIE STYLE IN THE VI...

18 / 1 / 22 | Inspirational Photo Shoots

Venue: Sunstone Winery Photography: Katie Nicolle Photography Planning + Design: Sweetest Love Events Groom Style: Black Notch Lapel Tuxedo wi