Summery Honey & Lemons Inspired Wedding!
Summery Honey & Lemons Inspired Wedding!
5 / 21 / 21 | Inspirational Photo Shoots
Venue: Luna Bella Ranch
Photography + Design: Melissa Fe Chapman
Planning: Simply Classic Events
Menswear Style: Ivory Paisley Tuxedo with a gold velvet bow tie
When life hands you lemons, make a wedding design out of them! That's right, from the brilliant minds of Melissa Fe Chapman Photography, we bring you this Honey & Lemons wedding inspiration. How this wedding used bold pops of antique yellow and golds to tell a store of happiness and warmth, and in our opinions just pure sweetness (and that's not just because the mini honey jars as wedding favors). We especially love the use of the beehive inspired shapes that flowed through the event. From the wedding altar, to the dessert table, and even the cake topper! This wedding was pure yellow and gold!
The bride kicked traditional to the curb and wore a fun and bold two-piece gown with a yellow flowing skirt and lace ¾ sleeve top. She paired her summery bridal look with her hair in a bohemian braided bun style and chic macrame earrings. The groom wore our amazing Ivory Paisley Tuxedo paired with a gold velvet bow tie and tan pants to create an effortless, yet totally fashionable, style!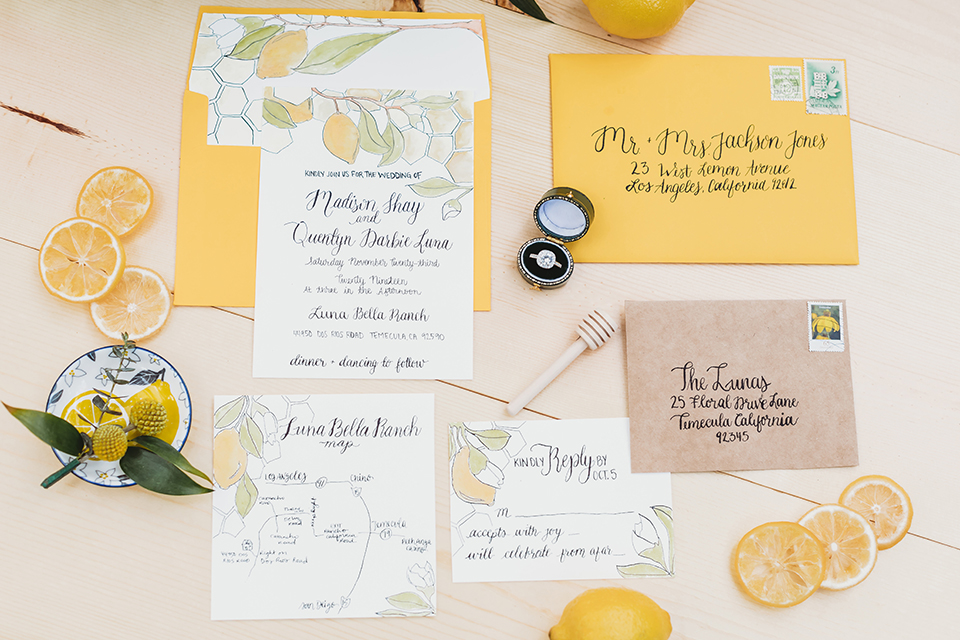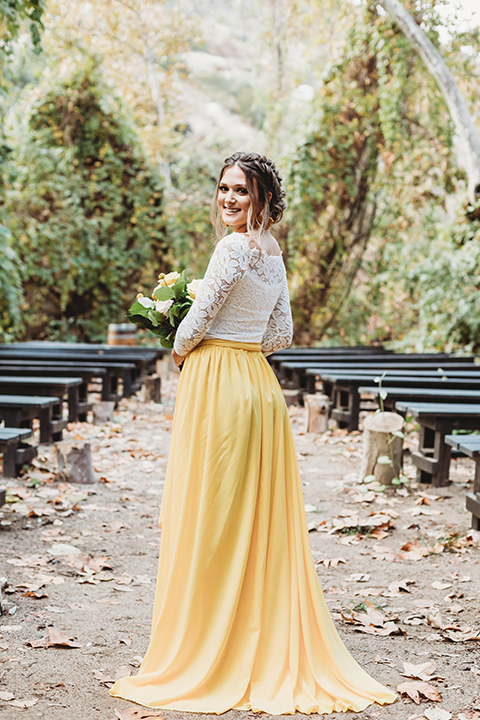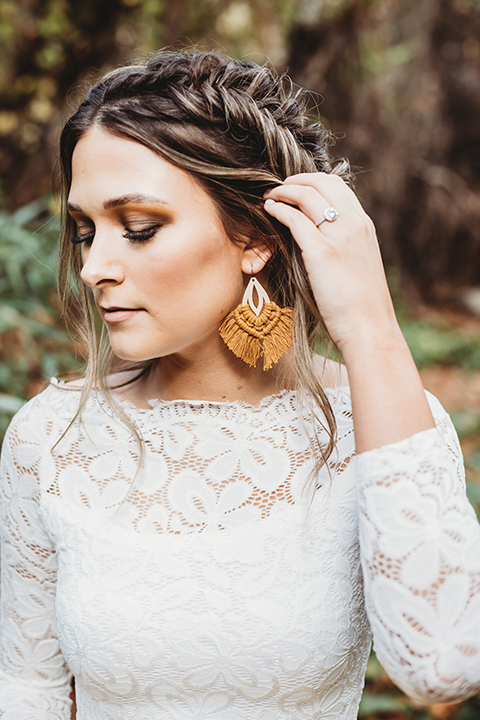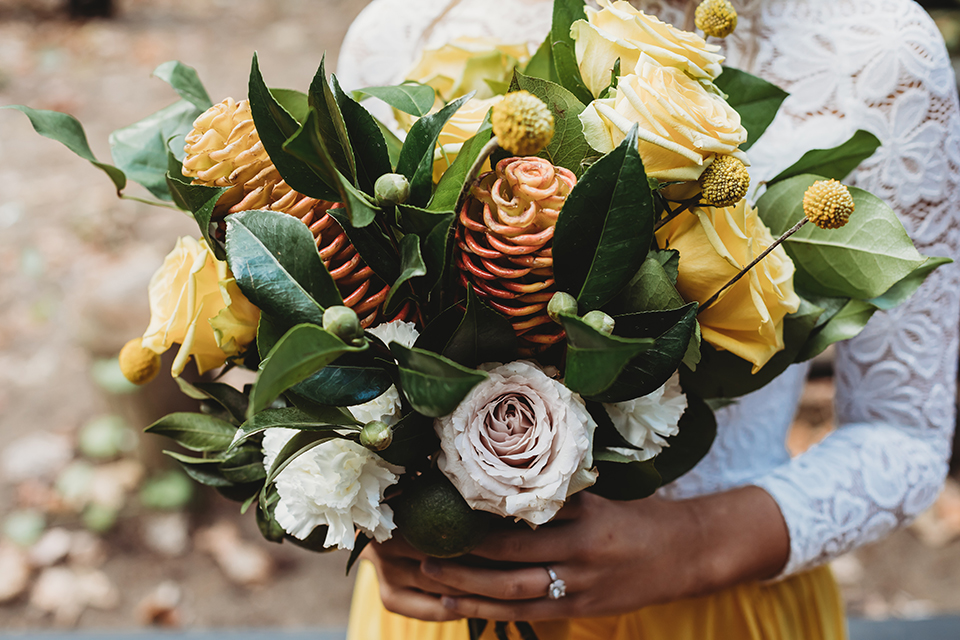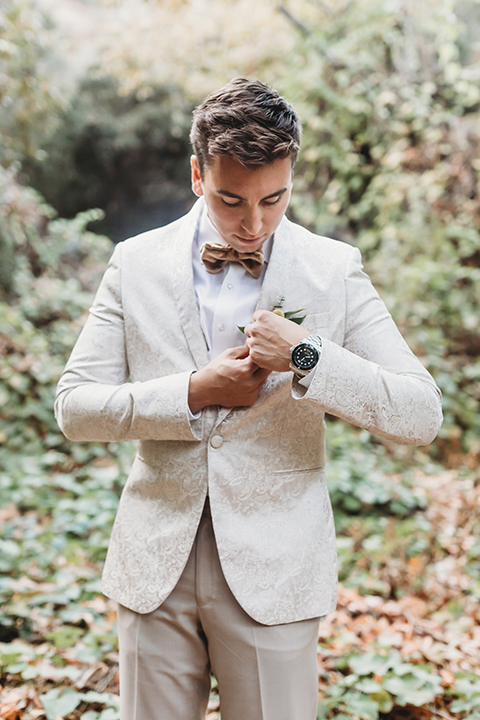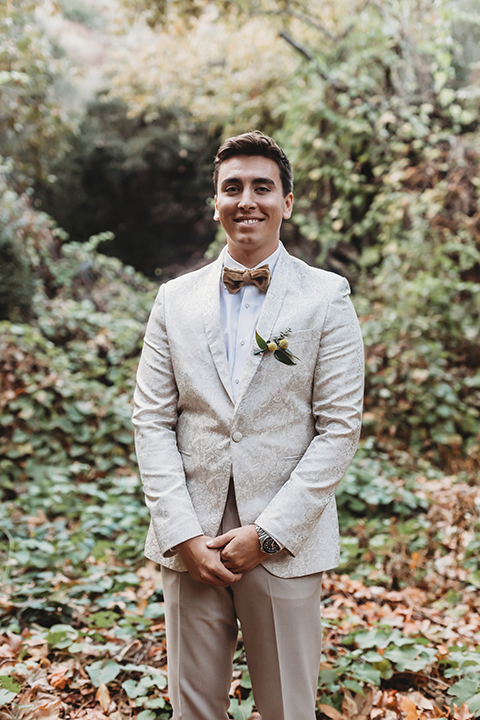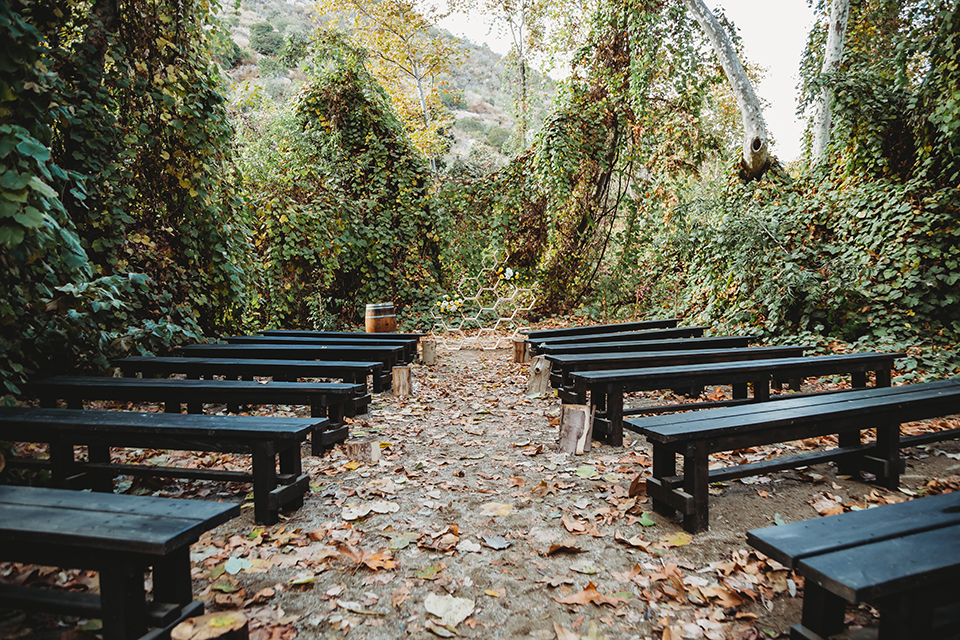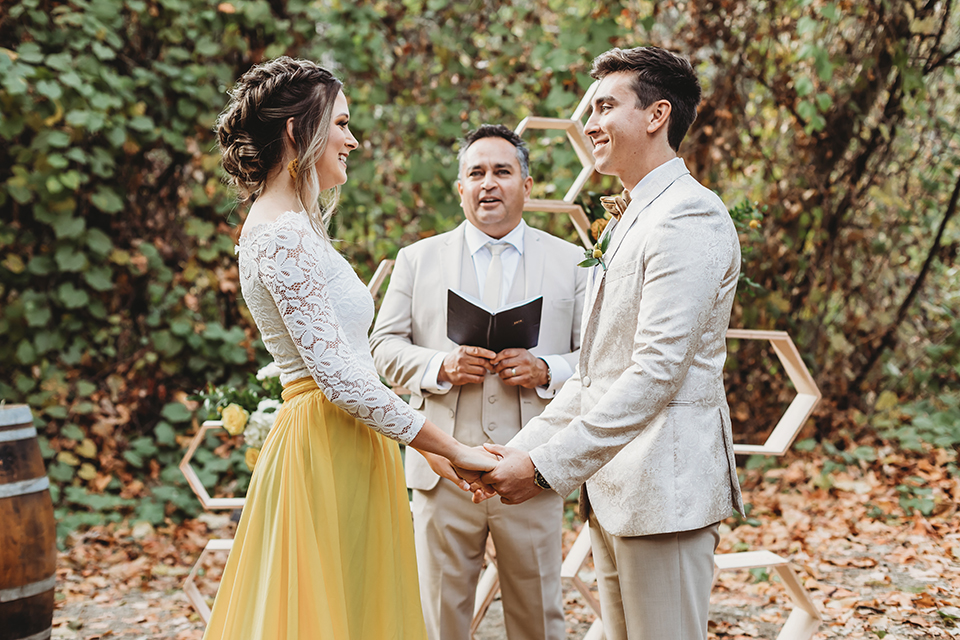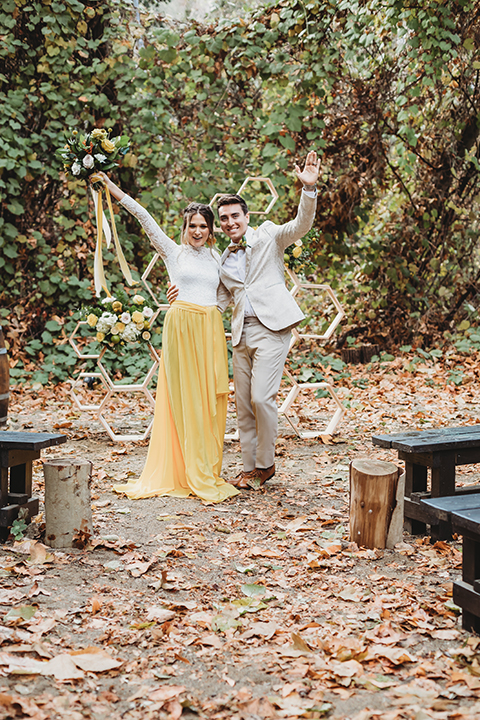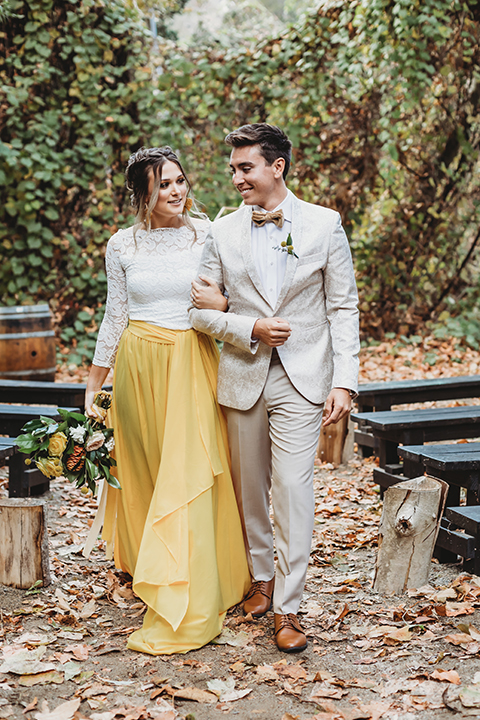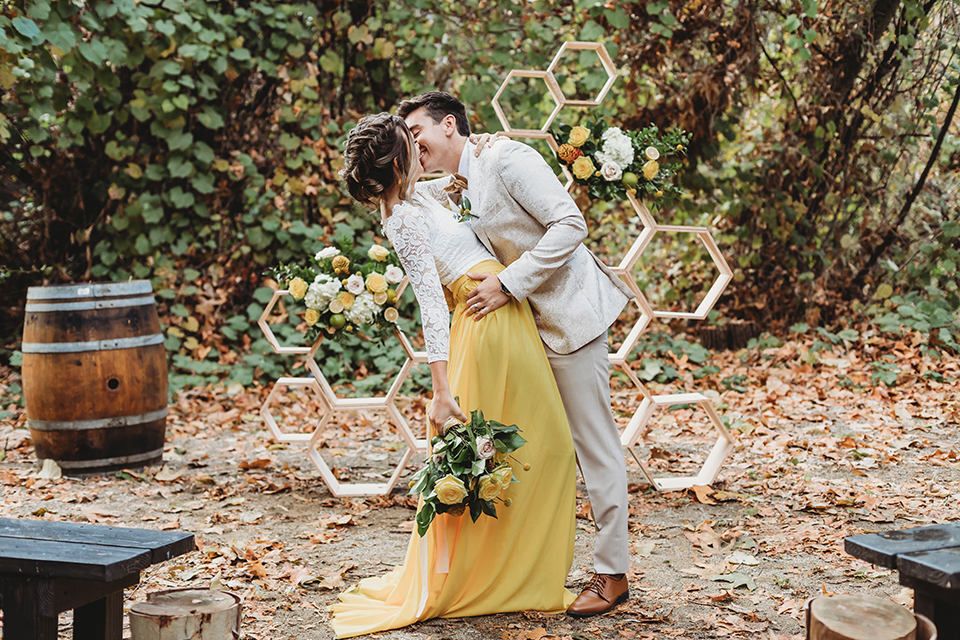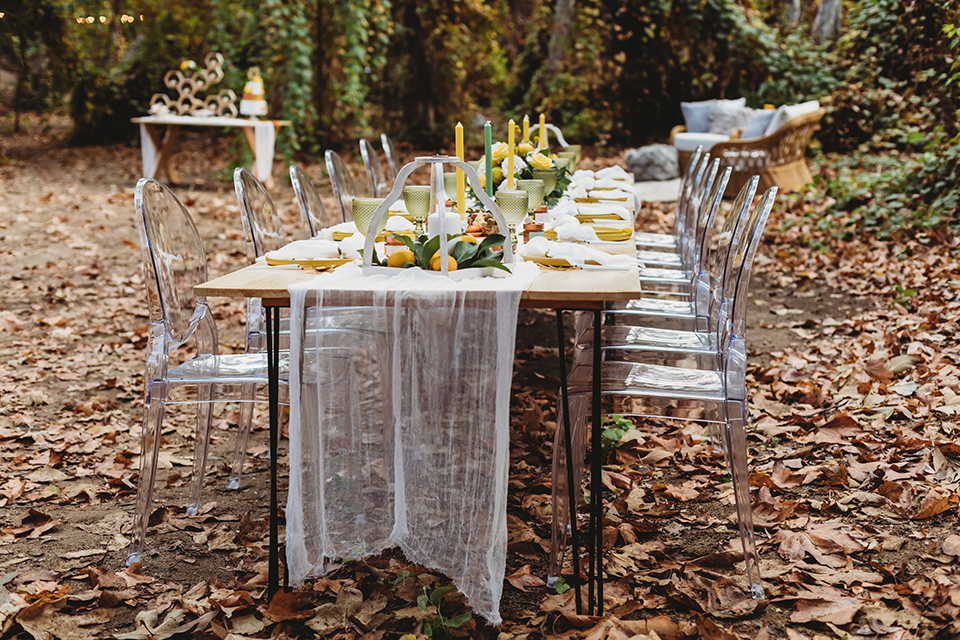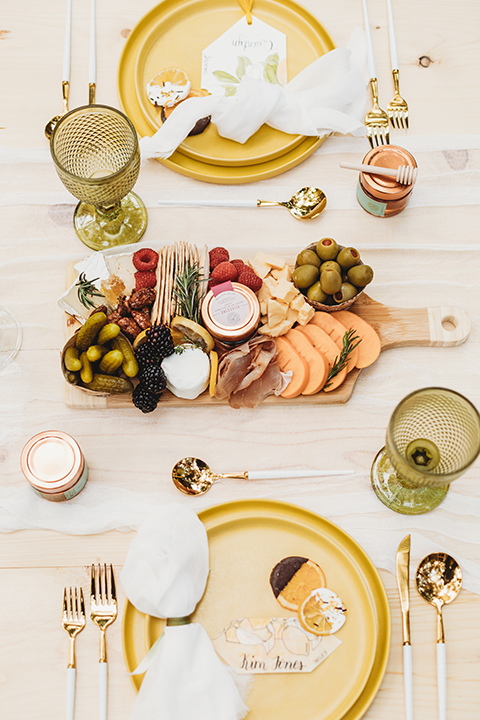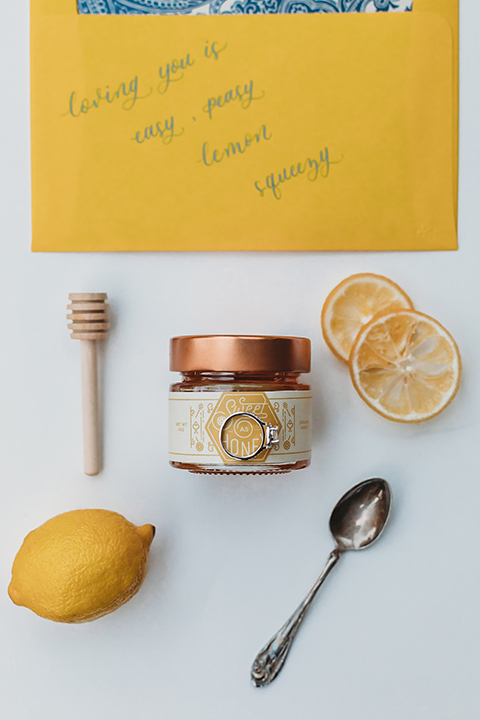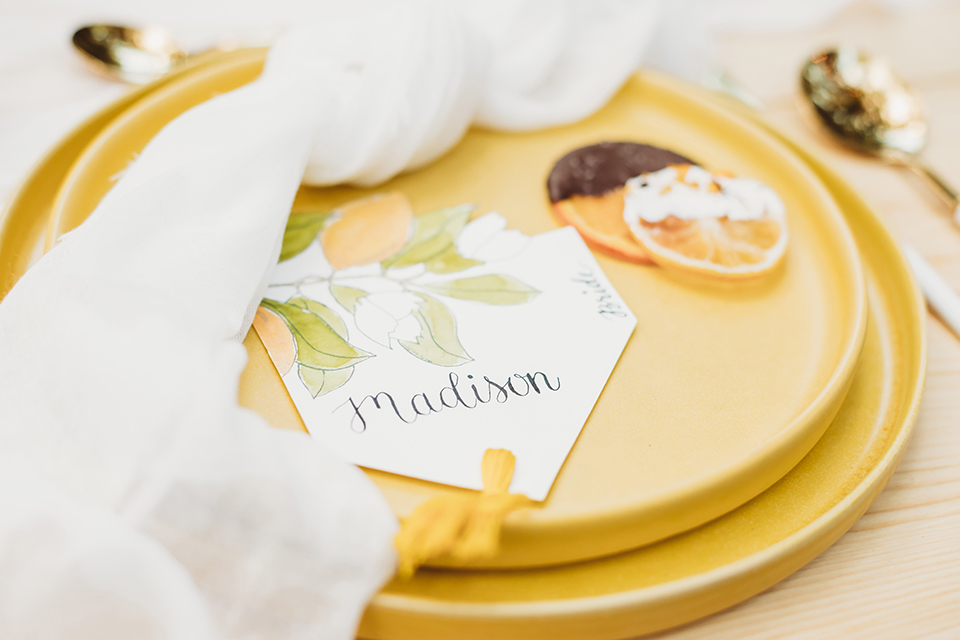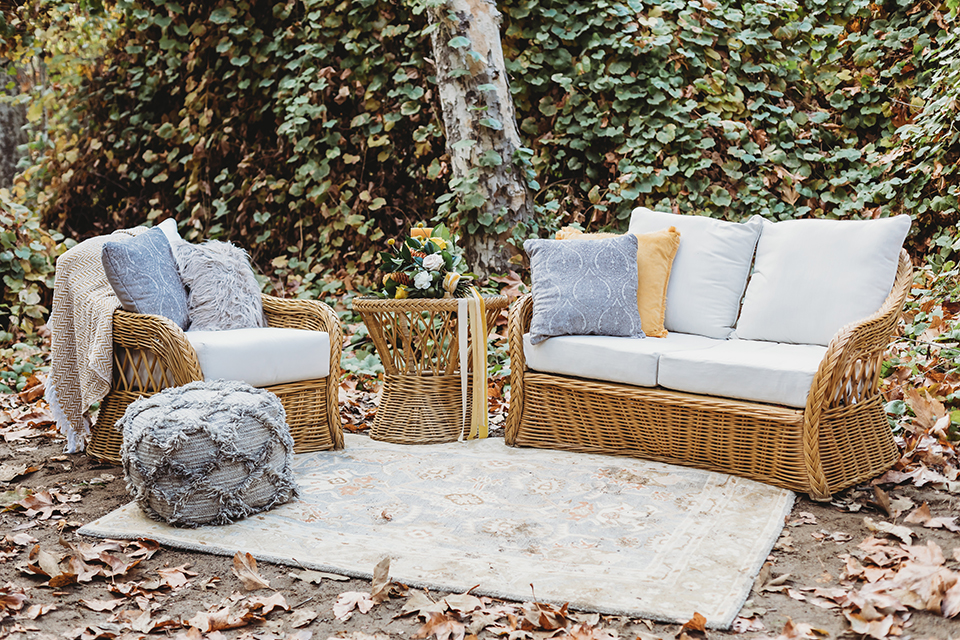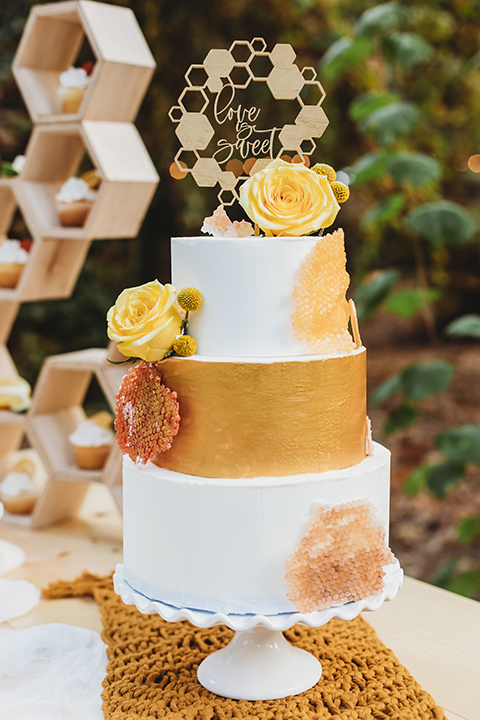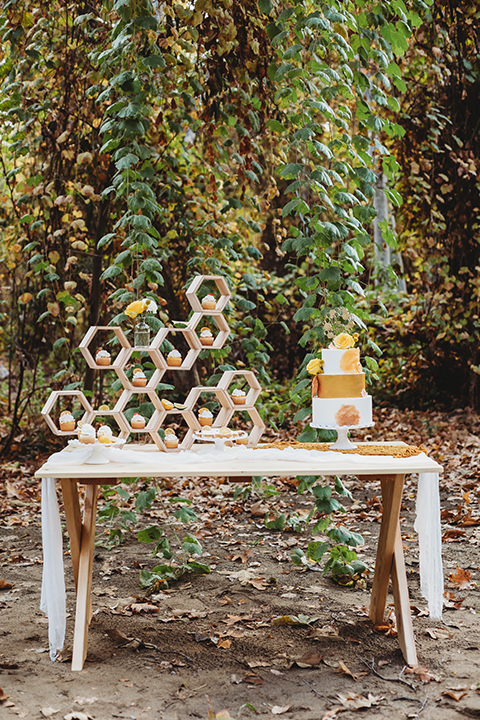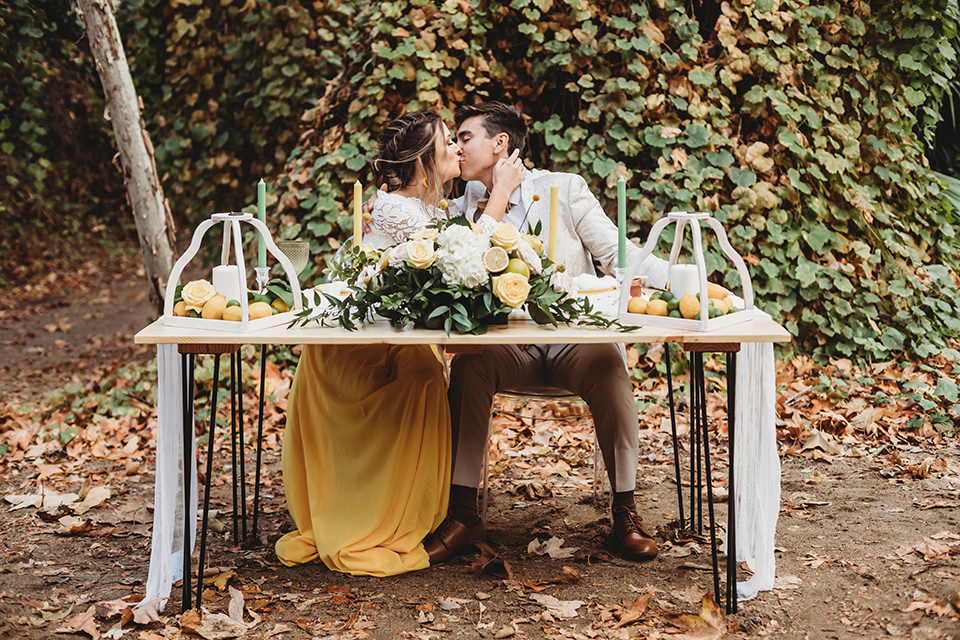 Hair: Blonde & Braided | Makeup: Get Darling Artistry | Bride: Madison Diehl | Groom: Quentyluna | Florals: Bloomie Creations | Macrame: Ox and Nag | Cake + Desserts: Miranda's Sweet Treats | Honey Jar Favors: Bee Seasonal | Charcuterie Board: Grazing Theory | Furniture Rentals: Honeywood Events | Tabletop Rentals: Rustic Peony Co. | Custom Arch: NextGen Millworks | Custom Skirt: Dalliance Bespoke | Videography: Yugen Films | Stationery: Humming with Finnegan | Calligraphy: Handwritten by Cat | Velvet Ribbon: Emma Linh Co.
MOST READ BLOGS
ROMANTIC WINERY WEDDING

27 / 5 / 20 | Inspirational Photo Shoots

Venue: Ganite Lion Cellars
Photographer: Alyssa Rachel
Menswear: Light Grey Peak Lapel Suit with a purple long tie

ELEGANT OLIVE GROVE WEDDI...

18 / 6 / 20 | Inspirational Photo Shoots

Venue: Temecula Olive Oil Company
Photography: Mallory Dawn Photography
Menswear Style: Navy Shawl Lapel Tuxedo with a black bow tie

ETHEREAL FRENCH WEDDING A...

18 / 6 / 20 | Inspirational Photo Shoots

Venue: Vista Valley Country Club
Photography: Mallory Dawn Photography
Menswear Style: Navy Shawl Lapel Tuxedo with a black bow tie

CLASSIC EUROPEAN WEDDING ...

18 / 6 / 20 | Inspirational Photo Shoots

Venue: Kestrel Park
Photography: Kalina And Co.
Menswear Style: White Casablanca Dinner Jacket with a black bow tie

STUNNING YOSEMITE CLIFF W...

18 / 6 / 20 | Inspirational Photo Shoots

Venue: Yosemite National Park
Photography: Taylor'd Southern Events
Menswear Style: Grey Notch Lapel Suit with a matte black long tie

JANE AUSTEN ROMANTIC WEDD...

27 / 4 / 21 | Inspirational Photo Shoots

Venue: Richardson Bay Audubon Center & Sanctuary
Photography: Blue Note Weddings
Florals + Planning: Blue Daphne Events + Floral Design

MOODY FALL INSPIRED SHOOT

27 / 4 / 21 | Inspirational Photo Shoots

Venue: Christmas House Inn Photography: Jekalo Photography Menswear Style: Black Velvet Tuxedo + Burgundy Shawl Tuxedo

GRECIAN BLUE BEACHSIDE WE...

29 / 4 / 21 | Inspirational Photo Shoots

Venue: Los Angeles
Photography + Design: Alex Gabriel
Menswear Style: Asphalt Grey Notch Lapel Suit with light grey pants

MAGICAL SUNSET ELOPEMENT ...

29 / 4 / 21 | Inspirational Photo Shoots

Venue: Oceanside, CA
Photography: Peyton Ruchti Photography
Menswear Style: Dark Green Notch Lapel Suit with a black floral long tie

BRIGHT AND BOLD SPANISH-I...

26 / 5 / 21 | Inspirational Photo Shoots

Venue: Ojai Valley Inn Photography: Elizabeth Burgi Photography Planning + Design: Bella Vita Events Groom Style: Light Blue Notch Lapel Suit

BLACK TIE PICNIC-INSPIRED...

26 / 5 / 21 | Inspirational Photo Shoots

Venue: Quail Ranch Events Photography: Dennis Roy Coronel Planning + Design: Wheat and Honey Events Groom Style: Black Shawl Lapel Tuxedo with