Retro Ranch Wedding Design
Retro Ranch Wedding Design
6 / 6 / 19 | Inspirational Photo Shoots
Venue: The Retro Ranch
Photography: Melissa Fe Chapman Photography
Menswear Style: Black Velvet Peak Lapel Tuxedo with light grey Ike Behar pants a black and white arrow bow tie
If you are a couple who like to stray off the beaten path, or camp in the great outdoors- why not have your wedding match that? This wedding is full of all the perfect decorations to bring that boho glamping flare with some subtle romantic touches that make this style truly unique. First off we are obsessed with the giant Airstream camper as a backdrop for the wedding, it is perfectly retro chic. Which is fitting given this amazing styled shoot took place and the even more amazing Retro Ranch in Temecula, California. We love the mixture of organic materials and metal décor, like the wooden table with draped macramé and geometric metal decorations on top. Also are those truffles so perfect for the vibes of the wedding? Created to look like mini geodes, they are almost too cute to eat!
The bride wore a stunning flowing gown with a lace bodice and long sleeves. She kept her look simple and elegant with her hair in loose waves and minimal jewelry. Making her look like the bohemian goddess she is. Now to our favorite part, the groom (yes we know we are biased). The groom wore one of our favorite trends right now: mix and match. He wore our black velvet tuxedo jacket with our light grey suit pants. By mixing these textures and styles he stands out as the groom with the décor and venue, while still keeping with the retro bohemian theme. We are obsessing over this look and hope you are just as amazed as we are by these amazing vendors who made this shoot happened!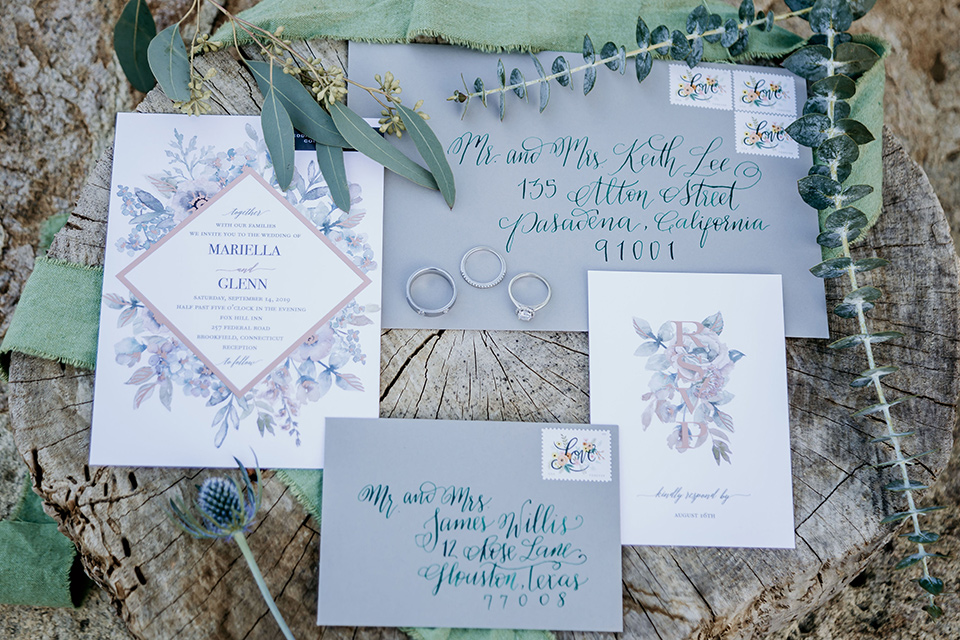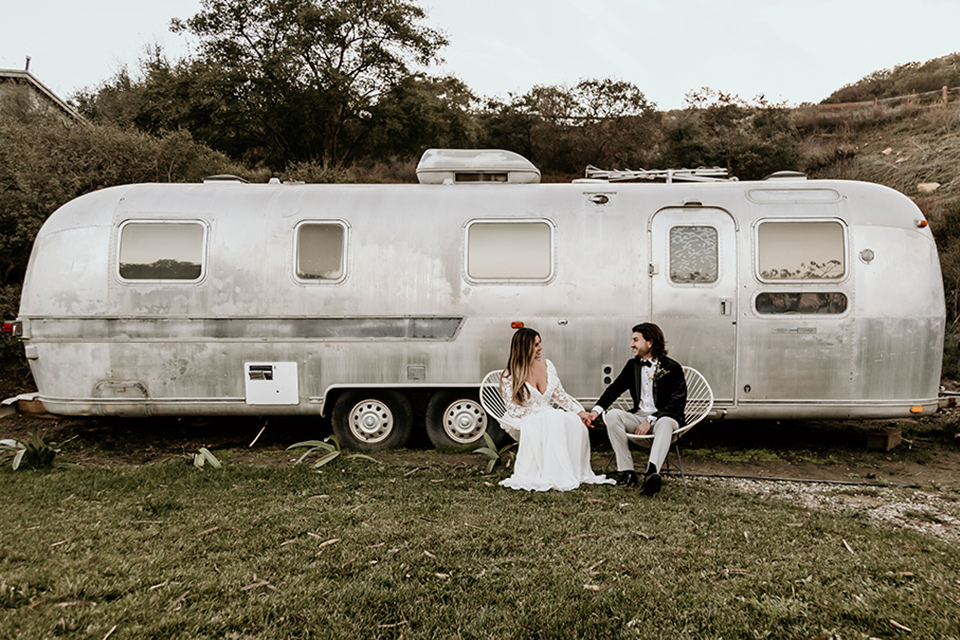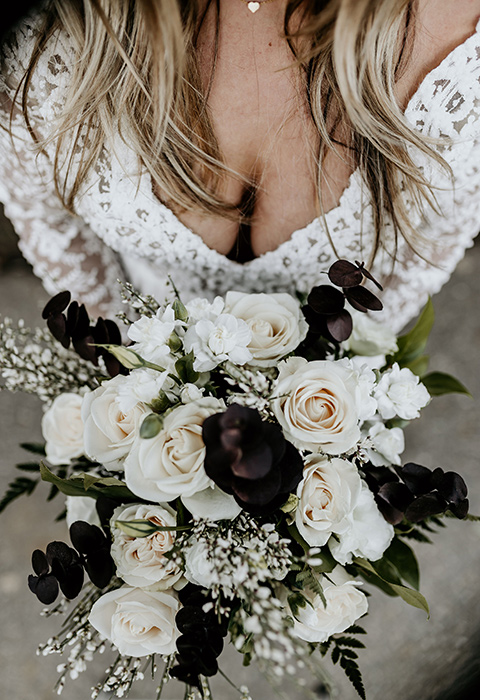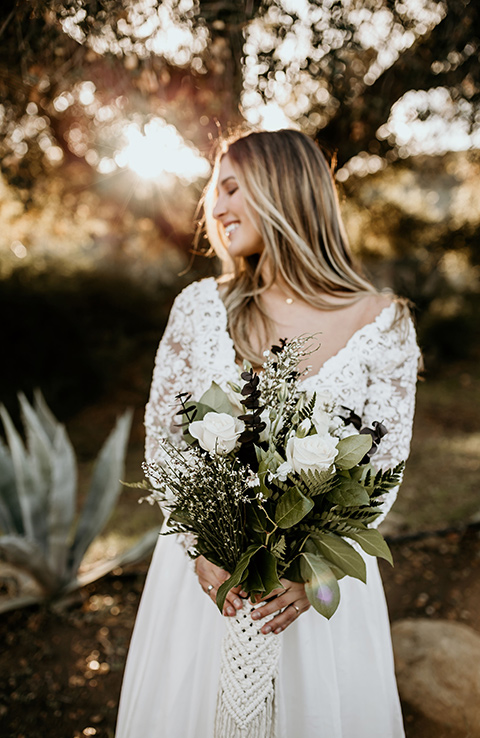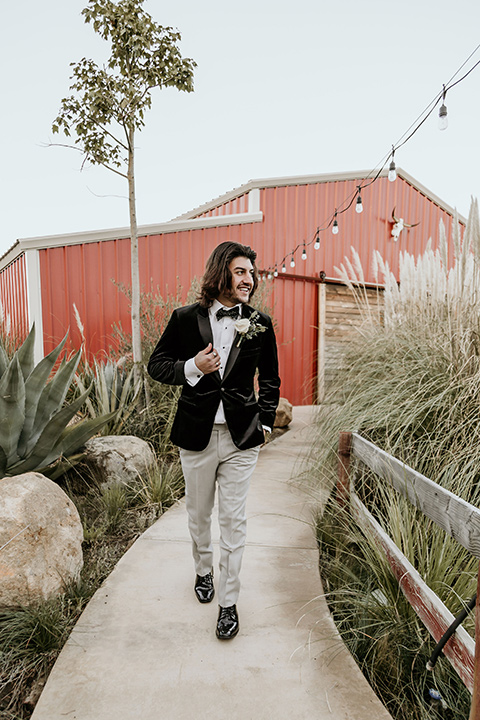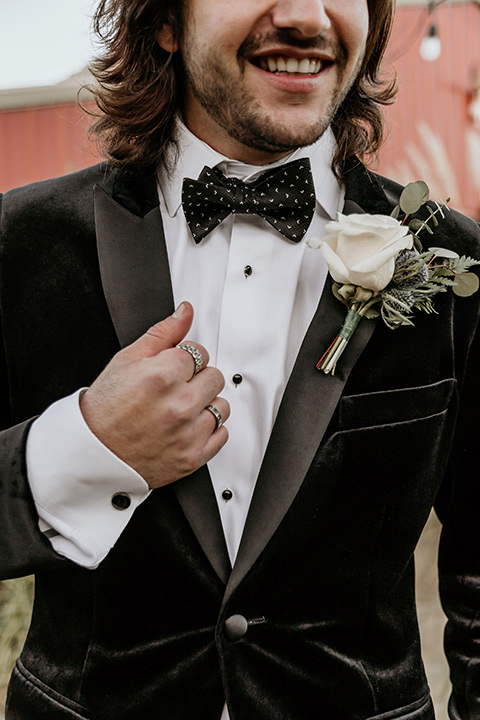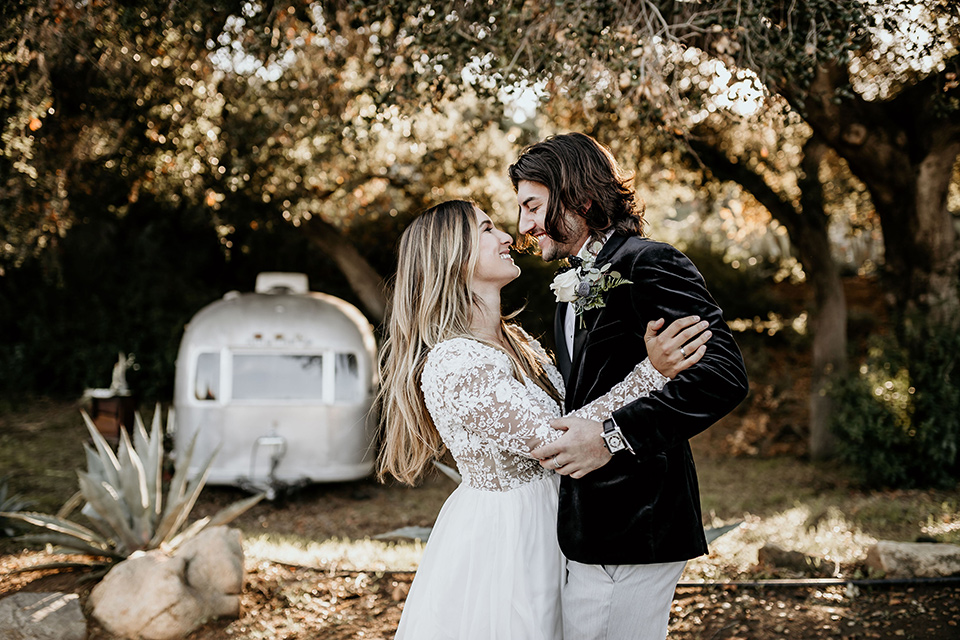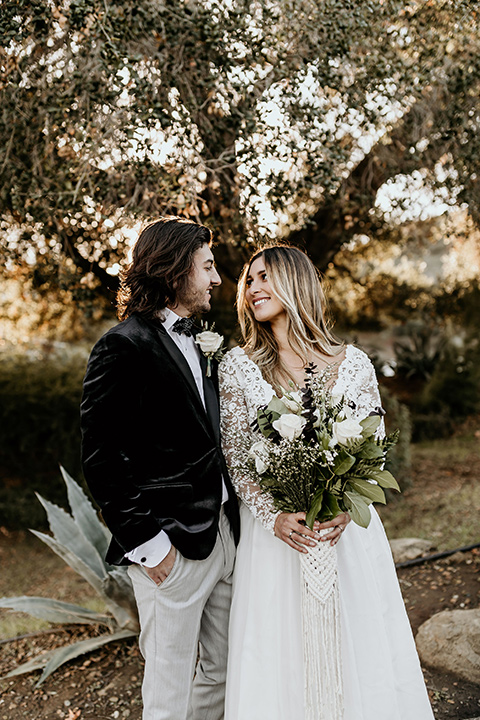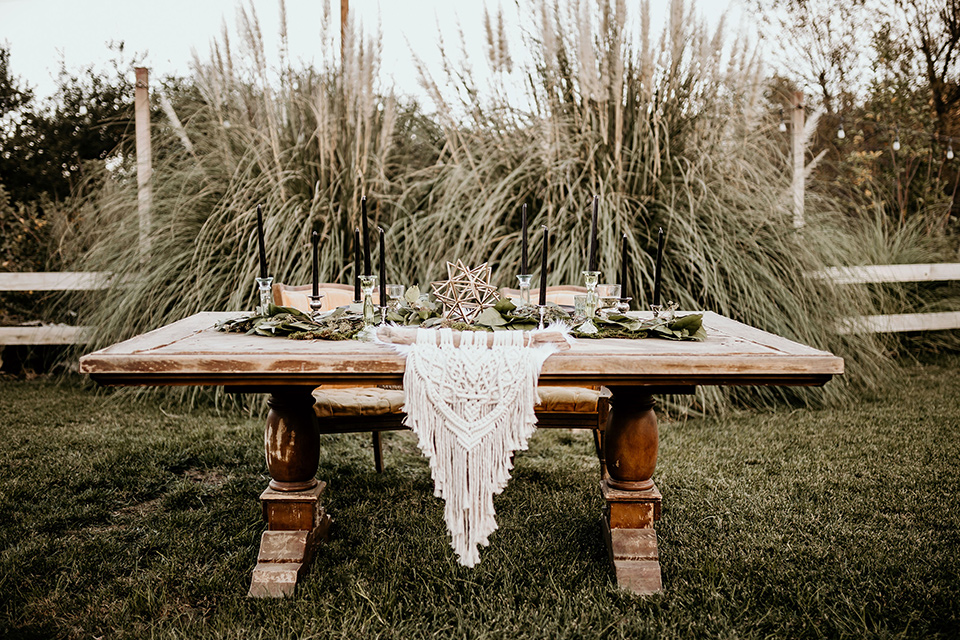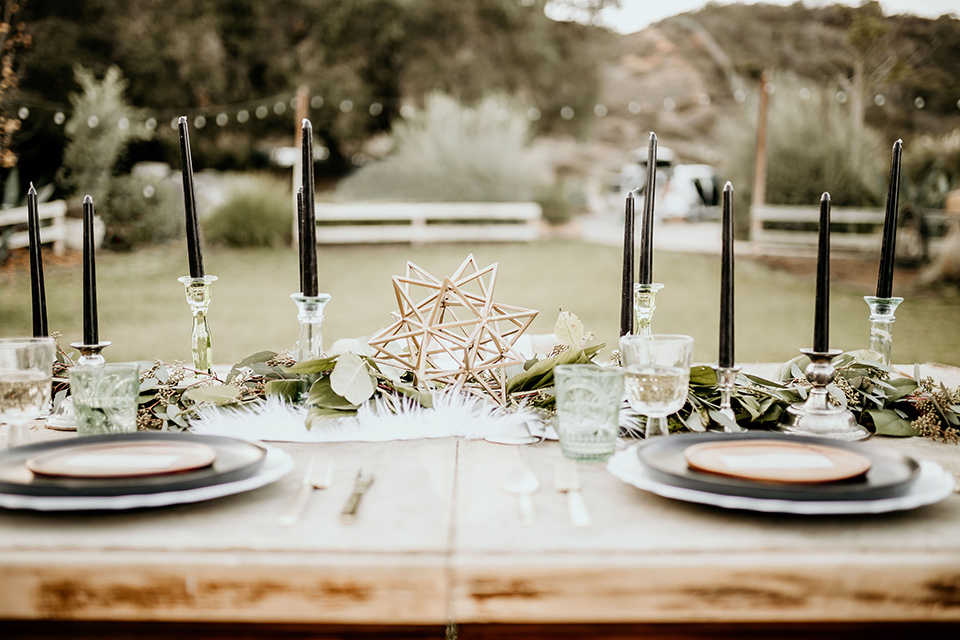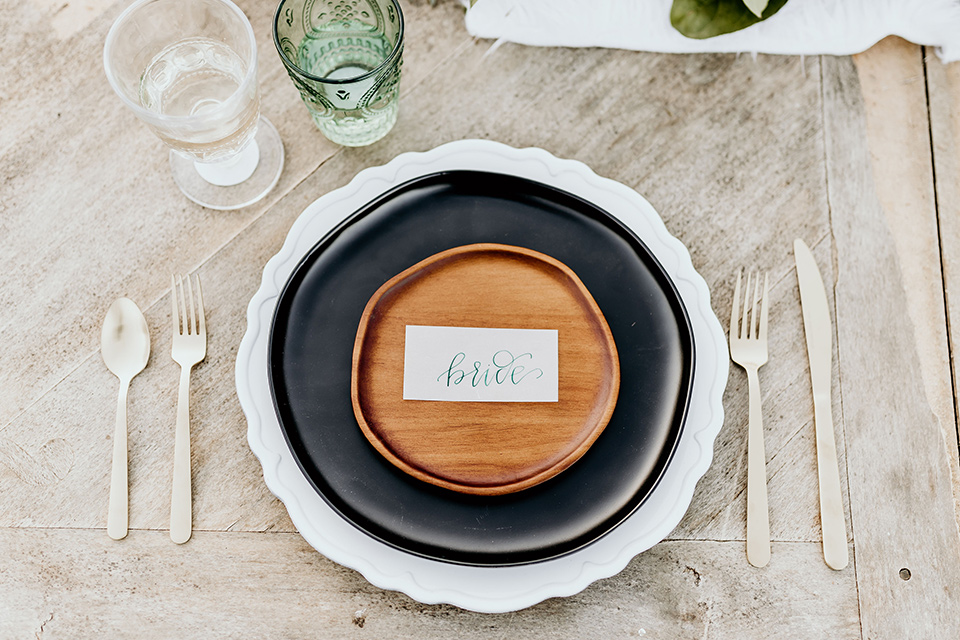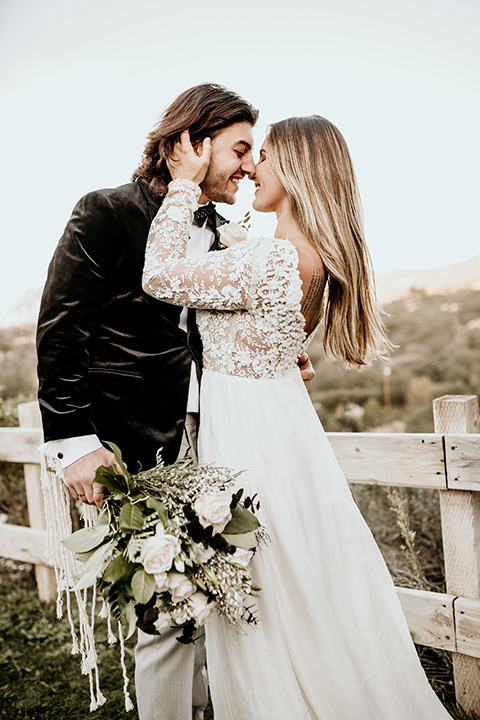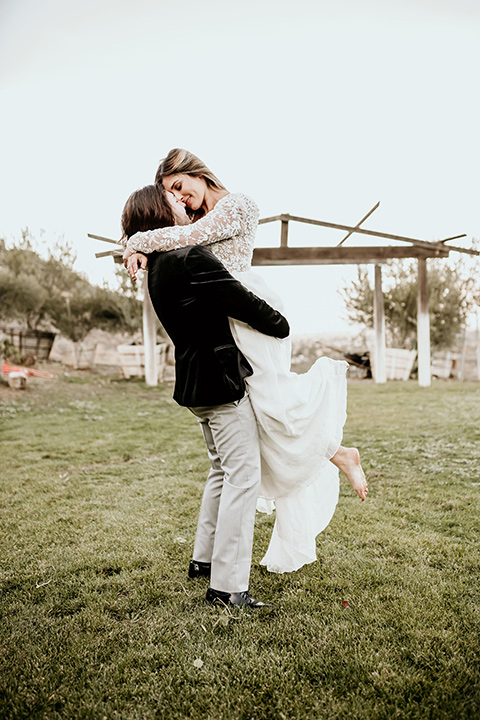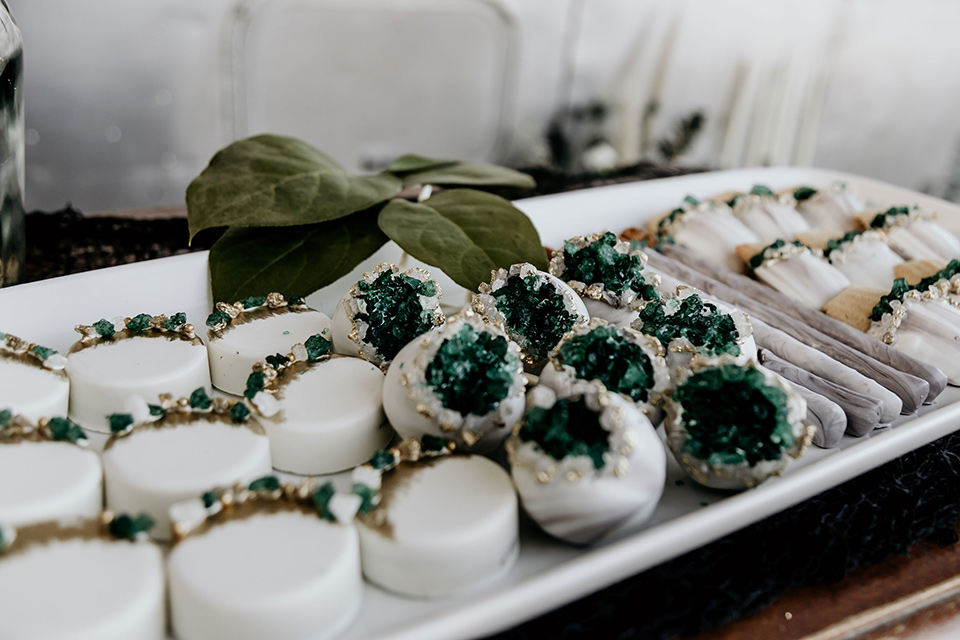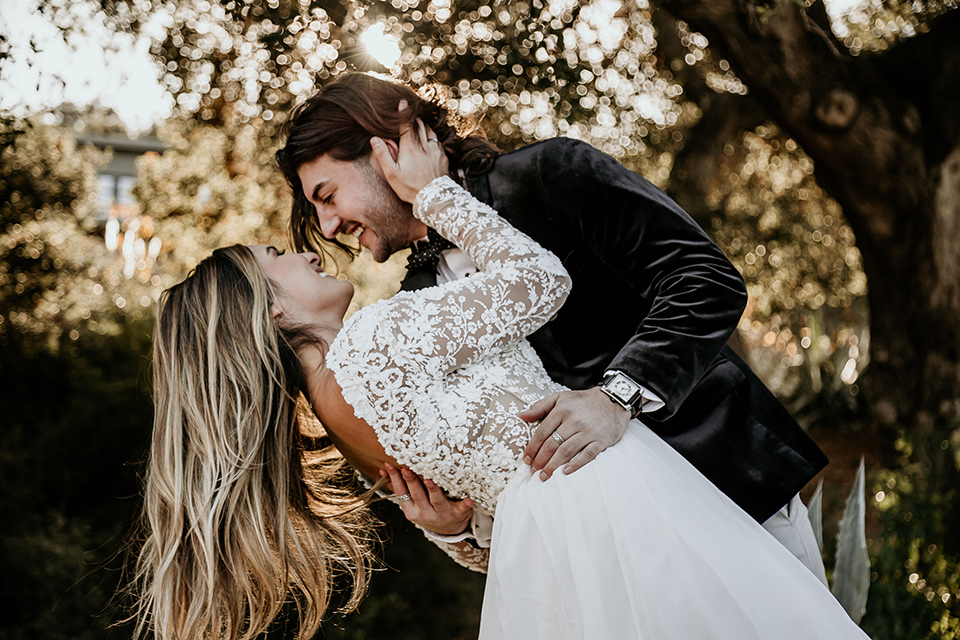 This shoot was also featured on: Confetti Daydreams!
Hair + Makeup: Brides + Grooms by Jlo | Cake: The Sweet Apron | Desserts: @vlocakepops | Macrame: Ox and Nag | Florals: Bloomie Creations | Caligraphy: Fiori Belle | Gown: Krustallos Couture | Invitations: Shutterfly Wedding Invitations | Bride + Groom: Rachelle Dupré + Andrew Badalian
MOST READ BLOGS
NATURE INSPIRED GRAND CAN...

22 / 5 / 17 | Inspirational Photo Shoots

Event Design: Deanna Nash Events
Photography: The Argus Image
Menswear Style: Slate Blue Notch Lapel Suit with a long silver tie

WOODLAND BOHEMIAN WEDDING

17 / 5 / 17 | Inspirational Photo Shoots

Coordination: Jenne Chanthaboury
Photography: Lin and Jirsa
Menswear Style: Gray Notch Lapel Suit with a long floral tie

PARK HYATT AVIARA BLACK T...

17 / 5 / 17 | Inspirational Photo Shoots

Venue: Park Hyatt Aviara
Photography: Evelyn Molina Photography
Menswear Style: Black Michael Kors Notch Lapel Tuxedo with a black bow

COLORFUL BOHEMIAN STYLE W...

16 / 5 / 17 | Inspirational Photo Shoots

Venue: Sherwood Country Club
Photography: Lucas Rossi Photography
Menswear Style: Navy Shawl Lapel Tuxedo with a black faux leather b

RUSTIC ROMANCE WEDDING

16 / 5 / 17 | Real Weddings

Venue: Villa San Juan Capistrano
Photography: Katelin Wallace Photography
Menswear Style: Navy Shawl Lapel Tuxedo with a black bow tie

HOW TO STYLE A WOMEN'S TU...

9 / 5 / 17 | Inspirational Photo Shoots

Venue: Franciscan Gardens
Photography: Christine Bentley Photography
Attire: Women's Black Shawl Lapel Tuxedo

2017 MET GALA BEST DRESSE...

2 / 5 / 17 | News and Events

The 2017 Met Gala theme was "Rei Kawakubo/Comme de Garcones: Art of the In-Betweens," check out how the celebs interpreted this on the red carpet

SAN FRANCISCO CITY HALL W...

1 / 5 / 17 | Inspirational Photo Shoots

Venue: San Francisco City Hall
Photography: Tenth & Grace
Menswear Style: Black Shawl Lapel Tuxedo with a black bow tie

BOHO CHIC VINEYARD WEDDIN...

14 / 3 / 17 | Inspirational Photo Shoots

Venue: Triunfo Creek Vineyards
Photography: Wisteria Photography
Menswear Style: Slate Blue Notch Lapel Suit with a long grey tie

LOVE STORY INSPIRED WEDDI...

13 / 3 / 17 | Inspirational Photo Shoots

Venue: Le Meridian Delfina Santa Monica
Photography: Anna Delores Photography
Menswear Style: Charcoal Gray Michael Kors Shawl Lapel Tu

CITY ENGAGEMENT PHOTOS IN...

10 / 3 / 17 | Inspirational Photo Shoots

Venue: The London House
Photography: Rosanna Hanson Photography
Menswear Style: Charcoal Gray Michael Kors Notch Lapel Tuxedo with a na