Peaches & Cream Themed Ranch Wedding
Peaches & Cream Themed Ranch Wedding
8 / 30 / 18 | Inspirational Photo Shoots
Venue: Carola Horse Ranch
Day of Coordination: Sweet Laurel Events
Photography: Wild Love Photography
Menswear Style: Tan Notch Lapel Suit by Allure Men with a matching tan matte long tie
Write up from Wild Love Photography:
Our Peaches & Cream styled shoot took place on a beautiful ranch just outside of Austin, TX overlooking the beautiful Hill Country. The theme behind this wedding was peaches and cream - it encompassed lots of bright summer colors like stunning pinks, oranges, and, of course, peaches! The best part is definitely the dress and shoes though. It was the perfect dress, the beautiful lace detailed top with the incredible flowing chiffon skirt, and to complete the look the stunning peach lace shoes tied in a perfect bow. Of course, the accessories like the incredible delicate peach jewelry topped the look off. Once the look was complete the bride was dolled up to perfection with a simple natural look and a stunning braid interwoven with the prettiest hair vine. But let's not forget about the groom, you can't have a wedding without one! Dressed from head to toe in the perfect tan suit with the nice pop of color in the cognac shoes, and on his finger, the perfect gold band made to look like a branch! The florals complimented the look perfectly without completely stealing the show. The centerpieces accented the beautiful tables in the best way, playing in perfectly with the hand painted pink plates, but even with a stunning tablescape in front of them none of the guests could take their eyes off of the sweetheart's table! The beautiful tri-wood table showed off the colors of the shoot in a unique and beautiful way along with the stunning tangerine chairs seating the couple. Finally - what everyone looks forward to the most - cake! The dessert table housed an incredible 3 tier cake surrounded by buttercream cupcakes with flowers that almost look real. Everything at the table was "sweet as a peach" for sure! This shoot definitely captures the essence of summer in every way possible!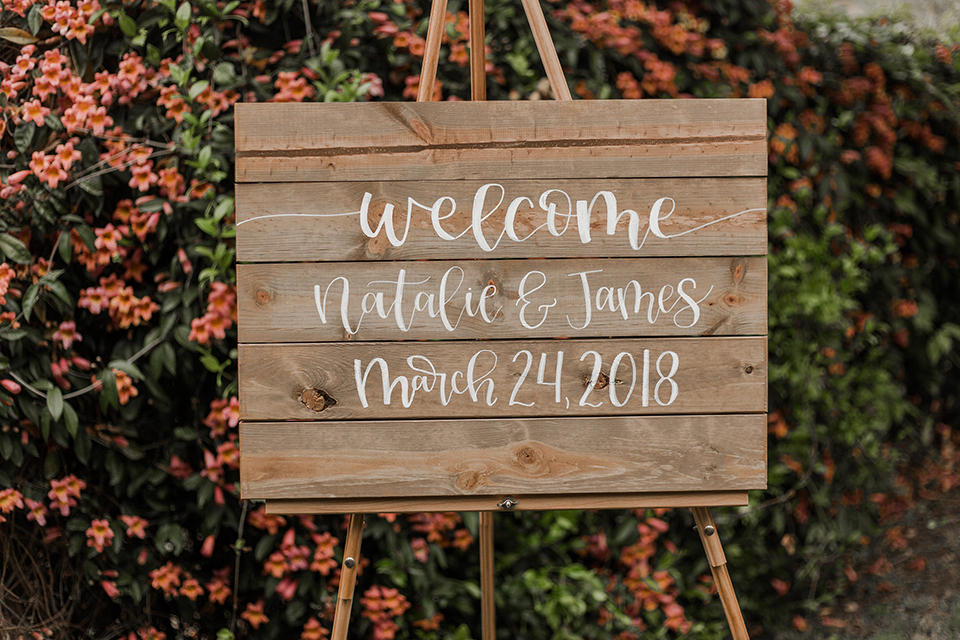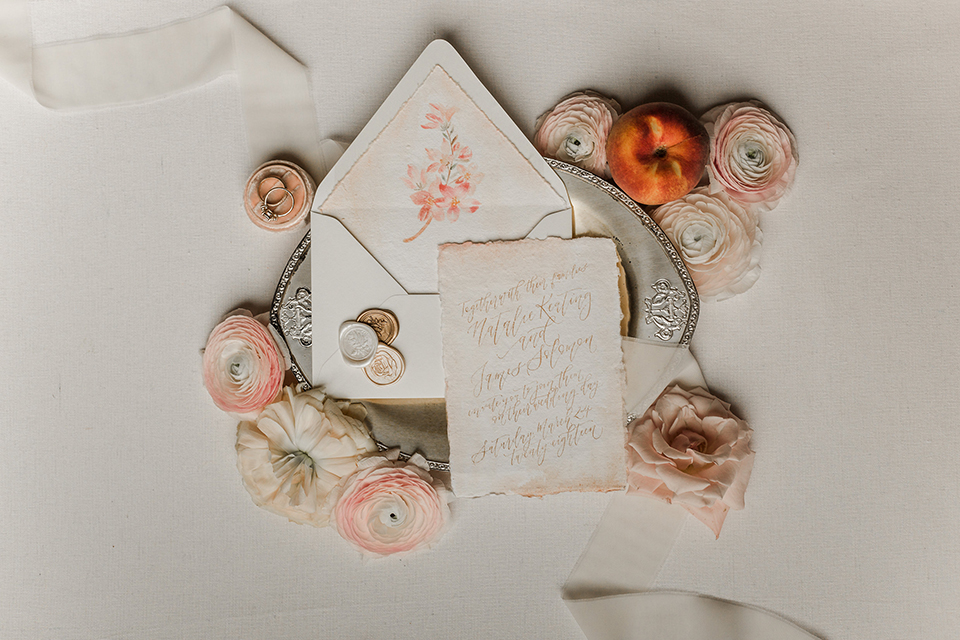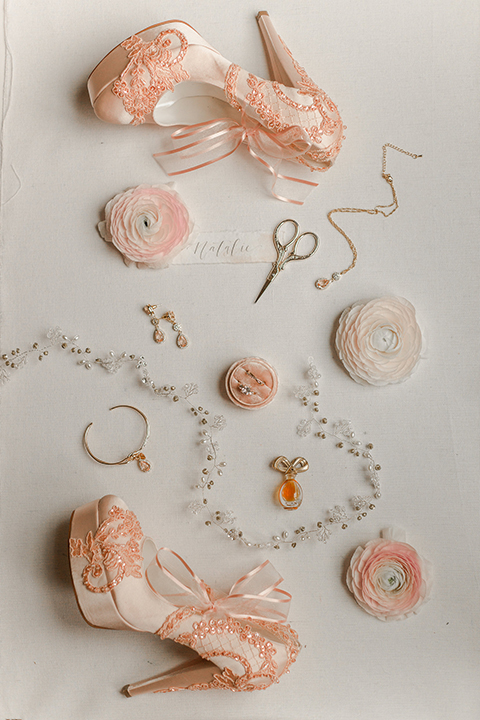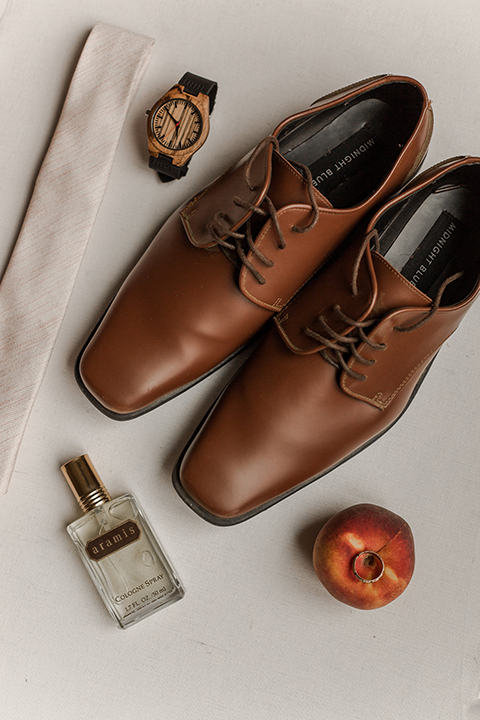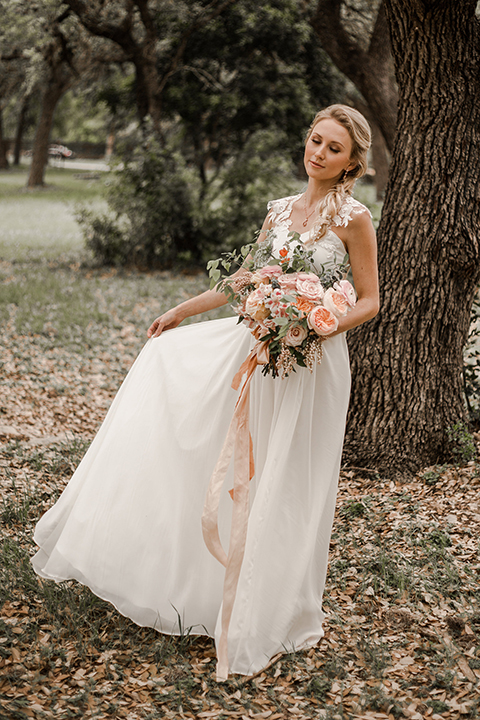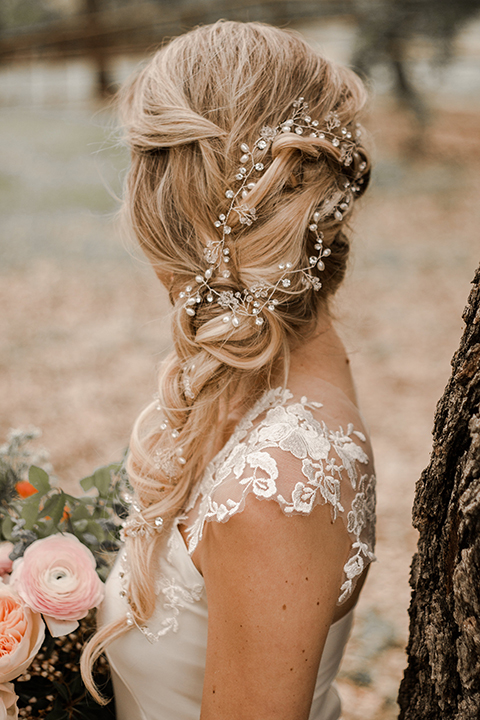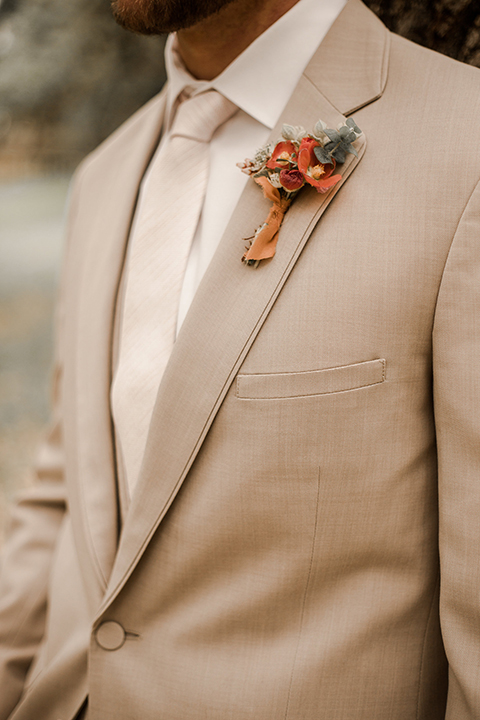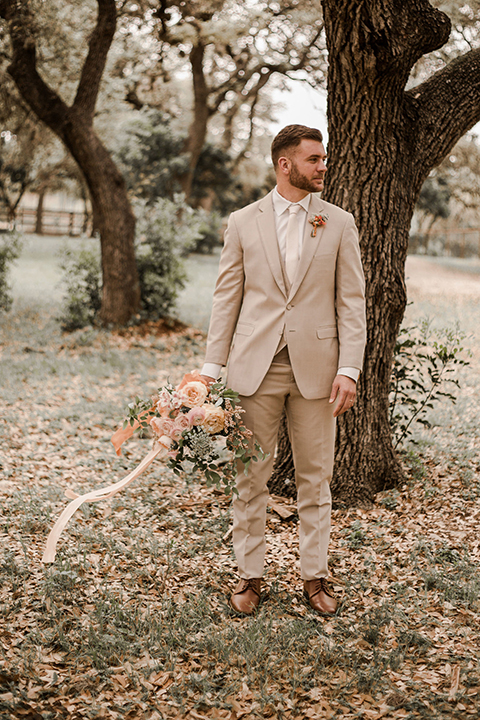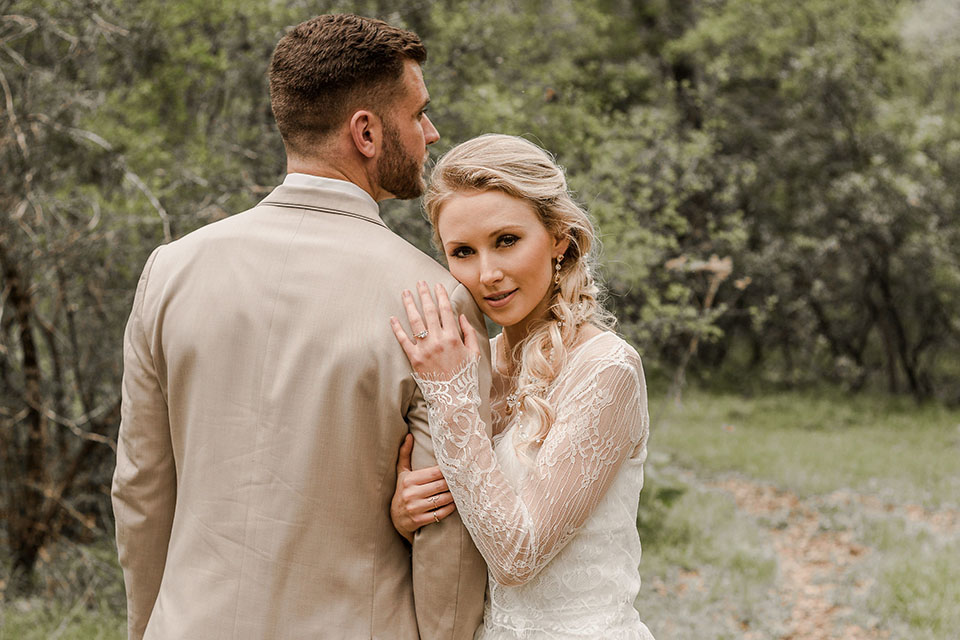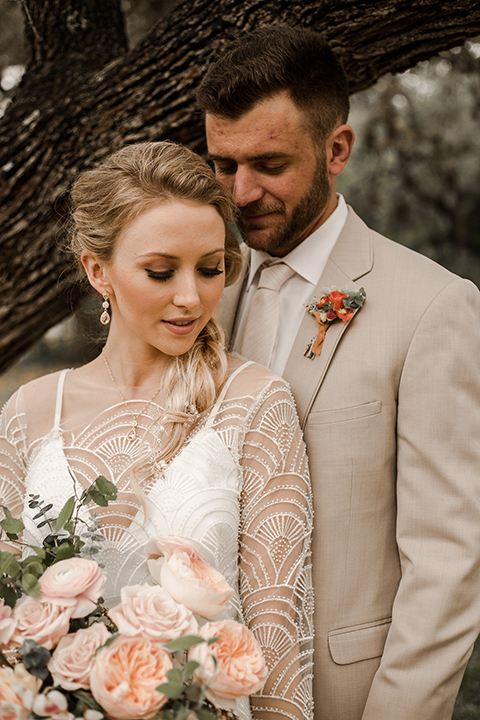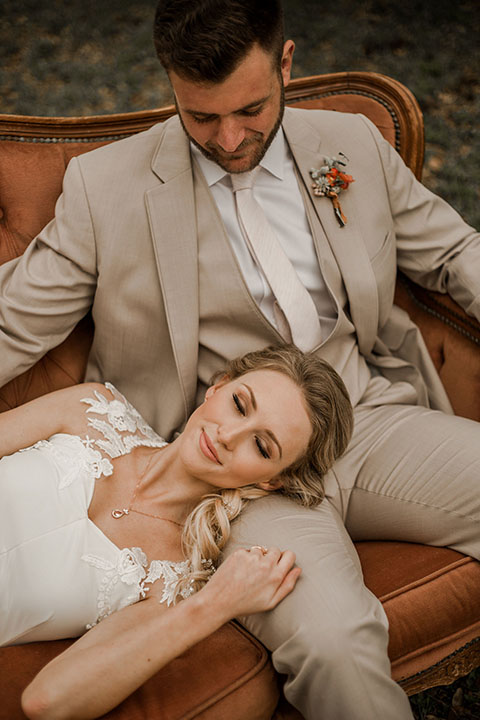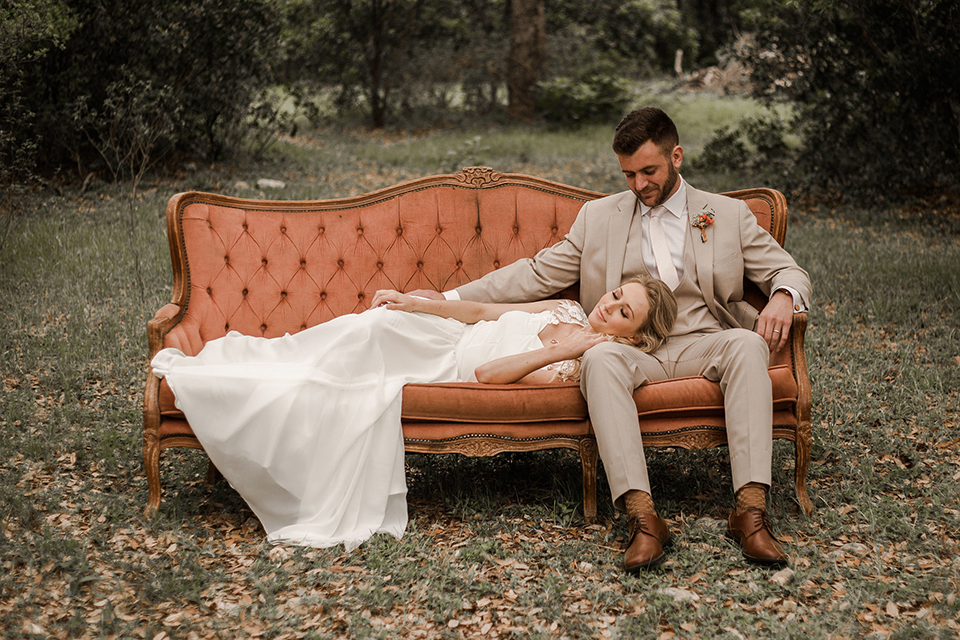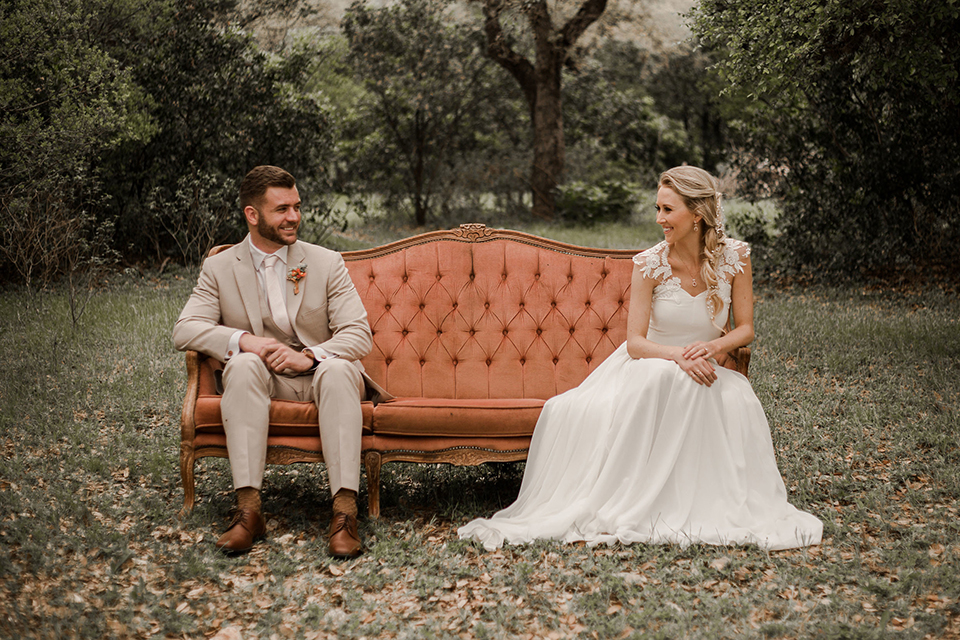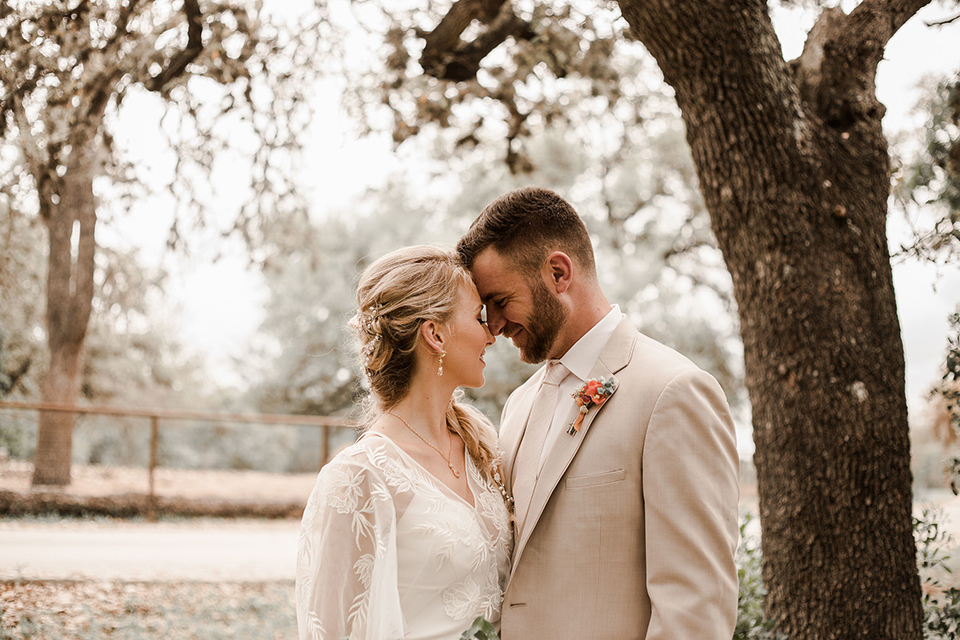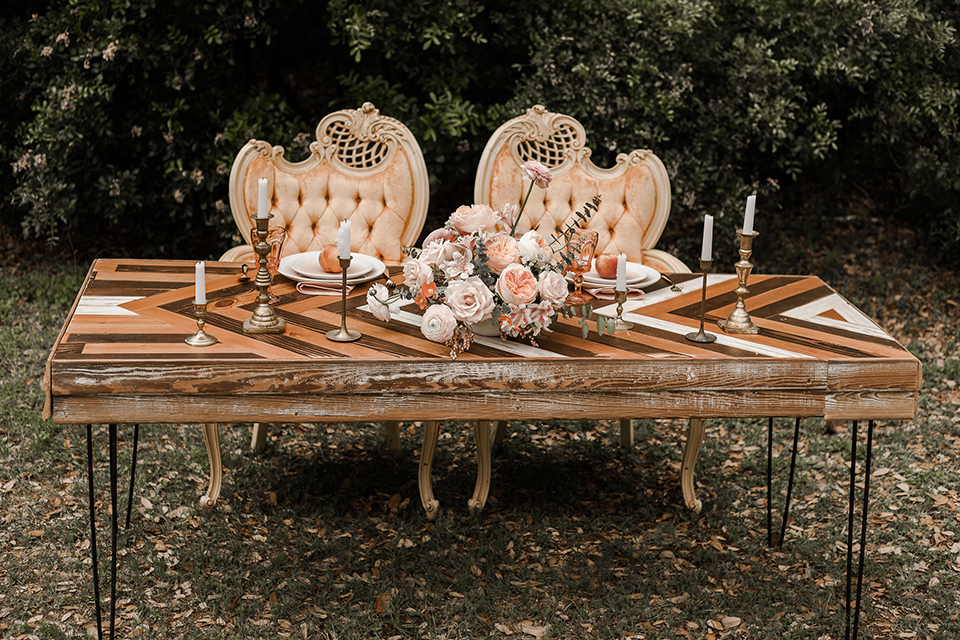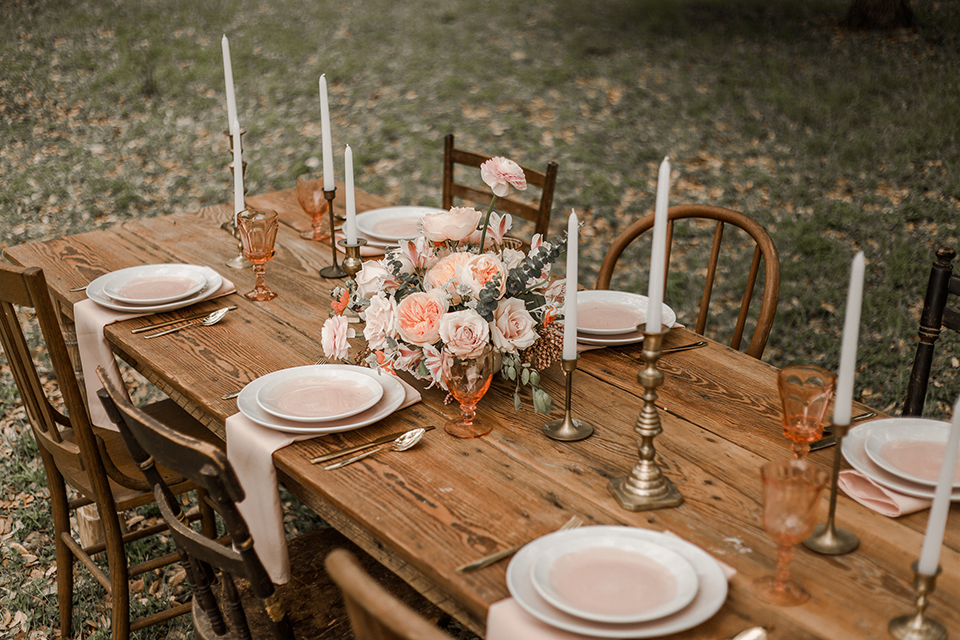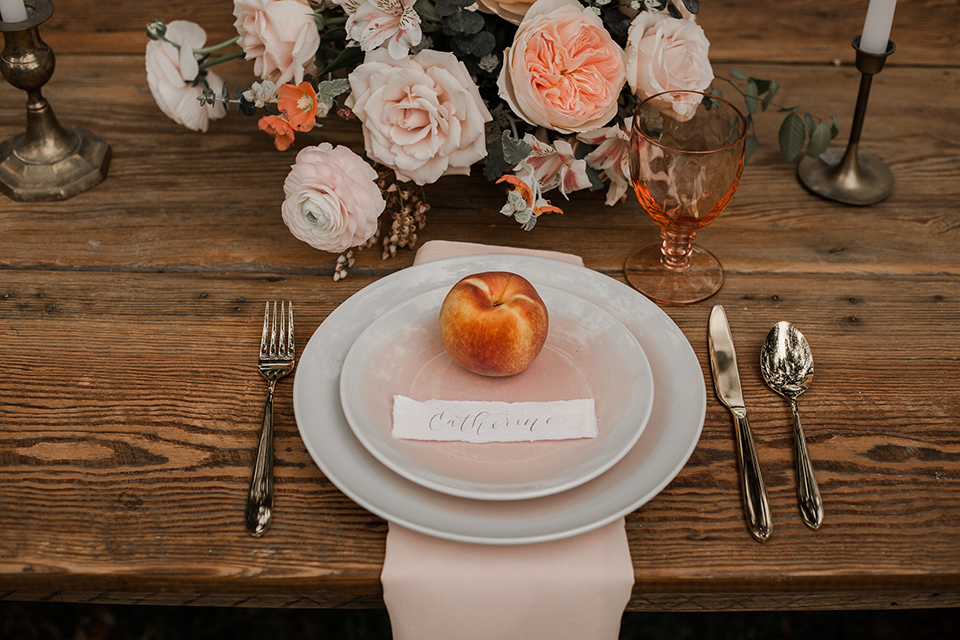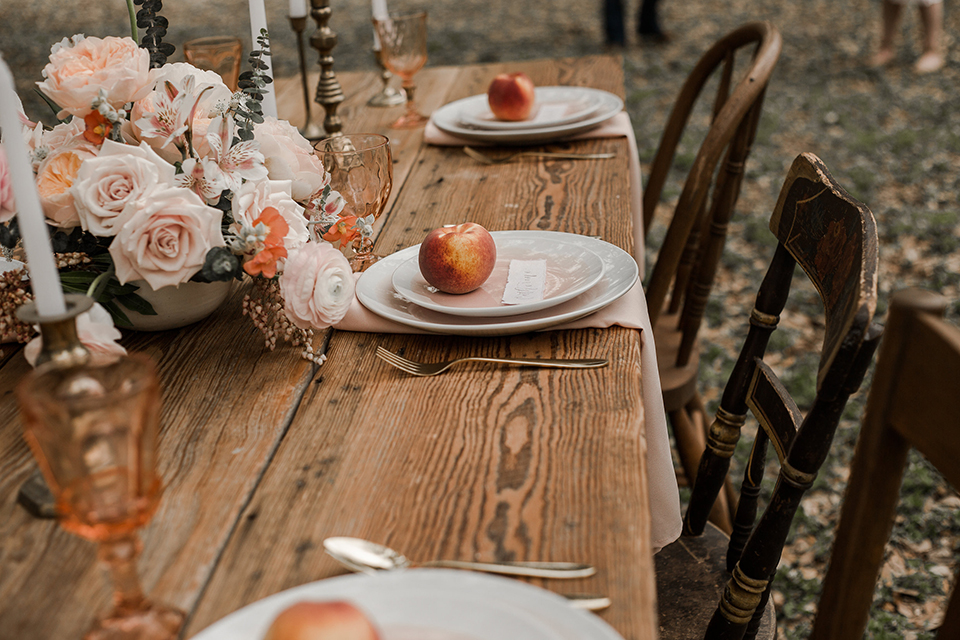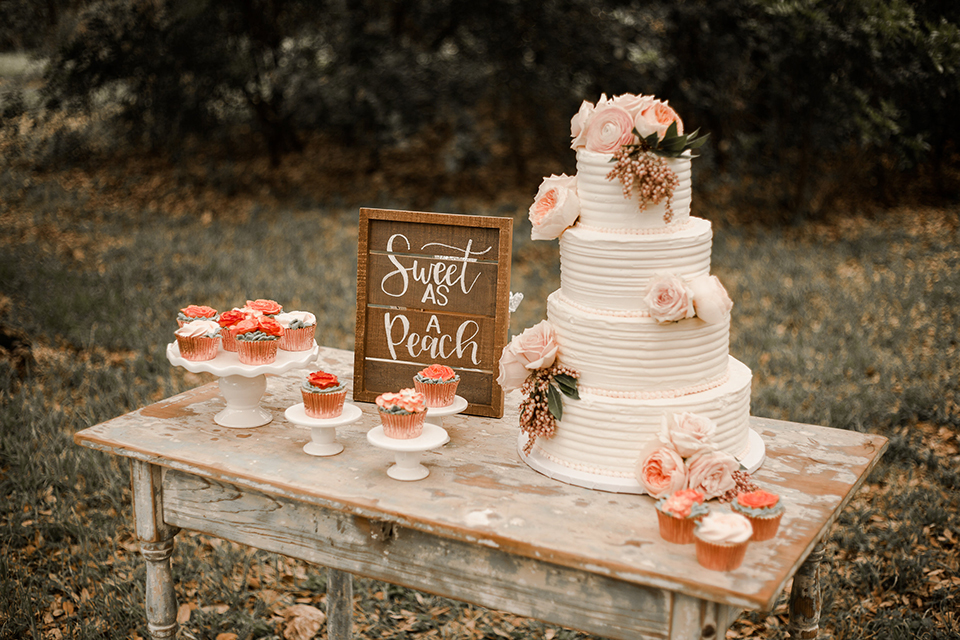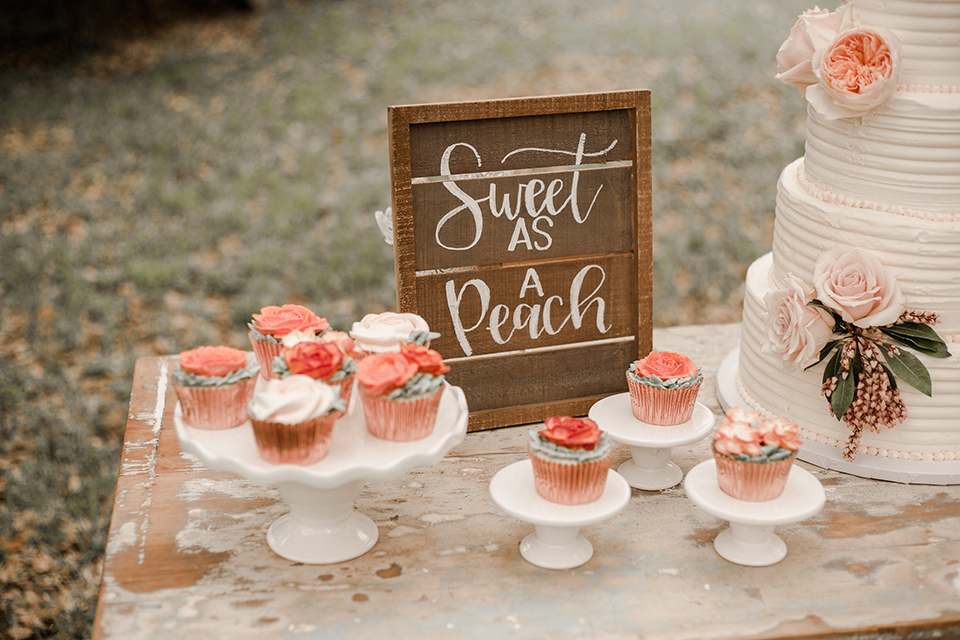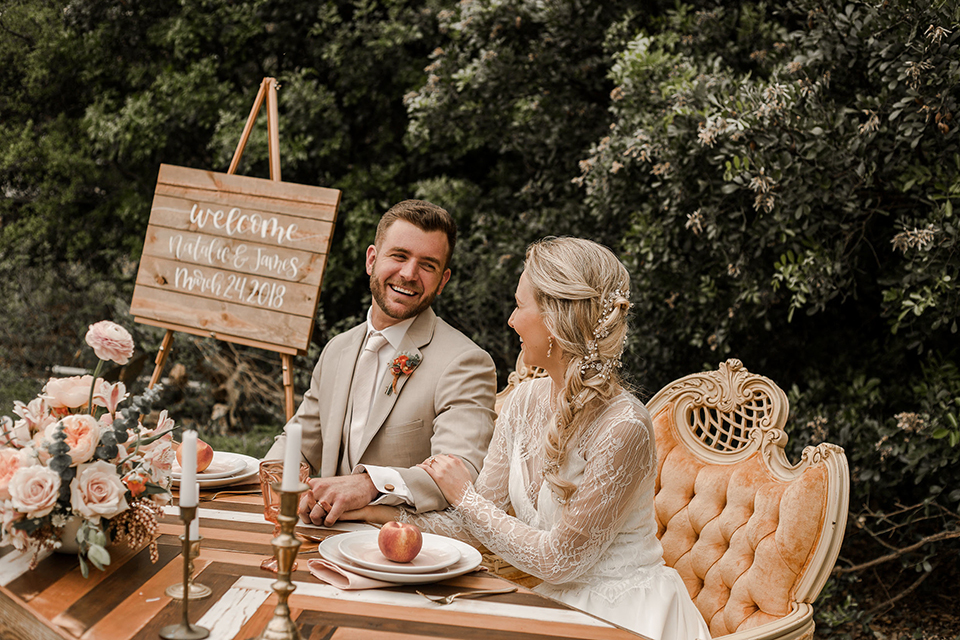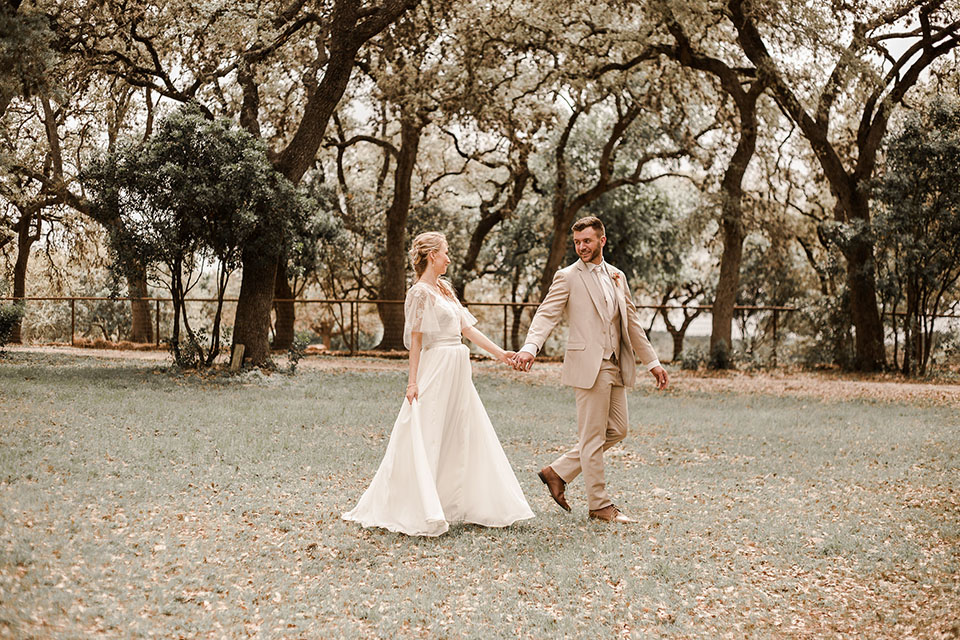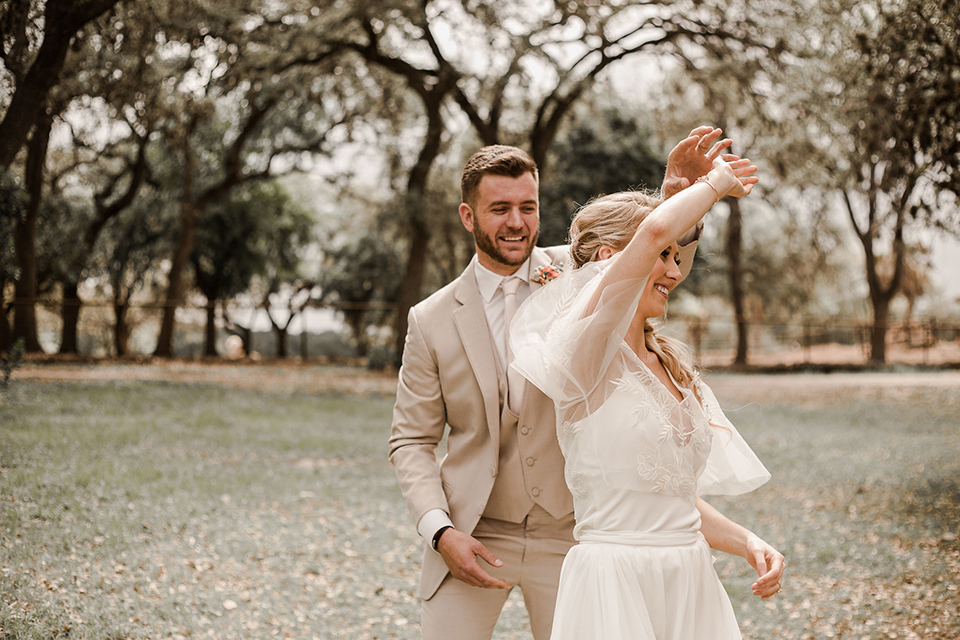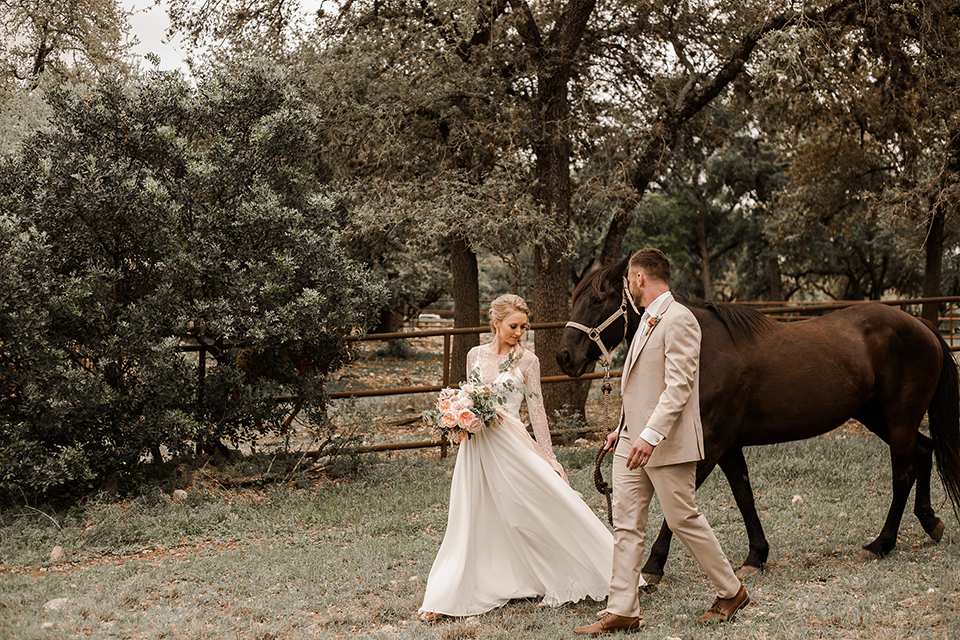 This shoot was also featured on Wedding Chicks!
Florals: Black Petal Floral Design | Wedding Dresses: Yours and Mine Bridal | Hair + Makeup: Ashley A Hair & Makeup | Bride's Hair Vine: Bella Via Designs | Bride's Shoes: KUKLA Fashion Design | Jewelry: Pink Carnation Design | Rentals: Mintage Rentals | Cakes + Catering: Texas Wildflour Bakery | Paper Goods + Calligraphy: Sam Allen Creates | Signage: Leigh Letters | Ring Box: Happy Boxes Shop
MOST READ BLOGS
BEST DRESSED MEN AT THE 2...

18 / 9 / 18 | News and Events

The 2018 Emmys Red Carpet brought out the male celebrities in clean, modern tuxedos. We've recapped some of our favotire looks from the Emmys in

ETHEREAL WEDDING STYLE IN...

26 / 12 / 18 | Inspirational Photo Shoots

Venue: Downtown Los Angeles
Photography: Ashley Burns Photography
Menswear Style: Cobalt Blue Suit by Allure Men with a black satin lon

WHIMSICAL ROMANCE AL FRES...

14 / 9 / 17 | Inspirational Photo Shoots

Venue: Tres Lagos
Photography: Jamielyn Craft Photography
Menswear Style: Grey Notch Lapel Suit with a charcoal bow tie

A GILDED RANCH WEDDING

25 / 6 / 18 | Inspirational Photo Shoots

Venue: Humphrey's Estate
Photography: Kristen Booth Photography
Menswear Style: Tan Notch Lapel Suit with a matching tan matte bow tie

BOHEMIAN CALIFORNIA WEDDI...

30 / 11 / 18 | Inspirational Photo Shoots

Venue: Huntington Bay Club
Photography: Emily Magers
Menswear Style: Black Suit with a green velvet bow tie

NATURE INSPIRED GRAND CAN...

22 / 5 / 17 | Inspirational Photo Shoots

Event Design: Deanna Nash Events
Photography: The Argus Image
Menswear Style: Slate Blue Notch Lapel Suit with a long silver tie

WOODLAND BOHEMIAN WEDDING

17 / 5 / 17 | Inspirational Photo Shoots

Coordination: Jenne Chanthaboury
Photography: Lin and Jirsa
Menswear Style: Gray Notch Lapel Suit with a long floral tie

PARK HYATT AVIARA BLACK T...

17 / 5 / 17 | Inspirational Photo Shoots

Venue: Park Hyatt Aviara
Photography: Evelyn Molina Photography
Menswear Style: Black Michael Kors Notch Lapel Tuxedo with a black bow

COLORFUL BOHEMIAN STYLE W...

16 / 5 / 17 | Inspirational Photo Shoots

Venue: Sherwood Country Club
Photography: Lucas Rossi Photography
Menswear Style: Navy Shawl Lapel Tuxedo with a black faux leather b

RUSTIC ROMANCE WEDDING

16 / 5 / 17 | Real Weddings

Venue: Villa San Juan Capistrano
Photography: Katelin Wallace Photography
Menswear Style: Navy Shawl Lapel Tuxedo with a black bow tie

HOW TO STYLE A WOMEN'S TU...

9 / 5 / 17 | Inspirational Photo Shoots

Venue: Franciscan Gardens
Photography: Christine Bentley Photography
Attire: Women's Black Shawl Lapel Tuxedo