Modern Moroccan Boho Wedding Style
Modern Moroccan Boho Wedding Style
10 / 18 / 18 | Inspirational Photo Shoots
Venue: Hey Babe Ranch
Designer: Tularosa
Photography: Paco and Betty
Menswear Style: Burgundy Tuxedo by Ike Behar with a long black skinny tie
Write up from Green Wedding Shoes:
"A bright pastel palette with pops of vibrant orange — hues reminiscent of the desert — along with sun-bleached walls, plus vintage hand-loomed carpets, worn by time… That's what Dawn of Tularosa Flowers envisioned when she first laid eyes upon the Rue de Seine 'Dakota' gown. Wanting to complement the fringe of the dress, while designing an editorial fit for a bohemian bride that loves the sun-kissed look, she teamed up with expert photographer, Paco and Betty, at the Hey Babe Ranch venue.
Whitney of Paco and Betty spills: The movement and textures of the gown are so rich and seductive. We knew we had to creative a sultry, sexy Modern Moroccan-inspired editorial to showcase the gown. While at the flower market, we saw a flower we had never seen before: banksia! It had the most amazing combination of pale ballet pink and bright orange hues, and that is where our color inspiration was born.
Carina of A Toast to Beauty created a sultry smoky eye look for model, Christianna. Connie Novello complemented the overall bohemian desert theme with mermaid waves + elegantly deconstructed braids… With the final touch of a fresh floral headpiece from Tularosa Flowers! The groom's attire was inspired by the classic film noir look of Casablanca; and the bordeaux tuxedo from Stitch and Tie brought a modern twist to the classic look! There's nothing like a backdrop to frame a space outdoors + create a feeling of intimacy! Especially when that backdrop is done by installation artist, Angela of The Mintery! Capturing the feeling of aged Moroccan riads, the backdrop was topped with a delicate flower mandala. And pieces from Folklore Rentals truly brought the space to life!"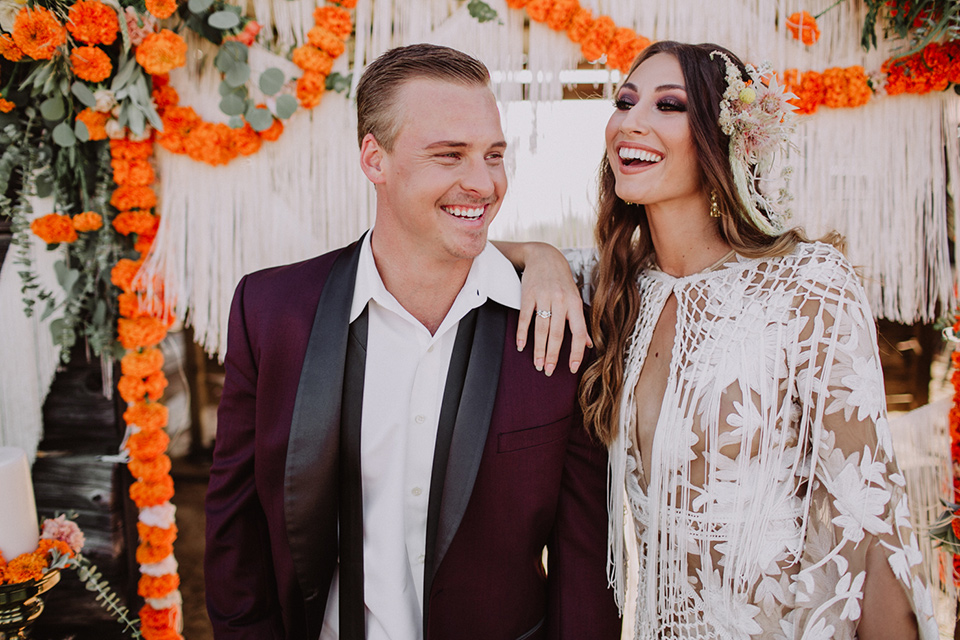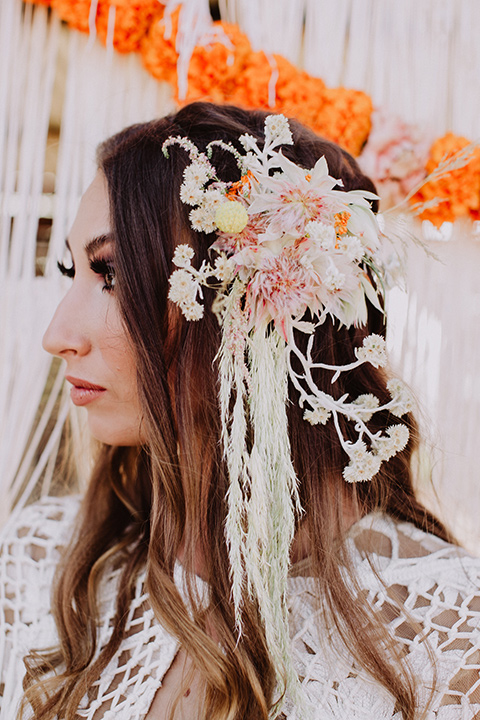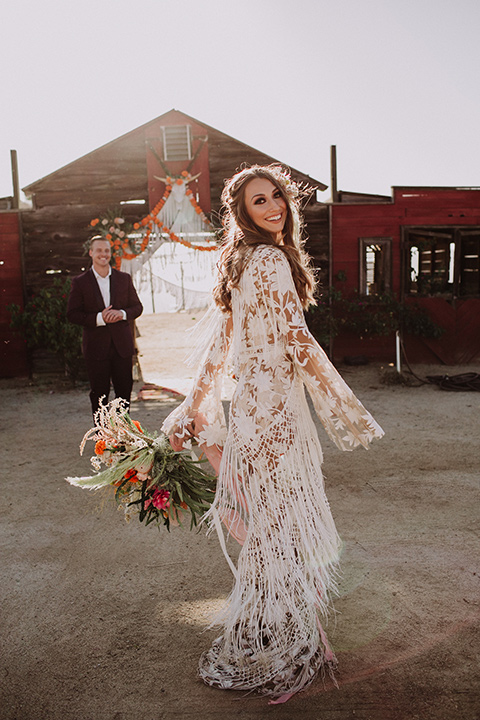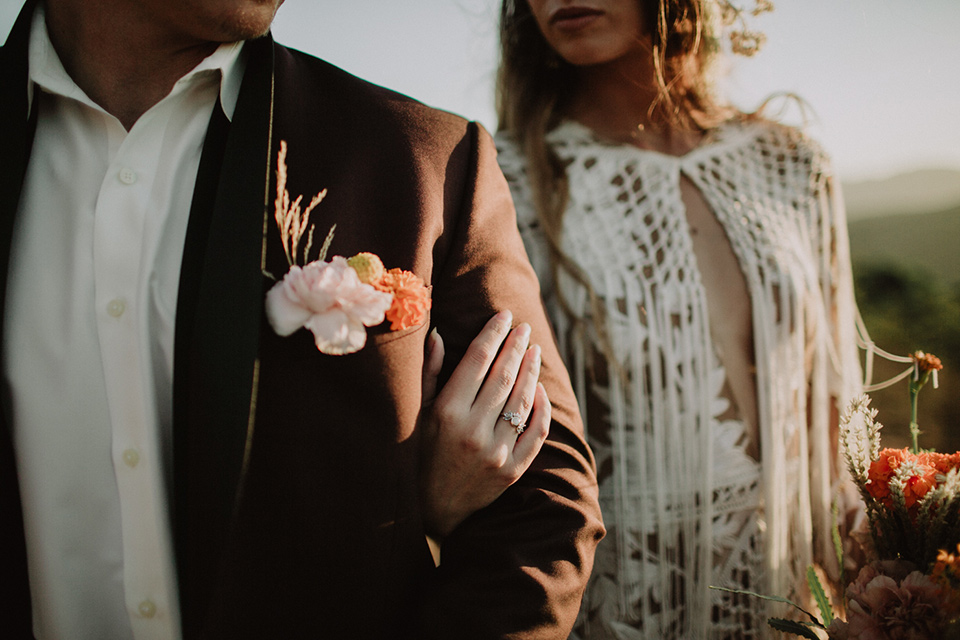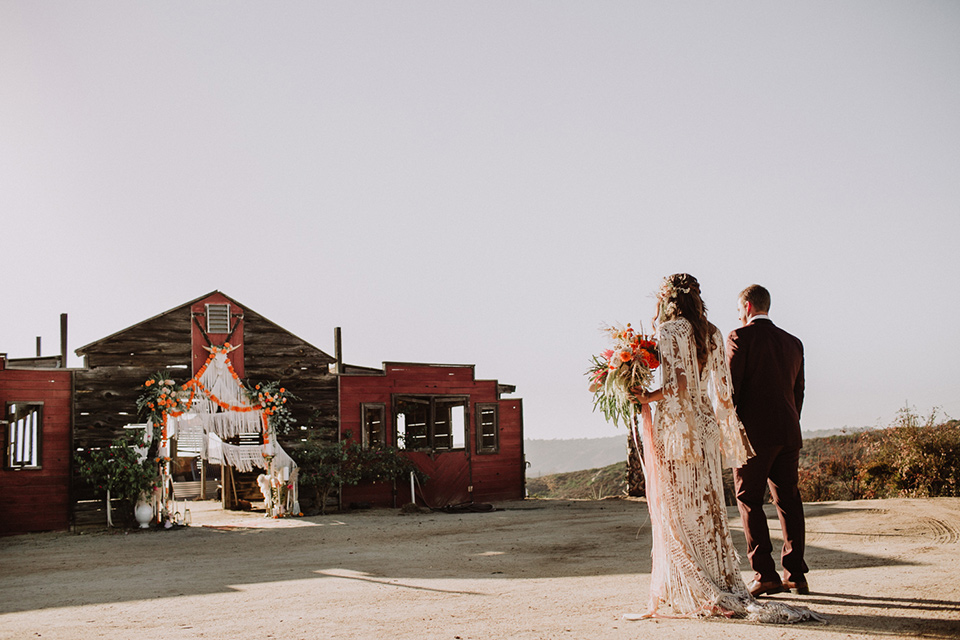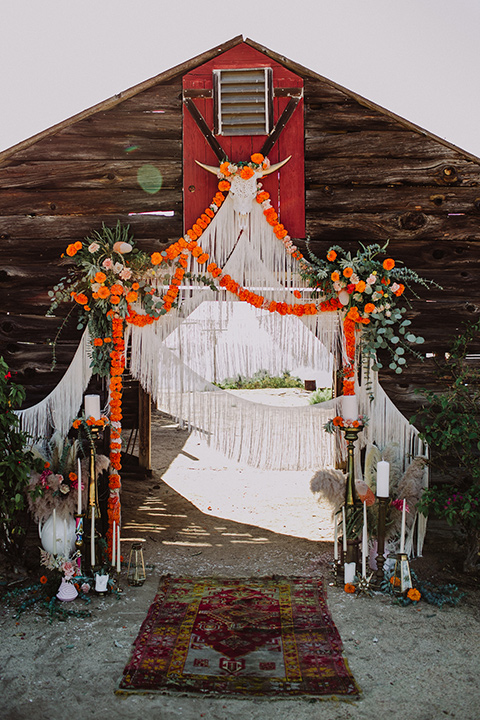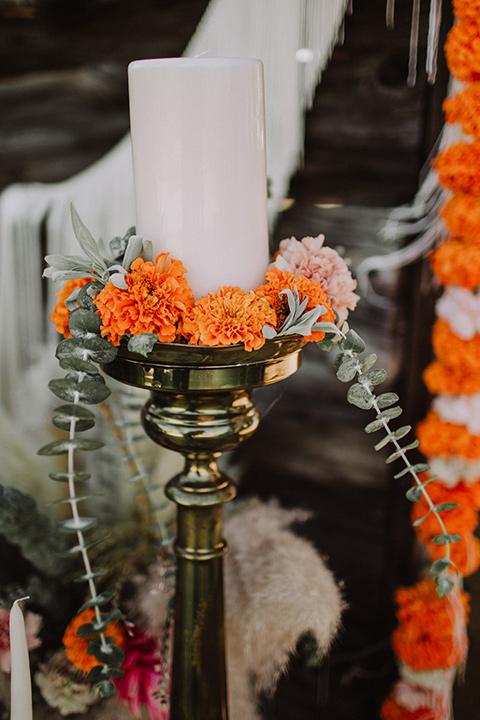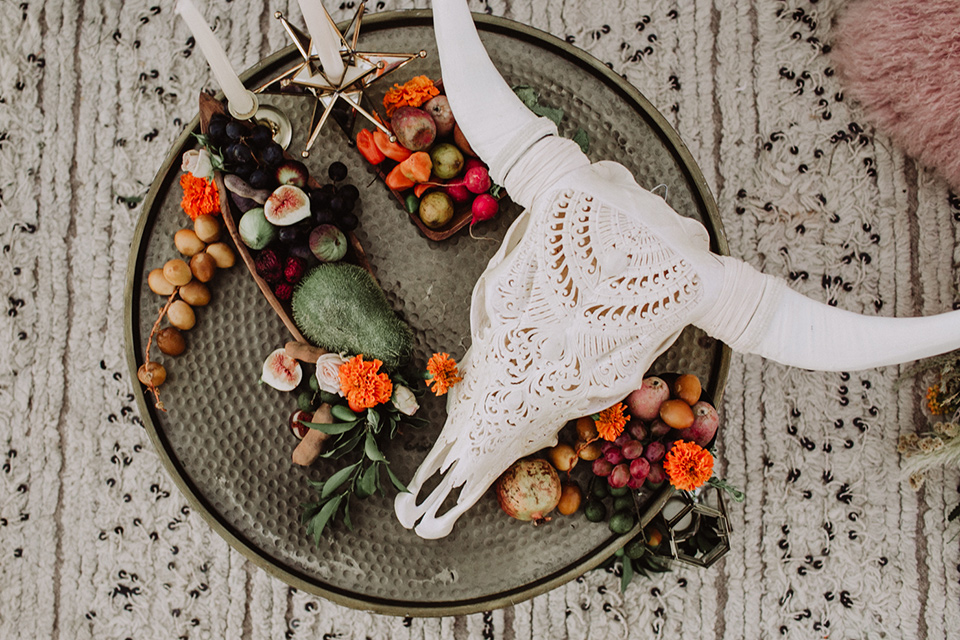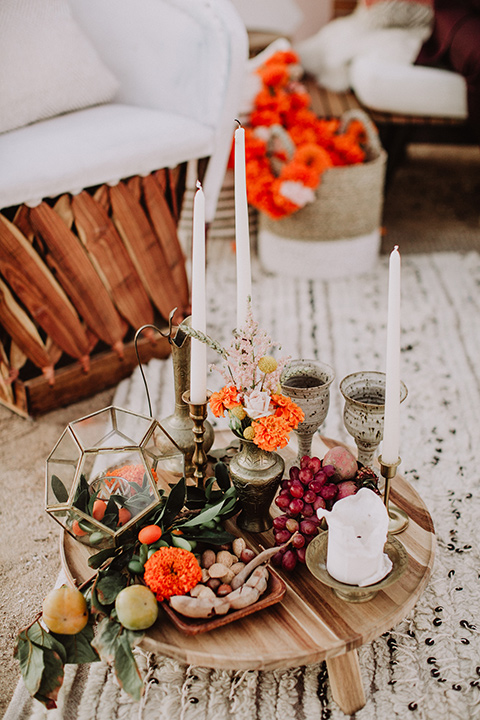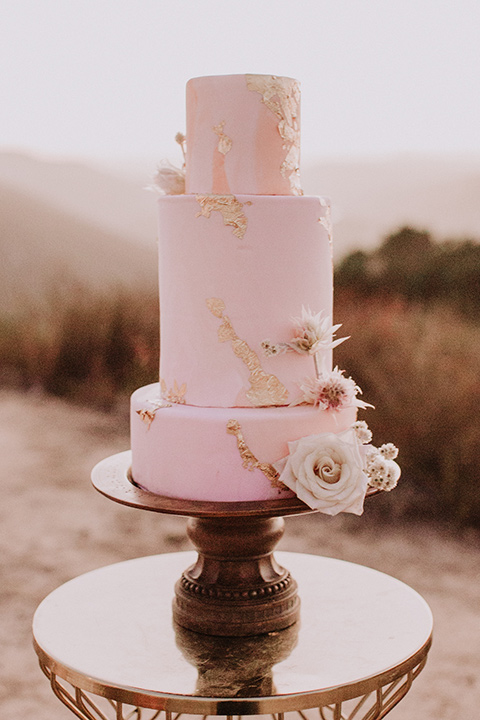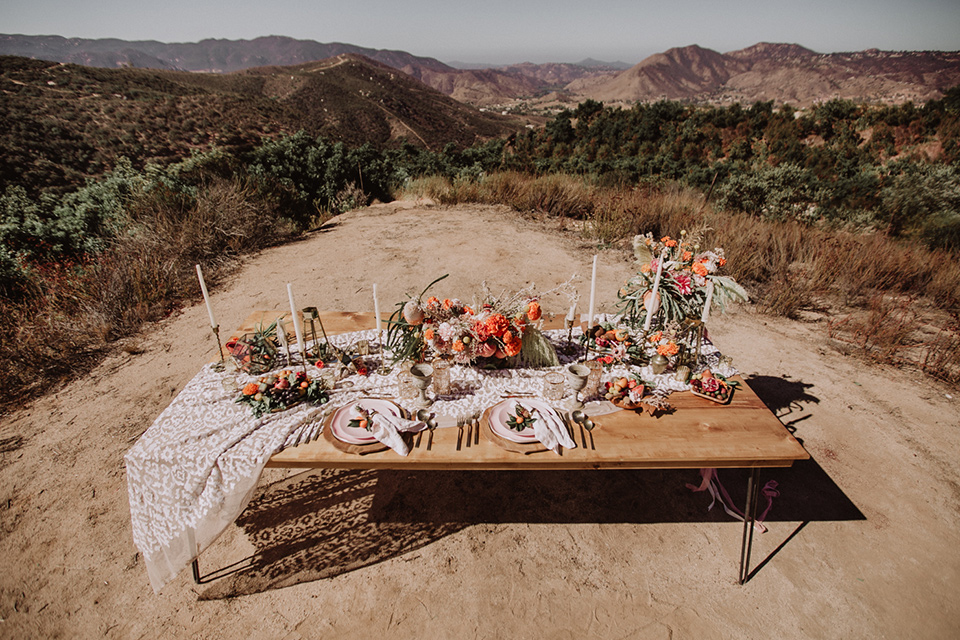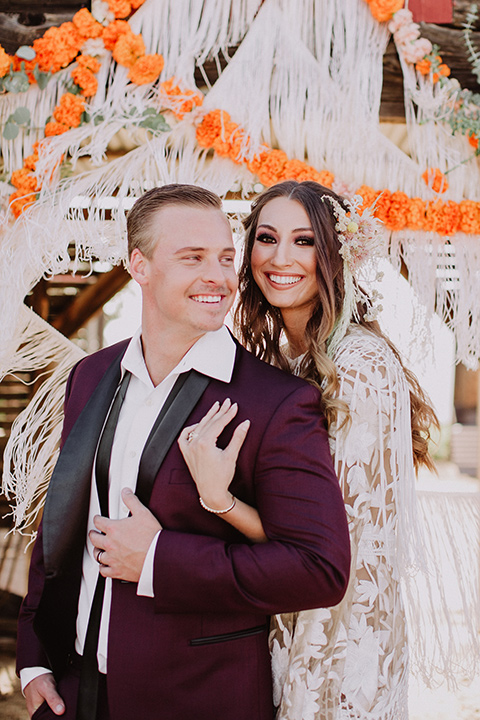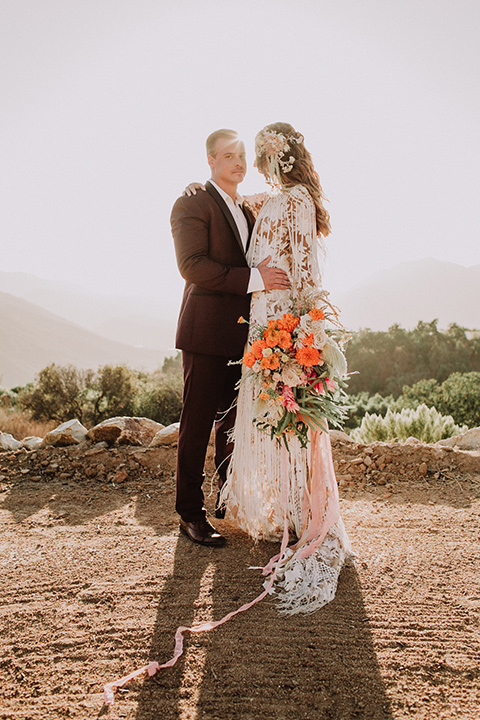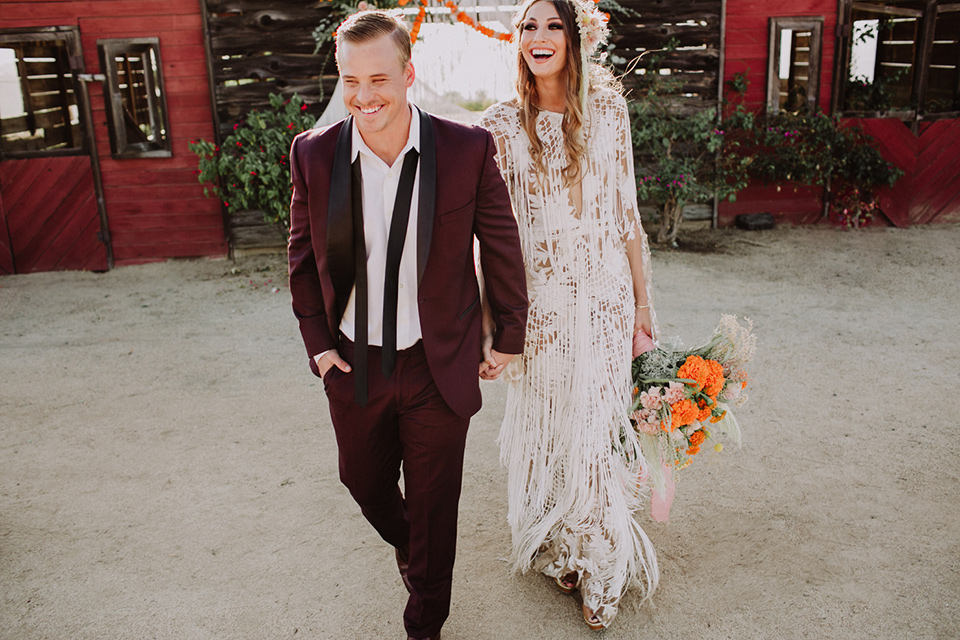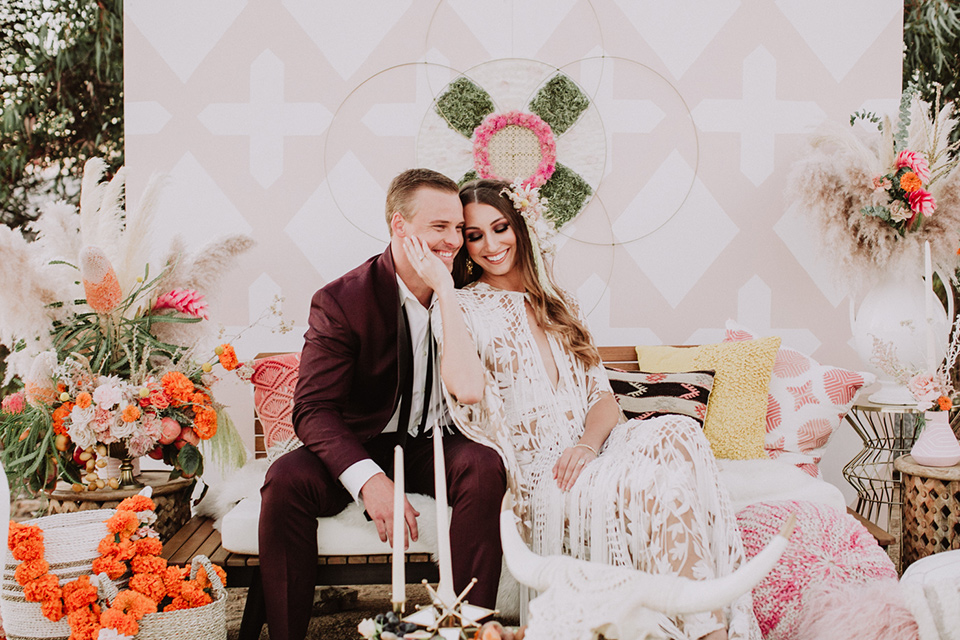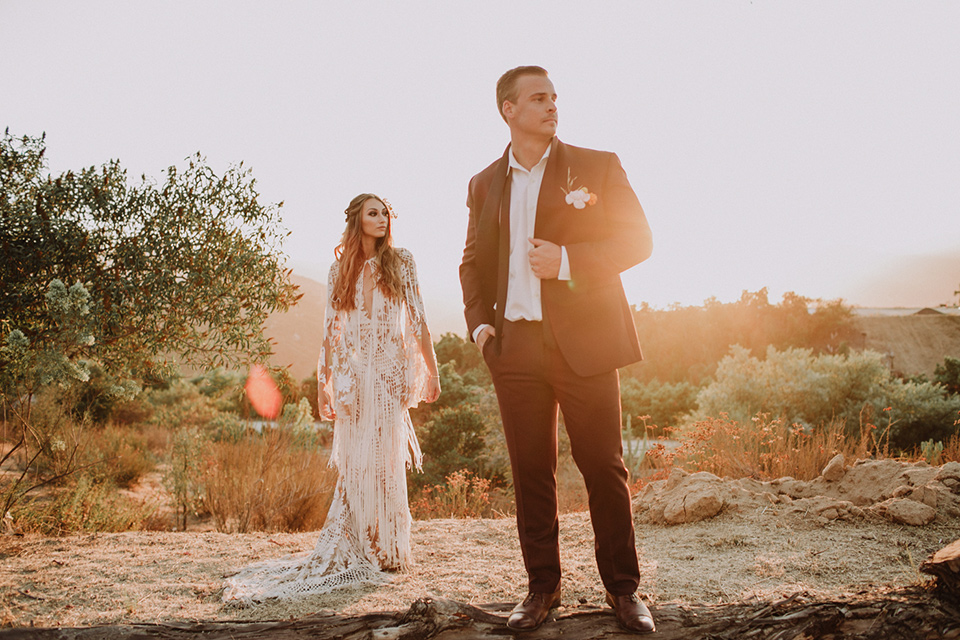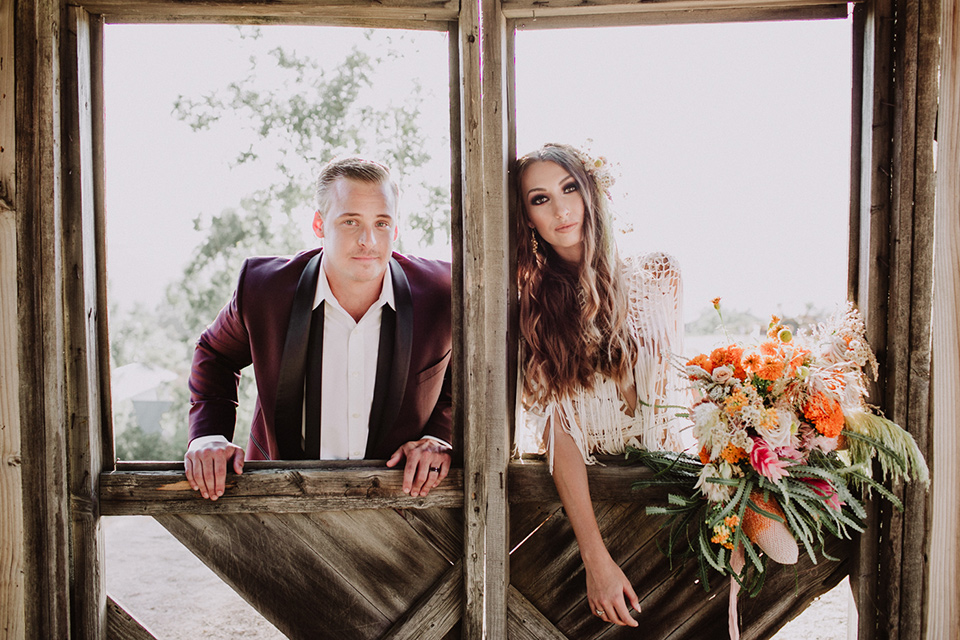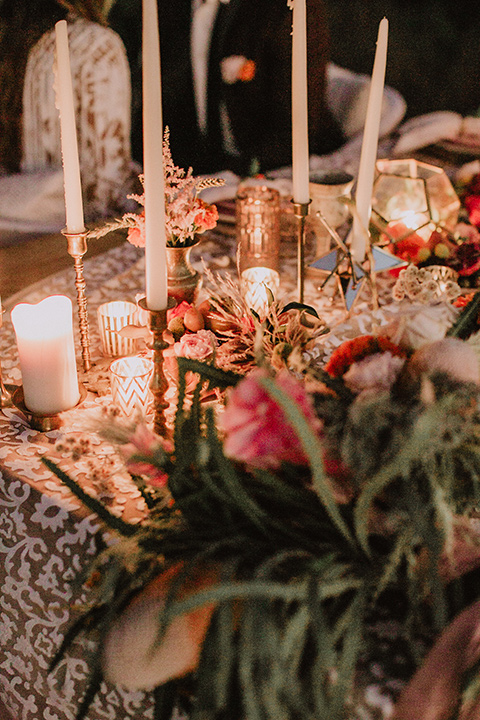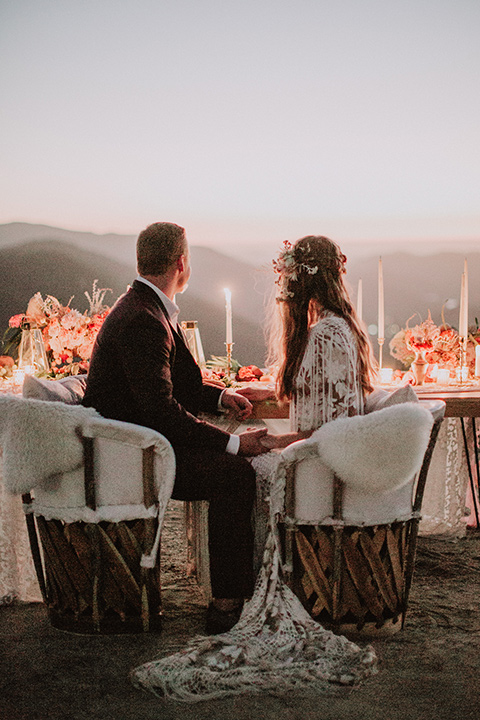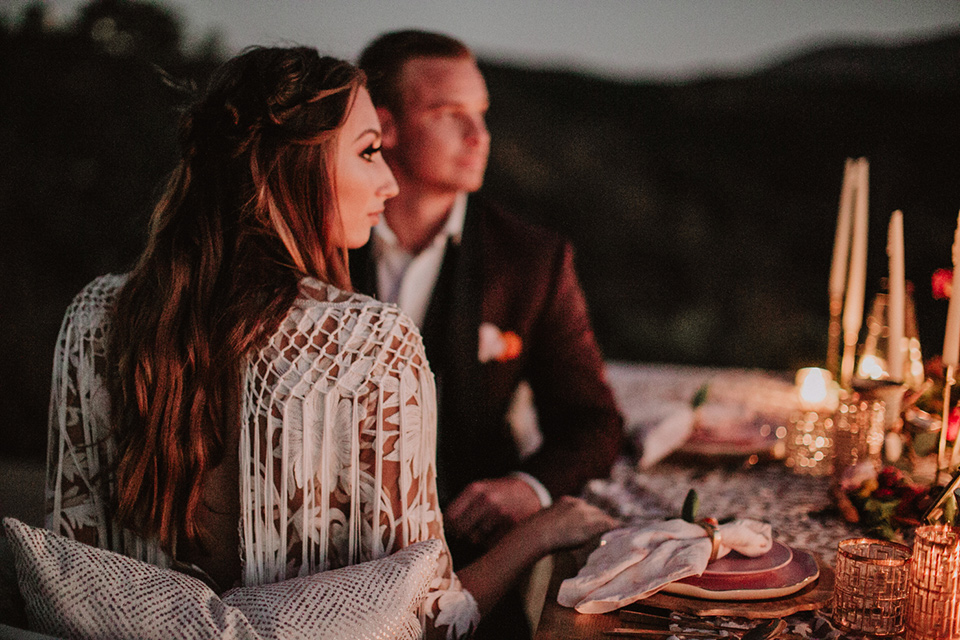 This wedding was also featured on Green Wedding Shoes
Florals: Tularosa | Bridal Gown Designer: Rue De Seine | Bridal Gown Boutique: The Dress Theory | Hairpiece: Tularosa | Bride's Ring: Marrow | Hair Stylist: Connie Novello | Makeup Artist: Carina Tarpley | Videography: 66 Hwy Films | Handmade Details: Devine Bovine | Cake: Sweet Emma Lou | Furniture Rentals: Folklore Rentals | Instillation Artist: The Mintery
MOST READ BLOGS
ETHEREAL WEDDING STYLE IN...

26 / 12 / 18 | Inspirational Photo Shoots

Venue: Downtown Los Angeles
Photography: Ashley Burns Photography
Menswear Style: Cobalt Blue Suit by Allure Men with a black satin lon

AND THE OSCAR GOES TO.......

26 / 2 / 19 | News and Events

The 2019 Oscars were as smooth as velvet, literally velvet tuxedos were everywhere and we were all heart eyes.

FLOWER MARKET WEDDING FOR...

1 / 2 / 19 | Inspirational Photo Shoots

Venue: II Mercato, New Orleans
Photography + Videography: Mon Soleil
Style: Black Women's Tuxedo with a polka dot bow tie

GARDEN WEDDING WITH ROMAN...

12 / 3 / 19 | Inspirational Photo Shoots

Venue: Rancho Las Lomas
Photography: Janita Mestre Photography
Menswear Style: Light Grey Grenada Suit by Ike Behar with a white floral

BEST DRESSED MEN AT THE 2...

18 / 9 / 18 | News and Events

The 2018 Emmys Red Carpet brought out the male celebrities in clean, modern tuxedos. We've recapped some of our favotire looks from the Emmys in

2019 GOLDEN GLOBES RED CA...

7 / 1 / 19 | News and Events

Last night the world got to be a part of the 2019 Golden Globes, a night where we honor those artists in film and television in a respectable man

WOODLAND WEDDING VIBES BU...

23 / 4 / 19 | Real Weddings

Venue: Martin Johnson House
Photography: Top Shelf Photo
Menswear Style: Dark Blue Suit with a blue shirt and red patterned tie

MODERN WEDDING WITH A VIB...

6 / 11 / 17 | Inspirational Photo Shoots

Venue: Pasea Hotel Resort & Spa
Photography: Christine Bentley Photography
Menswear Style: Cobalt Notch Lapel Suit and Burgundy Notch L

NATURE INSPIRED GRAND CAN...

22 / 5 / 17 | Inspirational Photo Shoots

Event Design: Deanna Nash Events
Photography: The Argus Image
Menswear Style: Slate Blue Notch Lapel Suit with a long silver tie

WOODLAND BOHEMIAN WEDDING

17 / 5 / 17 | Inspirational Photo Shoots

Coordination: Jenne Chanthaboury
Photography: Lin and Jirsa
Menswear Style: Gray Notch Lapel Suit with a long floral tie

PARK HYATT AVIARA BLACK T...

17 / 5 / 17 | Inspirational Photo Shoots

Venue: Park Hyatt Aviara
Photography: Evelyn Molina Photography
Menswear Style: Black Michael Kors Notch Lapel Tuxedo with a black bow