Metropolitan Los Angeles Wedding
Metropolitan Los Angeles Wedding
5 / 30 / 18 | Inspirational Photo Shoots
Venue: OUE Skyspace and Walt Disney Concert Hall
Event Planning + Design: Bel Event Productions
Photography: Visuals by Arpit
Menswear Style: Black Notch Lapel Tuxedo by Michael Kors with a black and white dot bow tie
Write up from Visuals by Arpit:
This OUE Skyspace wedding editorial came about from our desire to showcase a modern and elegant metropolitan affair. To complement the intricate architecture of Los Angeles as well as the natural beauty surrounding the city, our team set out to pull together details designed to play off each other in order to successfully create a sleek and sexy wedding experience. The first look at the Walt Disney Concert Hall set the mood for the couple with the city streets and the sleek architecture. The pockets and sweeping train on the Galia Lahav bridal gown provided the mix of modern elegance and luxe femininity, while the neatly tailored suit designed by Michael Kors was its perfect complement. The beauty team drew inspiration straight from the red carpet, balancing classic and trendy all in one swoop. Handcrafted jewelry and the gold hairpiece added the perfect touch of romance, while the brilliant diamond enhanced the details. (Continued below)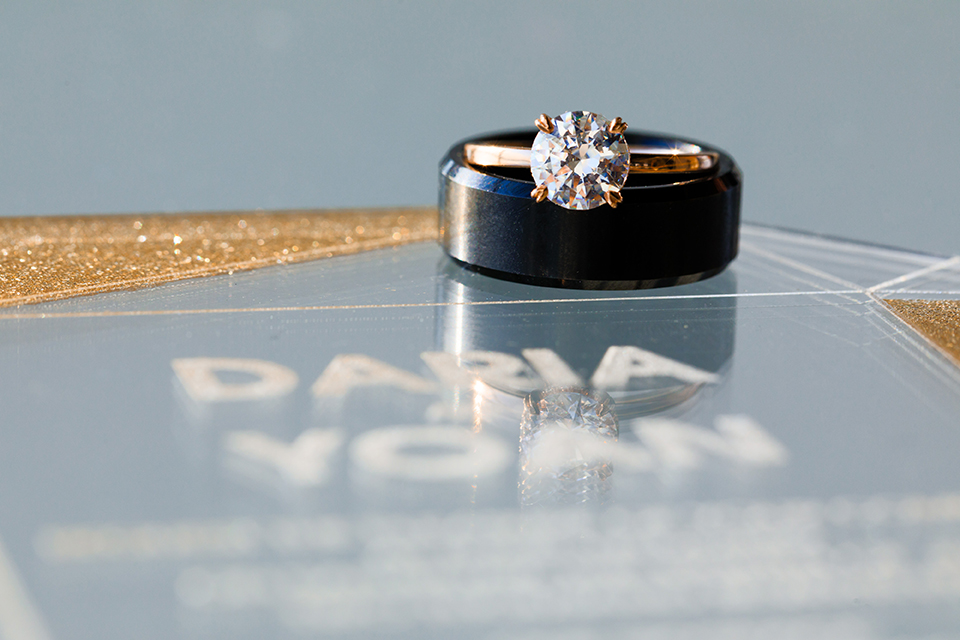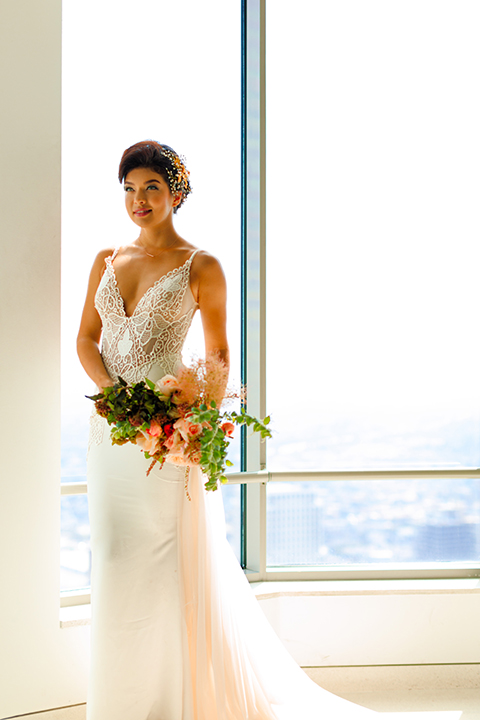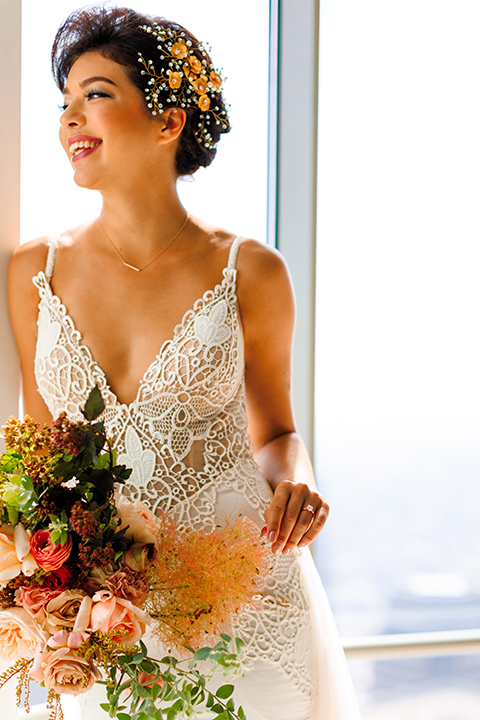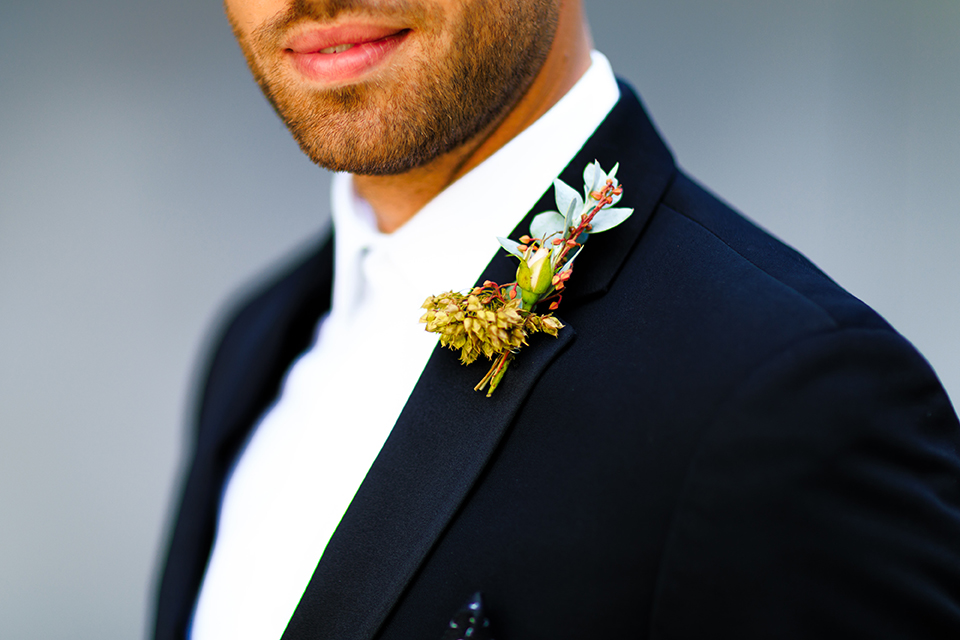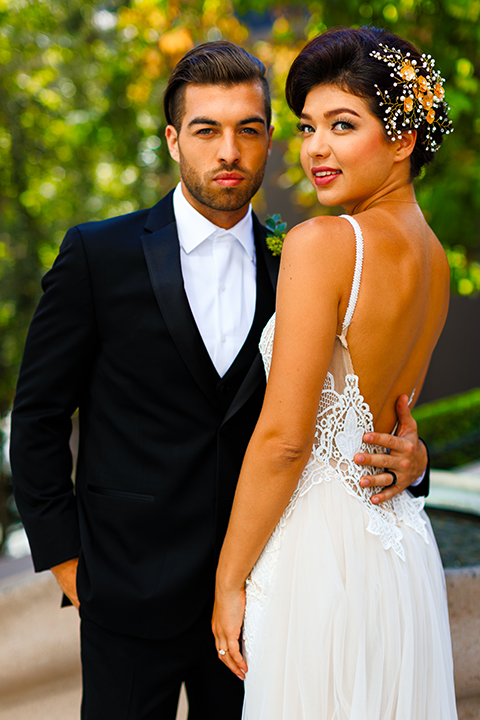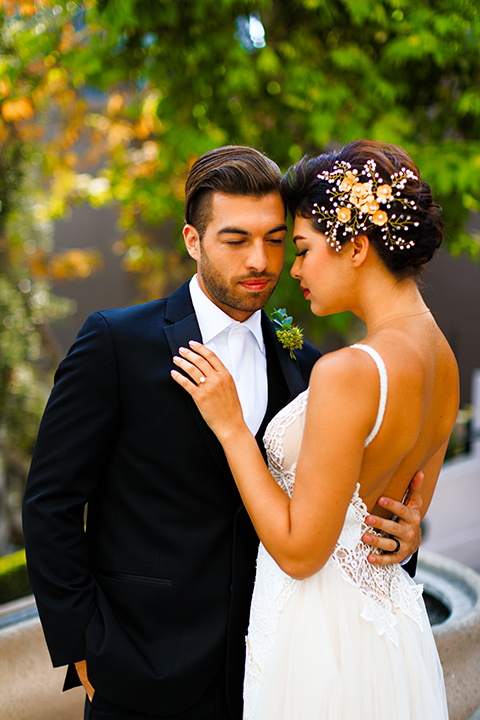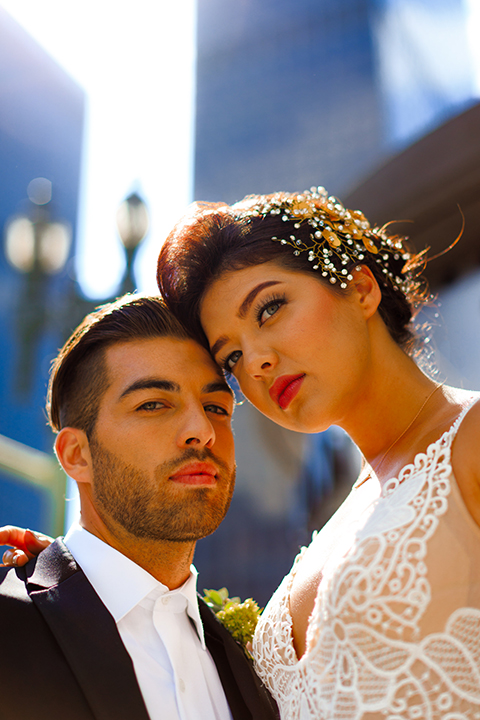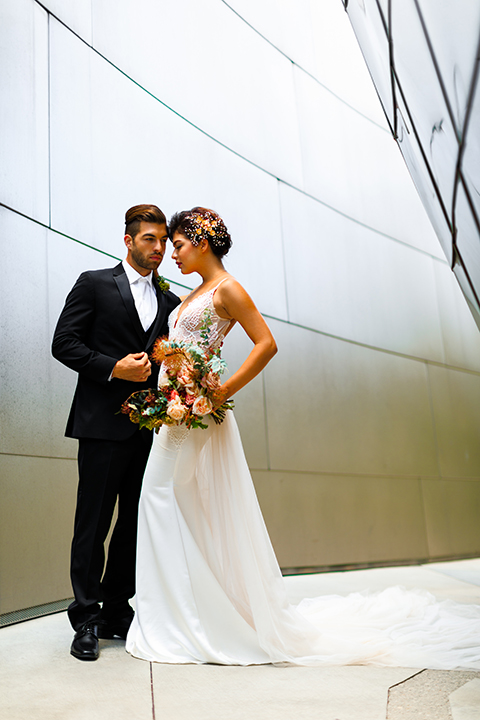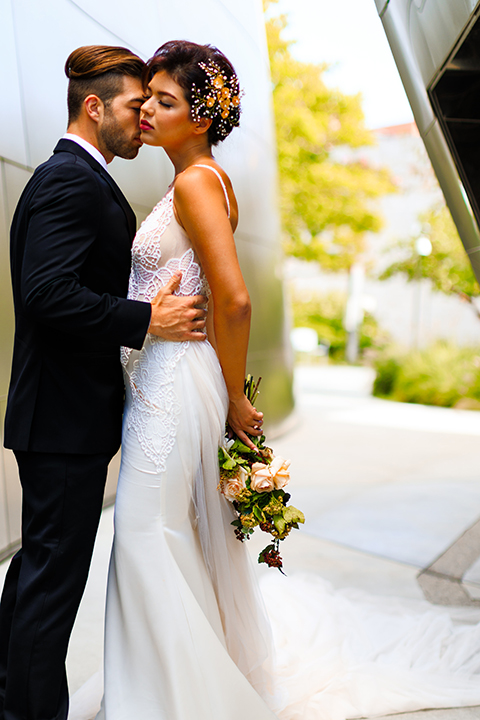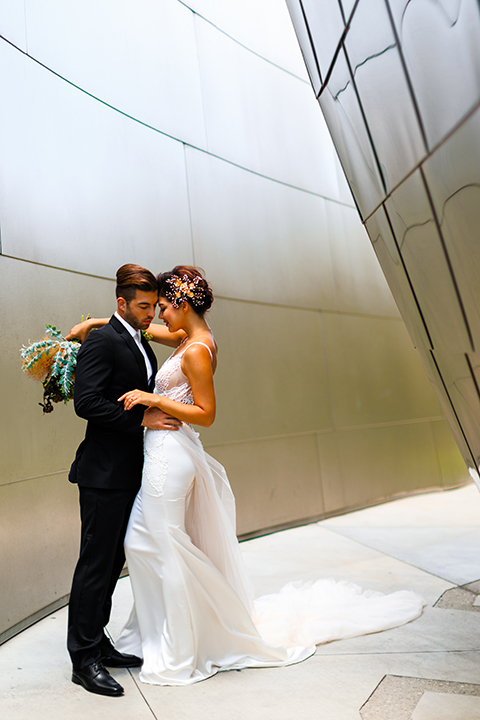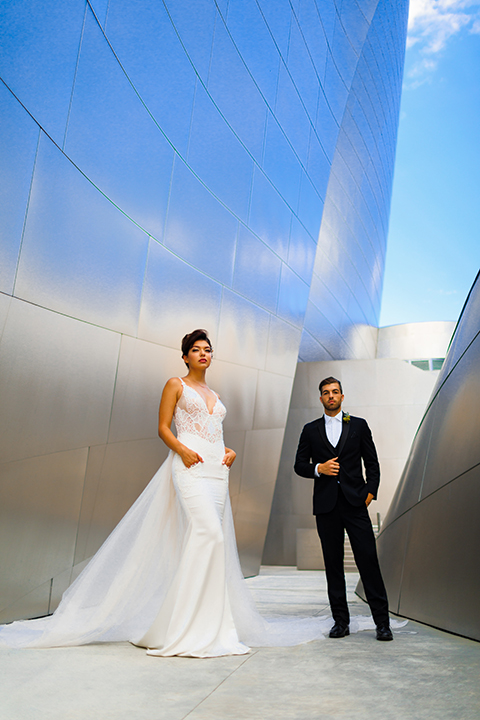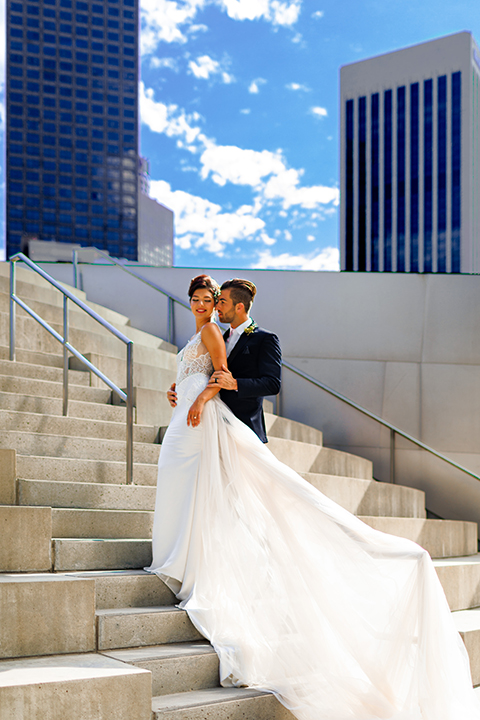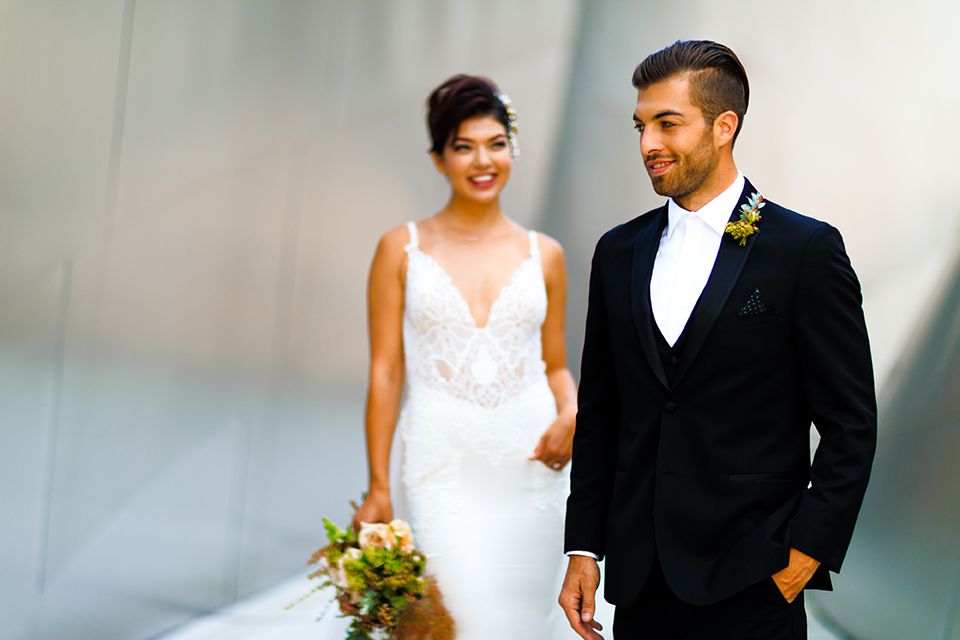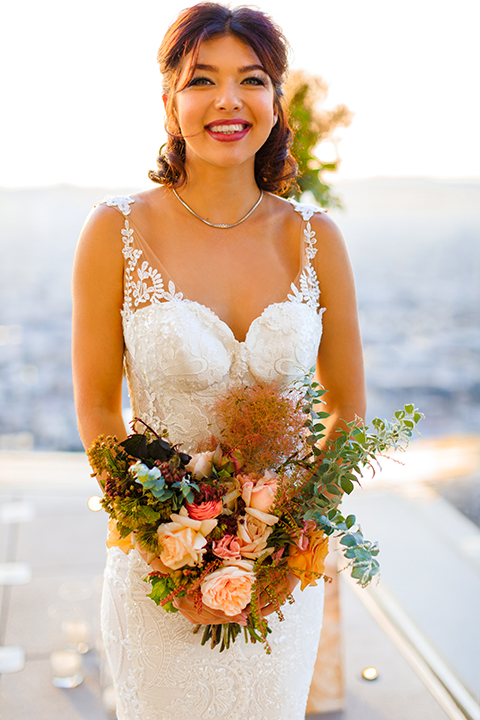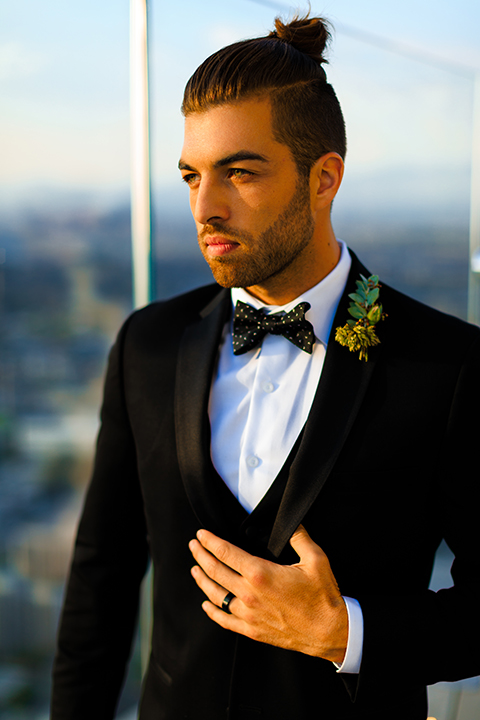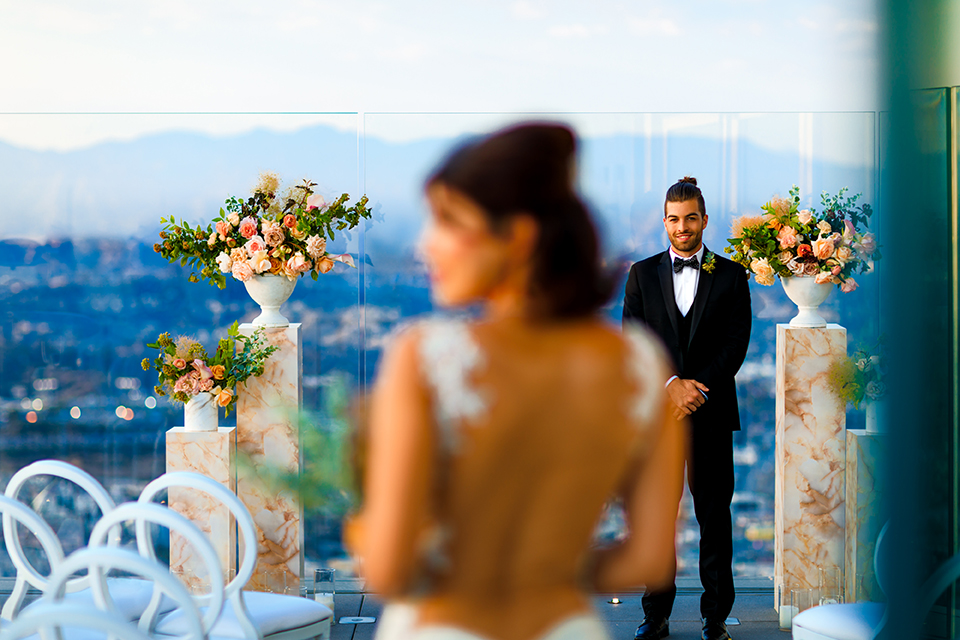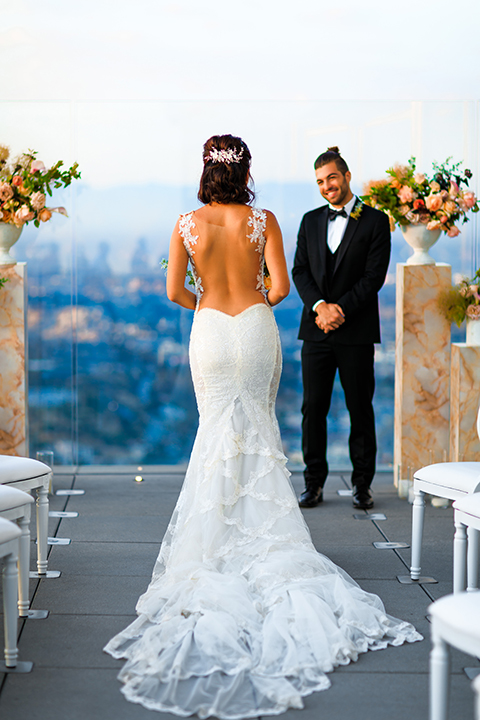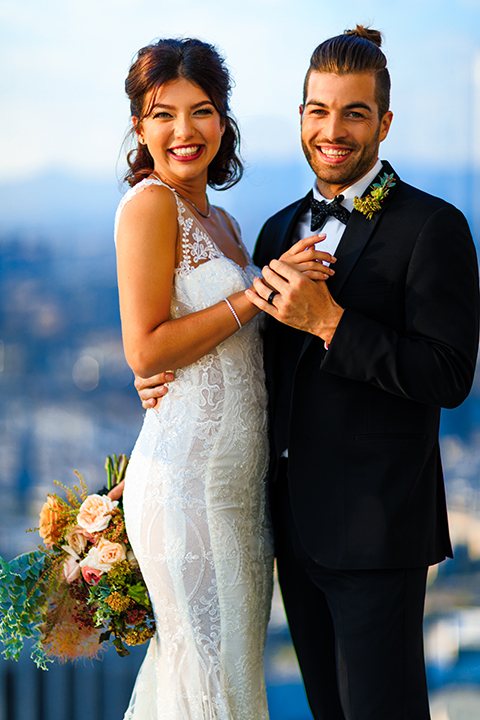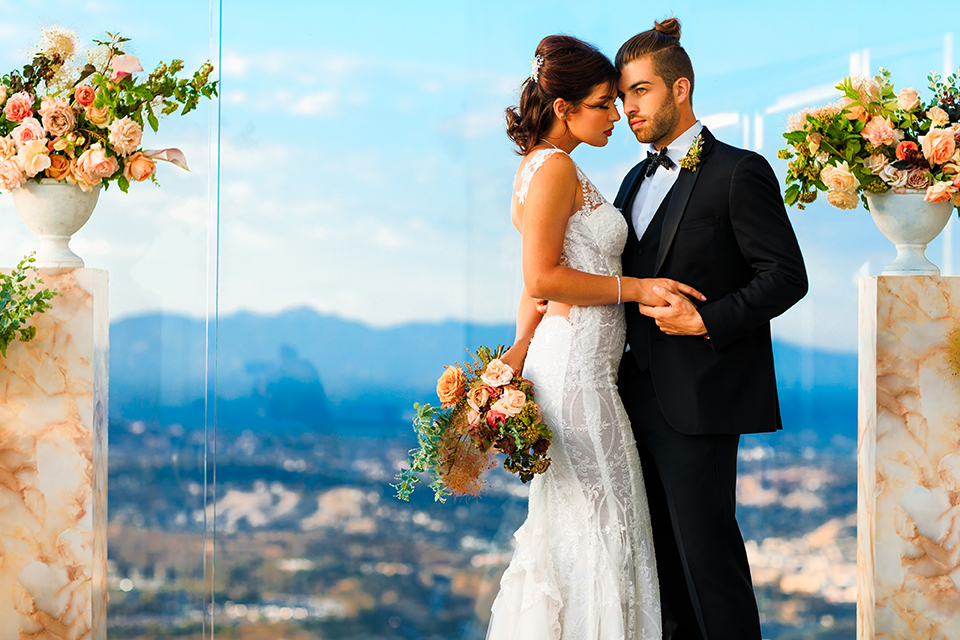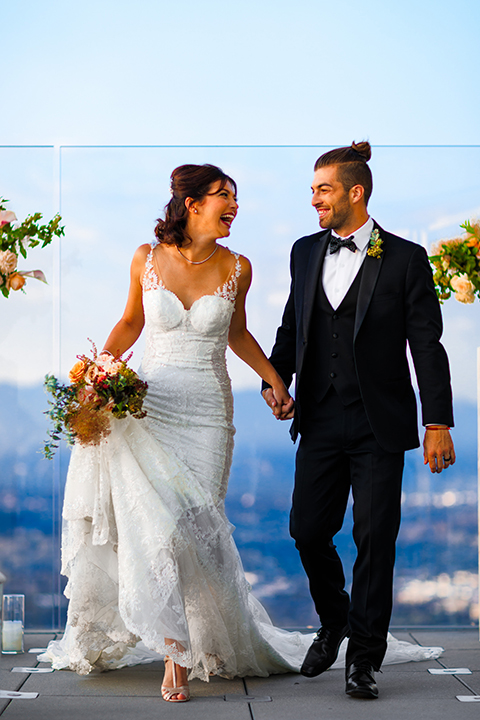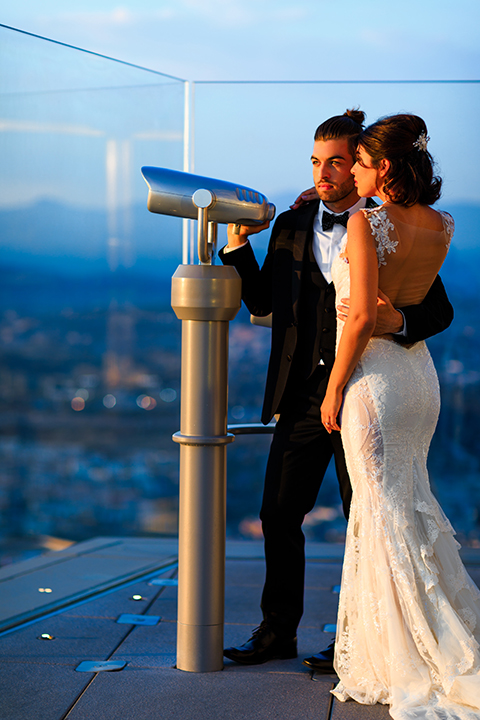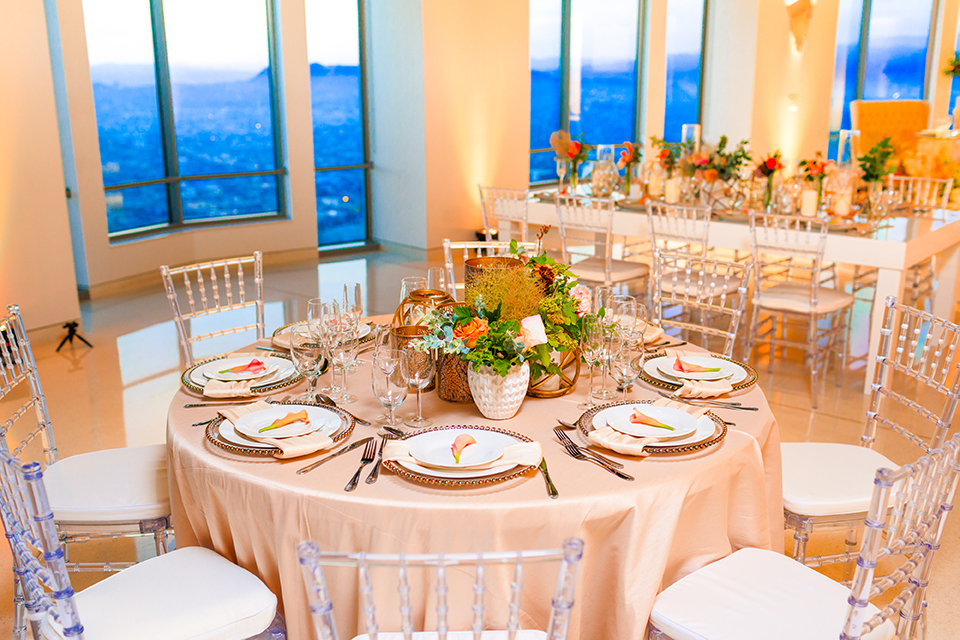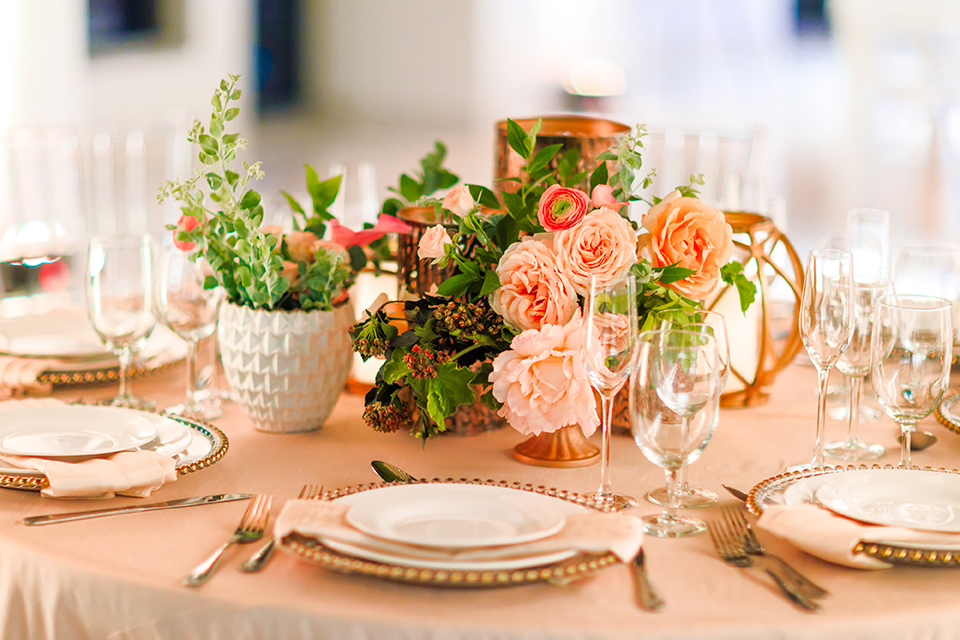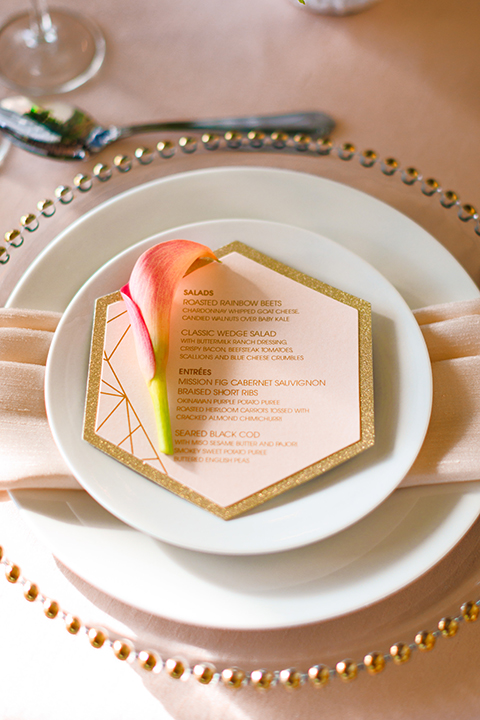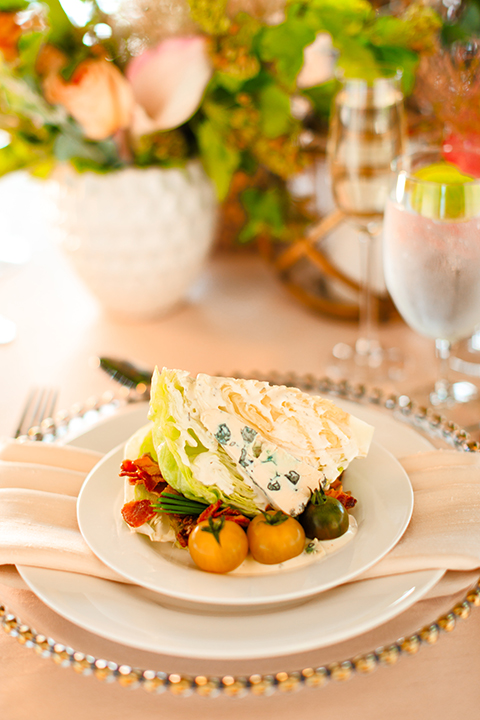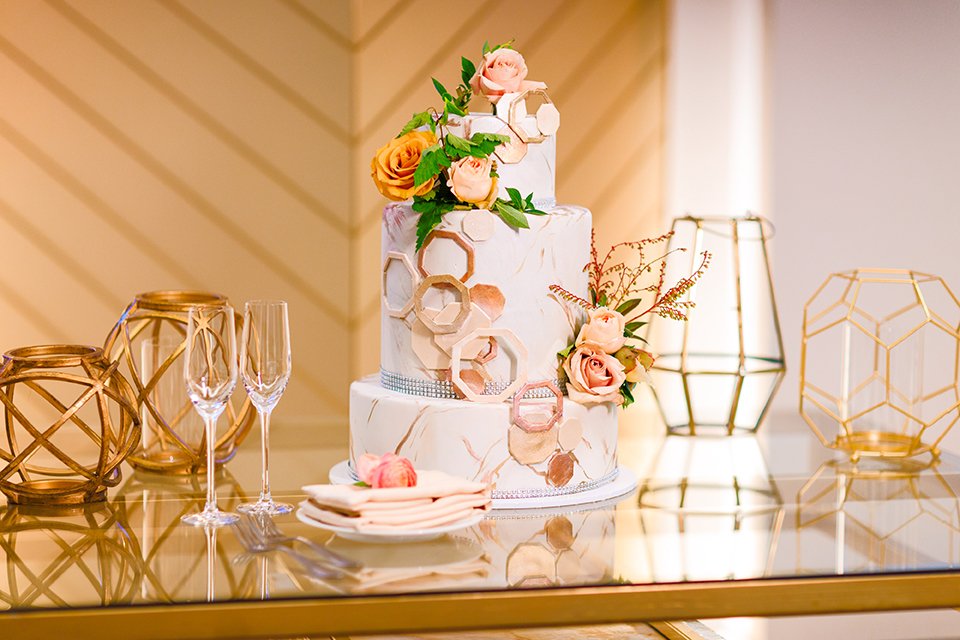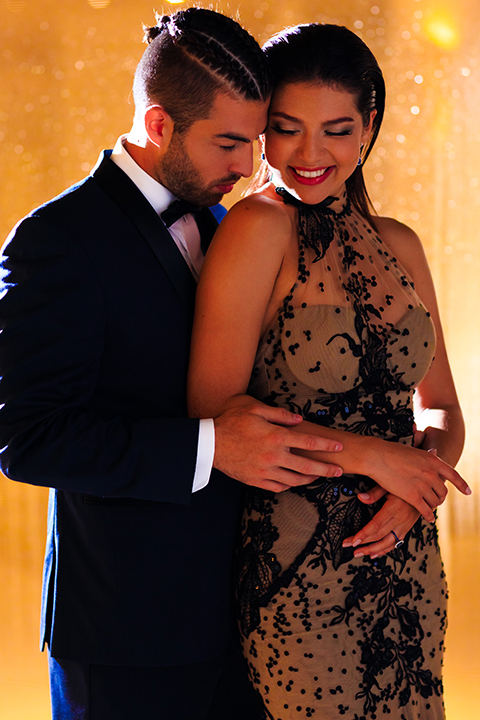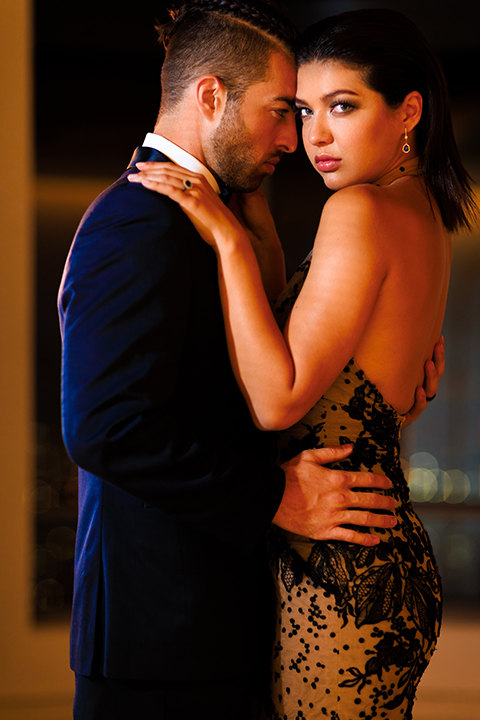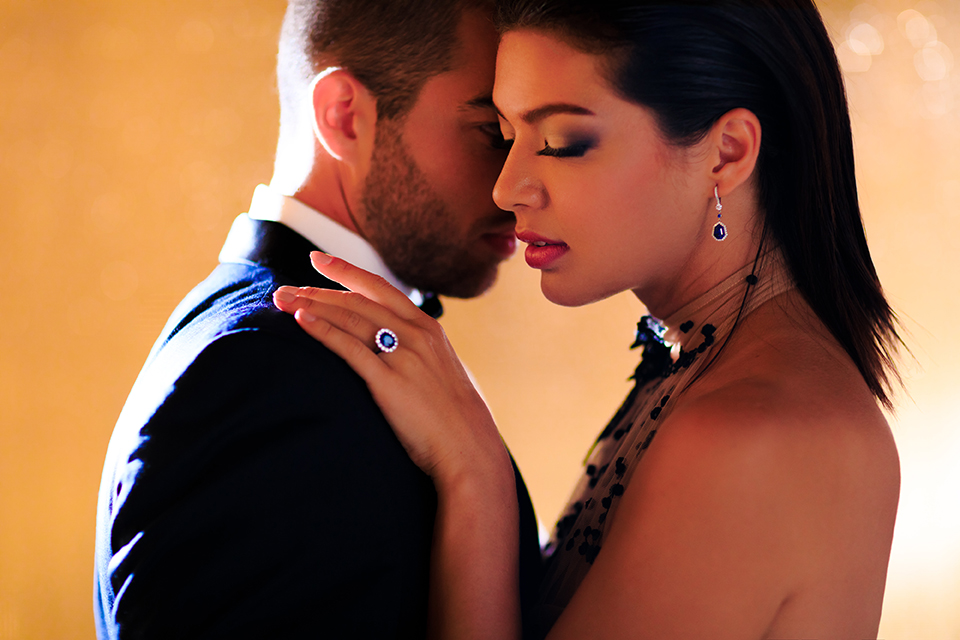 For the ceremony and reception, we were drawn to the two-story observation deck that crowns Downtown LA's U.S. Bank Tower. Ensconced in the embrace of the Santa Monica and San Gabriel mountain ranges as well as the landmark-rich Los Angeles basin which stretches out to the Pacific Ocean, OUE Skyspace LA's 1,000-foot vantage point teams "I do" with a view. As urban and industrial spaces are becoming an increasing preference for weddings, Skyspace provided the ideal location for our shoot. Setting the perfect tone as a sneak peek for the experience at hand were the gorgeous acrylic and gold-accented invitations. To follow that through, we pulled in shades of coral, apricot and rose gold, and embellished the space with acrylics, glassware, custom marbling, and geometric shapes to echo an art deco aesthetic, characteristic of LA's design pedigree.
The sweeping train of the Galia Lahav bridal gown played into the sweeping landscapes observed from the 69th story balcony, the site for the ceremony. The train also created a gravity-less illusion as the bride seemingly floated down the aisle. The groom's angular Michael Kors suit made for its perfect complement. The bride's handcrafted jewelry and gold hairpiece accentuated her ensemble with the stylish sensibilities of a silver screen setting. As day turned to night and the sun set over the "city of stars" – an affectionate term coined by Oscar-winning romance La La Land – the bride's stunning evening gown and blue sapphire jewelry captured the evening's cinematic composition as the couple danced above the city lights.
This shoot was also featured on Grace and Ormonde!
Videography: Charles Davis Jr. Creative | Florals: Rogue and Fox Floral | Wedding Gown: Galia Lahav | Hair + Makeup: BreLuxe Beauty | Wardrobe Stylist: Sherah Stylist | Jewelry: JK and Co. Diamonds | Headpiece: Margaret Rowe Couture Jewelry & Accessories | Catering: Made by Meg | Cake: Cake and Art | Invitations: Social Savvy Design
MOST READ BLOGS
NATURE INSPIRED GRAND CAN...

22 / 5 / 17 | Inspirational Photo Shoots

Event Design: Deanna Nash Events
Photography: The Argus Image
Menswear Style: Slate Blue Notch Lapel Suit with a long silver tie

WOODLAND BOHEMIAN WEDDING

17 / 5 / 17 | Inspirational Photo Shoots

Coordination: Jenne Chanthaboury
Photography: Lin and Jirsa
Menswear Style: Gray Notch Lapel Suit with a long floral tie

PARK HYATT AVIARA BLACK T...

17 / 5 / 17 | Inspirational Photo Shoots

Venue: Park Hyatt Aviara
Photography: Evelyn Molina Photography
Menswear Style: Black Michael Kors Notch Lapel Tuxedo with a black bow

COLORFUL BOHEMIAN STYLE W...

16 / 5 / 17 | Inspirational Photo Shoots

Venue: Sherwood Country Club
Photography: Lucas Rossi Photography
Menswear Style: Navy Shawl Lapel Tuxedo with a black faux leather b

RUSTIC ROMANCE WEDDING

16 / 5 / 17 | Real Weddings

Venue: Villa San Juan Capistrano
Photography: Katelin Wallace Photography
Menswear Style: Navy Shawl Lapel Tuxedo with a black bow tie

HOW TO STYLE A WOMEN'S TU...

9 / 5 / 17 | Inspirational Photo Shoots

Venue: Franciscan Gardens
Photography: Christine Bentley Photography
Attire: Women's Black Shawl Lapel Tuxedo

2017 MET GALA BEST DRESSE...

2 / 5 / 17 | News and Events

The 2017 Met Gala theme was "Rei Kawakubo/Comme de Garcones: Art of the In-Betweens," check out how the celebs interpreted this on the red carpet

SAN FRANCISCO CITY HALL W...

1 / 5 / 17 | Inspirational Photo Shoots

Venue: San Francisco City Hall
Photography: Tenth & Grace
Menswear Style: Black Shawl Lapel Tuxedo with a black bow tie

BOHO CHIC VINEYARD WEDDIN...

14 / 3 / 17 | Inspirational Photo Shoots

Venue: Triunfo Creek Vineyards
Photography: Wisteria Photography
Menswear Style: Slate Blue Notch Lapel Suit with a long grey tie

LOVE STORY INSPIRED WEDDI...

13 / 3 / 17 | Inspirational Photo Shoots

Venue: Le Meridian Delfina Santa Monica
Photography: Anna Delores Photography
Menswear Style: Charcoal Gray Michael Kors Shawl Lapel Tu

CITY ENGAGEMENT PHOTOS IN...

10 / 3 / 17 | Inspirational Photo Shoots

Venue: The London House
Photography: Rosanna Hanson Photography
Menswear Style: Charcoal Gray Michael Kors Notch Lapel Tuxedo with a na