Joshua Tree Glamorous Desert Wedding
Joshua Tree Glamorous Desert Wedding
8 / 16 / 18 | Inspirational Photo Shoots
Venue: The Ruin Venue
Event Planning + Design: Perfectly Poised Events
Photography: Mink Photography + Heather Anderson Photography
Menswear Style: Black Notch Lapel Tuxedo by Michael Kors with a black bow tie
Write up from Green Wedding Shoes:
As if it were from the walls of a fine art museum… only with an added bonus: desert edge! Laura of Perfectly Poised Events teamed up with photographer, Alicia Mink, to create a stunning editorial that fused the dry desert landscape with elegant + ethereal design. To do this, they chose a color palette bursting with dusty rose and pale pink hues, all rounded out by subtle hints of black. With fresh + modern elements and overflowing florals from My Sun and Stars Floral, the location of The Ruin Venue in Joshua Tree took on a whole other look than what we're accustomed to. A ceremony for the adventurous at heart, let's wander through the desert to take in the combination of organic elements meets refined elegance! Who else loves a good two-piece gown? Featuring ​a bespoke beaded to​p​ by Madeleine Fig​,​ exclusively for Archive Bridal, and a full chiffon layered bridal skirt by Pronovias​, this is how it's DONE! All the florals for the day took on a sweeping romantic feel, while still organic and natural.
The team wanted a unique set-up that would stand out, but not compete with the beauty of the surroundings. Paired with an organic array of lush foliage, this trio of open wood frames was the perfect mix of edge and understated elegance for the sunset ceremony! We especially love the interest that is created with the three different sizes, too. The initial design for the tablescape was "f​lawlessly elegant with a touch of sass." Dusty rose velvet and soft mauve linens from La Tavola Fine Linen set the tone, alongside handmade paper escort cards, blush glassware, acrylic chairs, and brass + black accents. Three gorgeous cakes sat center stage, bringing a bold and modern feel to this sweet setup. For the tablescape florals, instead of using standard garland, My Sun and Stars Floral delicately placed loose greens to achieve and ethereal and organic feeling. The main green used on the table was Smilax — which she found growing throughout the city​.​ On top of that, she included mini arrangements sprouting from alongside the major focal points, just as flowers would appear in nature.
Not only did Jenny of Intricakes create this marvelous black masterpiece with shades of pink and metallic accents, but she also created two other complementary cakes! An array of delicate pink + white handmade sugar flowers and foliage​ helped to tie in the romantic tone for this gorgeous setting. There's something so magical about the desert setting… isn't there? Thank you so much to the talented team of creatives behind this elegant editorial!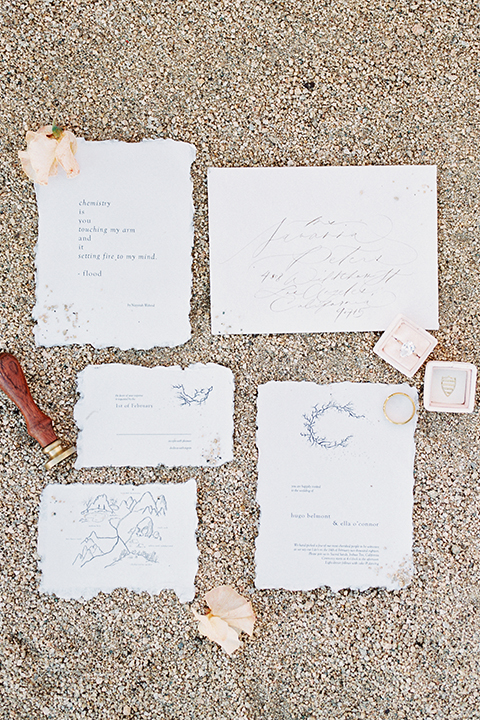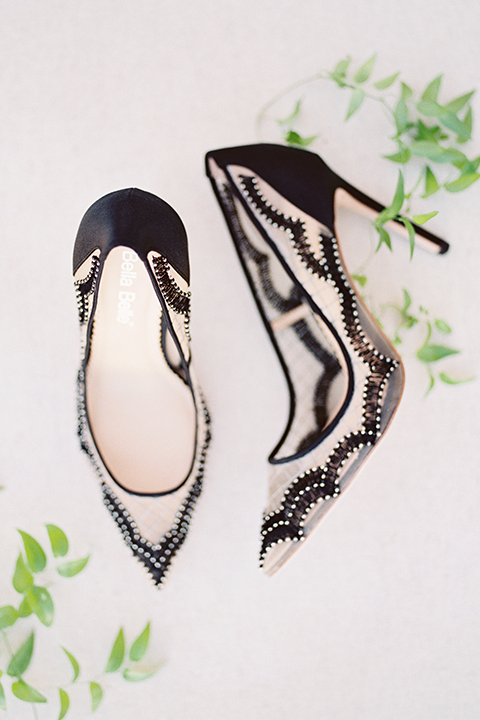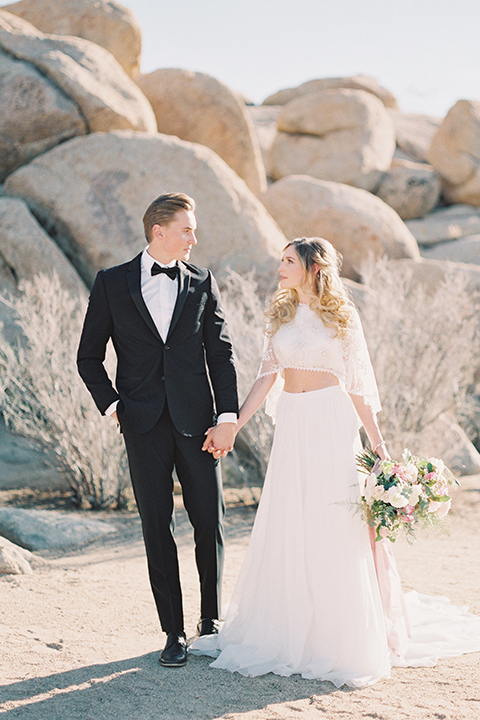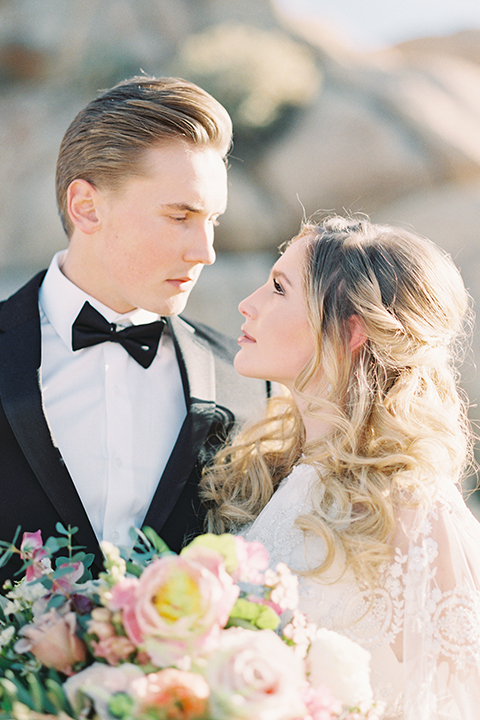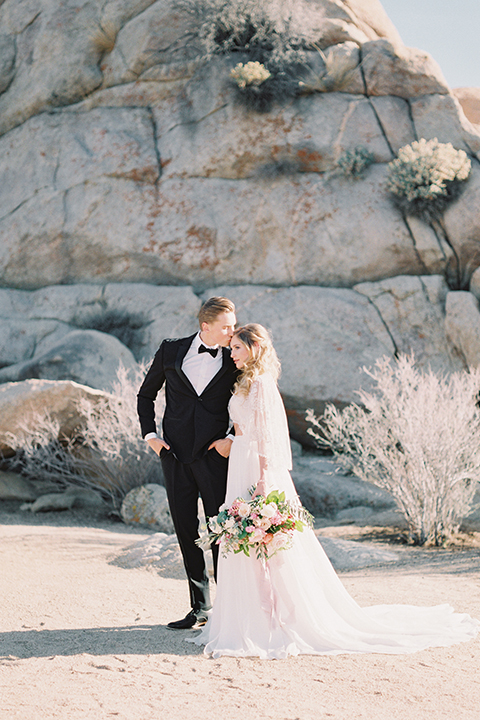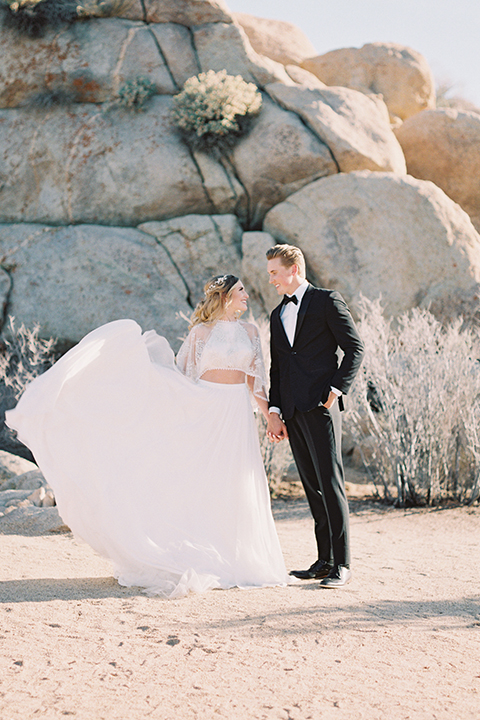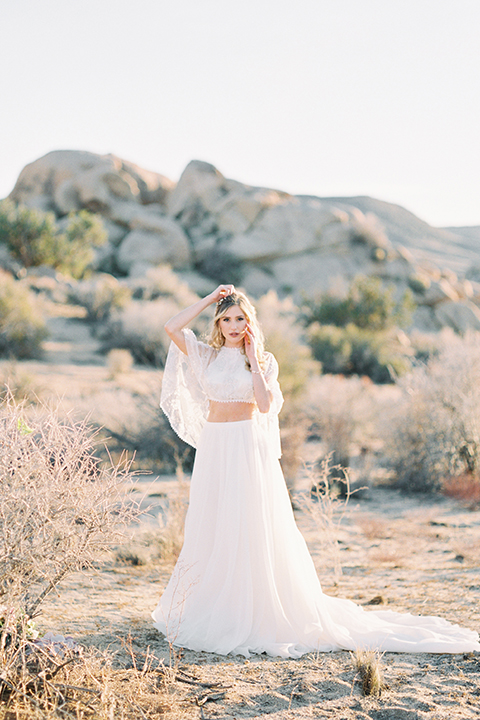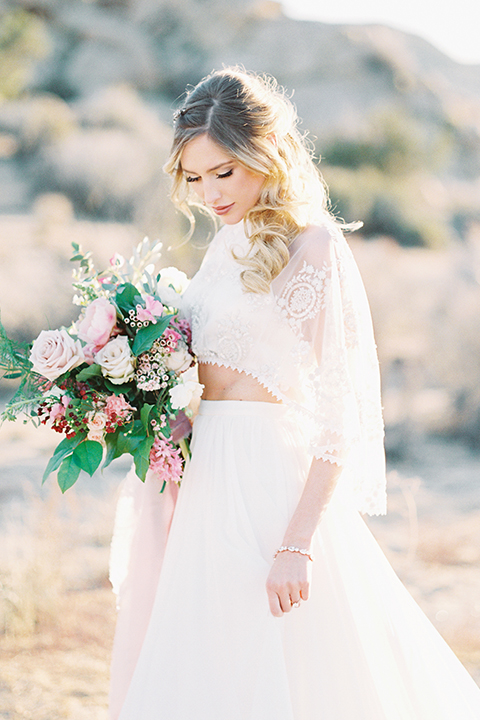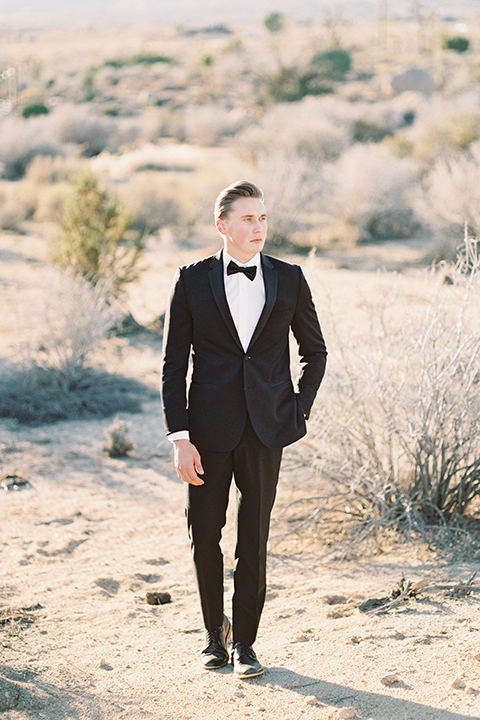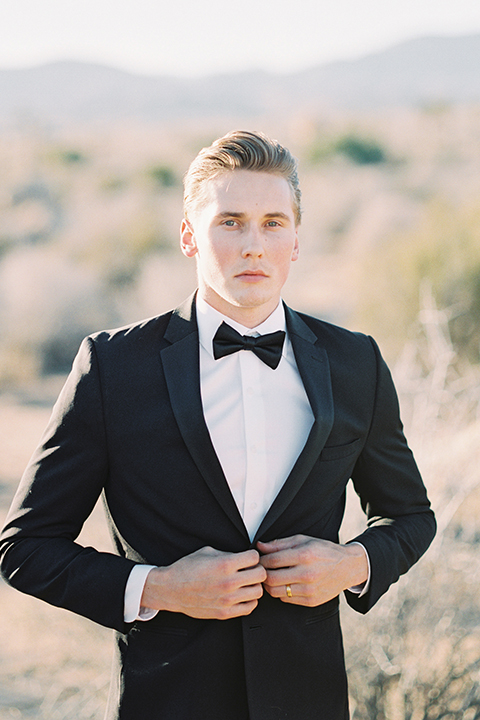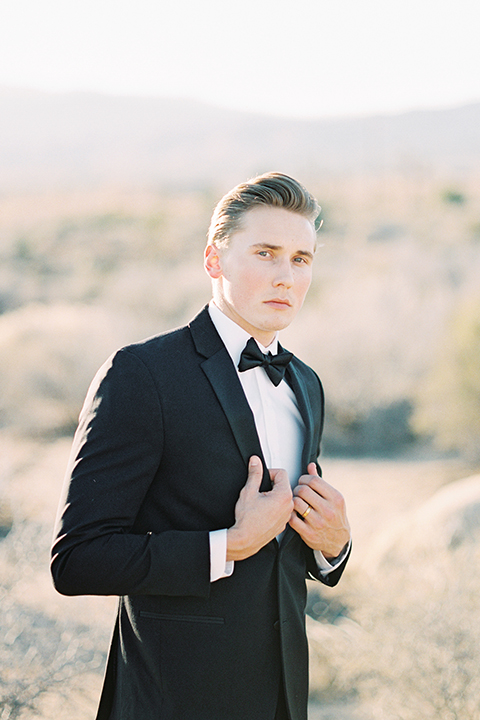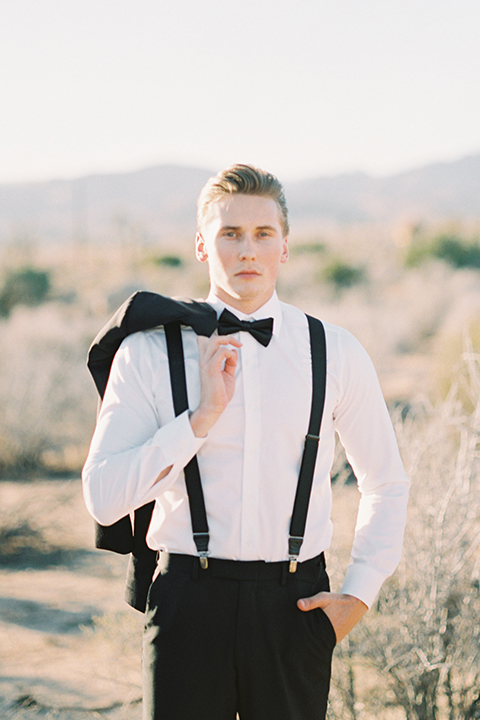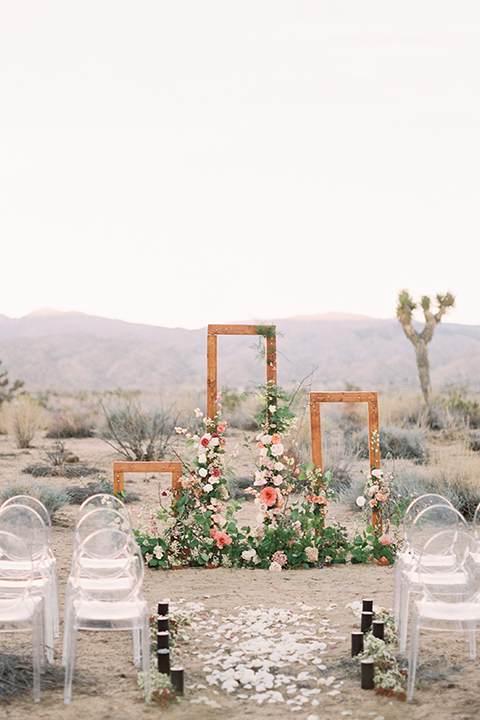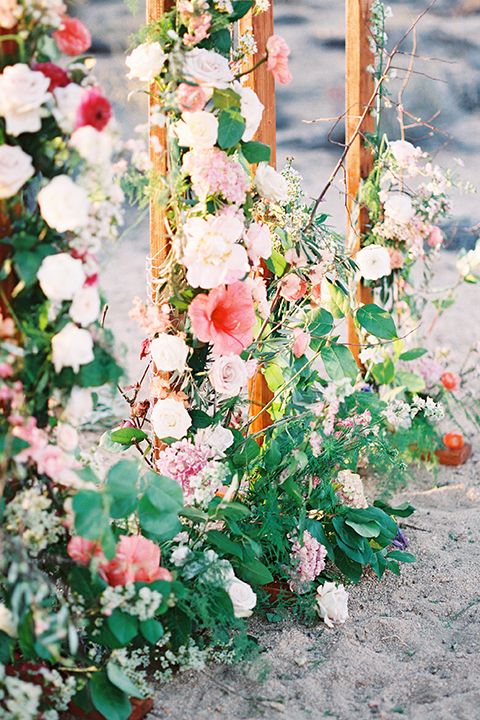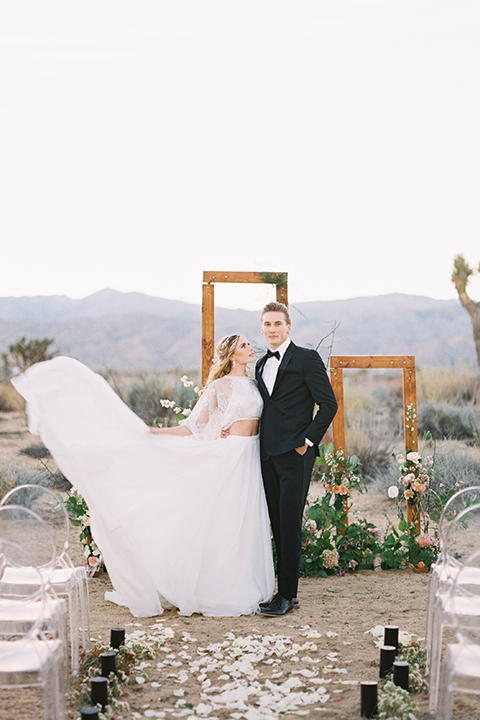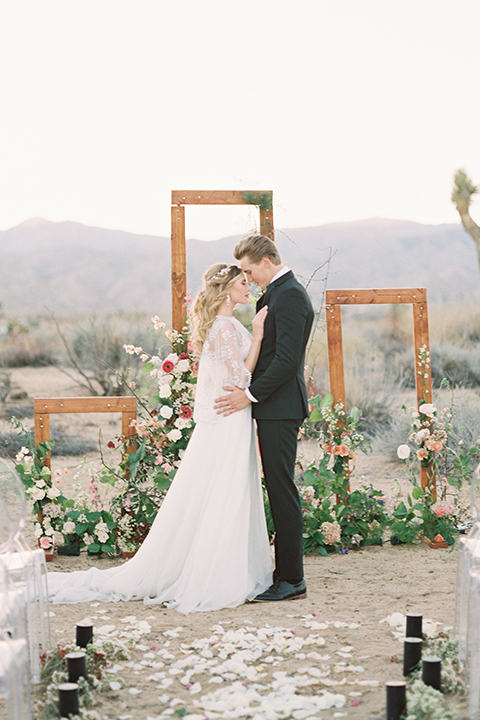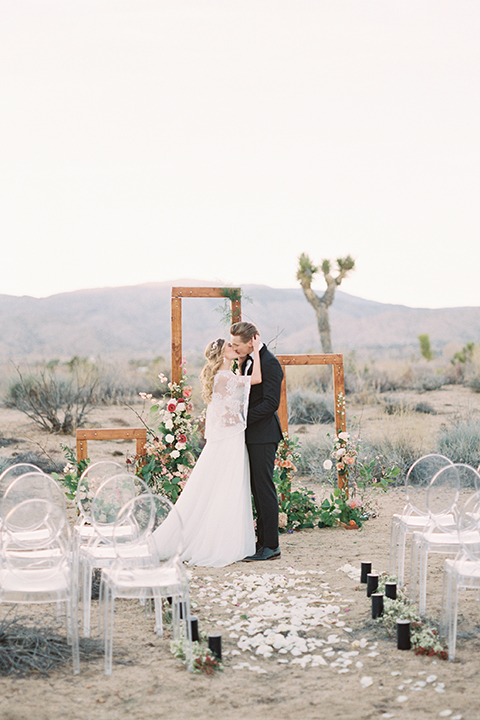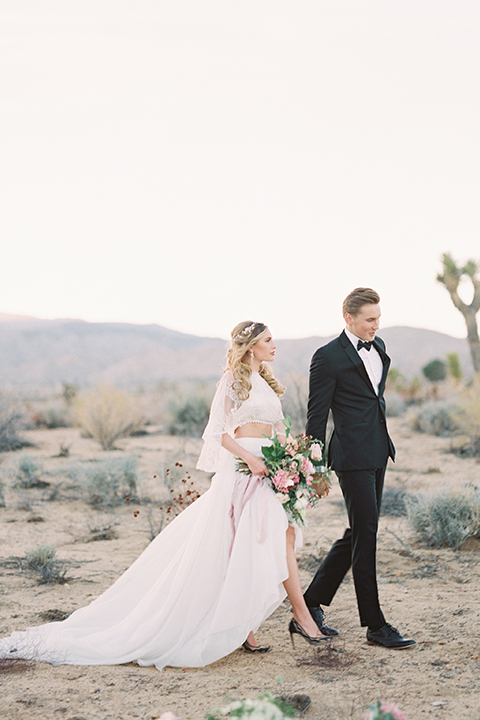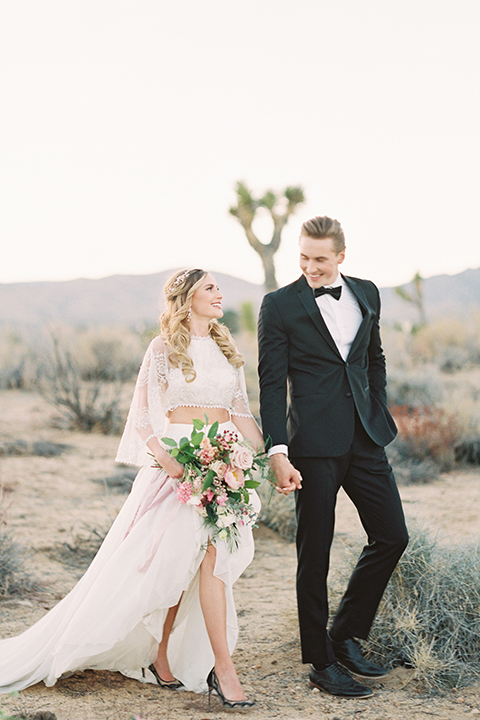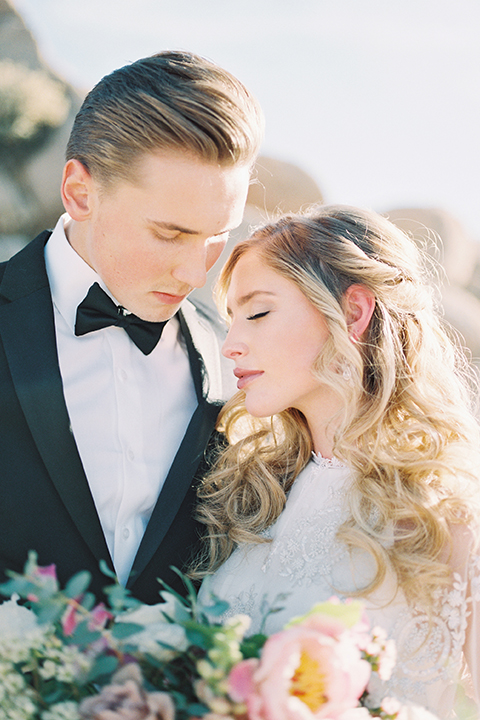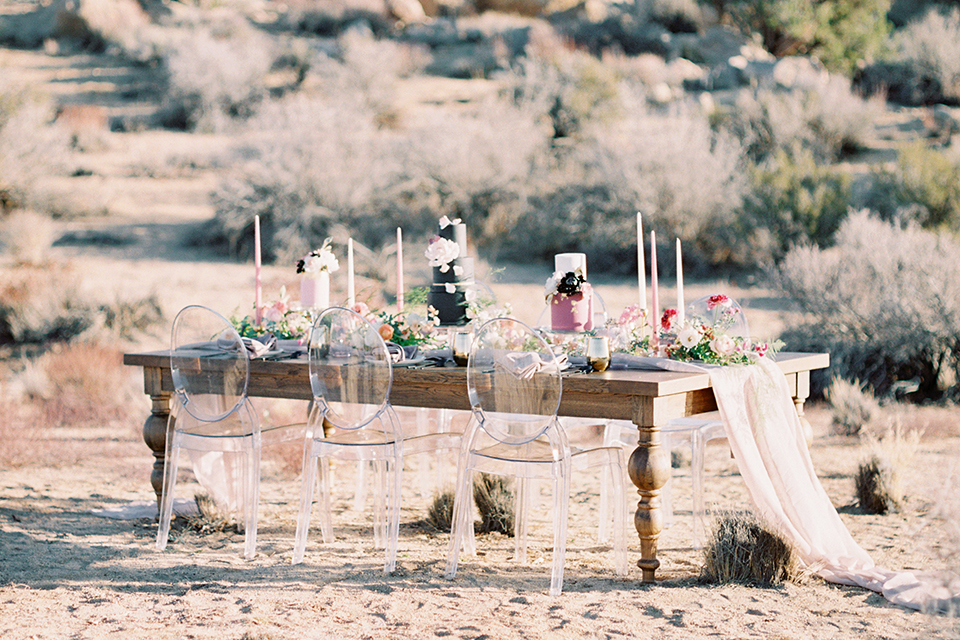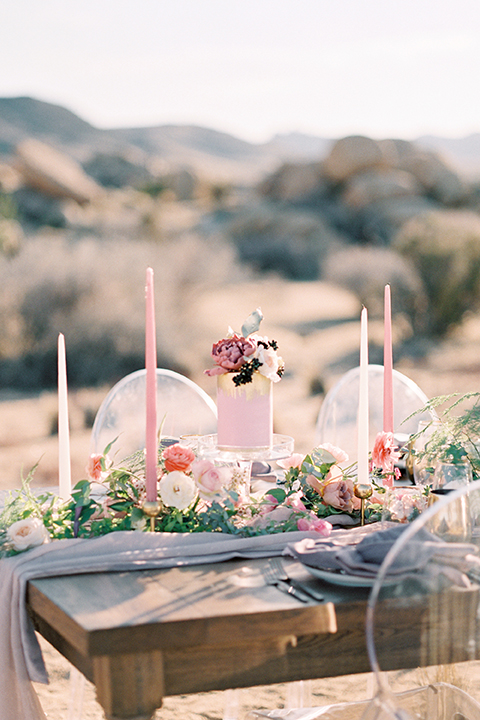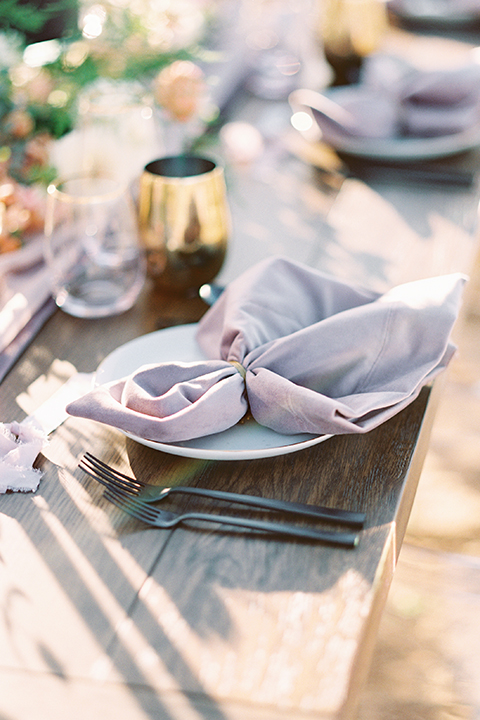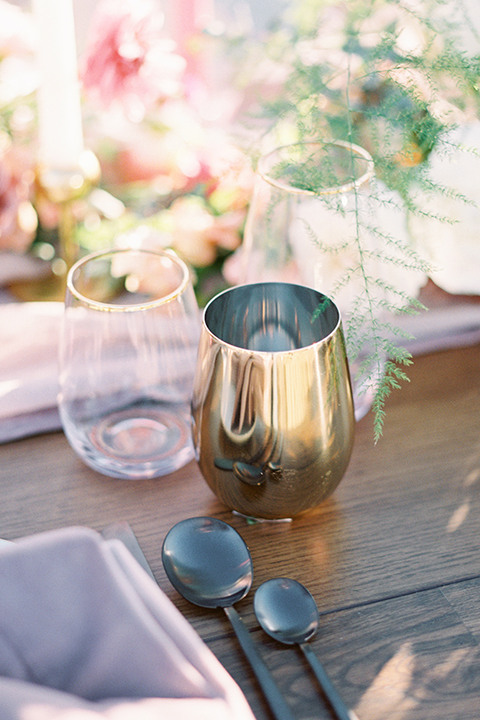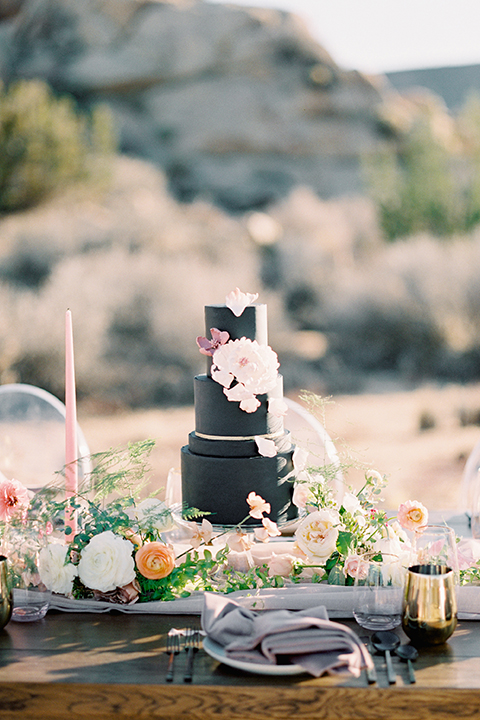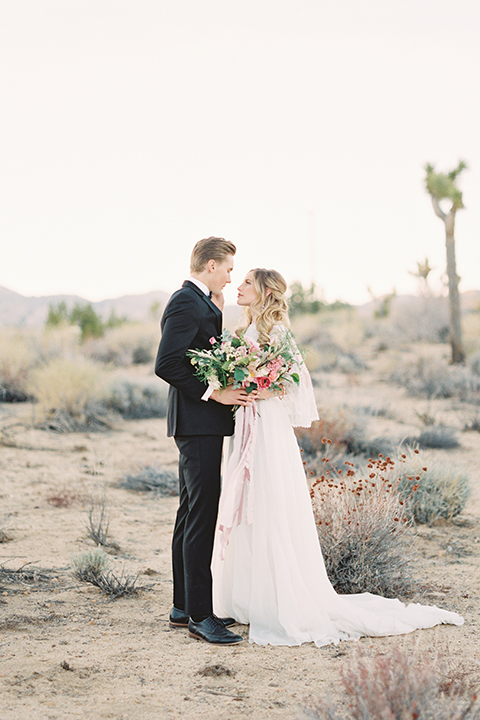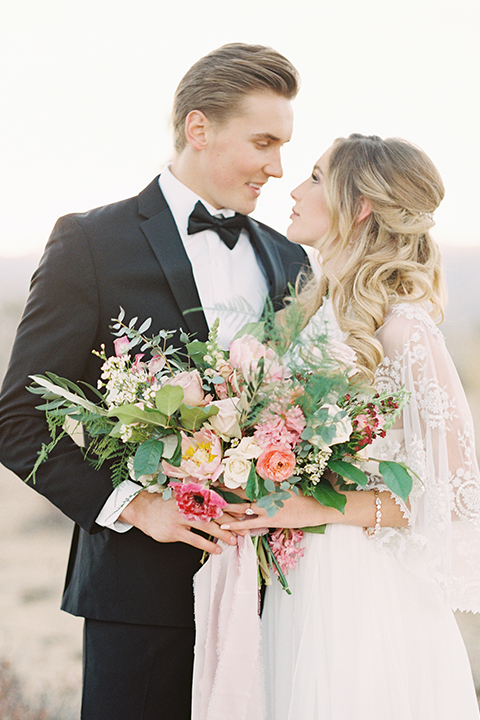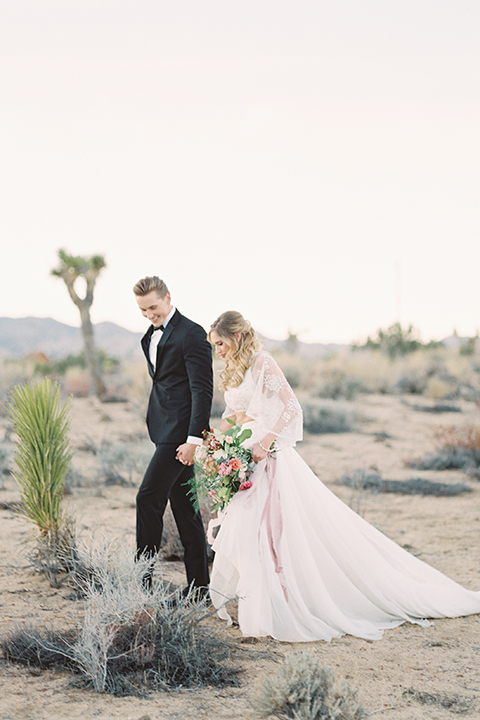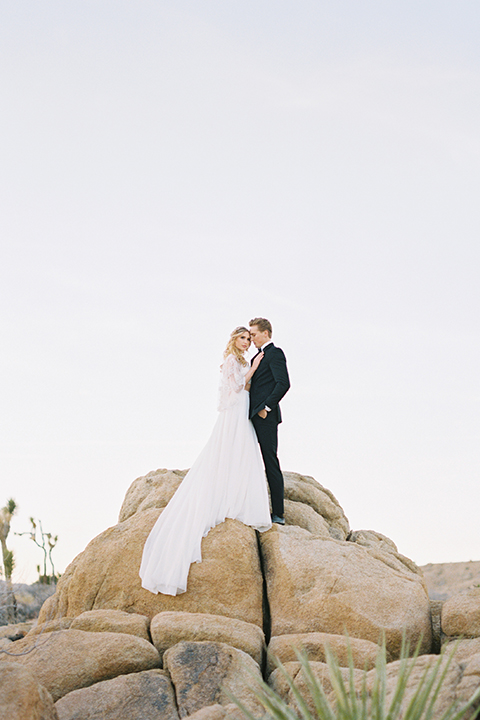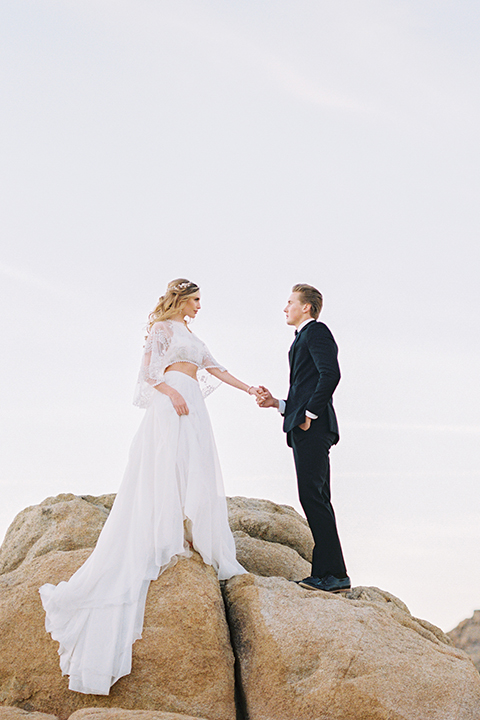 This shoot was also featured on Green Wedding Shoes!
Florals: My Sun and Stars Floral | Wedding Dress: Archive Bridal | Bride's Shoes: Bella Belle Shoes | Bride's Ring: Susie Saltzman | Hair + Makeup: The Face of Beauty | Tabletop Rentals: West Elm | Furniture Rentals: Something Borrowed Party Rentals | Linens: La Tavola Fine Linen | Cake: Intricakes | Paper Goods + Calligraphy: Kidgolightly
MOST READ BLOGS
ETHEREAL WEDDING STYLE IN...

26 / 12 / 18 | Inspirational Photo Shoots

Venue: Downtown Los Angeles
Photography: Ashley Burns Photography
Menswear Style: Cobalt Blue Suit by Allure Men with a black satin lon

AND THE OSCAR GOES TO.......

26 / 2 / 19 | News and Events

The 2019 Oscars were as smooth as velvet, literally velvet tuxedos were everywhere and we were all heart eyes.

FLOWER MARKET WEDDING FOR...

1 / 2 / 19 | Inspirational Photo Shoots

Venue: II Mercato, New Orleans
Photography + Videography: Mon Soleil
Style: Black Women's Tuxedo with a polka dot bow tie

GARDEN WEDDING WITH ROMAN...

12 / 3 / 19 | Inspirational Photo Shoots

Venue: Rancho Las Lomas
Photography: Janita Mestre Photography
Menswear Style: Light Grey Grenada Suit by Ike Behar with a white floral

BEST DRESSED MEN AT THE 2...

18 / 9 / 18 | News and Events

The 2018 Emmys Red Carpet brought out the male celebrities in clean, modern tuxedos. We've recapped some of our favotire looks from the Emmys in

2019 GOLDEN GLOBES RED CA...

7 / 1 / 19 | News and Events

Last night the world got to be a part of the 2019 Golden Globes, a night where we honor those artists in film and television in a respectable man

WOODLAND WEDDING VIBES BU...

23 / 4 / 19 | Real Weddings

Venue: Martin Johnson House
Photography: Top Shelf Photo
Menswear Style: Dark Blue Suit with a blue shirt and red patterned tie

NATURE INSPIRED GRAND CAN...

22 / 5 / 17 | Inspirational Photo Shoots

Event Design: Deanna Nash Events
Photography: The Argus Image
Menswear Style: Slate Blue Notch Lapel Suit with a long silver tie

WOODLAND BOHEMIAN WEDDING

17 / 5 / 17 | Inspirational Photo Shoots

Coordination: Jenne Chanthaboury
Photography: Lin and Jirsa
Menswear Style: Gray Notch Lapel Suit with a long floral tie

PARK HYATT AVIARA BLACK T...

17 / 5 / 17 | Inspirational Photo Shoots

Venue: Park Hyatt Aviara
Photography: Evelyn Molina Photography
Menswear Style: Black Michael Kors Notch Lapel Tuxedo with a black bow

COLORFUL BOHEMIAN STYLE W...

16 / 5 / 17 | Inspirational Photo Shoots

Venue: Sherwood Country Club
Photography: Lucas Rossi Photography
Menswear Style: Navy Shawl Lapel Tuxedo with a black faux leather b