How Adventure Lovers Tie The Knot!
How Adventure Lovers Tie The Knot!
7 / 25 / 19 | Inspirational Photo Shoots
Venue: Zion National Park
Photography: Megan Lee Photography
Planner + Design: Alexis Events
Menswear Style: Burgundy Camden Tuxedo with a black long tie
Something we've been seeing more frequently is couples taking engagement photos or wedding photos or even hosting the enire wedding ceremony in a national park with breathtaking natural backdrops. Now, these photos can come with a cost of some paperwork legwork and certicate purchasing beforehand, plus a cost of physical legwork hiking all over for the perfect settings... but obviously it is worth it! In this shoot with Megan Lee Photography, the couple has a cool bohemian vibe with sophisticated touches. The bride wore a flowing tulle and lace gown and even added a leather jacket in some of the images- trendy and practical as you can see snow in the background of some shots! The groom wore a burgundy tuxedo since burgundy was tied into the flowers and works perfectly with the warm tones of the rock formations and mountains. The groom paired his burgundy tuxedo from Stitch & Tie with a black skinny long tie which is a modern and slightly less formal way to add neckwear. Well we think the photos speak for themselves so enjoy this beautiful inspiration!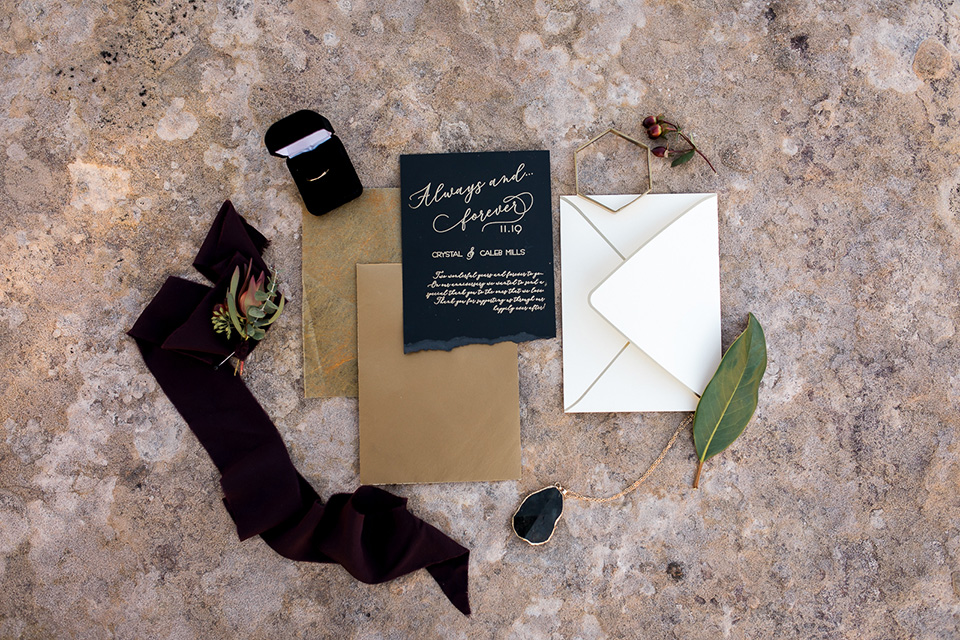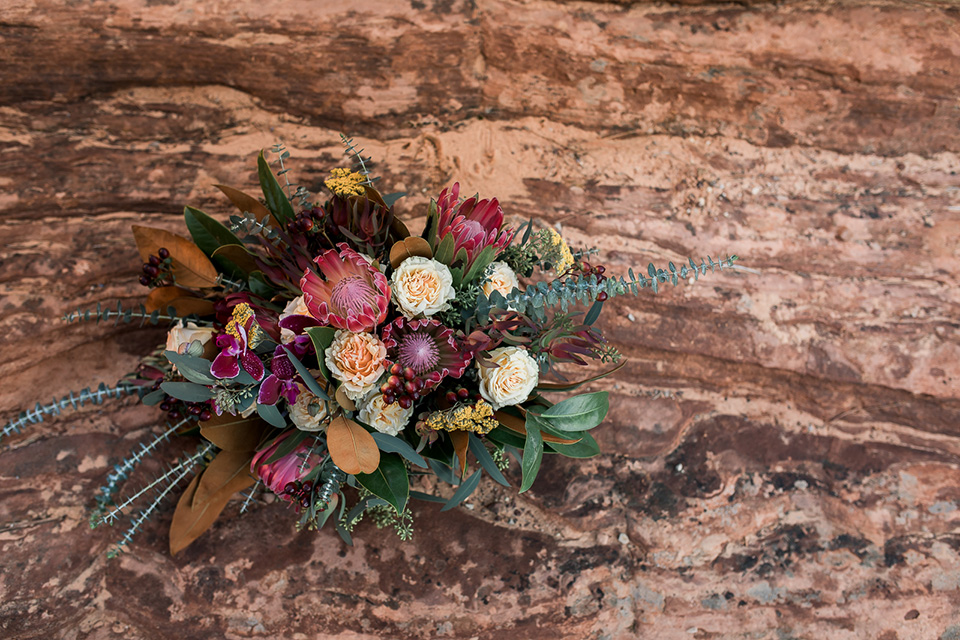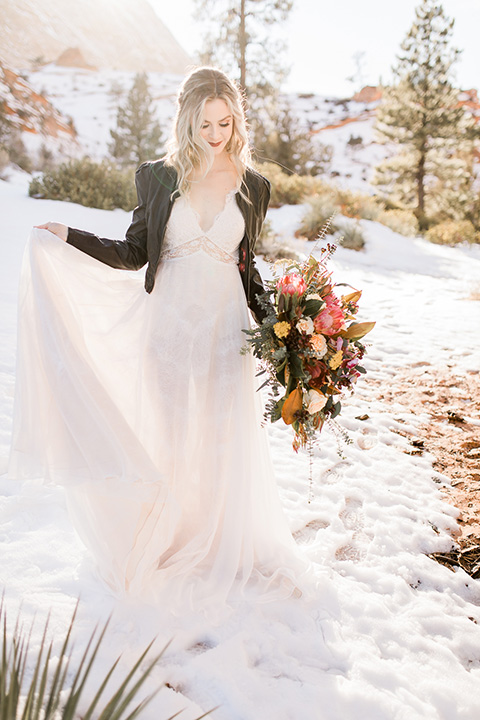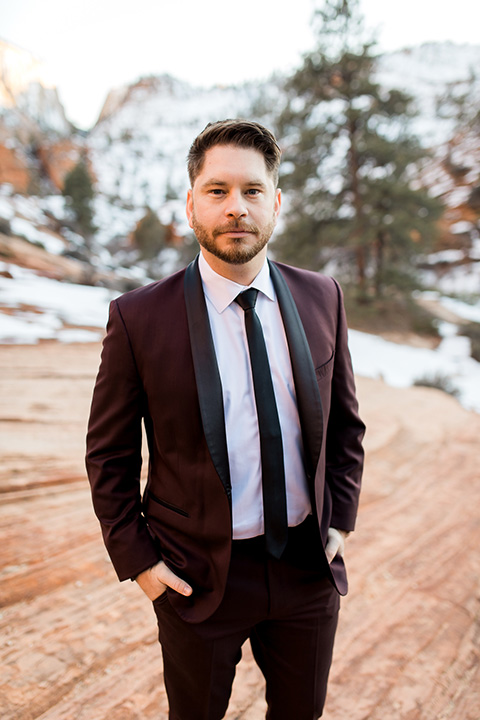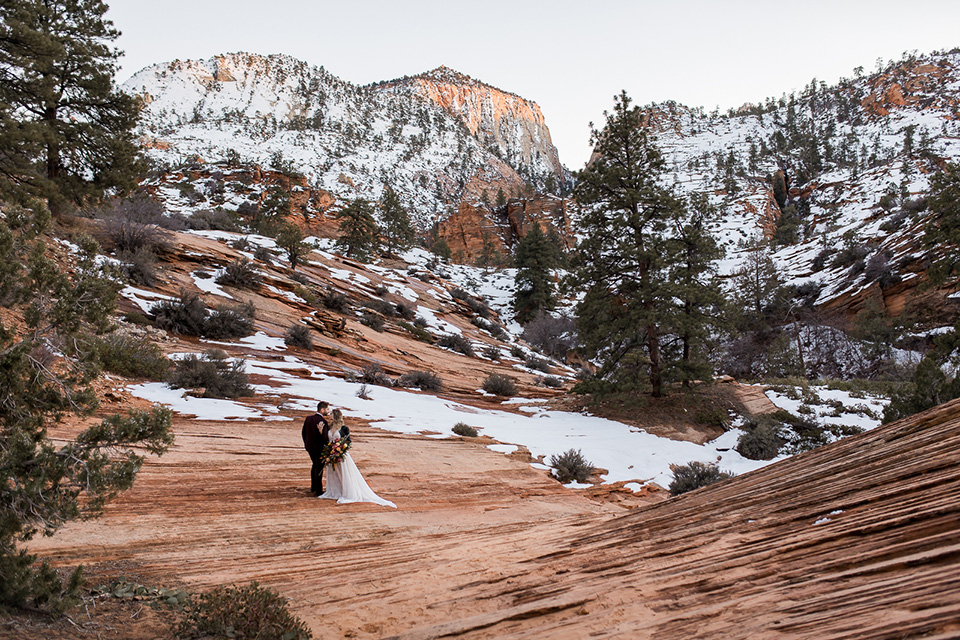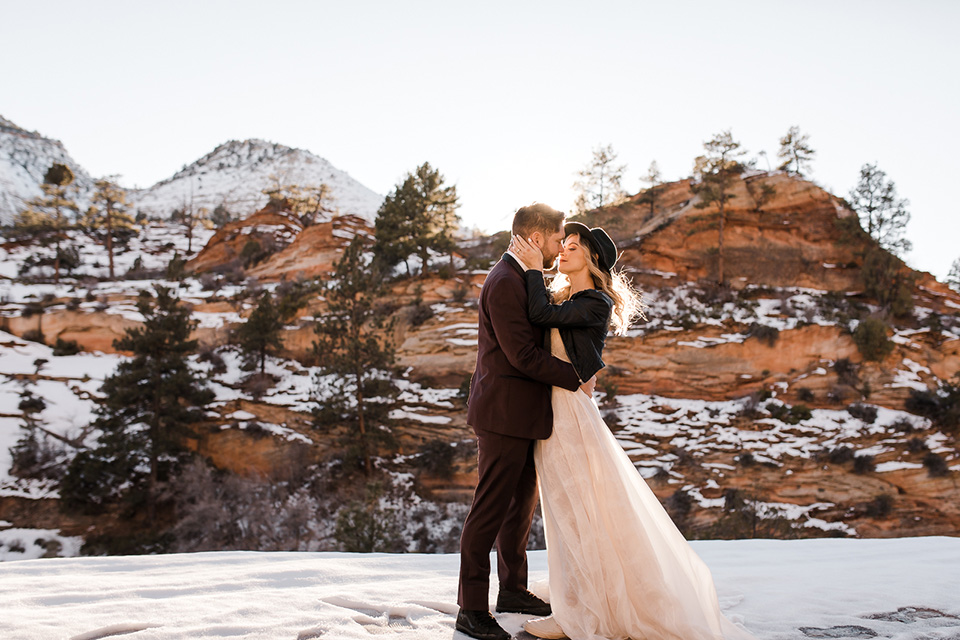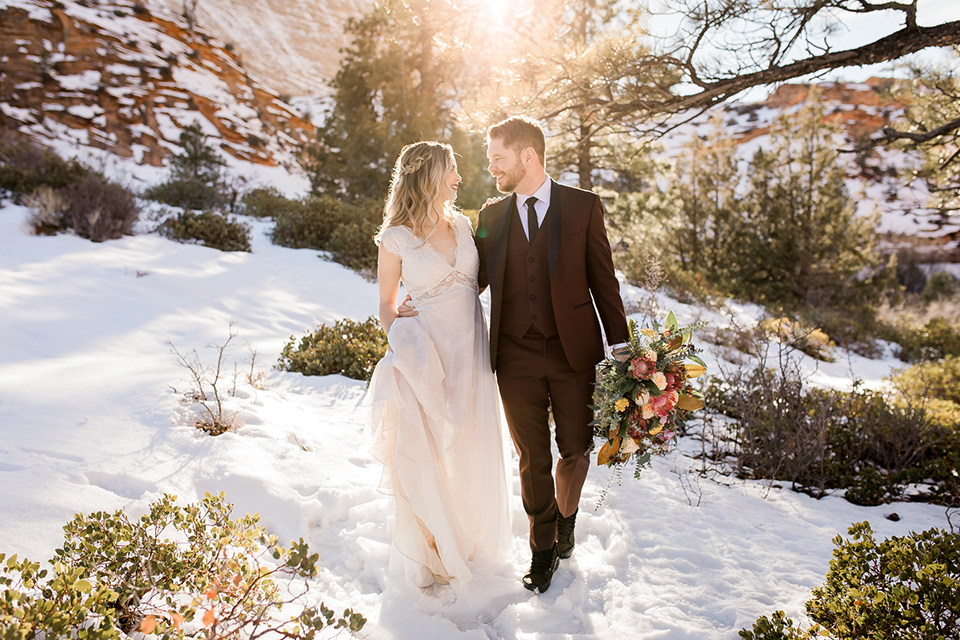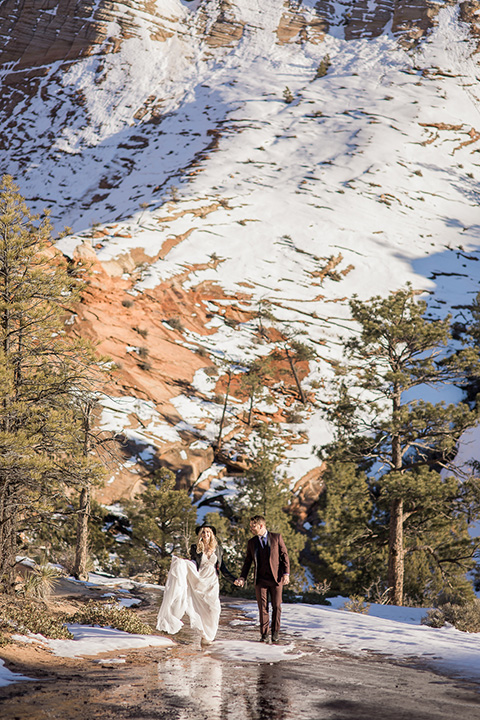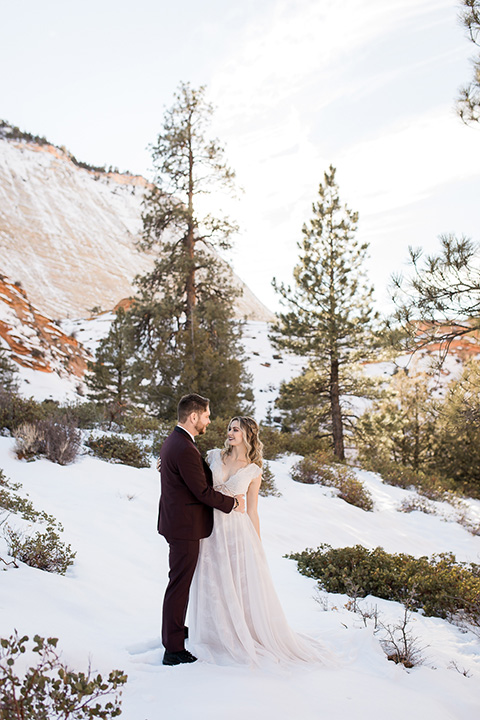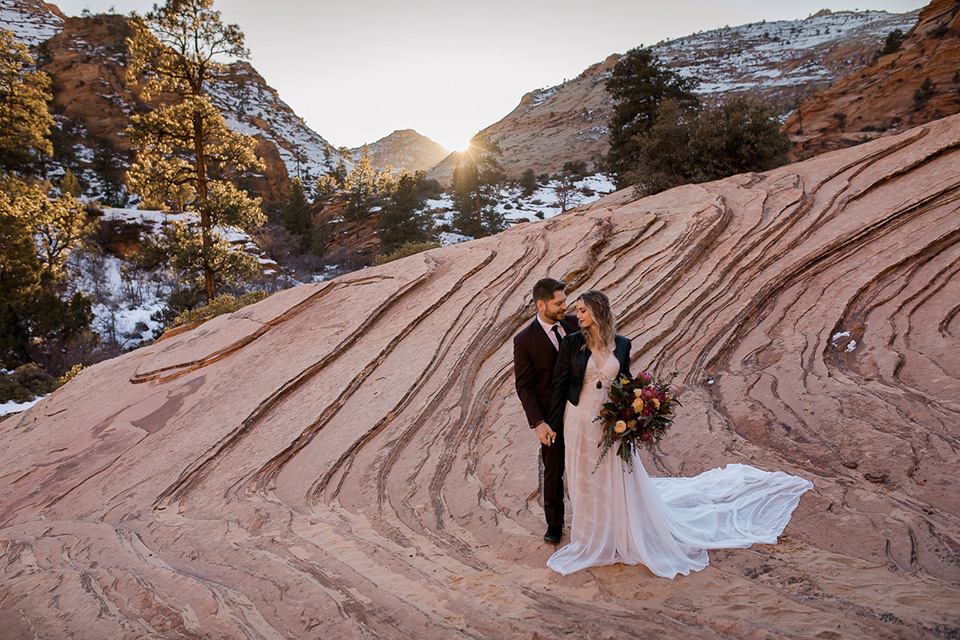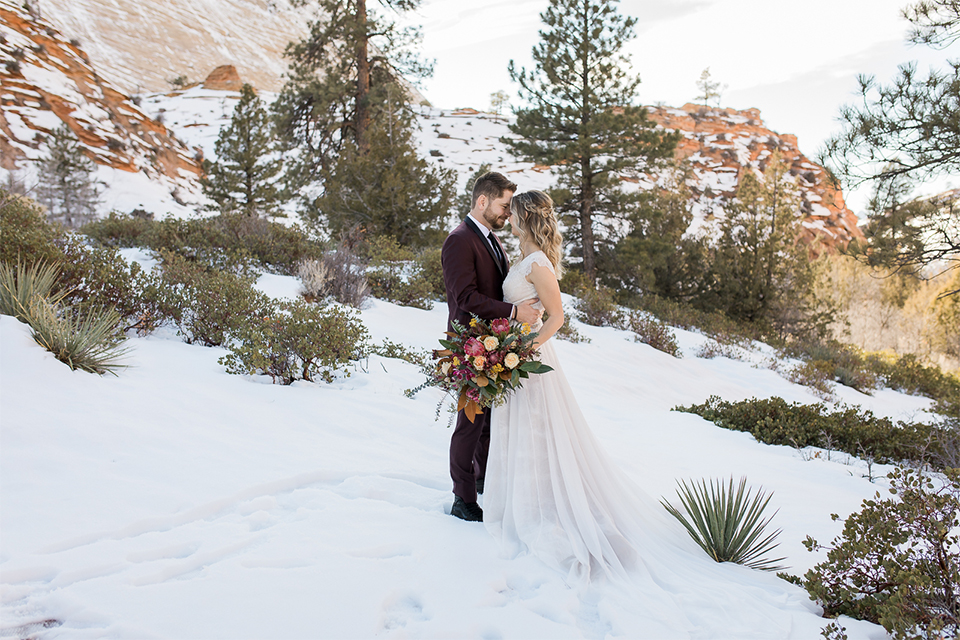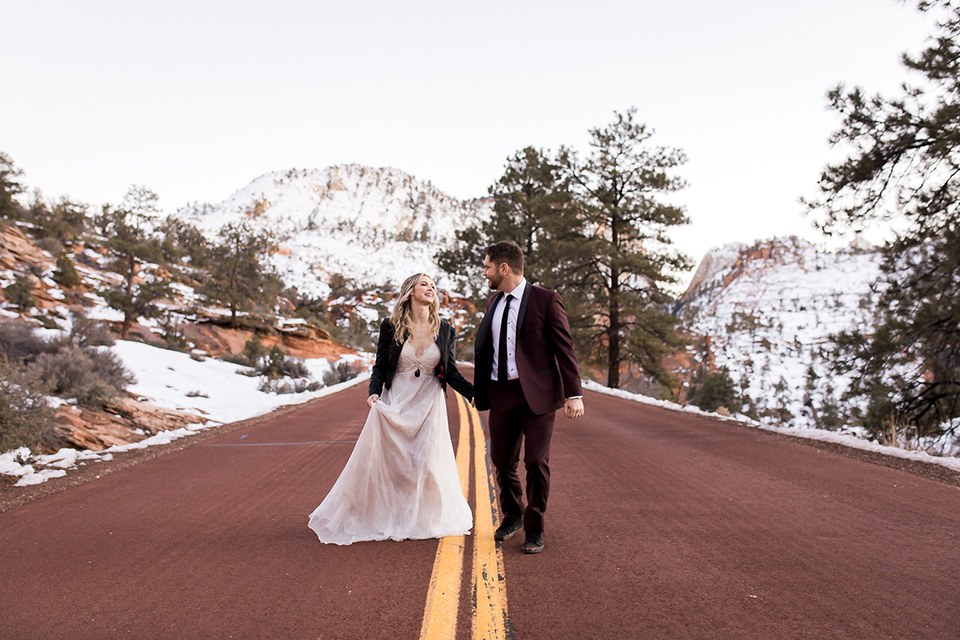 Floral: Mille Fleur Design | Stationary: Adaria Designs by ahd | Gown Designer: Yaniv Persy | Bridal Shop: Fleurish LA | Hair: Taja Southwick | Makeup: Eluvia Malyurek
MOST READ BLOGS
CITRUS COLORED MODERN WED...

11 / 7 / 19 | Inspirational Photo Shoots

Venue: Ace Hotel Los Angeles
Photography: Who is Leading E
Menswear Style: Tan Suit with a grey pants and a floral long tie

2020 WEDDING DESIGN TREND...

16 / 10 / 19 | Inspirational Photo Shoots

Photographer: Justin Critz Photography
Menswear Style: Dark Blue Suit with a floral long tie

NATURE INSPIRED GRAND CAN...

22 / 5 / 17 | Inspirational Photo Shoots

Event Design: Deanna Nash Events
Photography: The Argus Image
Menswear Style: Slate Blue Notch Lapel Suit with a long silver tie

WOODLAND BOHEMIAN WEDDING

17 / 5 / 17 | Inspirational Photo Shoots

Coordination: Jenne Chanthaboury
Photography: Lin and Jirsa
Menswear Style: Gray Notch Lapel Suit with a long floral tie

PARK HYATT AVIARA BLACK T...

17 / 5 / 17 | Inspirational Photo Shoots

Venue: Park Hyatt Aviara
Photography: Evelyn Molina Photography
Menswear Style: Black Michael Kors Notch Lapel Tuxedo with a black bow

COLORFUL BOHEMIAN STYLE W...

16 / 5 / 17 | Inspirational Photo Shoots

Venue: Sherwood Country Club
Photography: Lucas Rossi Photography
Menswear Style: Navy Shawl Lapel Tuxedo with a black faux leather b

RUSTIC ROMANCE WEDDING

16 / 5 / 17 | Real Weddings

Venue: Villa San Juan Capistrano
Photography: Katelin Wallace Photography
Menswear Style: Navy Shawl Lapel Tuxedo with a black bow tie

HOW TO STYLE A WOMEN'S TU...

9 / 5 / 17 | Inspirational Photo Shoots

Venue: Franciscan Gardens
Photography: Christine Bentley Photography
Attire: Women's Black Shawl Lapel Tuxedo

2017 MET GALA BEST DRESSE...

2 / 5 / 17 | News and Events

The 2017 Met Gala theme was "Rei Kawakubo/Comme de Garcones: Art of the In-Betweens," check out how the celebs interpreted this on the red carpet

SAN FRANCISCO CITY HALL W...

1 / 5 / 17 | Inspirational Photo Shoots

Venue: San Francisco City Hall
Photography: Tenth & Grace
Menswear Style: Black Shawl Lapel Tuxedo with a black bow tie

BOHO CHIC VINEYARD WEDDIN...

14 / 3 / 17 | Inspirational Photo Shoots

Venue: Triunfo Creek Vineyards
Photography: Wisteria Photography
Menswear Style: Slate Blue Notch Lapel Suit with a long grey tie