Fairytale Love at the Kimberly Crest
Fairytale Love at the Kimberly Crest
4 / 15 / 22 | Inspirational Photo Shoots
Venue: Kimberly Crest House & Gardens
Photography: Etcetera Photo
Design + Coordinator: Amorette Events Co.
Menswear Style: Black Shawl Lapel Tuxedo with a black bow tie
Who wouldn't want to get married at a venue with sprawling Italian gardens and a Victorian mansion? This venue transports your guests to another time and place, with curved stairways, waterfalls, gardens and ponds. If that didn't have you convinced, check out this stunning wedding design by Amorette Events Co. and photographed by the uber talented Etcetera Photo.
The ceremony space was effortless and simple with café folding chairs and pink + white florals cascading behind them. The reception tables were adorned with dusty lavender linens and tall white candles. The patterned white chine next to the gold flatware added a touch of old-world elegance to the moment. And how cool is that cake?! Two-tiers with the lower being a modern cool blue marbled detail.
The bride wore a formfitting white gown with a crystalized bodice and thin straps. She paired her look with a crystal headpiece and a long cathedral veil. The groom wore a Gatsby-inspired black tuxedo with a shawl lapel detail. His look was complimented with a black bow tie and a small white boutonnière.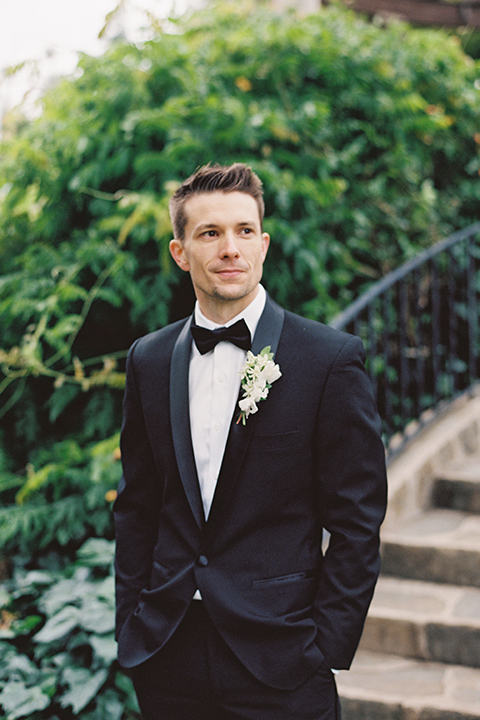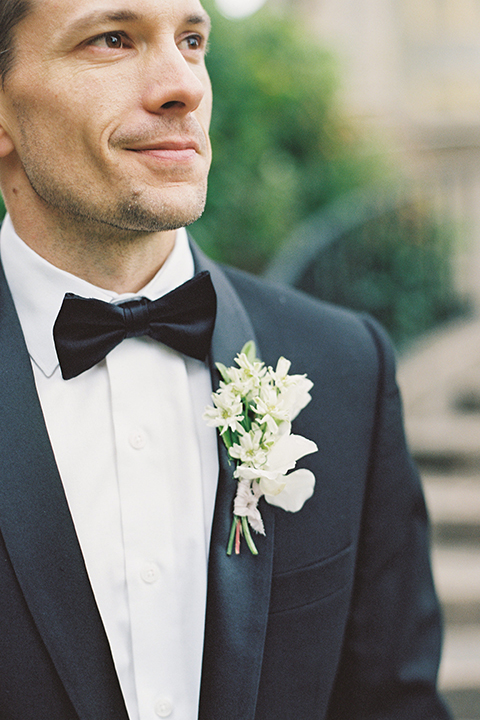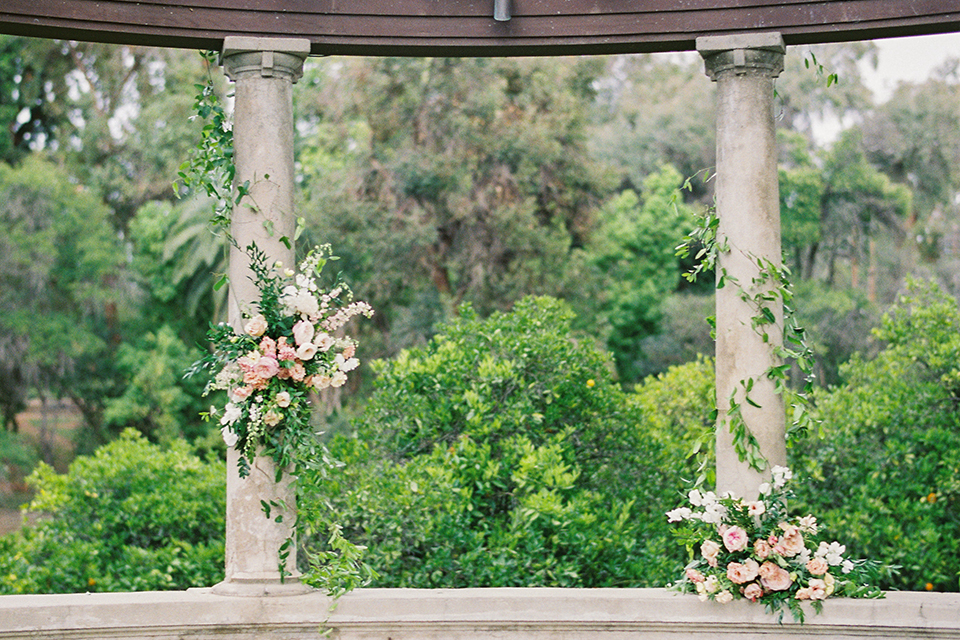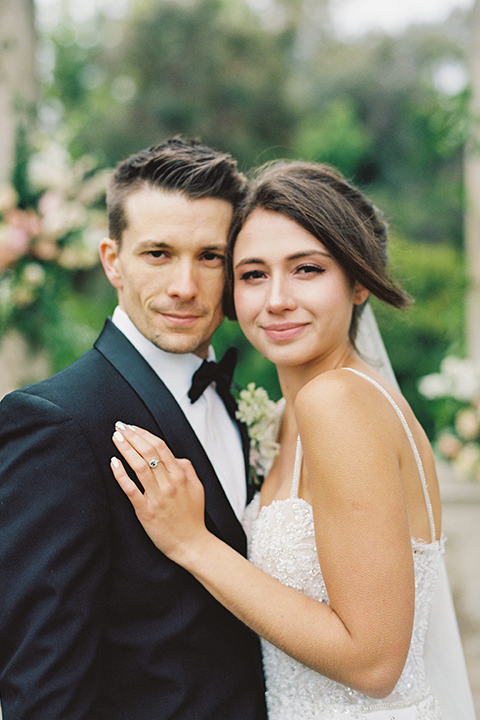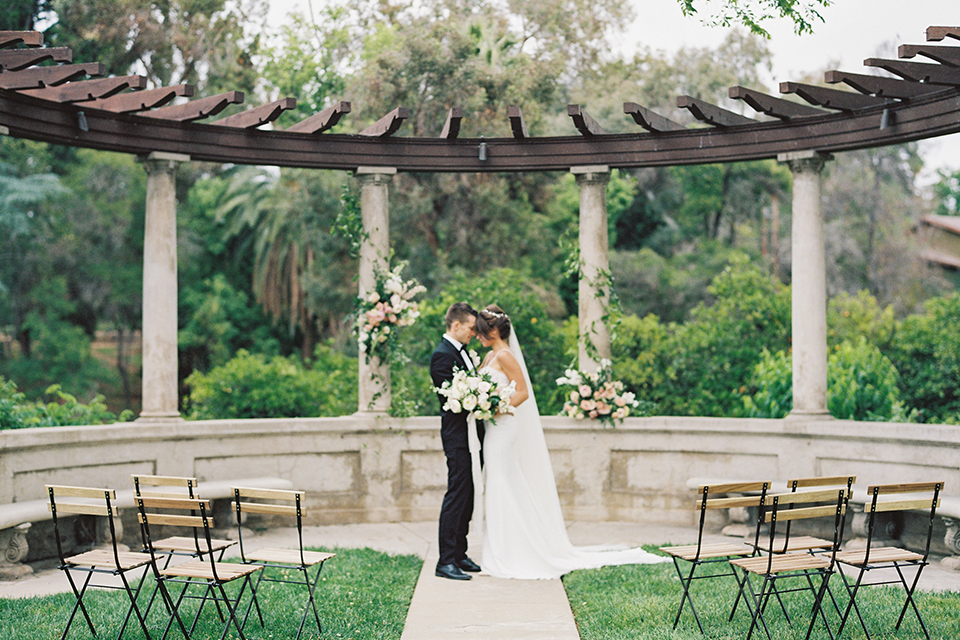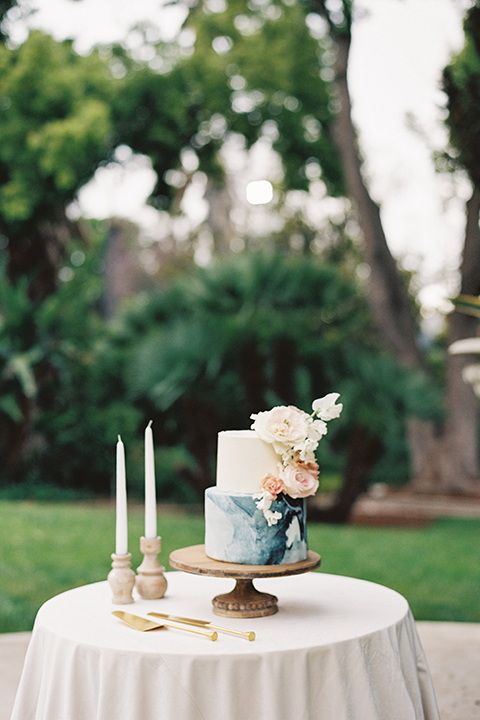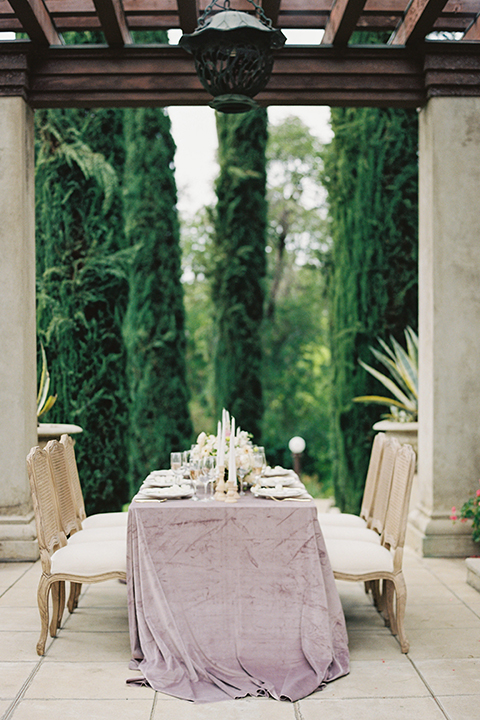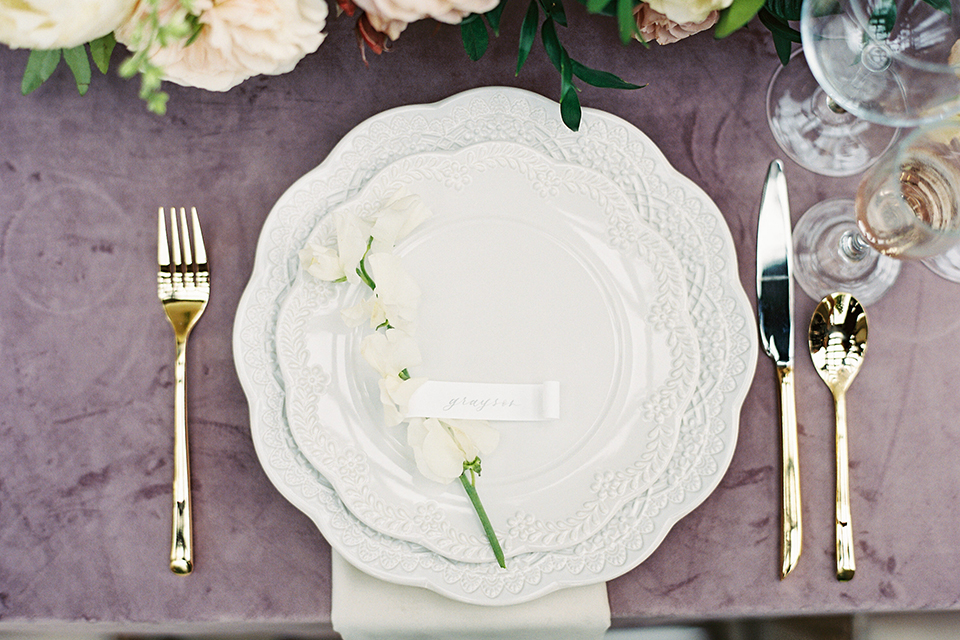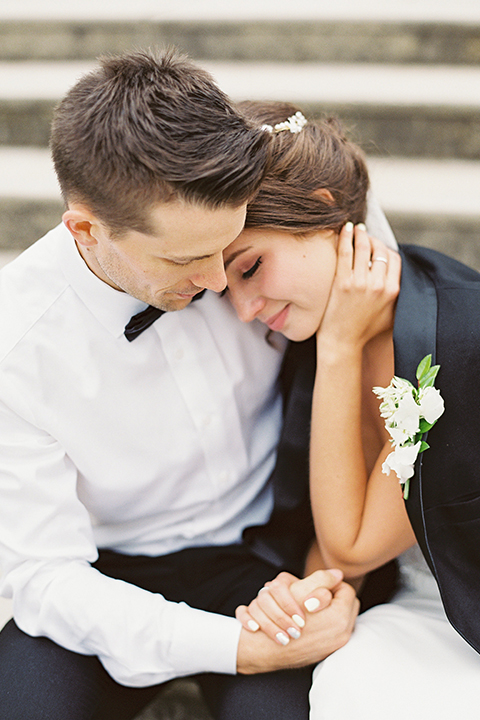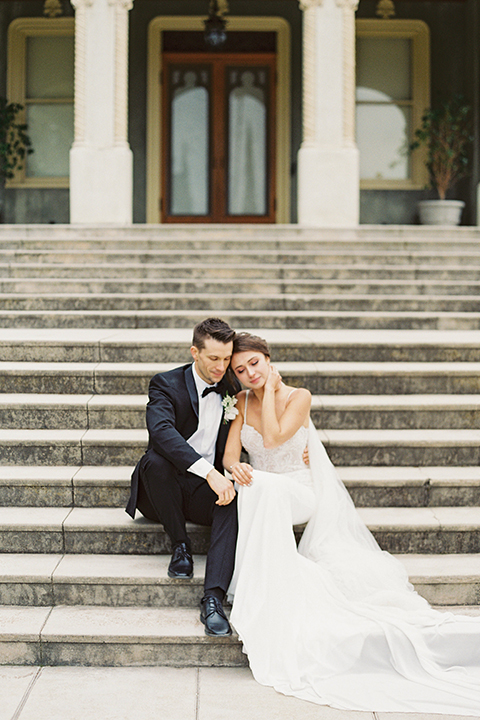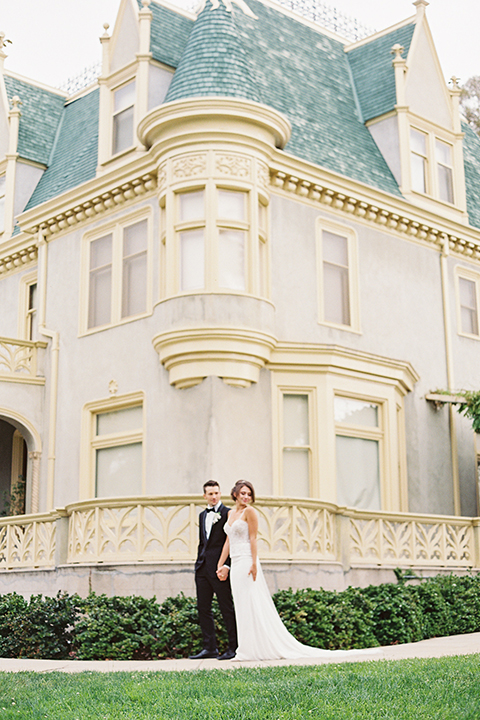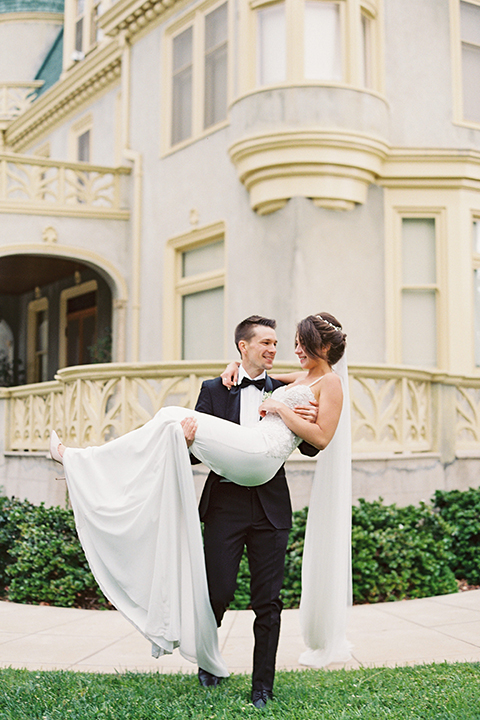 Florals: Oak & Amble | Jewelry: Kohnur | Dress: Kinsley James Couture Bridal | Veil + Accessories: Noon on the Moon | Bridal Shoes: Bella Belle Shoes | Linens: Luxe Linen | Chair Rentals: Bright Event Rentals | Cakes: Sam Samm Custom Cakes | Styling Mat: The Styling Mat
MOST READ BLOGS
WEDDINGS ARE ALWAYS MAGIC...

4 / 3 / 21 | Inspirational Photo Shoots

Venue: Kimberly Crest House & Gardens
Photography: Etcetera Photo
Menswear Style: White Shawl Lapel Tuxedo with a black bow tie

WOODLAND ROMANCE ELOPEMEN...

4 / 3 / 21 | Inspirational Photo Shoots

Photography: Mallory Dawn Photography
Coordination: Unoaked Events
Menswear Style: Tan Notch Lapel Suit with a white long tie

AROUND THE WORLD IN LOVE ...

4 / 3 / 21 | Inspirational Photo Shoots

Venue: Carpinteria Lions Park Photography: Melaney Sotelo Photography Planning + Design: Three Sisters Planning Menswear Style: Dark Blue Notc

GARDEN I-DO'S AT THE LODG...

4 / 3 / 21 | Inspirational Photo Shoots

Venue: Malibu Lake Lodge
Photography: Angel Sheree Photography
Planning + Design: AK Brides
Menswear Style: Black Notch Lapel Tuxe

BLUE + GOLD ROMANTIC WEDD...

4 / 3 / 21 | Inspirational Photo Shoots

Venue: Mission Inn Hotel
Photography: Angel Sheree Photography
Menswear Style: Dark Blue Notch Lapel Suit with a gold velvet bow tie

CENTRAL COAST SUNSET ELOP...

8 / 4 / 21 | Inspirational Photo Shoots

Venue: Central California
Host: The Yellow Workshop
Photography: Olivia Markle
Menswear: Rose Pink Notch Lapel Suit with a gold ve

NEUTRAL ROMANTIC WEDDING ...

8 / 4 / 21 | Inspirational Photo Shoots

Venue: Aly Ann Events Design + Planning: Marbella Events Photography: Savan Photography Menswear: Navy Blue Shawl Lapel Tuxedo with a black

TICKLED PINK ESTATE WEDDI...

8 / 4 / 21 | Inspirational Photo Shoots

Venue: Merv Griffin Estate
Photography: Briawna Meier
Menswear: Rose Pink Notch Lapel Suit with a gold velvet bow tie

ROOFTOP MODERN ELEGANCE I...

27 / 4 / 21 | Inspirational Photo Shoots

Venue: The Glass House
Photography: Elizabeth Burgi Photography
Lead Design + Tabletop Rentals: Lovely Luxe Rentals
Menswear Style

BOHEMIAN ELOPEMENT AT THE...

27 / 4 / 21 | Inspirational Photo Shoots

Venue: The Folly Collection
Photography: Maya Lora Photography
Planning: Simply Classic Events
Menswear Style: Café Brown Notch La

SUMMERY HONEY & LEMONS IN...

27 / 4 / 21 | Inspirational Photo Shoots

Venue: Luna Bella Ranch
Photography + Design: Melissa Fe Chapman
Planning: Simply Classic Events
Menswear Style: Ivory Paisley Tux