Citrus & Greenery Artsy Wedding for Two Brides
Citrus & Greenery Artsy Wedding for Two Brides
4 / 25 / 18 | Inspirational Photo Shoots
Venue: Madera Kitchen
Event Planning + Design: Jenne Chanthaboury
Photography: Sarah Mack Photography
Fashion Style: Women's Black Shawl Tuxedo
The inspiration for this shoot came from Summer in LA. A splash of citrus and greenery in an artsy and hip location breathe life into this idea. Wearable florals by The Tangled Vine and a romper provided a soft and relaxed vibe. Citrus tones and the use of oranges, lemons, and limes brought a summery and bright feel. Claire wore a simple and casual romper by Theia Bridal from Mon Amie Bridal Salon. This casual look was so fitting for our bright and lush alter which was sprinkled with lilies and dream catchers.
Macy sported a one button shawl lapel women's tuxedo with a straight leg jogger pant from Friar Tux Midnight Blue Label. Kats Floral Creations and Melody Events did an amazing job styling our table, which featured a cascade of greenery with pops of citrus tones flowing over geometric ceramic vases provided by Baker Party Rentals. Lifting your florals in a suspended arrangement gives a new and unique aesthetic to any understated floral design!
The vintage wine room was complimented by antique candelabras, and accents of blue added complexity to the table with Turquoise Milk Vases by Provenance Rentals and beautiful blue and white flowered China by Baker Party Rentals. For an extra layer of color and texture, tinted goblets in gold and pick added to the place setting. Our marbled cake by Nicole Bakes Cakes was adorned by vintage tea couples and fruit peel flowers that add a bright summer touch. To bring the whole look together, a vintage floral invitation suite was designed using pops of citrus tones by The Paper Mint Press.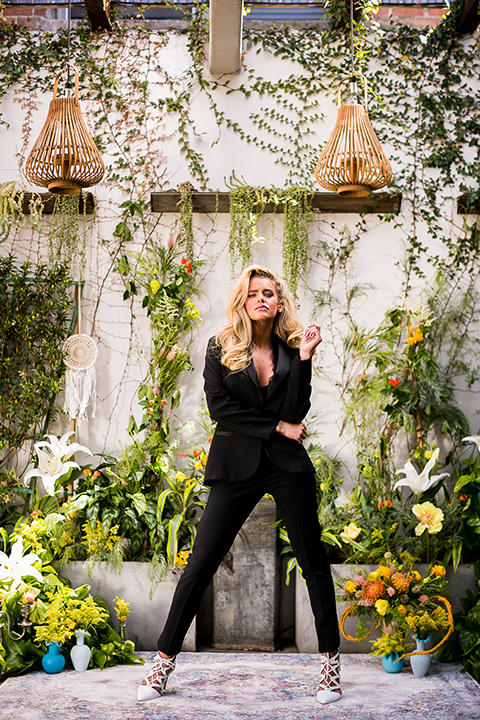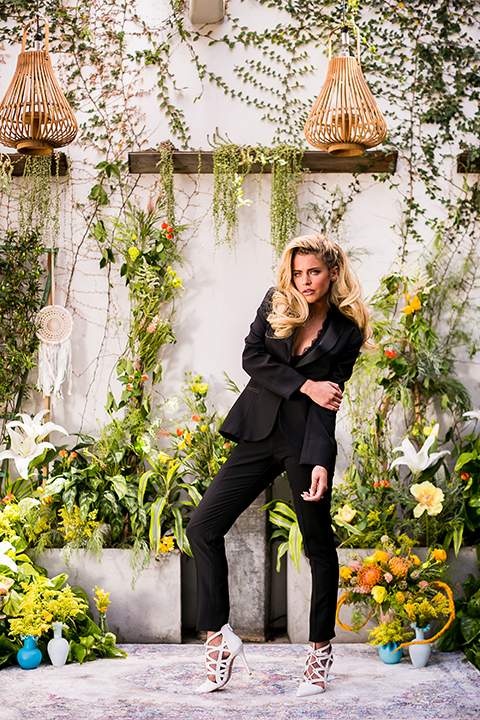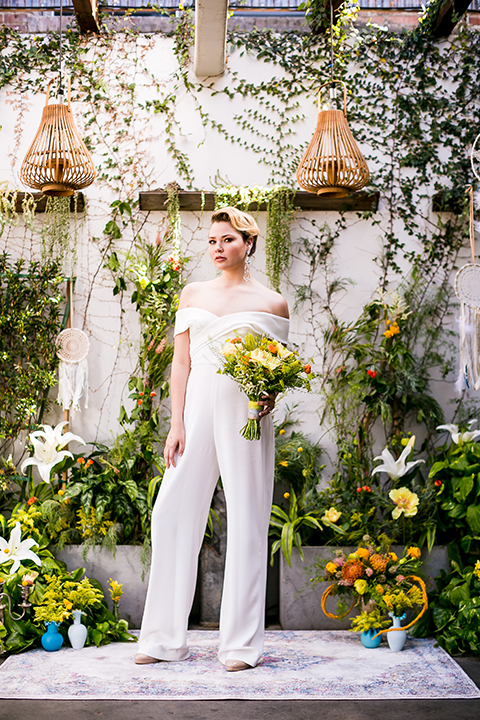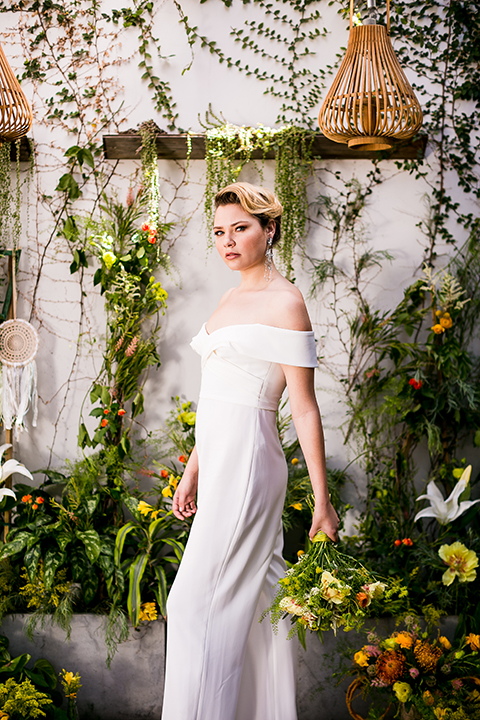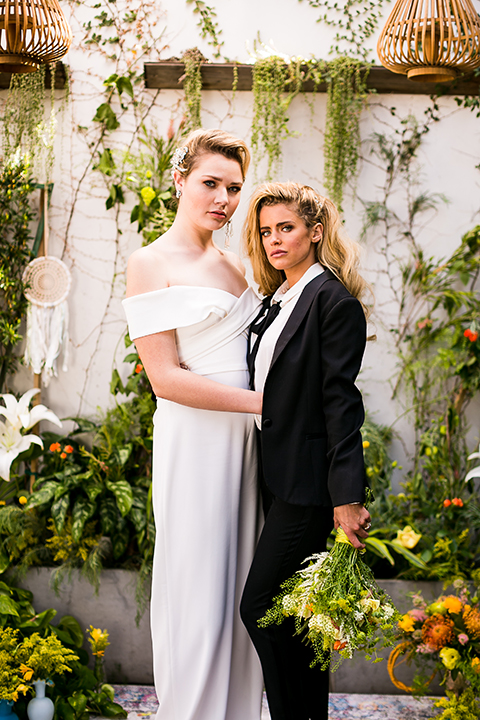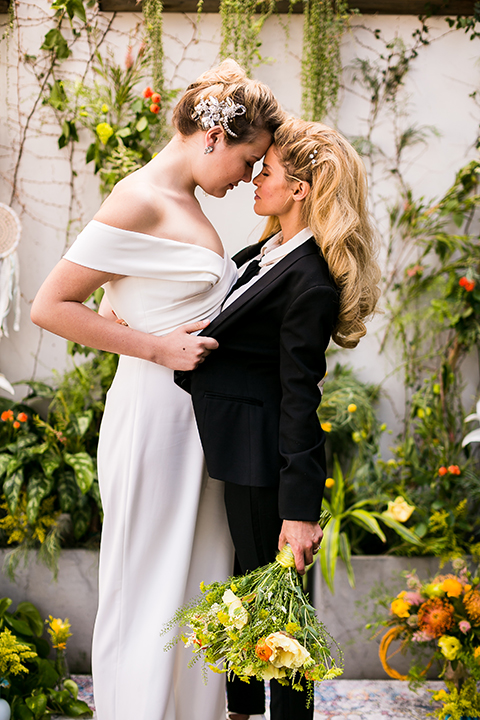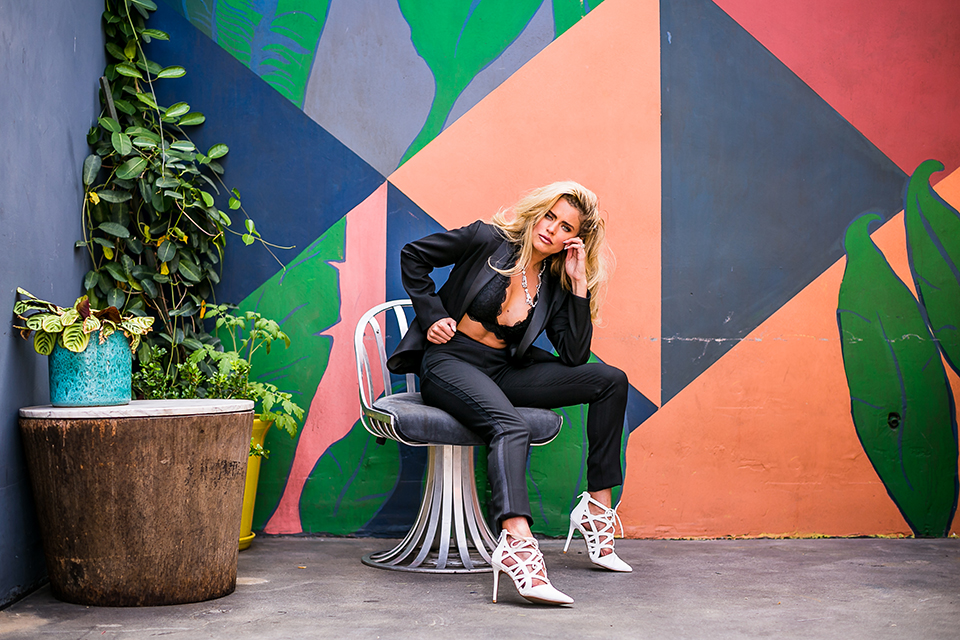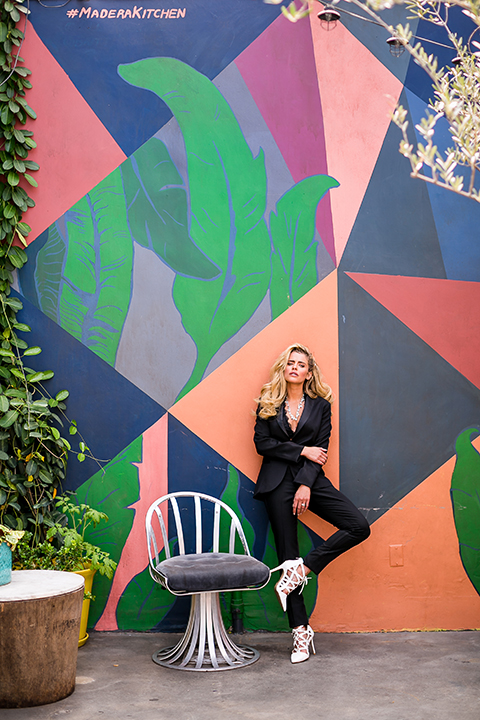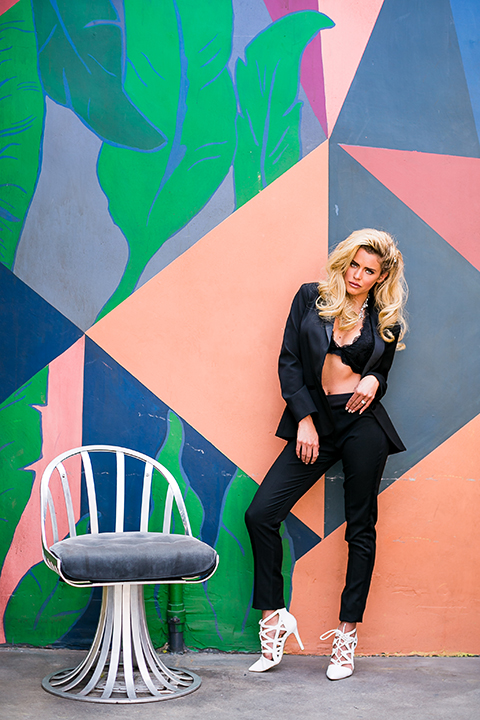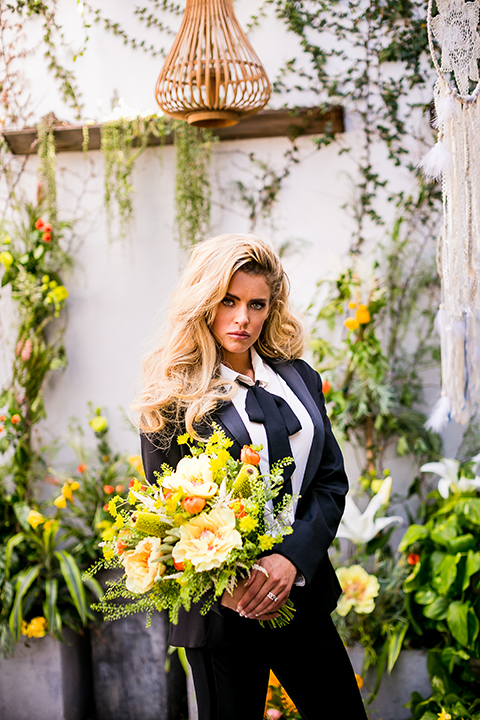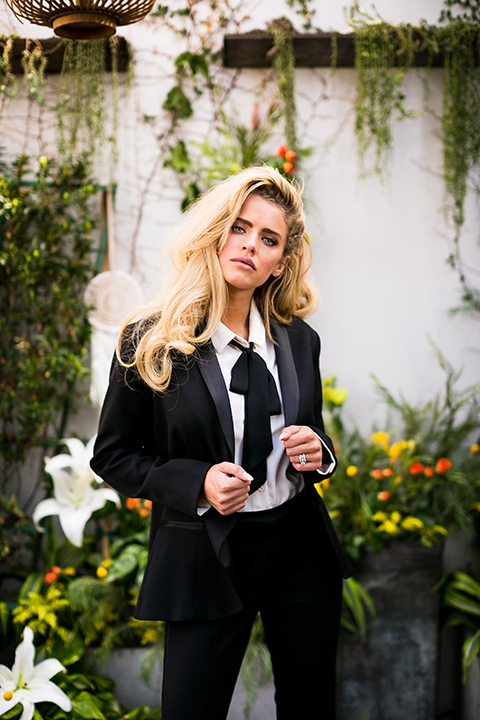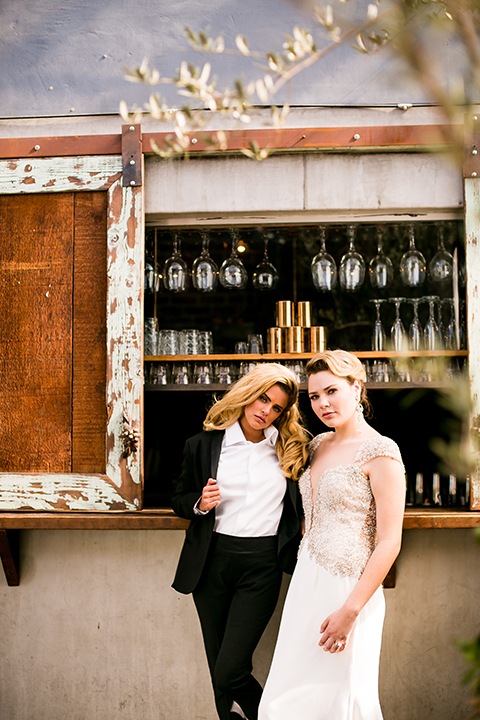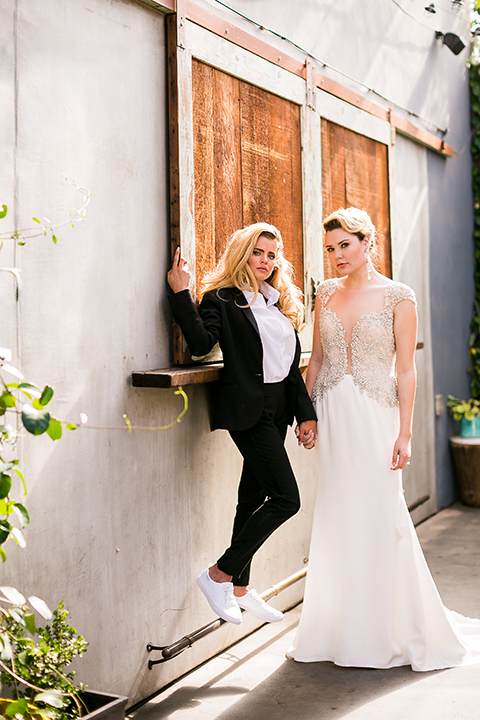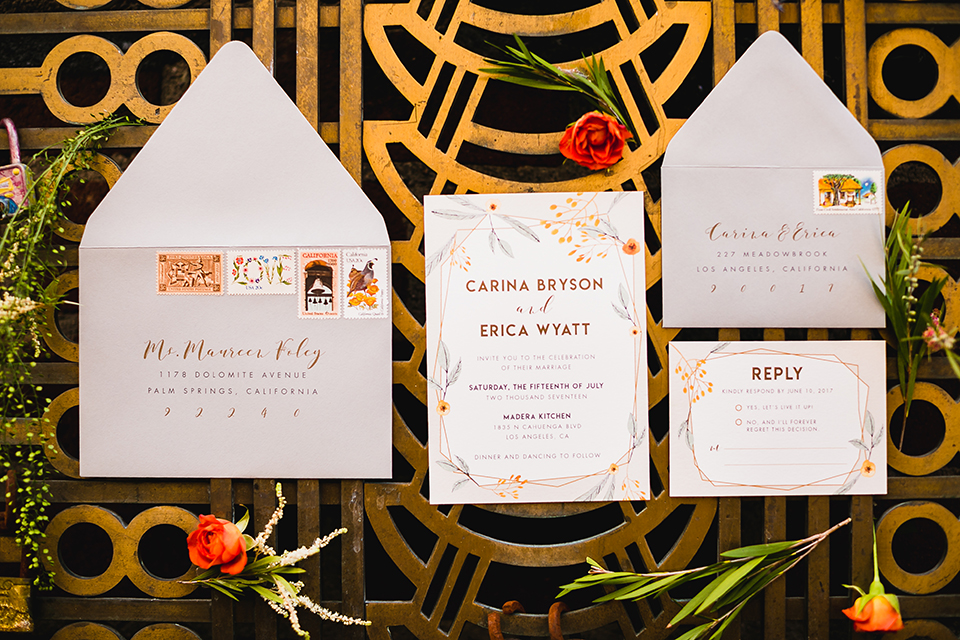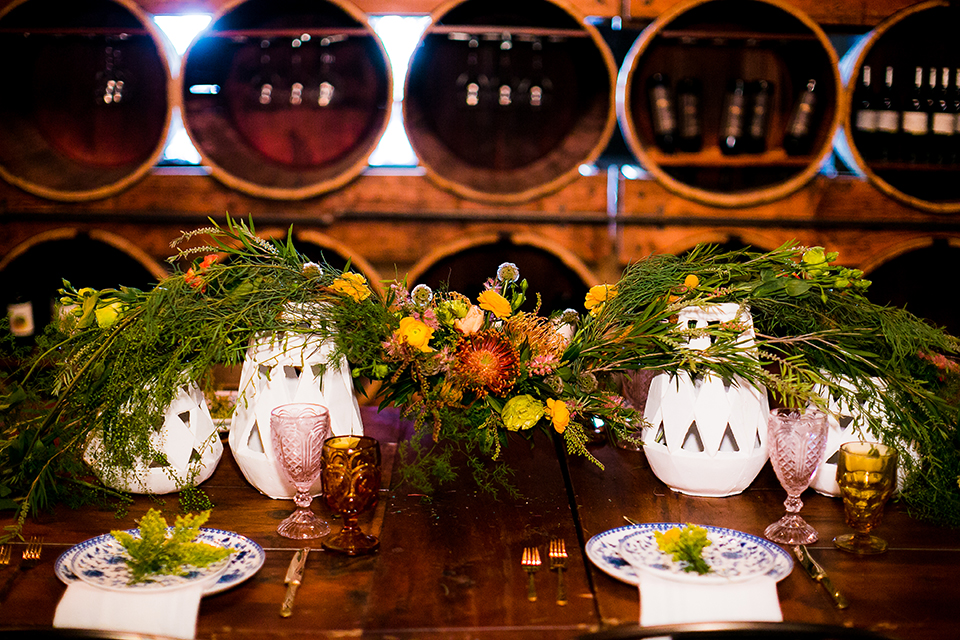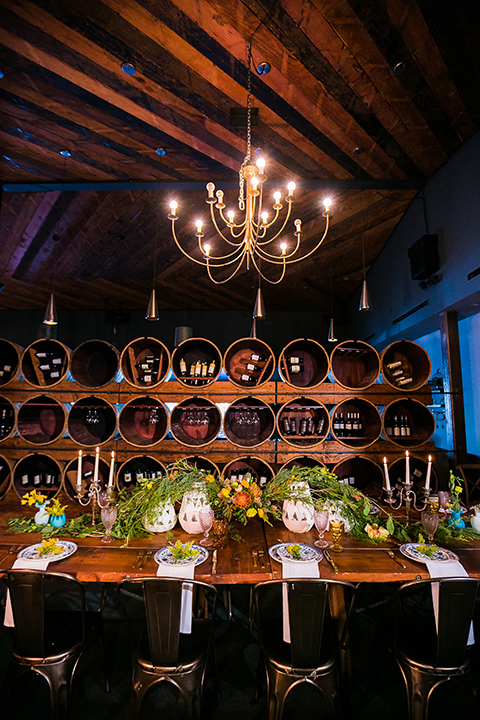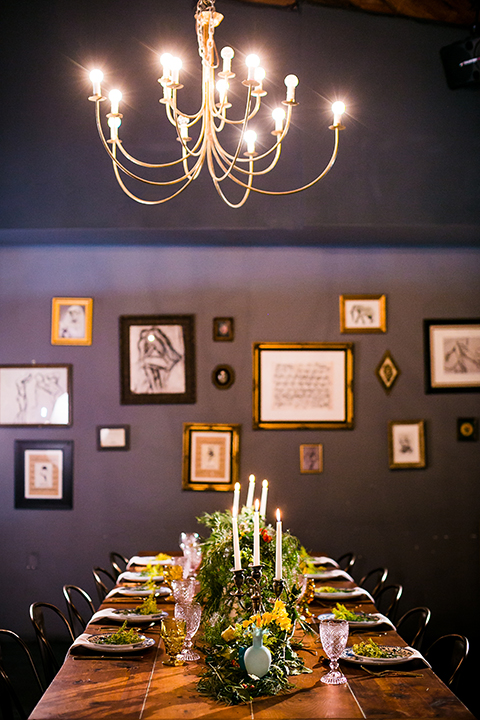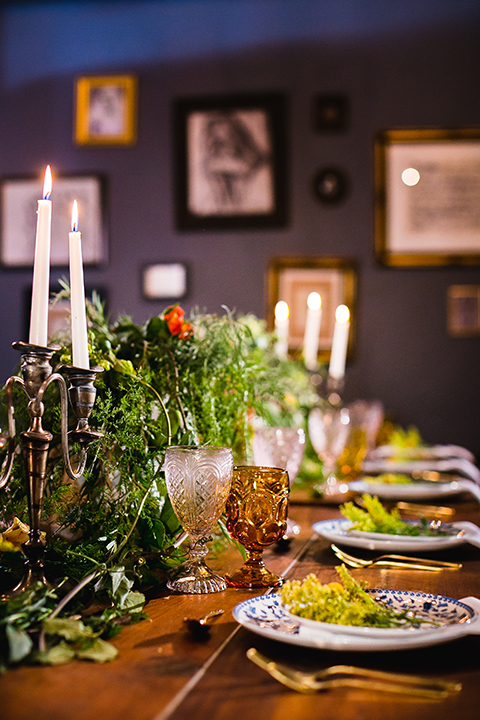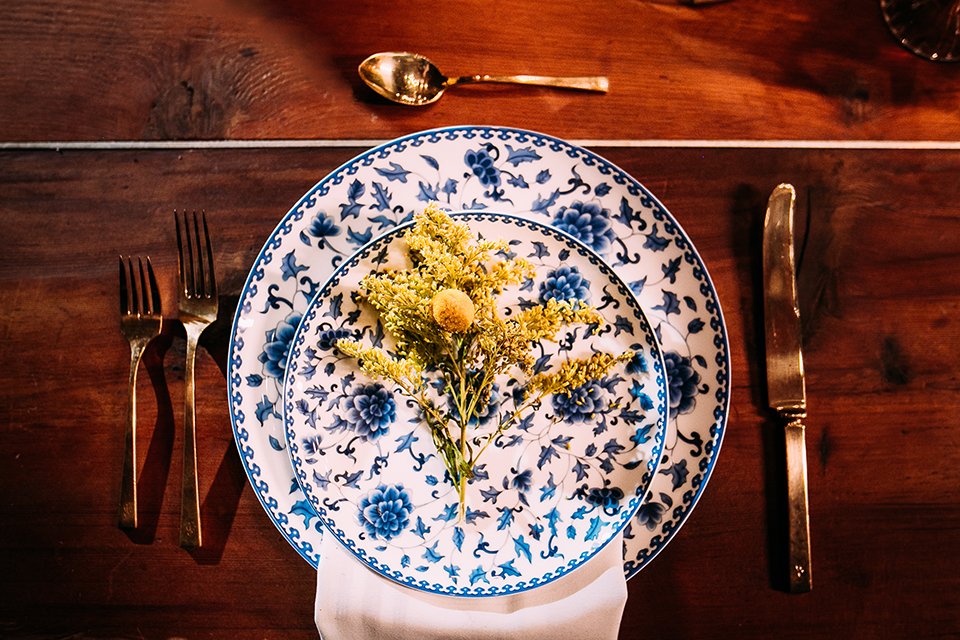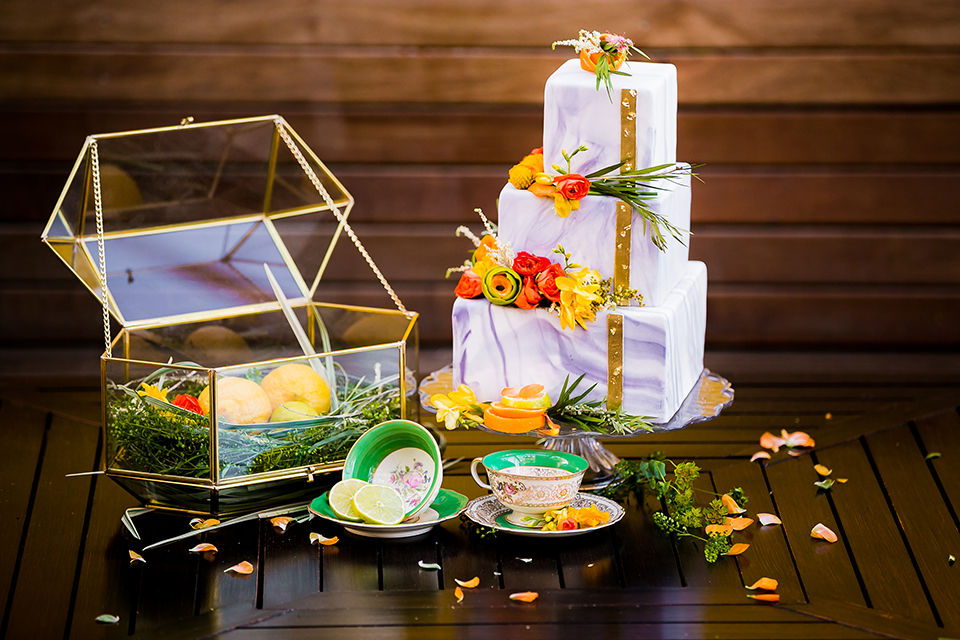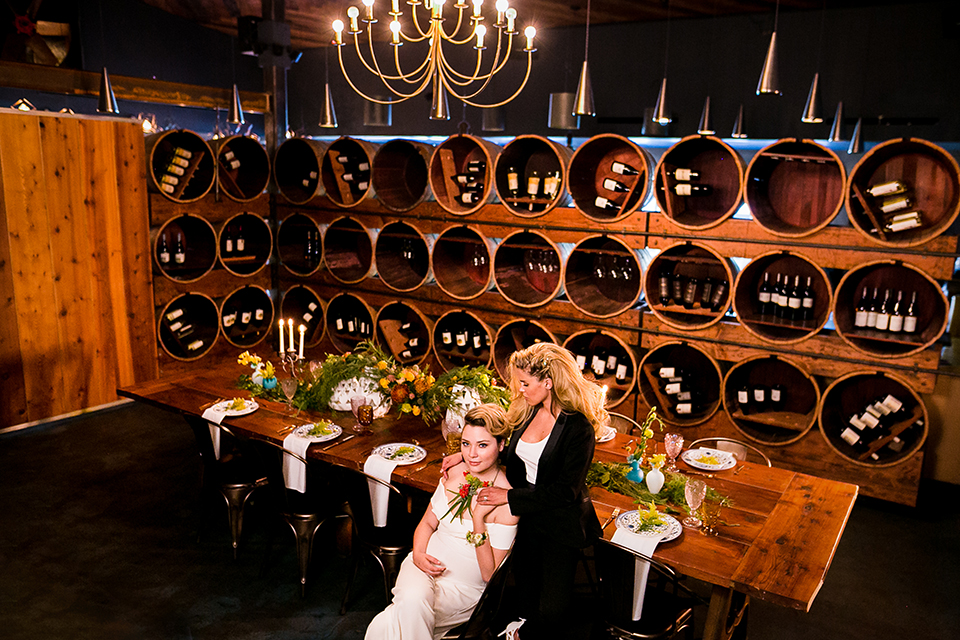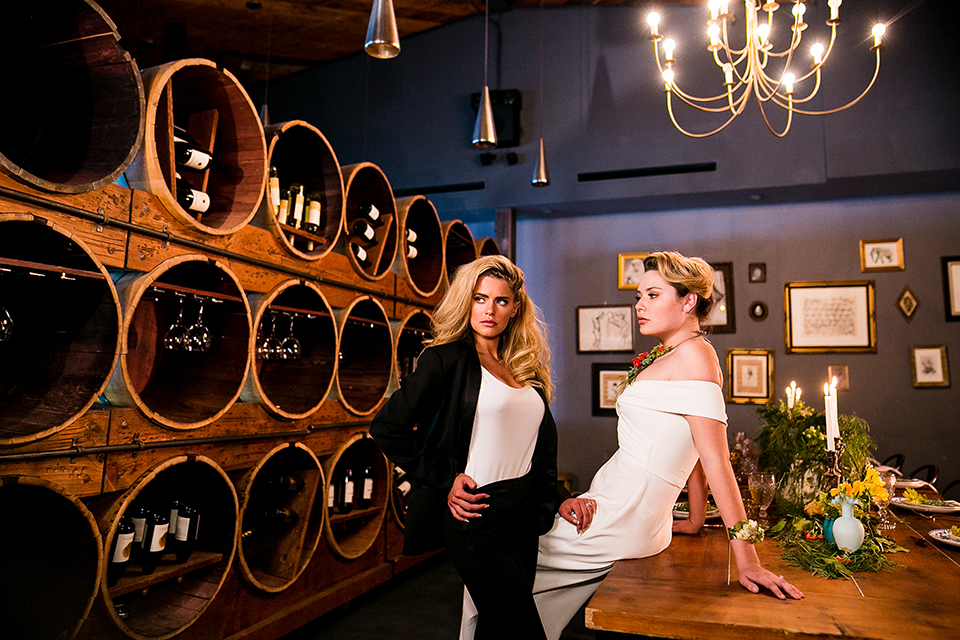 This shoot was also featured on H&H Weddings!
Florals: Kat's Creations Floral Designs | Videography: The Siren & Co. | Dress: Mon Amie Bridal Salon | Hair + Makeup: Betsy diFrancesca | Vintage Rentals: Provenance Rentals | Rentals: Baker Party Rentals | Wearable Floral Accessories: The Tangled Vine | Cake: Nicole Bakes Cakes | Stationery: The Paper Mint Press
MOST READ BLOGS
CHIC AL FRESCO SUMMER WED...

7 / 9 / 17 | Inspirational Photo Shoots

Venue: Rancho Las Lomas
Photography: Lily Tapia Photography
Menswear Style: Black Notch Lapel Tuxedo by Michael Kors with a grey bow ti

CITRUS AND CONFETTI WEDDI...

5 / 10 / 17 | Inspirational Photo Shoots

Venue: Howl Long Beach
Photography: Petersen Design & Photography
Menswear Style: Teal Carter Tuxedo by Ike Behar with black pants and

ROMANTIC WINERY WEDDING

27 / 5 / 20 | Inspirational Photo Shoots

Venue: Ganite Lion Cellars
Photographer: Alyssa Rachel
Menswear: Light Grey Peak Lapel Suit with a purple long tie

ELEGANT OLIVE GROVE WEDDI...

18 / 6 / 20 | Inspirational Photo Shoots

Venue: Temecula Olive Oil Company
Photography: Mallory Dawn Photography
Menswear Style: Navy Shawl Lapel Tuxedo with a black bow tie

ETHEREAL FRENCH WEDDING A...

18 / 6 / 20 | Inspirational Photo Shoots

Venue: Vista Valley Country Club
Photography: Mallory Dawn Photography
Menswear Style: Navy Shawl Lapel Tuxedo with a black bow tie

CLASSIC EUROPEAN WEDDING ...

18 / 6 / 20 | Inspirational Photo Shoots

Venue: Kestrel Park
Photography: Kalina And Co.
Menswear Style: White Casablanca Dinner Jacket with a black bow tie

STUNNING YOSEMITE CLIFF W...

18 / 6 / 20 | Inspirational Photo Shoots

Venue: Yosemite National Park
Photography: Taylor'd Southern Events
Menswear Style: Grey Notch Lapel Suit with a matte black long tie

COASTAL BLUSH BLISS

28 / 12 / 22 | Inspirational Photo Shoots

COLORADO MICROWEDDING WIT...

28 / 12 / 22 | Inspirational Photo Shoots

PRIMARY COLOR MAGIC AT A ...

29 / 12 / 22 | Inspirational Photo Shoots

A GRAND TETONS ELOPEMENT ...

29 / 12 / 22 | Inspirational Photo Shoots