Canyon Wedding Photos that Will Wow You!
Canyon Wedding Photos that Will Wow You!
3 / 20 / 20 | Inspirational Photo Shoots
Venue: Horshoe Bend, Arizona
Photographer: Beba Vowels
Planner: Roamers Retreat
Dress Designer: Daci Gowns
Menswear: Black Notch Lapel Tuxedo by Michael Kors with a double breasted black vest and black skinny tie
"The sun shines not on us but in us."― John Muir, Father of the National Parks
For those adventure-seeking couples who have a love for the outdoors, you are going to love this blog! These amazing wedding day photos shot by the ever so amazing Beba Vowels in Horseshoe Bend, Arizona give us all the whimsical desert vibes we were needing today. The mix between bohemian and glam fashion for both the bride and the groom put these shots over the edge!
The bride wore a chic Daci gown with a plunging neckline and long billowing sleeves. Her dress had a gorgeous iridescent design to it, that was accessorized perfectly with a pair of black combat boots for that model-in-the-national-park vibe (cause aren't we all wanting to pull that look off?). The groom wore a formfitting black Michael Kors tuxedo that popped perfectly with the desert backdrop. He paired his look with the trendy double-breasted black vest for a laidback- but make it fashion- look. Together this power adventure couple could not be stopped!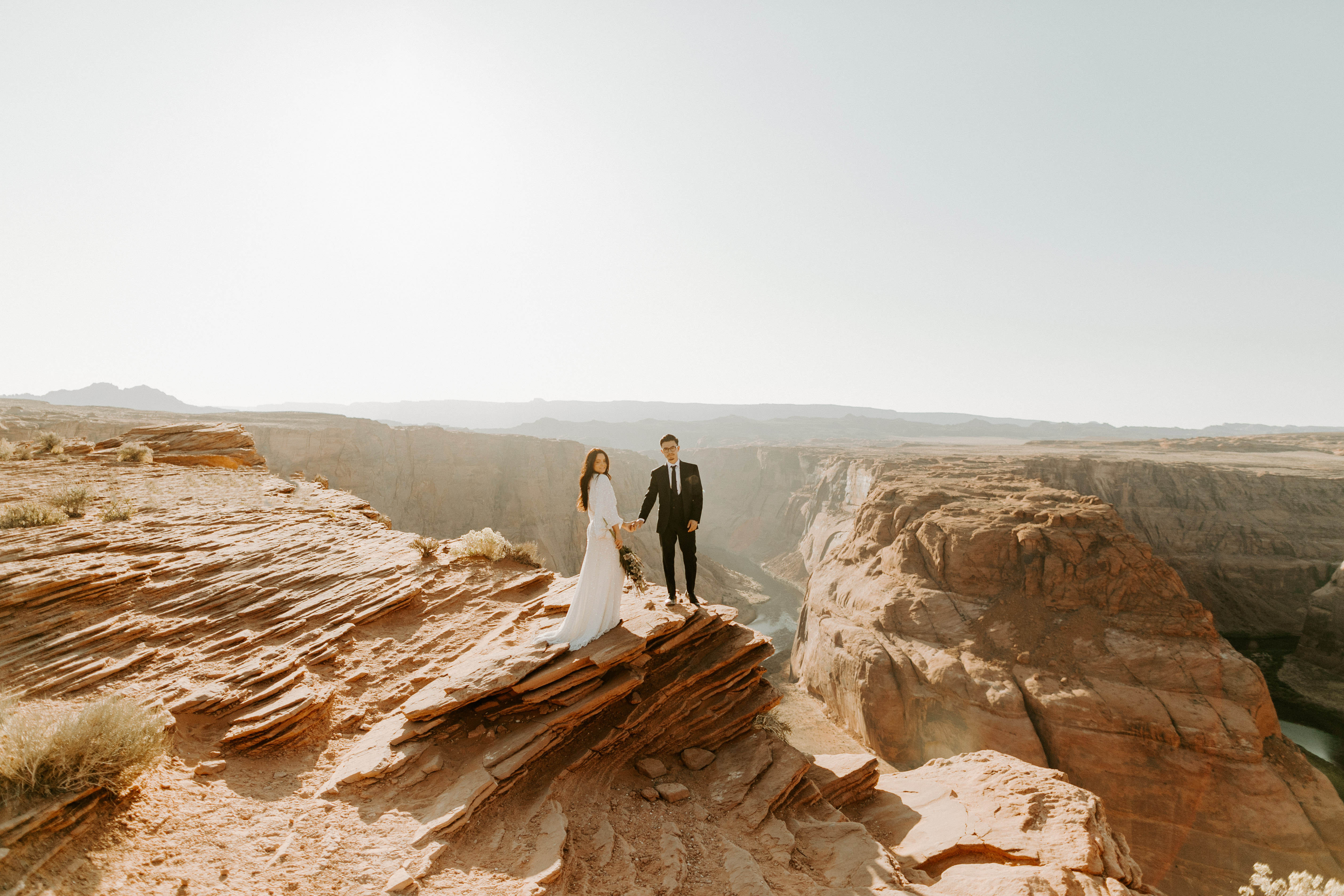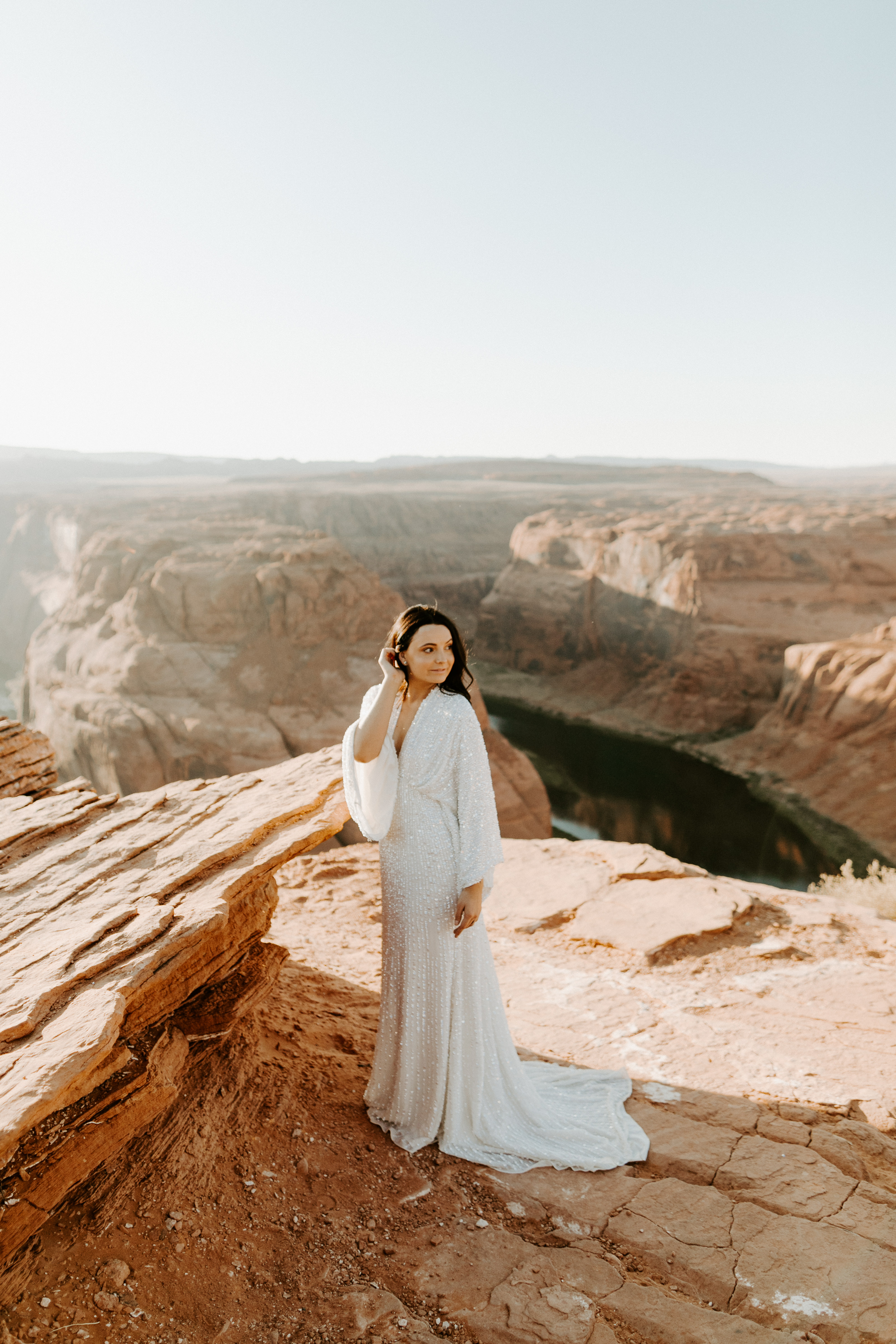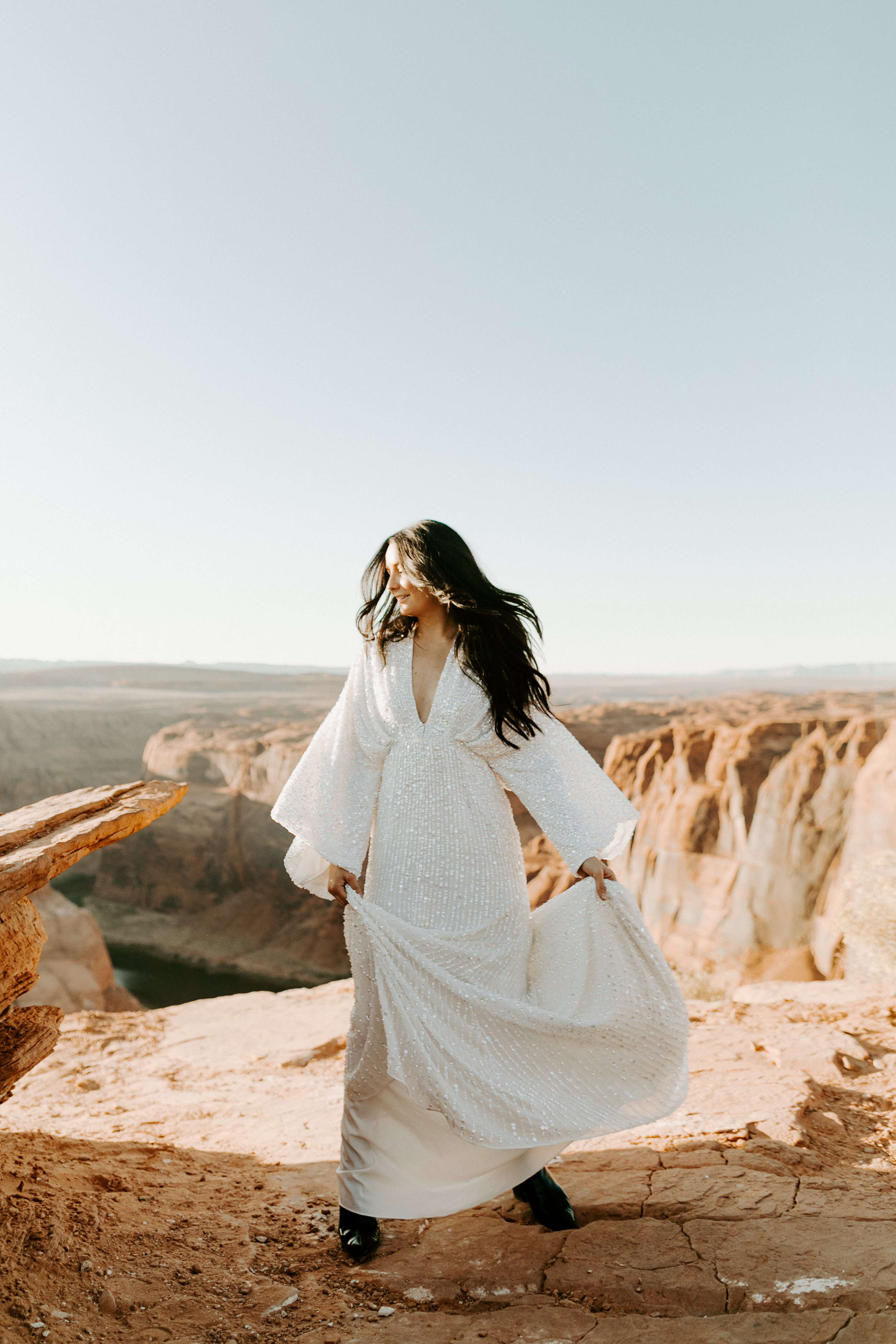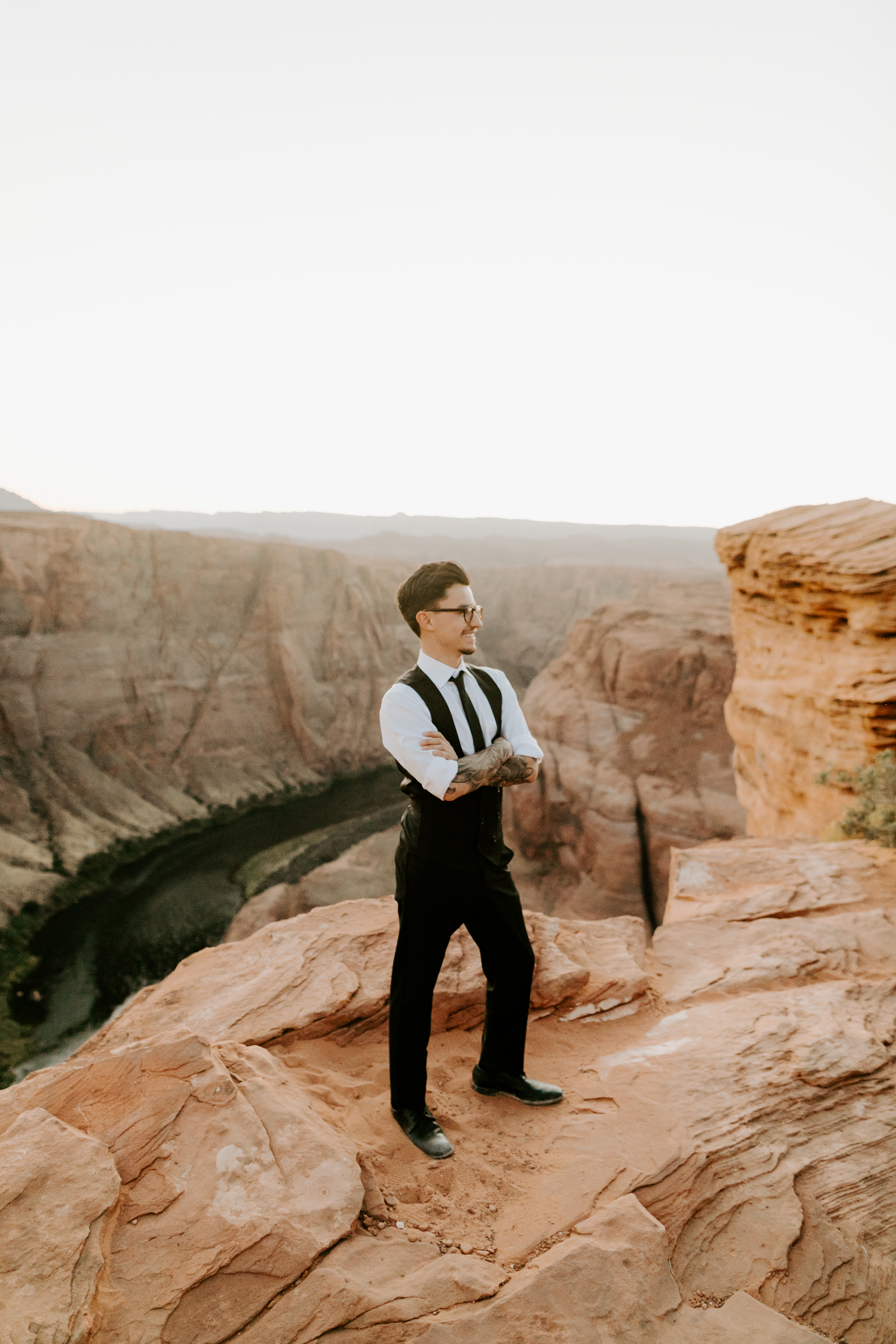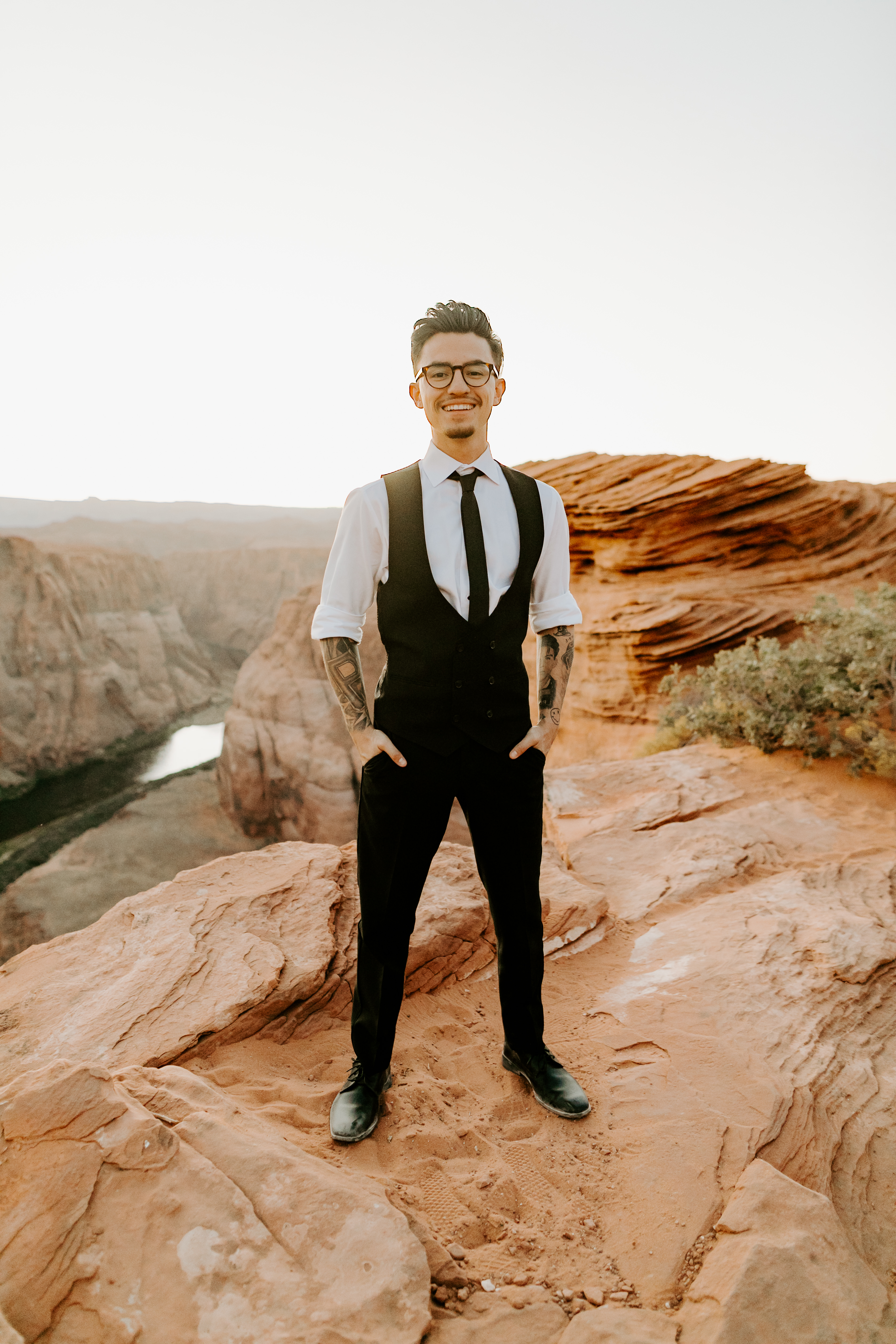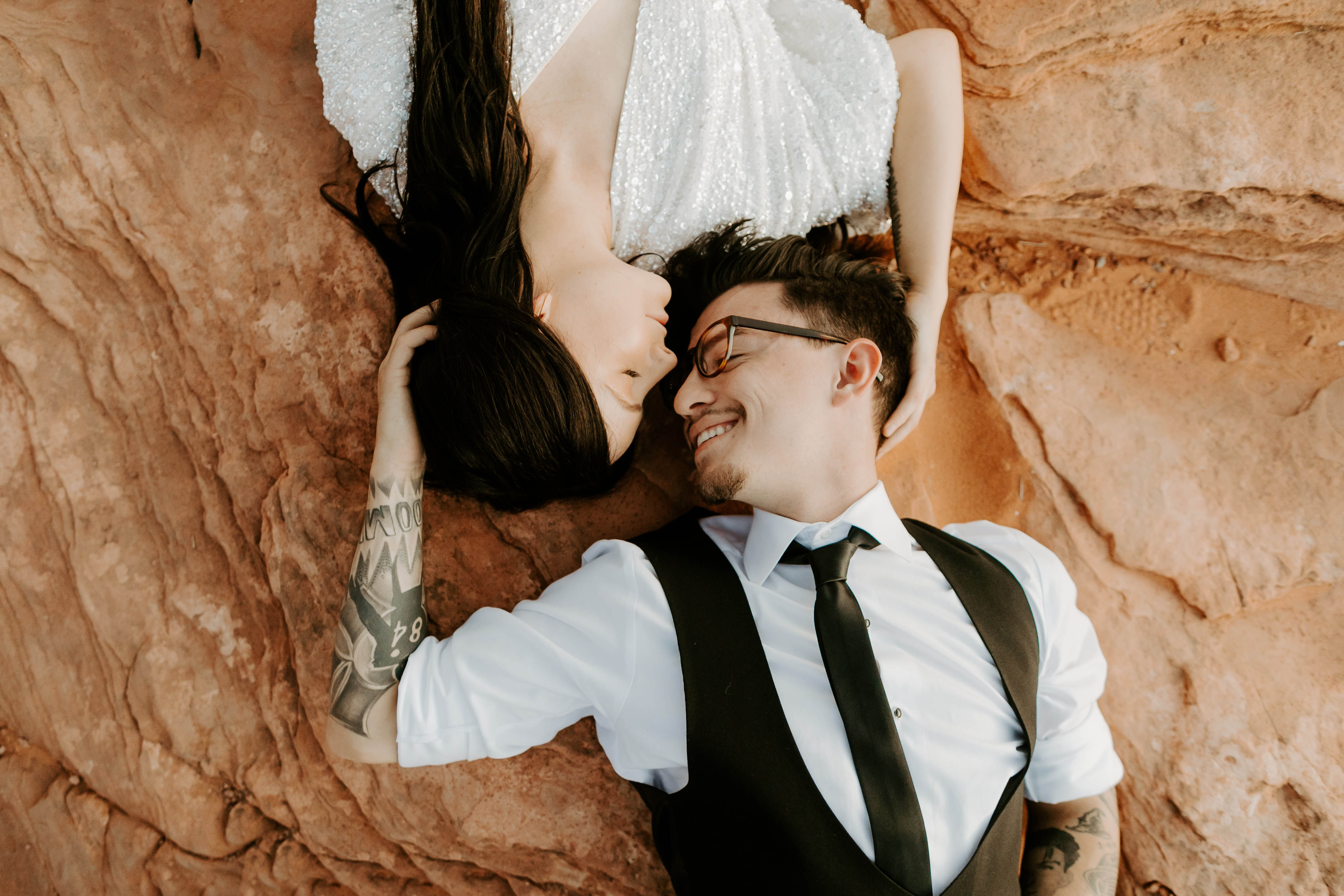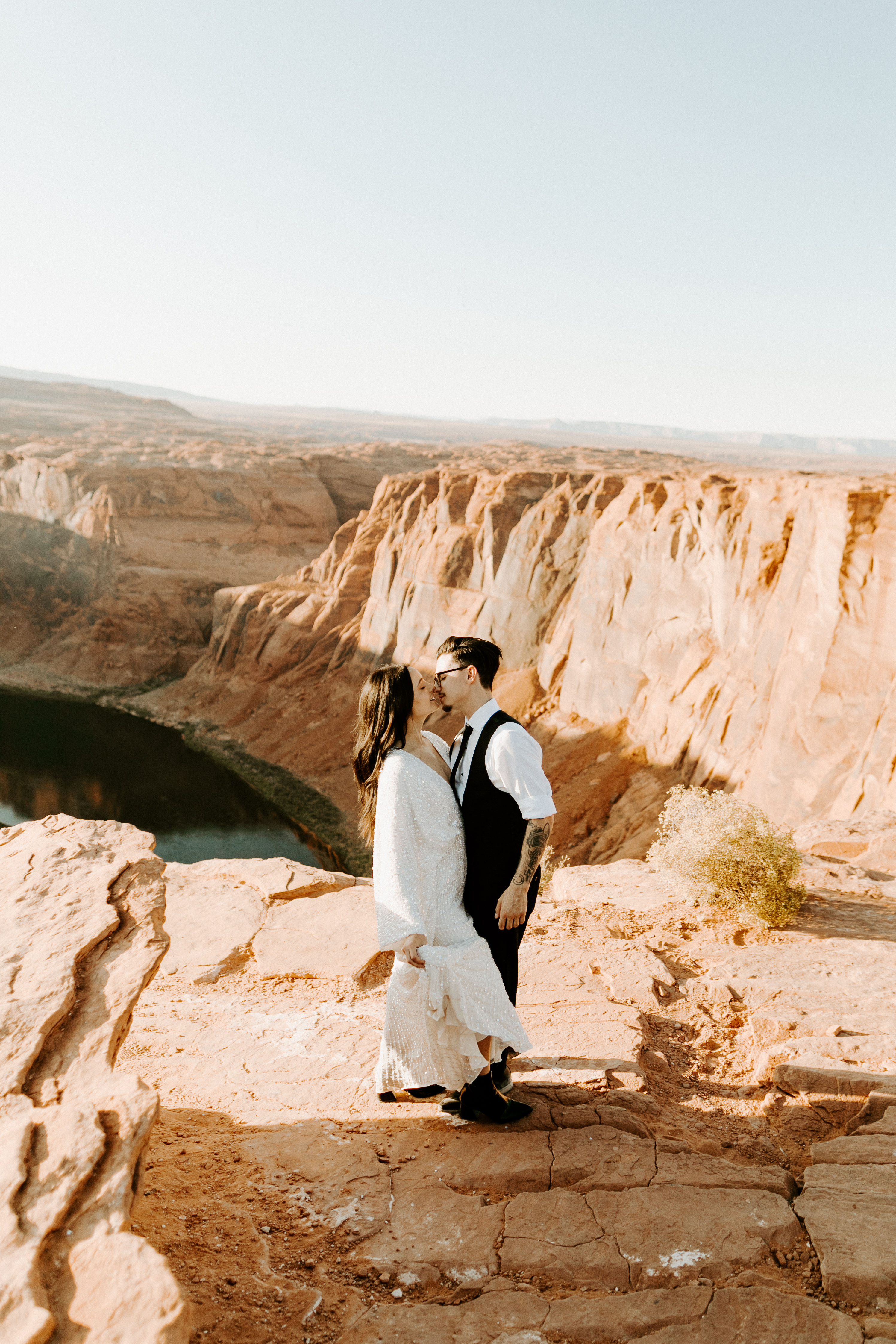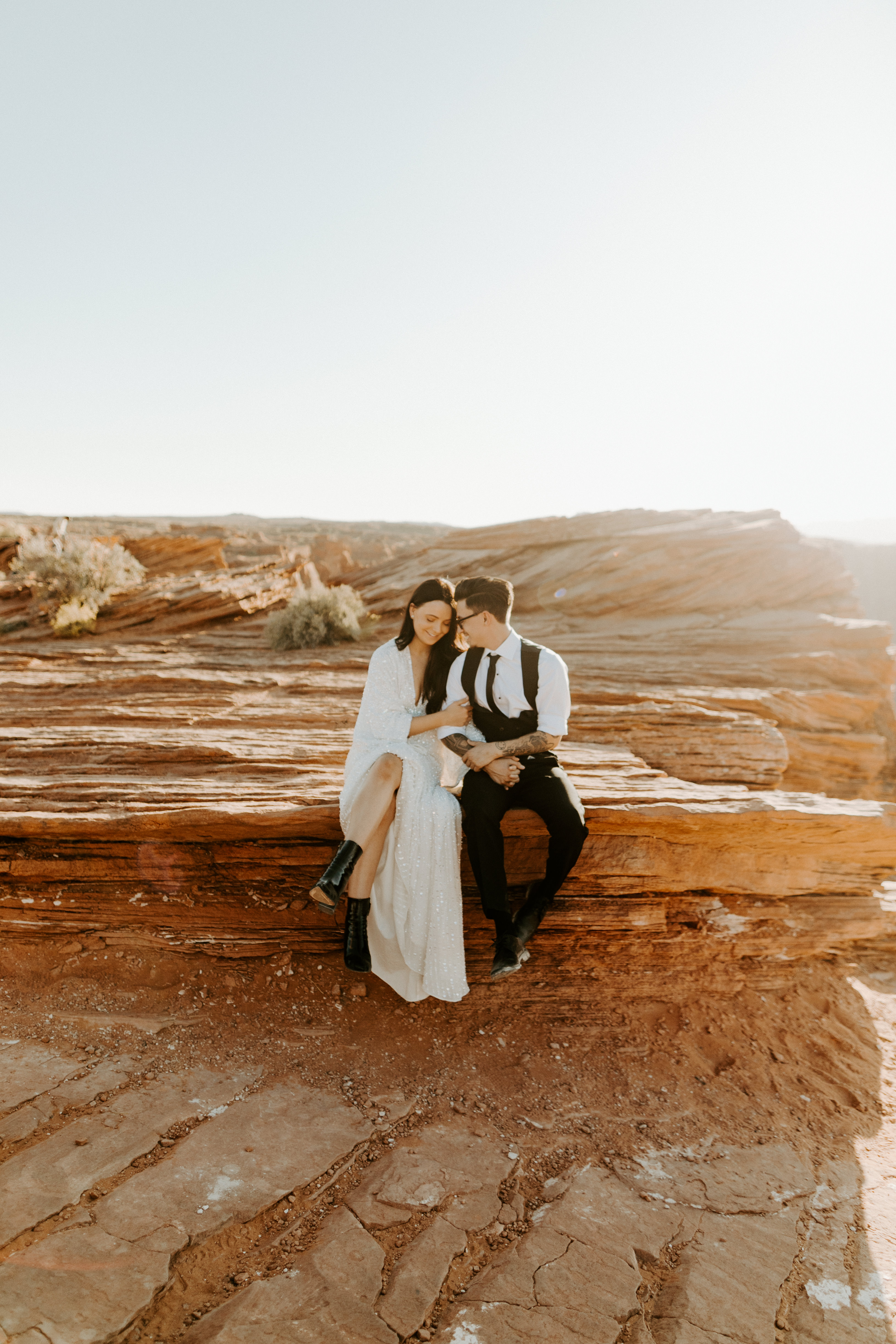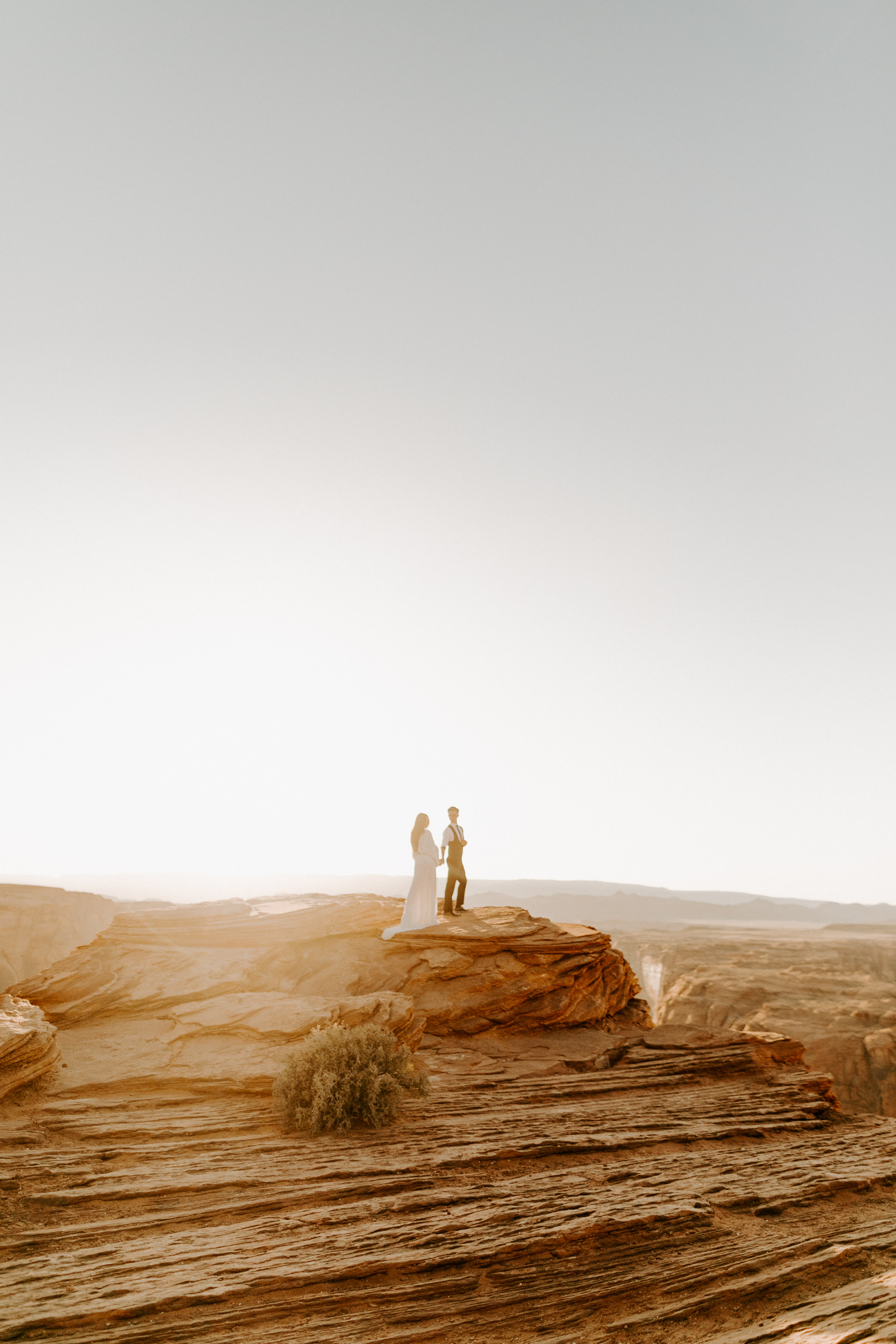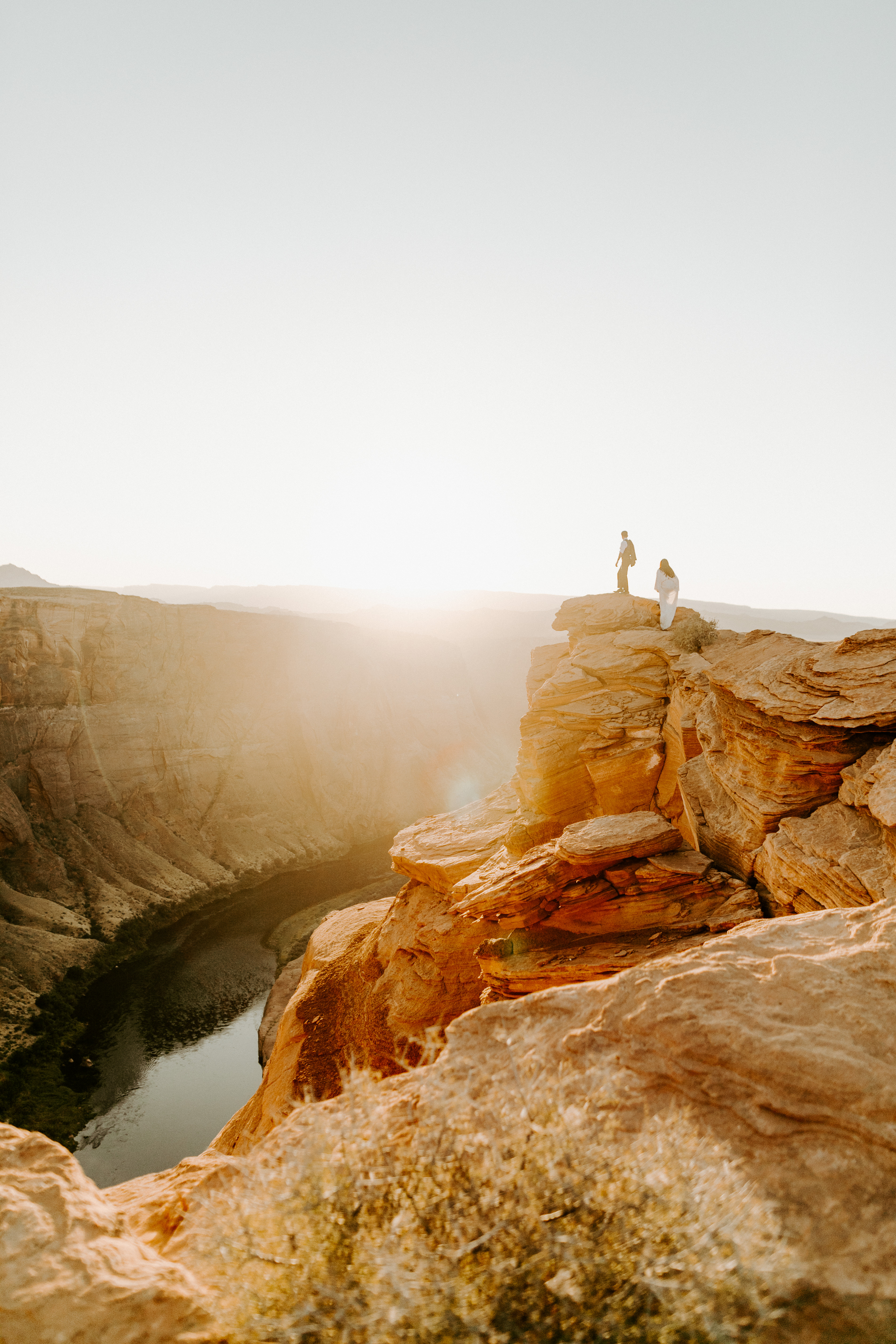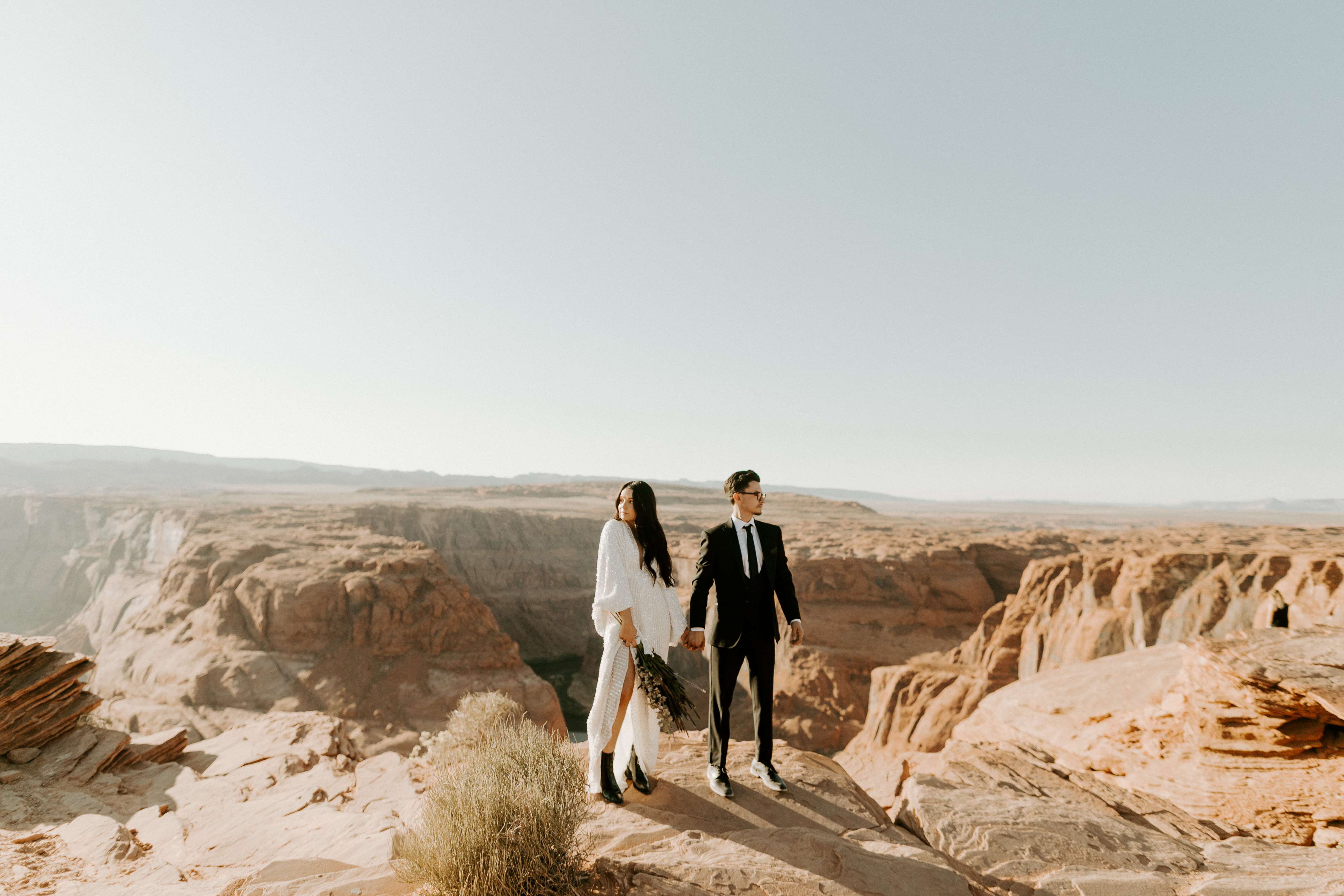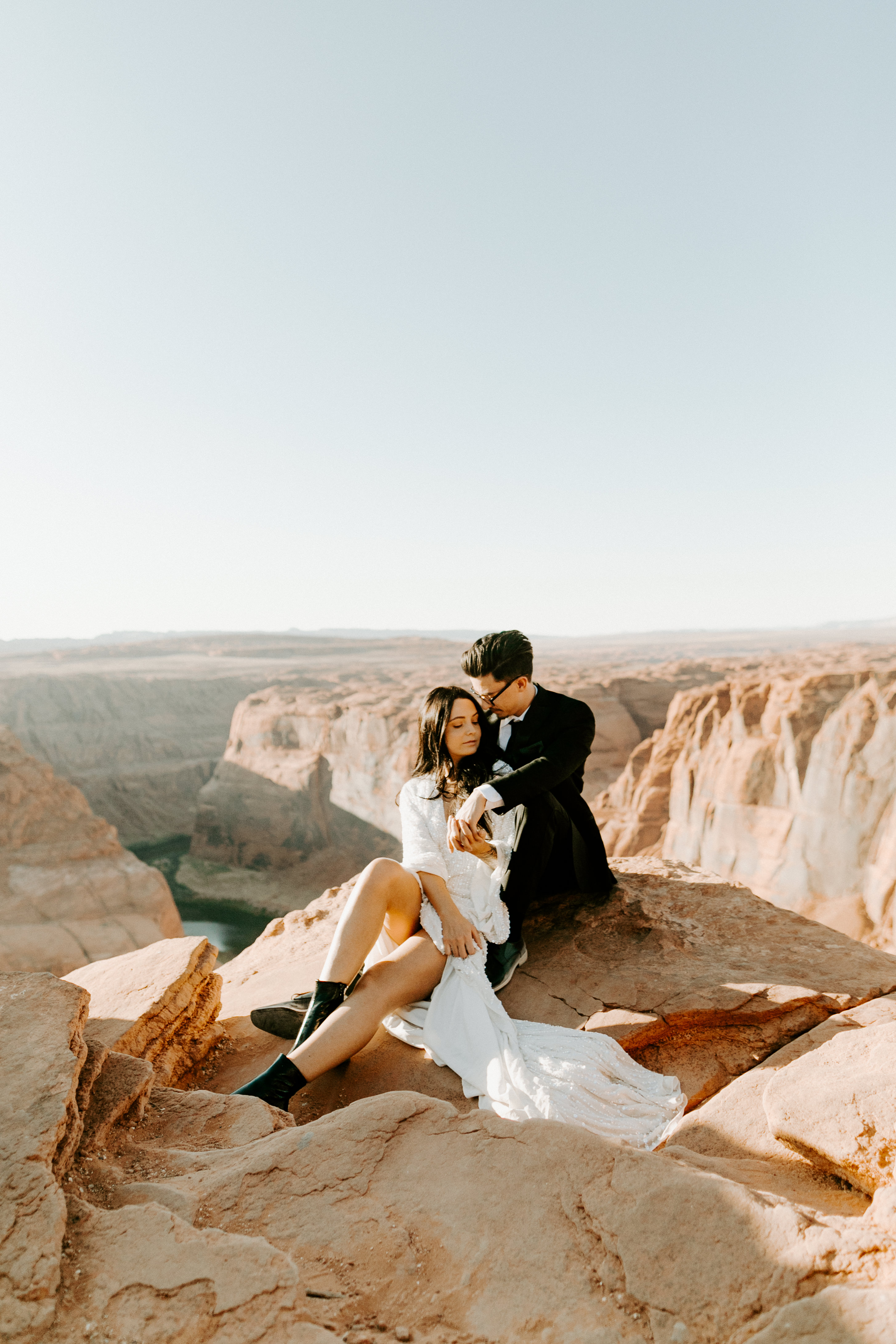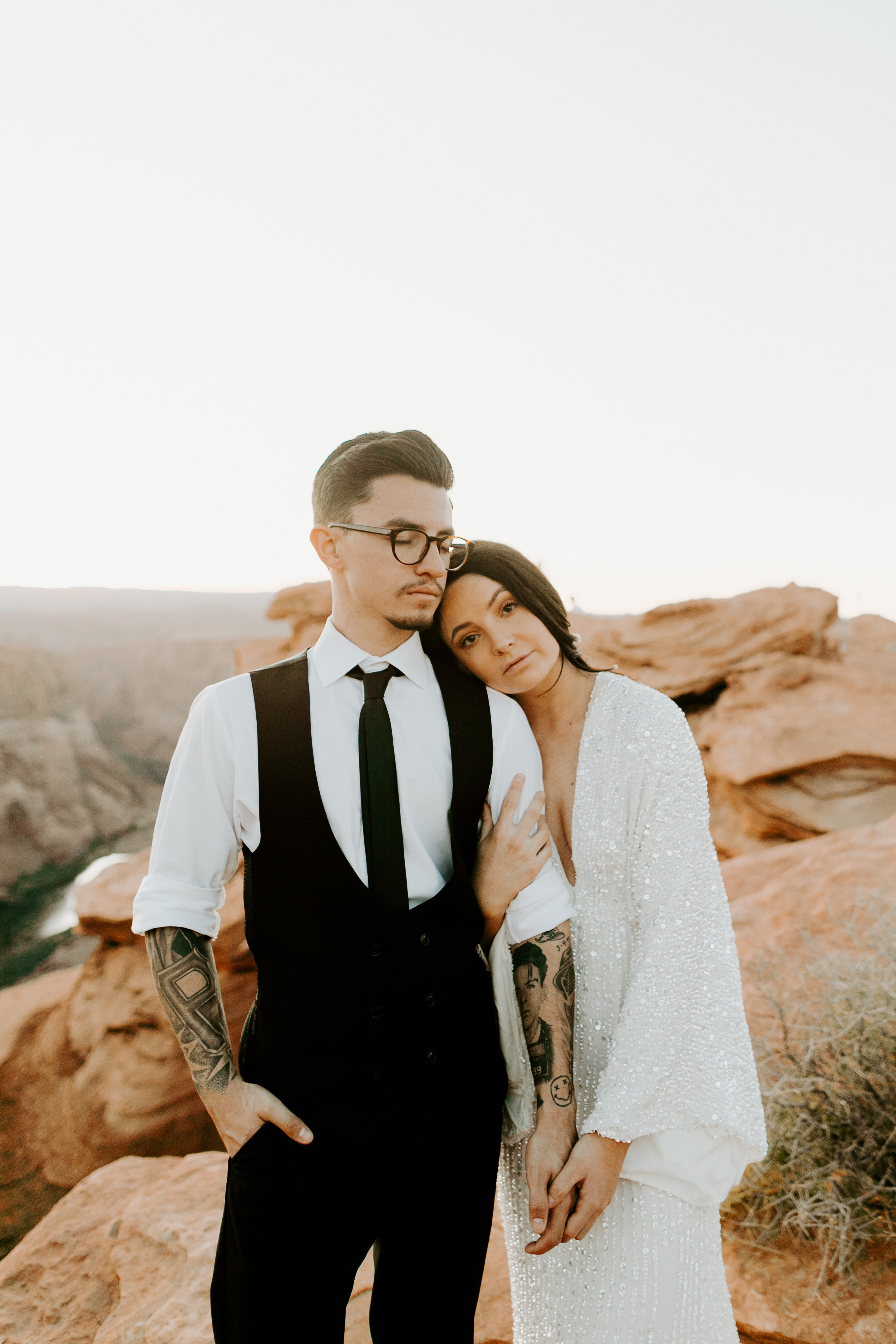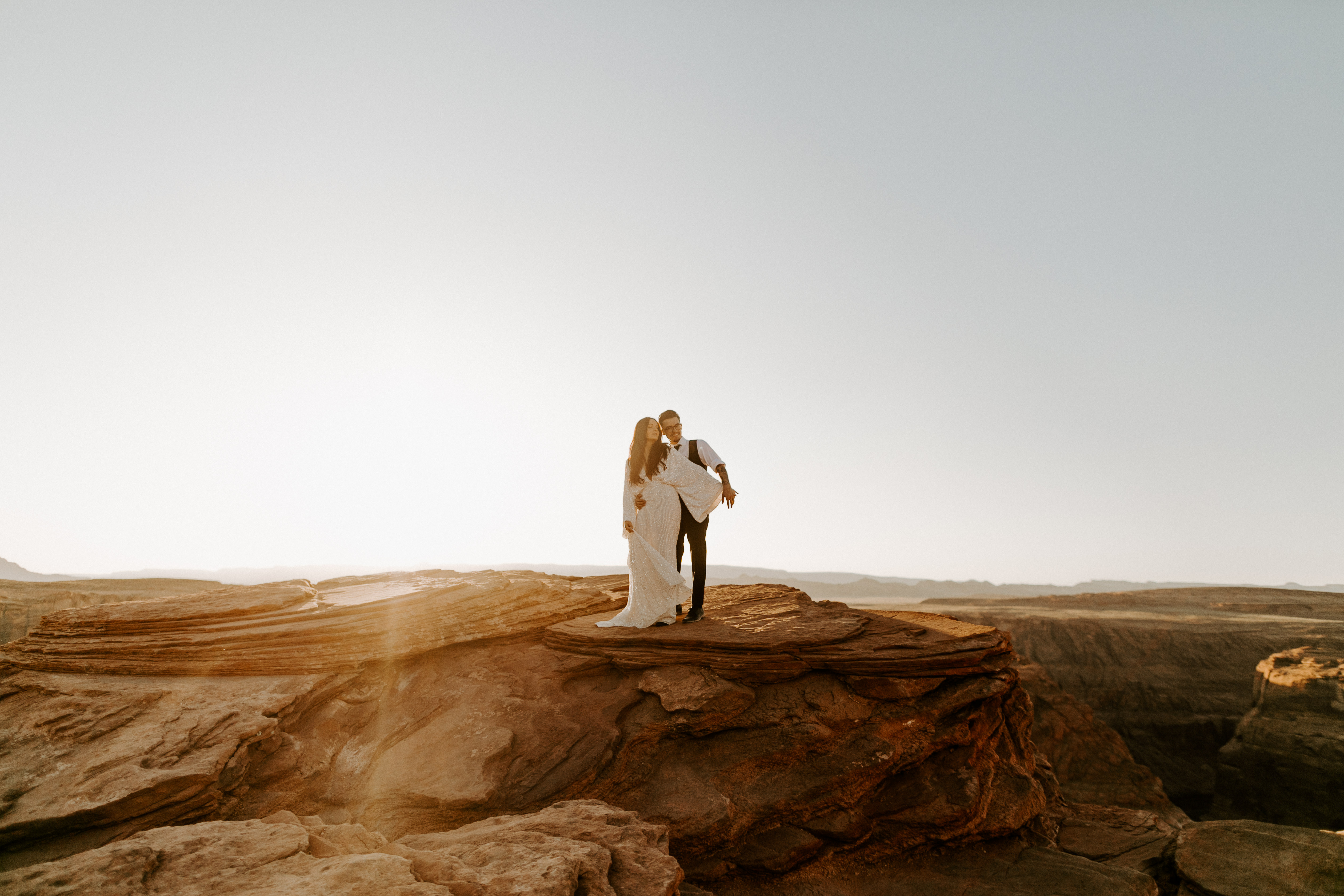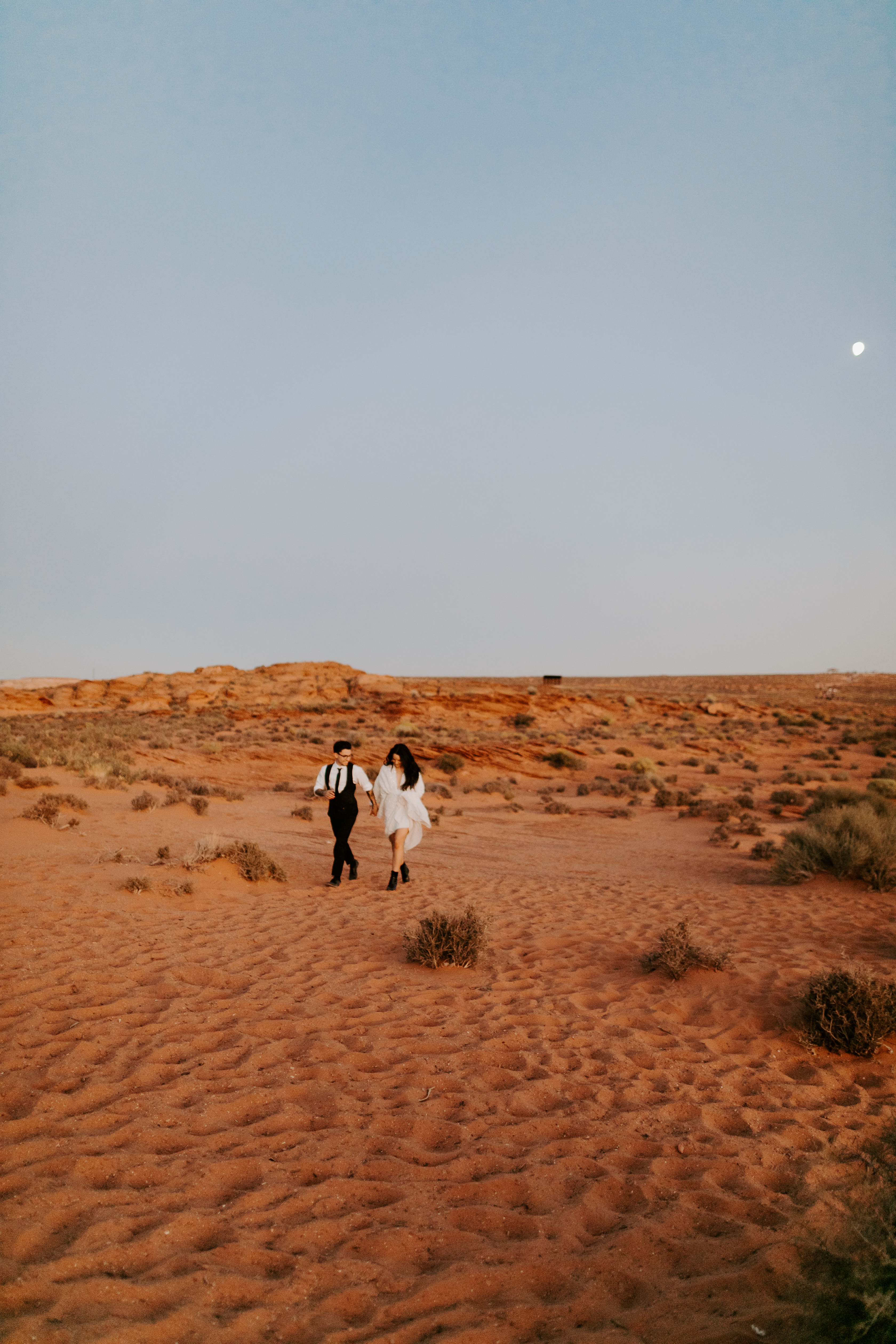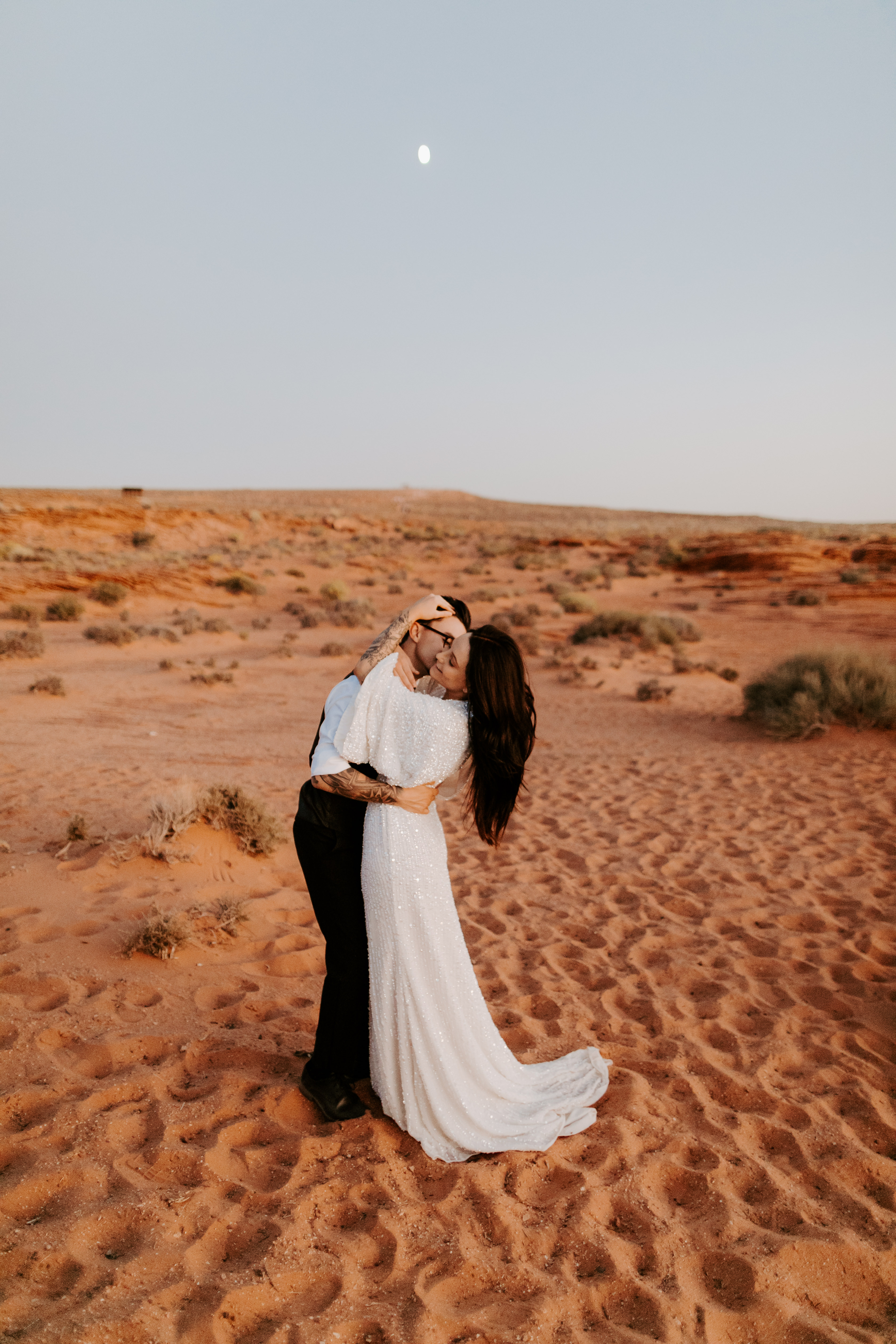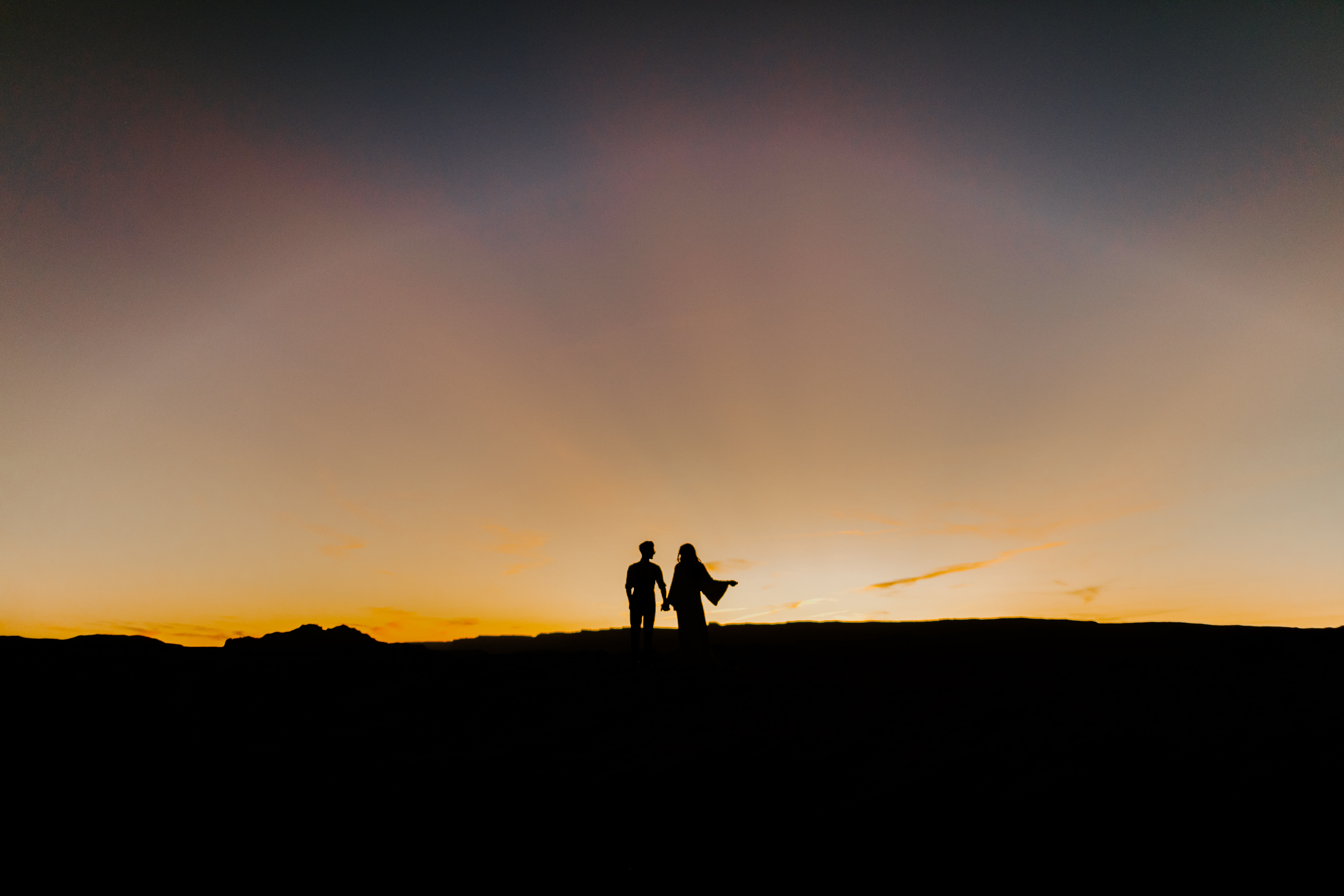 MOST READ BLOGS
ARIZONA CANYON ENGAGEMENT...

14 / 1 / 20 | Inspirational Photo Shoots

Photographer: Beba Vowels
Planner: Roamers Retreat
Menswear: Café Brown Coat with navy blue pants and a gold velvet bow tie

RUSTIC BOHO COLORADO WEDD...

14 / 1 / 20 | Inspirational Photo Shoots

Photographer: Beba Vowels Planner: Sugar Willow Events Menswear: Café Brown Coat with navy blue pants and a gold velvet bow tie

PERFECT ROMANTIC VINTAGE ...

14 / 1 / 20 | Inspirational Photo Shoots

Venue: The Parlour at Manns Chapel
Photographer: Molliner Photography
Menswear: Green Notch Lapel Suit with a platinum grey bow tie

SANTA BARBARA WEDDING INS...

14 / 1 / 20 | Inspirational Photo Shoots

Venue: Four Seasons Resort The Biltmore in Santa Barbara
Photographer: Teresa Marie Photography
Menswear: Navy Shawl Lapel Tuxedo with

MODERN ARTISTIC WEDDING D...

14 / 1 / 20 | Inspirational Photo Shoots

Venue: OUE Skyspace Los Angeles
Photographer: Alissa Noelle
Menswear Style: Tan Notch Lapel Suit

ELEGANT MUSEUM WEDDING

14 / 1 / 20 | Inspirational Photo Shoots

Venue: Pennsylvania Academy of the Fine Arts

Photographer: Emily Wren Photography

Menswear Style: Navy Shawl Lapel Tuxedo with a black bo

ROMANTIC LOFT WEDDING INS...

12 / 2 / 20 | Inspirational Photo Shoots

Venue: Studio 710 Loft
Photographer: Gina Purcell Photography
Menswear Style: Light Blue Notch Lapel Suit with a grey velvet bow tie

ETHEREAL ROMANTIC WEDDING...

20 / 2 / 20 | Inspirational Photo Shoots

Venue: Kestrel Park
Photographer: Alicia Mink
Menswear Style: Light Grey Peak Lapel Suit with a white long tie

CALIFORNIA BEACH WEDDING ...

20 / 2 / 20 | Inspirational Photo Shoots

Photography: Bree and Stephen Photography Menswear Style: Heather Grey Notch Lapel Suit with a black bow tie

GORGEOUS ON TREND WEDDING...

13 / 3 / 20 | Inspirational Photo Shoots

Venue: The Mount Edith Wharton's Home
Photographer: Stephanie Brauer
Menswear: Caramel Suit with a chocolate long tie

ECLECTIC WEDDING AT AN IN...

23 / 3 / 20 | Inspirational Photo Shoots

Venue: Lot 8 Events
Photographer: Sammy Nicole Photographer
Menswear: Charcoal Grey Tuxedo with a burgundy velvet bow tie