Venue: Grand Tetons
Photography + Styling: Sam Rae Genido
Planning: Rayanne Rose Weddings
Groom Style: Rose Pink Venice Suit with a gold velvet bow tie
Wanting to elope in the Grand Tetons and wondering how to do it? Well, we have created a quick list for you to get the party started.
Step 1: Obtain a permit
On the application you will have to let them know about the specific ceremony site you want to use, the group size, and pay a $200 fee. You will also need to get a ceremony permit for your photographer to take the images on your day.
Step 2: Get your marriage license
If you do not get it in your home county, the nearest place to get one would be in Jackson Hole, Wy. (and if you are in Jackson Hole, make sure to stop and get a coffee from Cowboy Coffee Co. and a beer at Snake River Brewing – they are the best spots in town!)
Step 3: Book your Needed Vendors
Your "needed" vendors are: Photographer, planner, videographer, florist, and rentals.
Another thing to figure out is your reception: after your elopement are you going to be eating at your campsite with your dog? In the lodge with family and friends? Plan ahead, the park is always busy so make sure to have proper reservations in place before you get there.
Step 4: Get your fashions + Décor
When it comes to suits or tuxedos, you know we got you on that! Like this groom who rocked our Rose Pink Notch Lapel Suit with a gold velvet bow tie. His look pops against the snowy backdrop, and complements perfectly with the cotton candy skies. No matter what you are looking for we got it. Want to match the nature vibe of the park with a green or caramel suit? We got it. Want to make a black tie statement with a tuxedo or velvet look? Yup, we got that too. Or like this groom, you want to make a colorful pop! Well check out our rose pink, light blue, or gold velvet looks.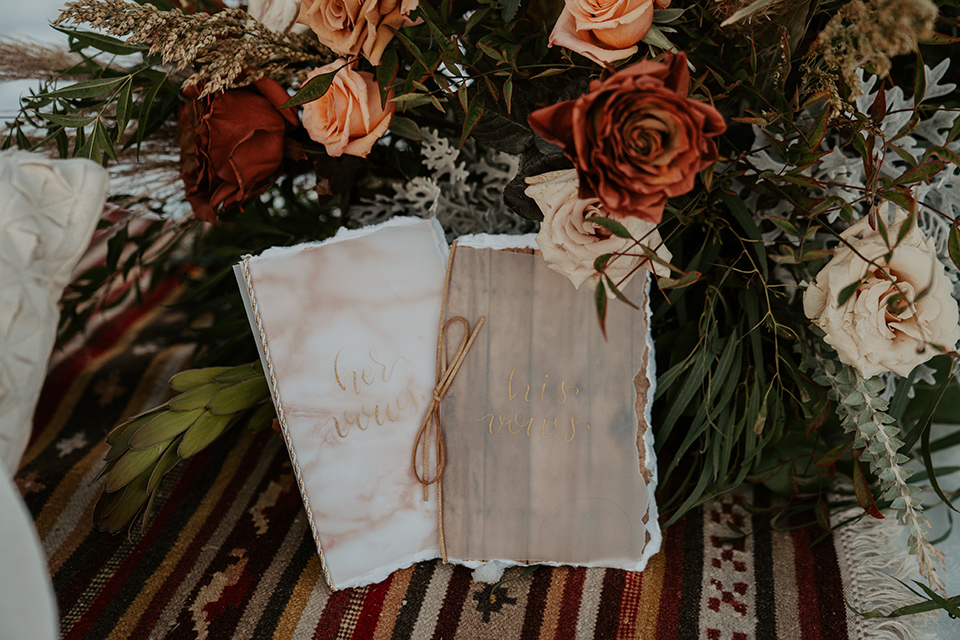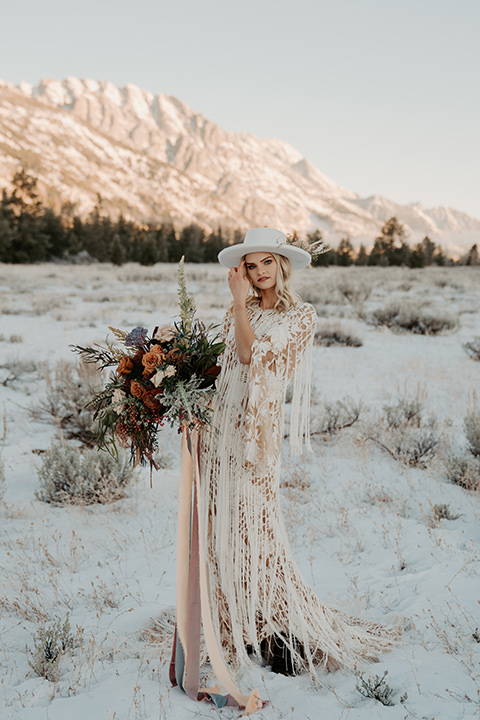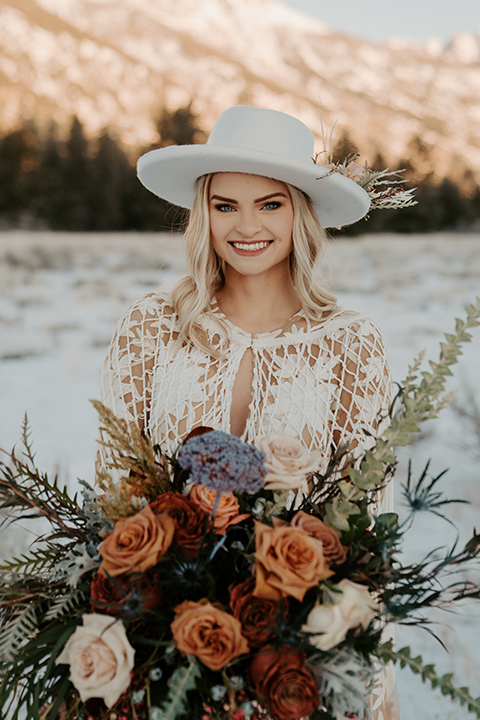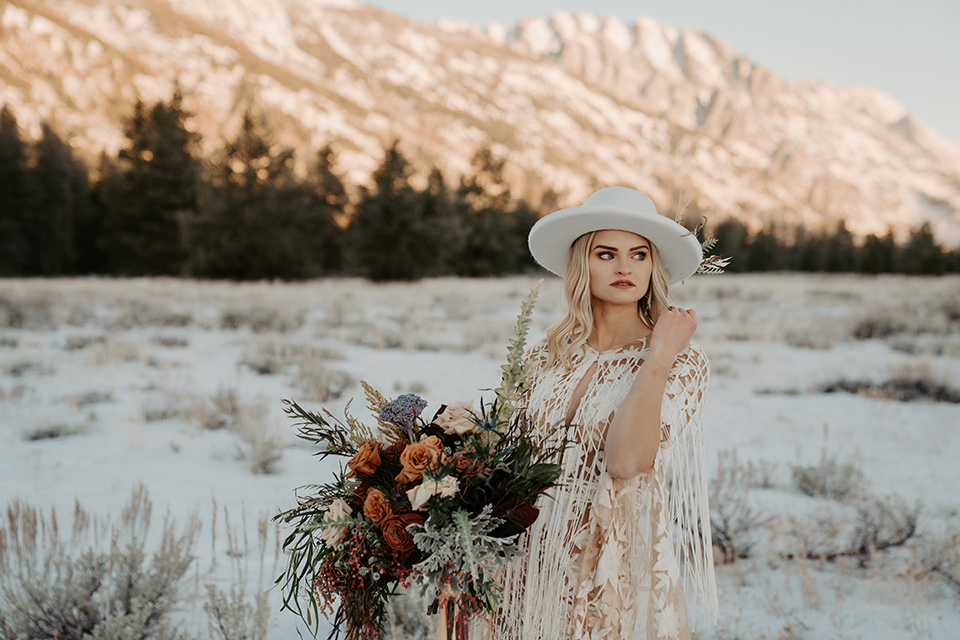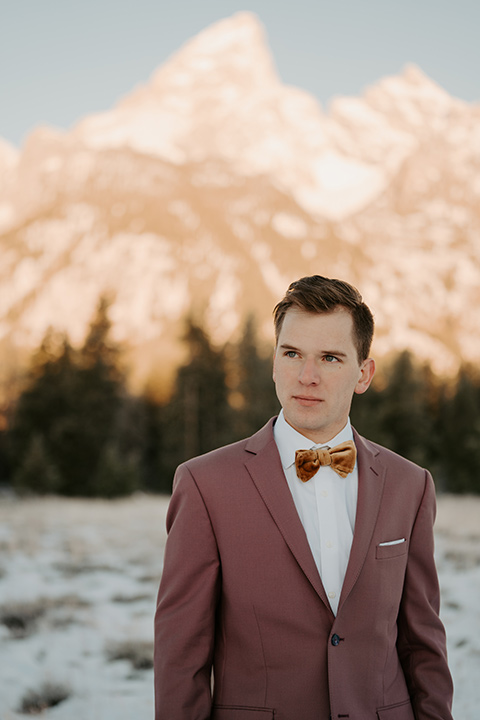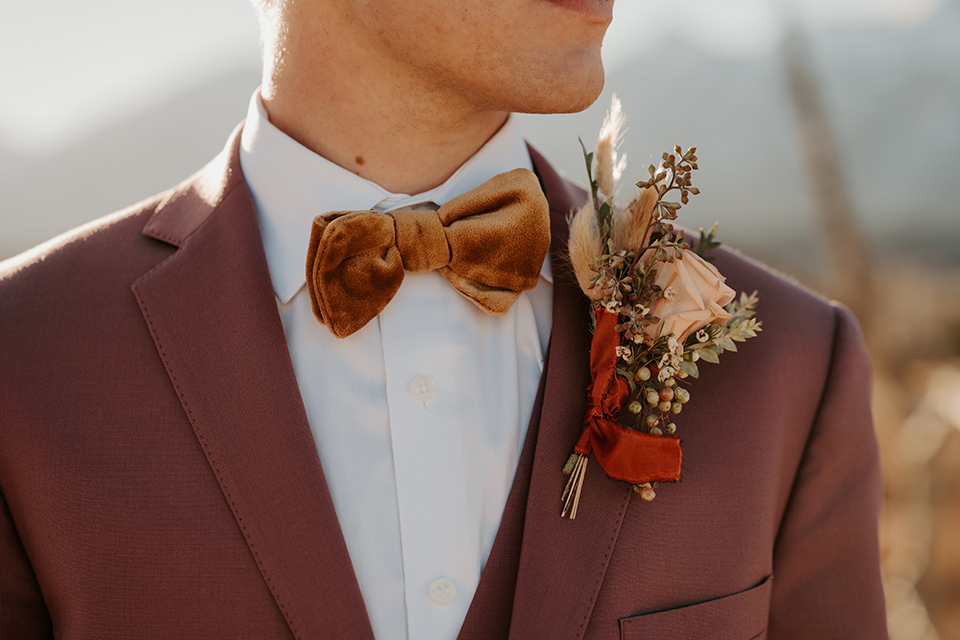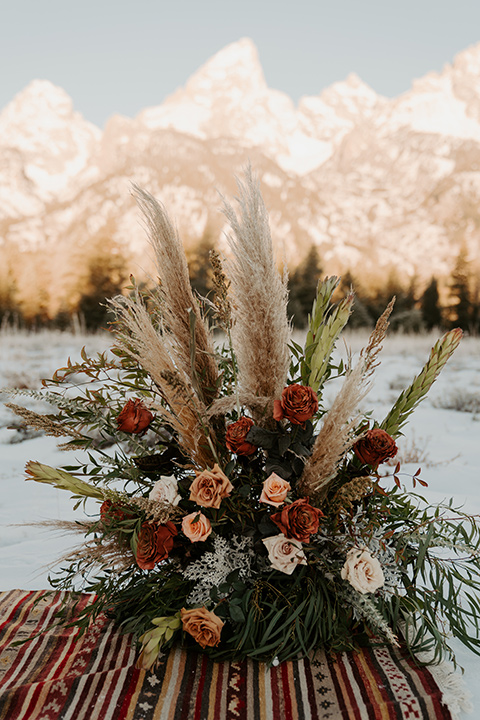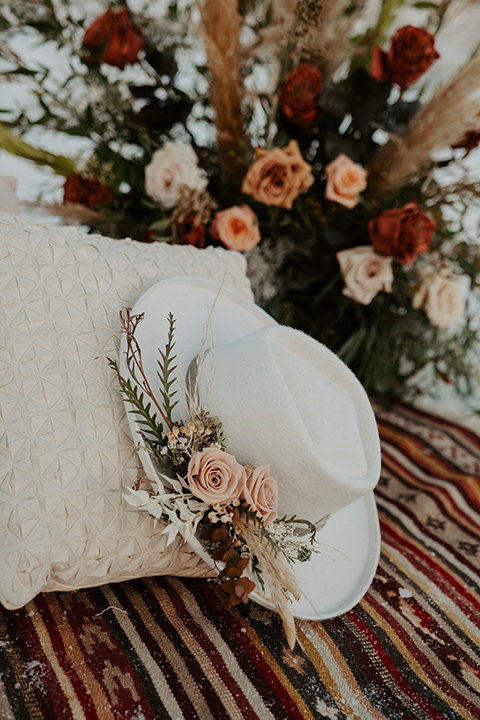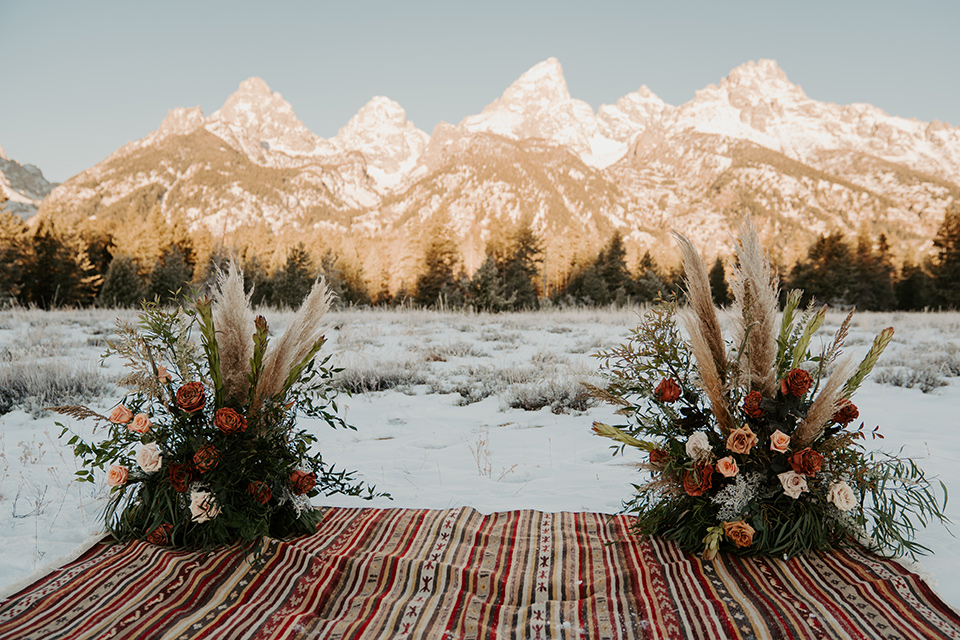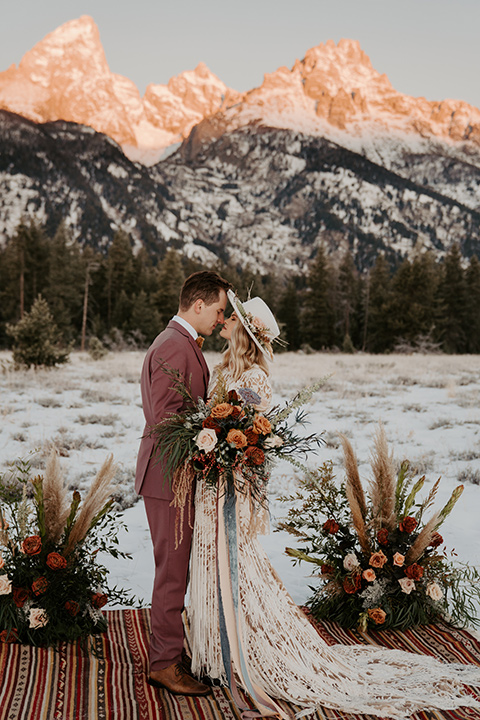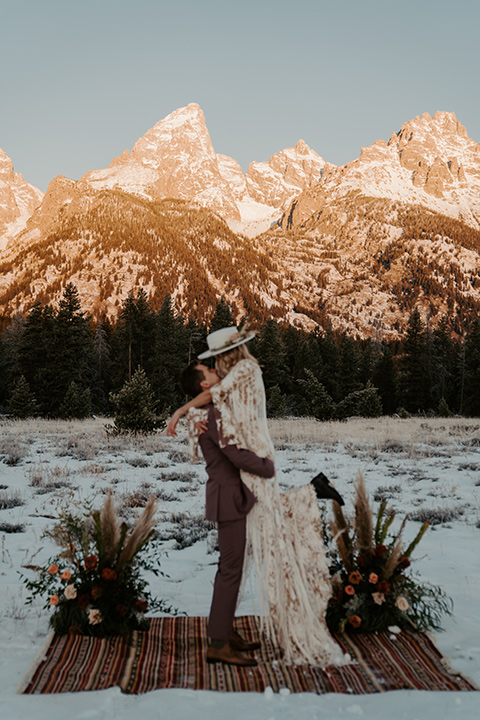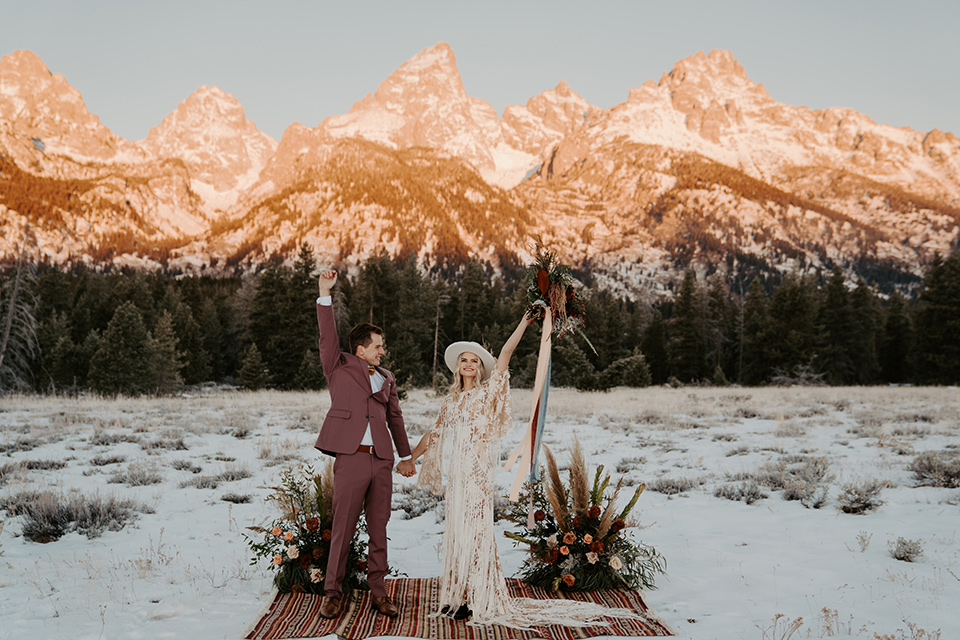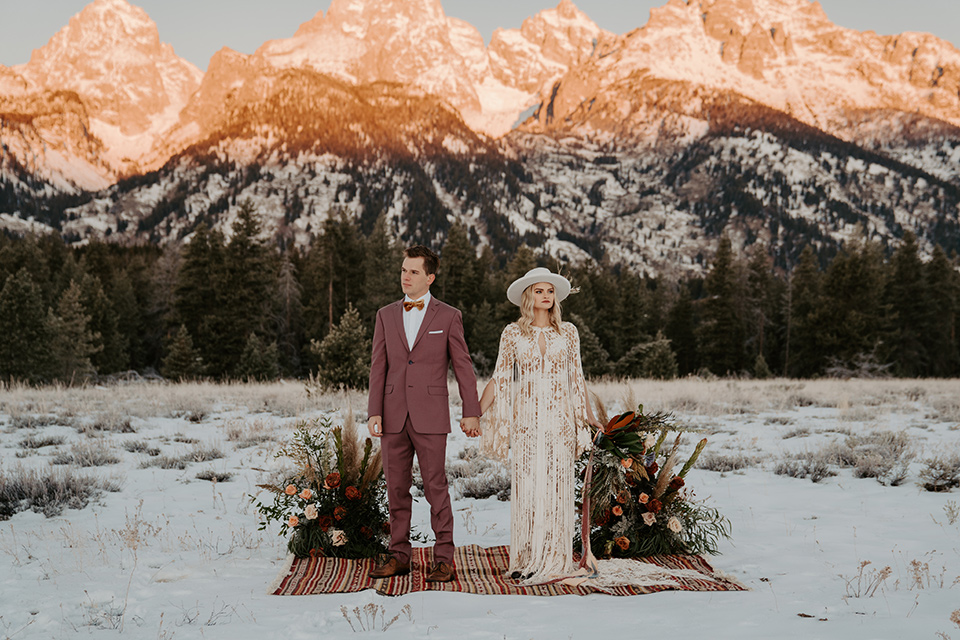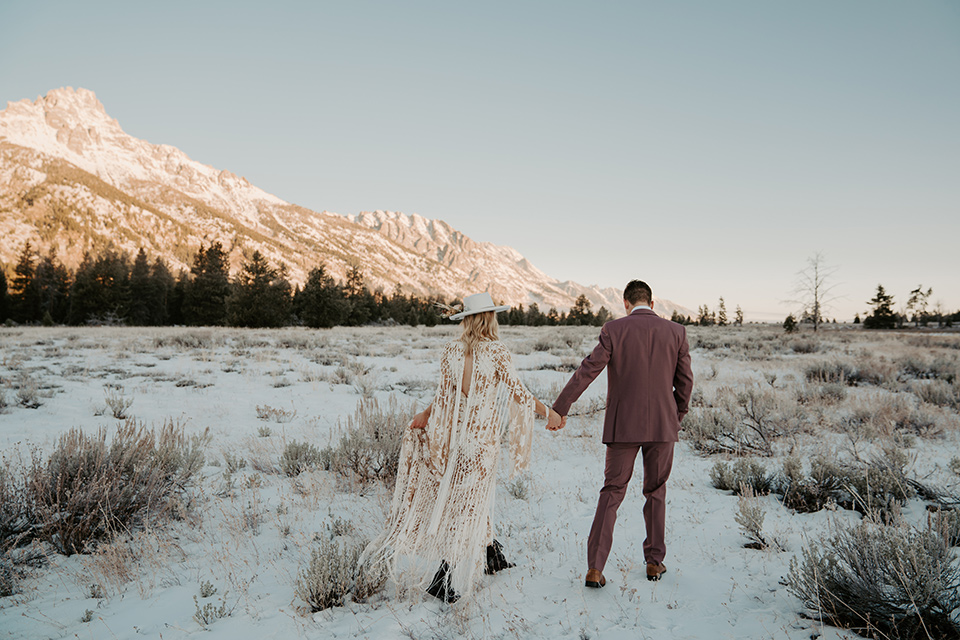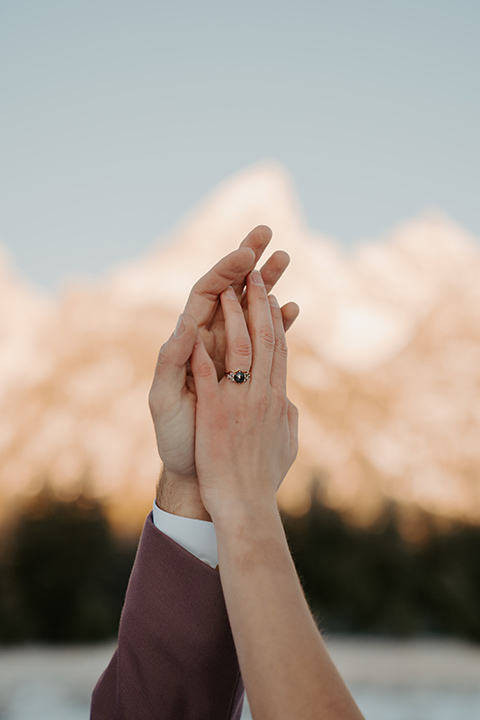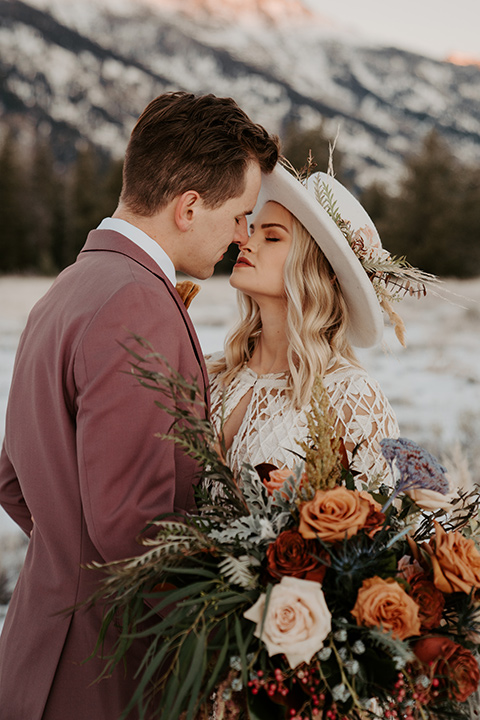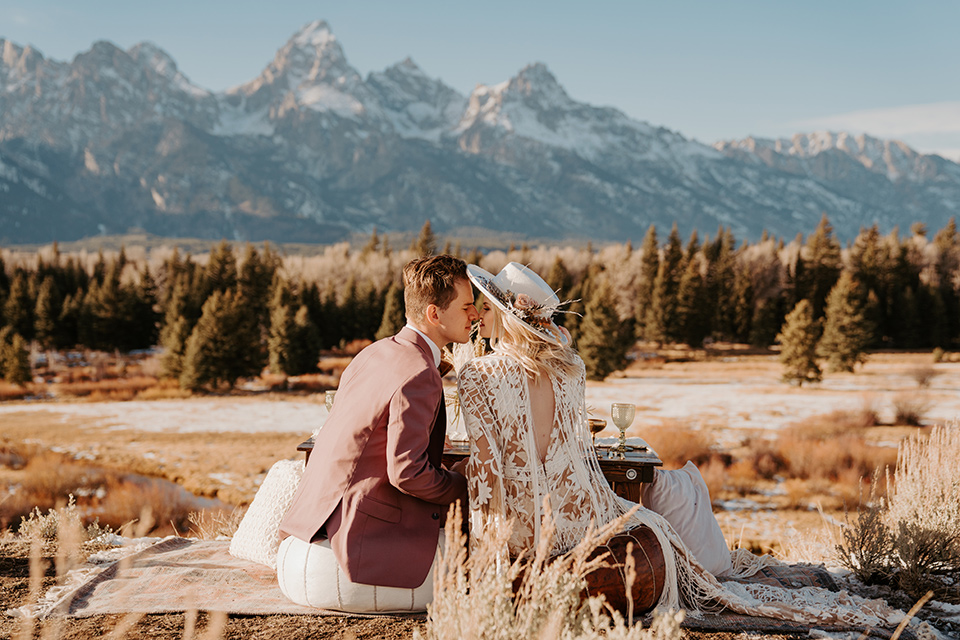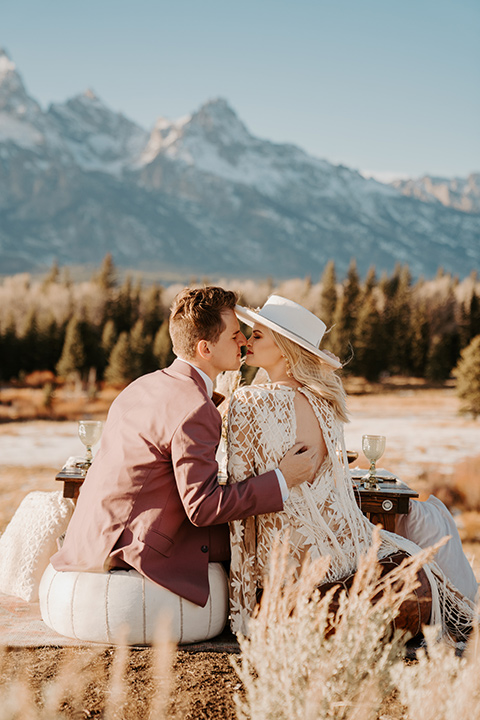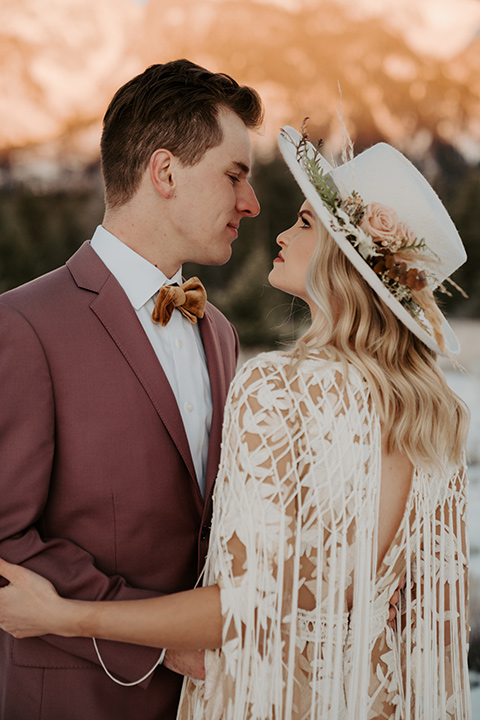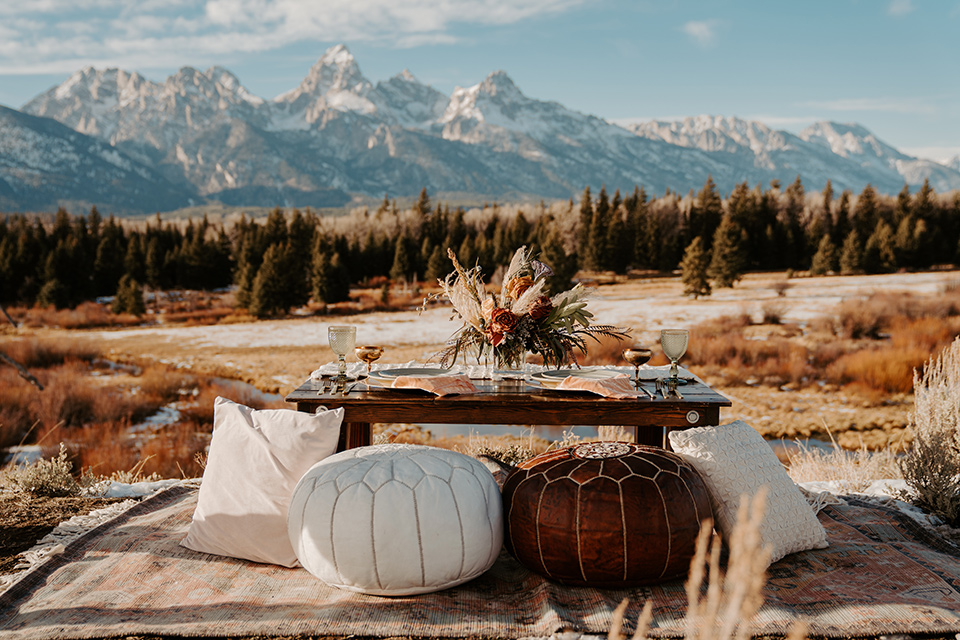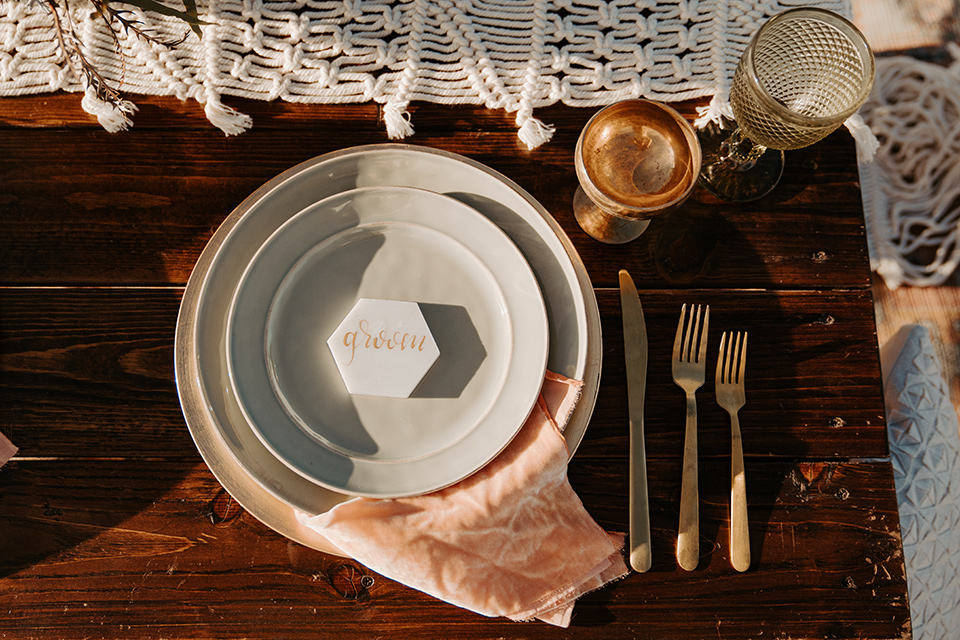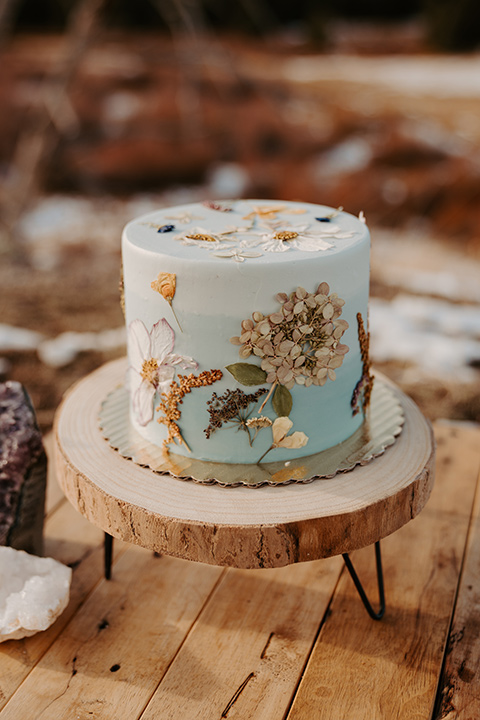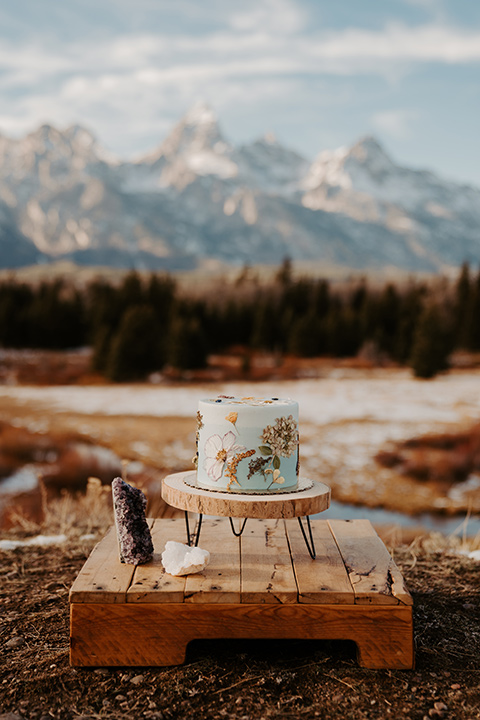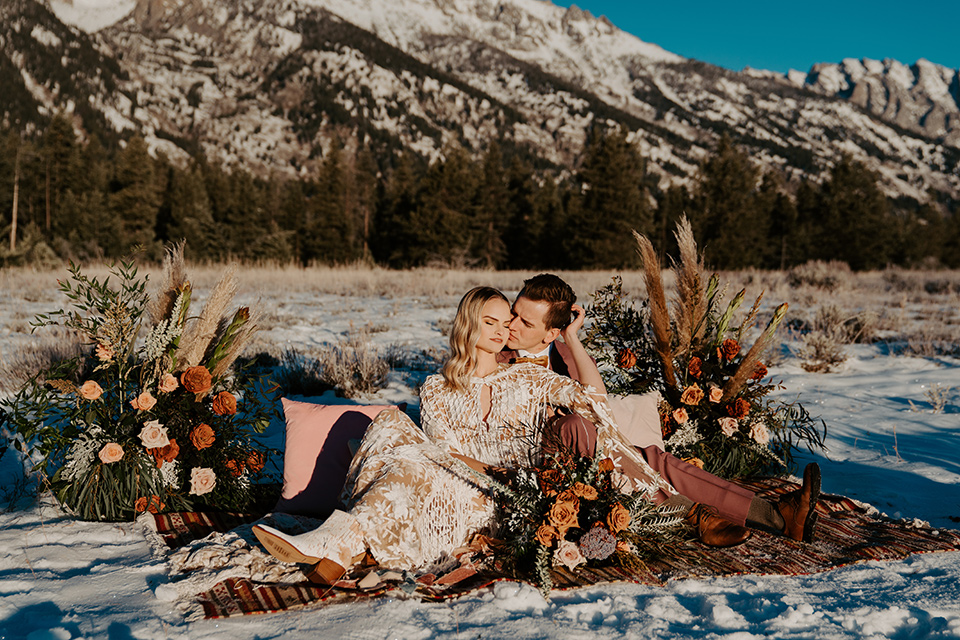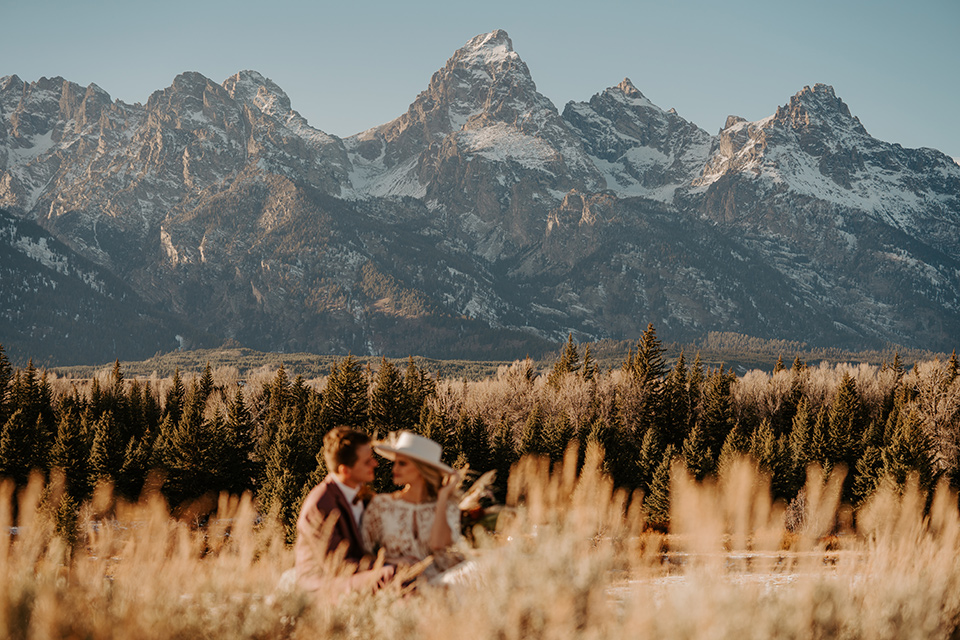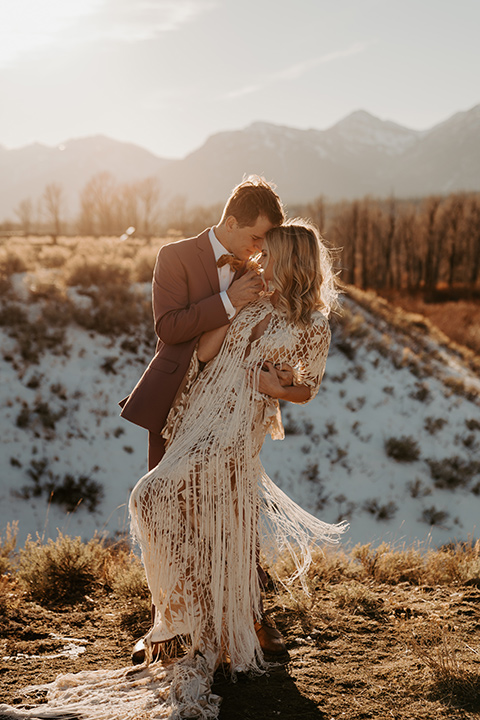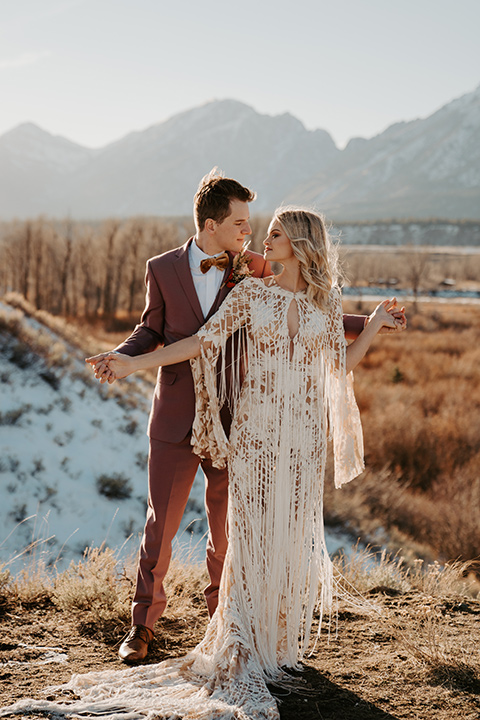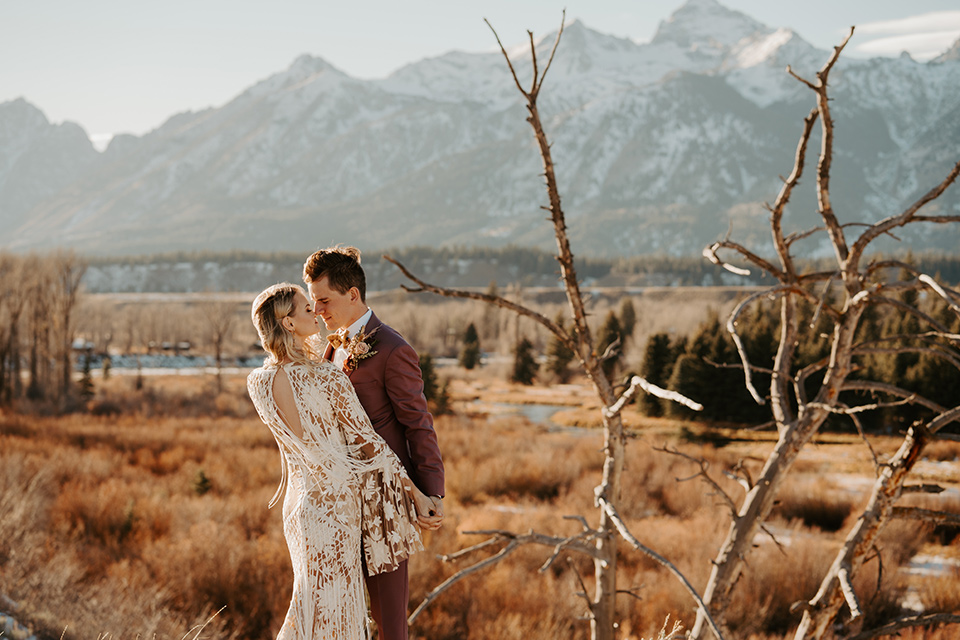 Florals: Petal Works Design Studio | Cake: Amaru Confections | Furniture Rentals: AKT Made | Rentals Cushions and Accessories: Archive Rentals & Design House | Specialty Rentals: Rustic Peony Co. | Calligraphy: Chalk N' Ink | Ribbons: Emma Linh | Gown: Rue De Seine | Dress Rental: JJP Dress Rentals | Hat: Friends of Friends Hat Co. | Bride's Shoes: Dolce Vita | Bride Model: Renae Johnson | Groom Model: Daniel Spreier