Amber + Tom's Stunning Woodland-Chic Wedding
Amber + Tom's Stunning Woodland-Chic Wedding
1 / 21 / 22 | Real Weddings
Venue: The Barn at Back Acres Farm
Photography: McKaila Singer Photography
Groom Style: Light Dark Green Notch Lapel Suit with a tan matte long tie
This amazing woodland-chic wedding is everything our nomadic heart love and more! With the outdoor venue and it's sweeping views of amber-colored trees, create a golden glow moment for when this couple says I-do. And we just love how this couple had blankets there for their guests in case they got chilly in the crips autumn air.
The reception was inside a gorgeous barn with vaulted ceilings and sting lights. The venue was the perfect blend of rustic and whimsical and we could not be more in love with it.
The bride wore an A-line gown with floral lace appliques on it. Her bridesmaids wore different shades of gold and champagne gowns in different fabrics and styles. The groom an groomsmen wore Dark Green Notch Lapel Suits with tan long ties to coordinate with the bridesmaid's gowns. We love how the color scheme is neutral to compliment the venue and scenery, yet the fabrics and tones were luxe with style to add an extra layer of flare.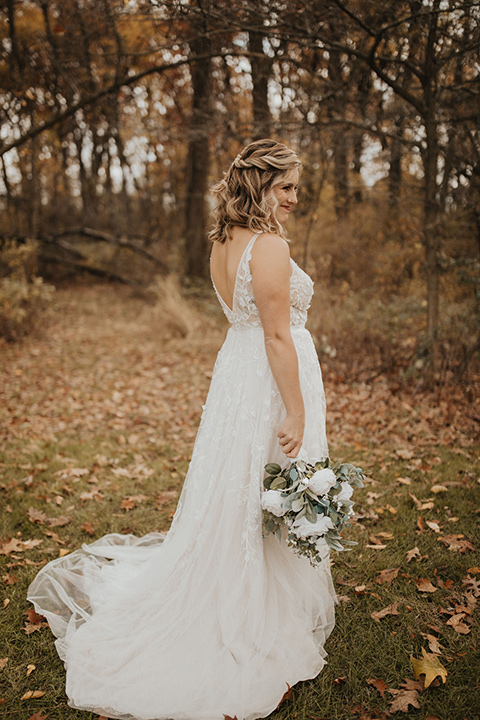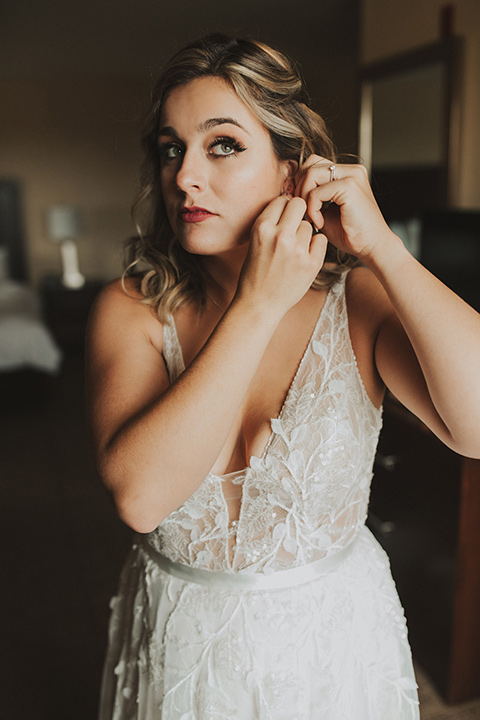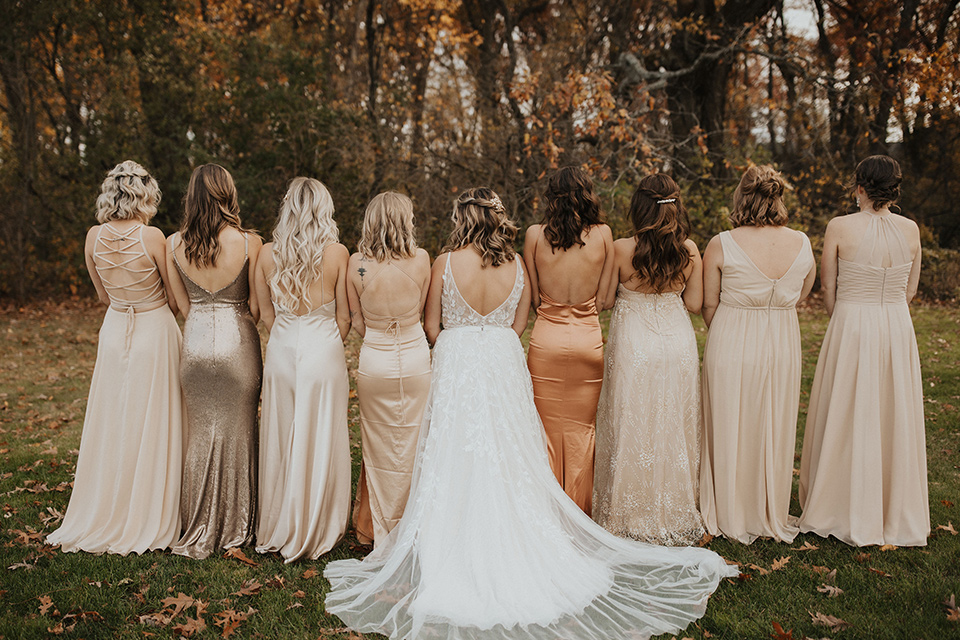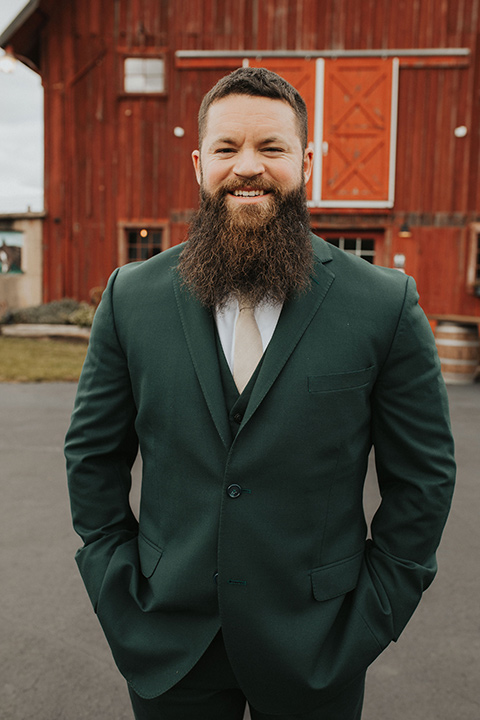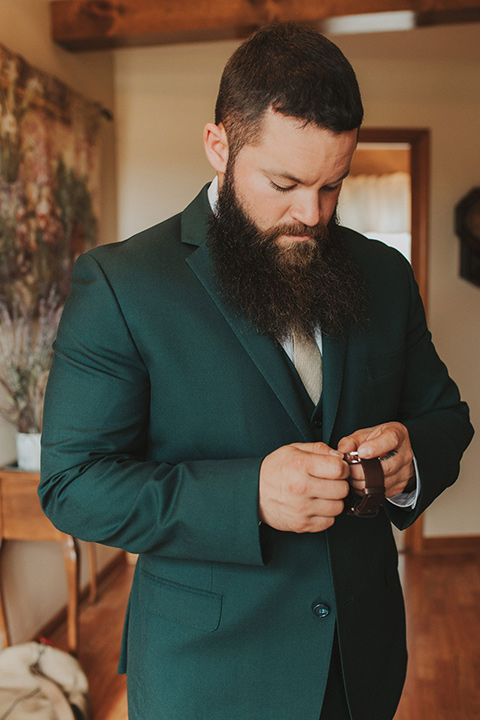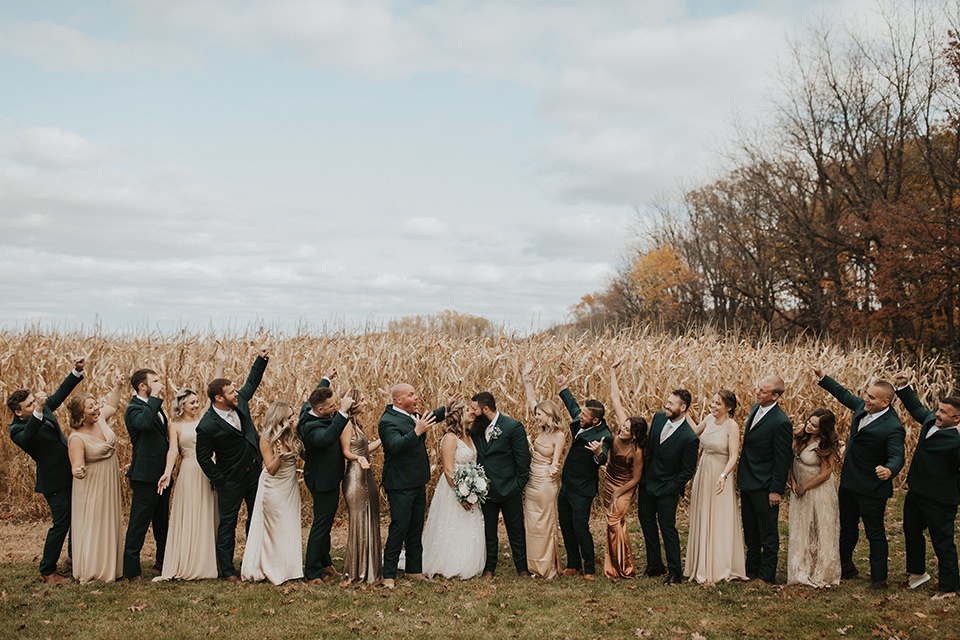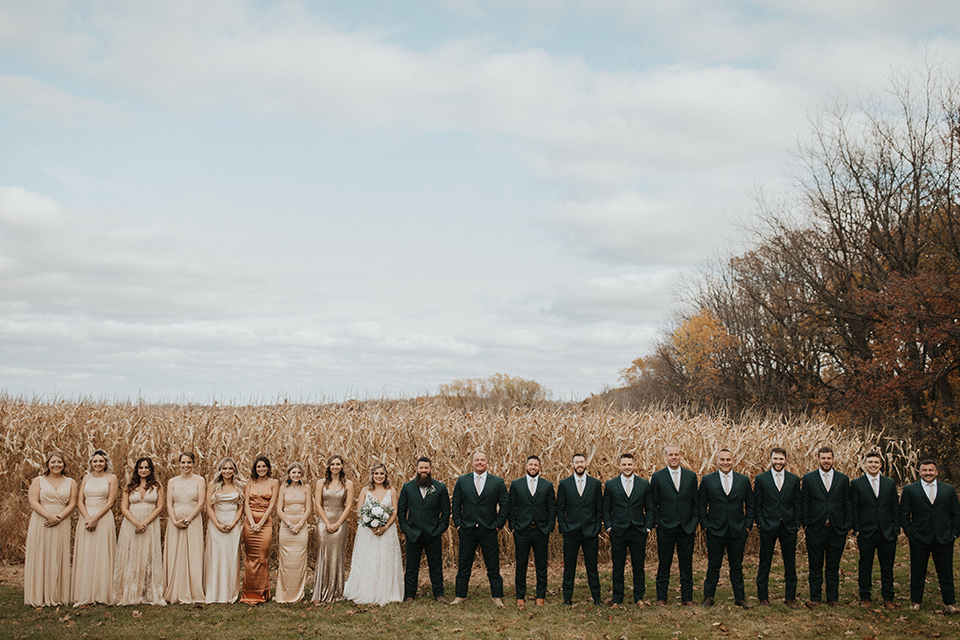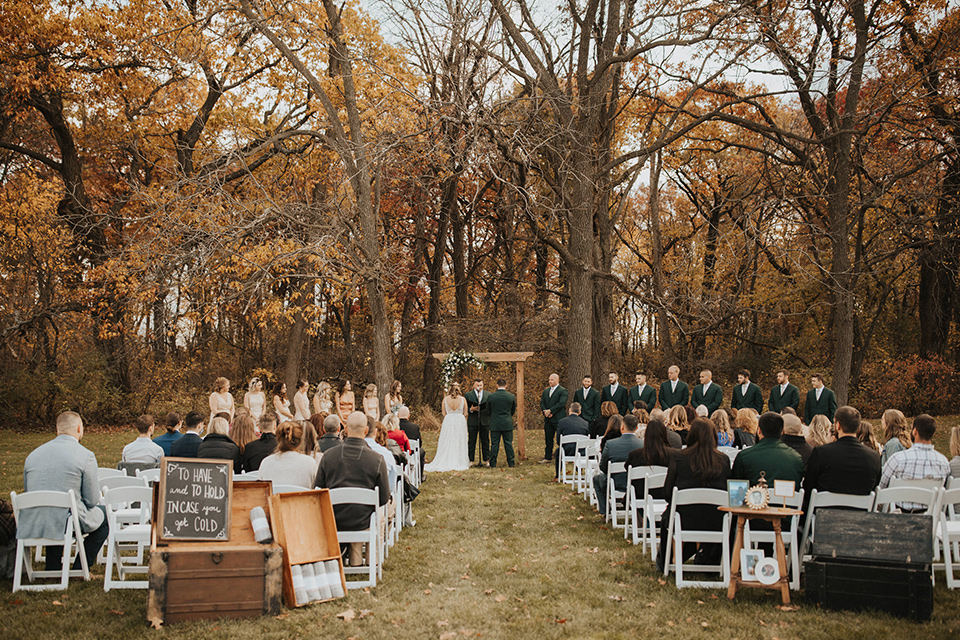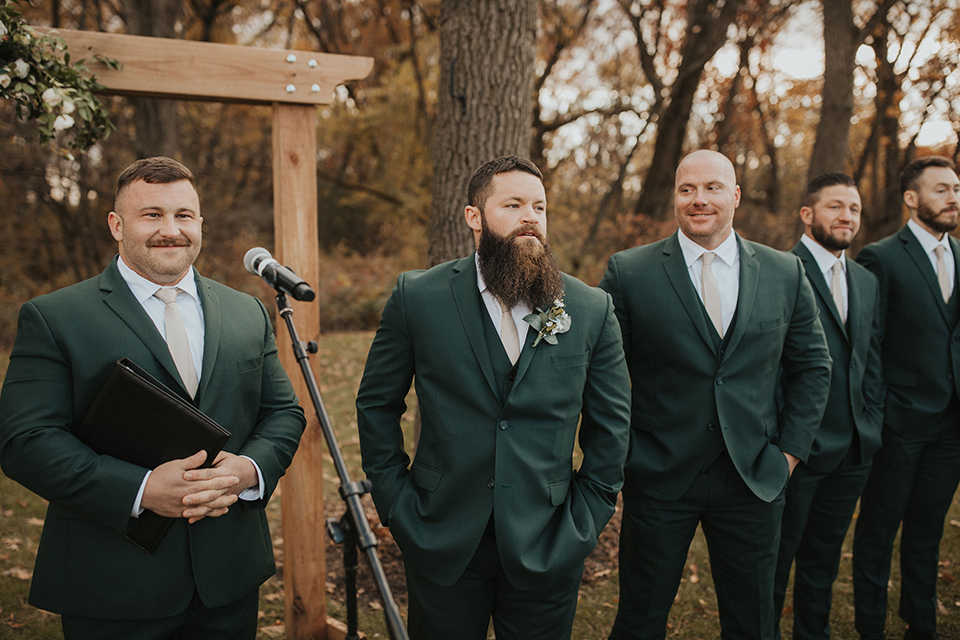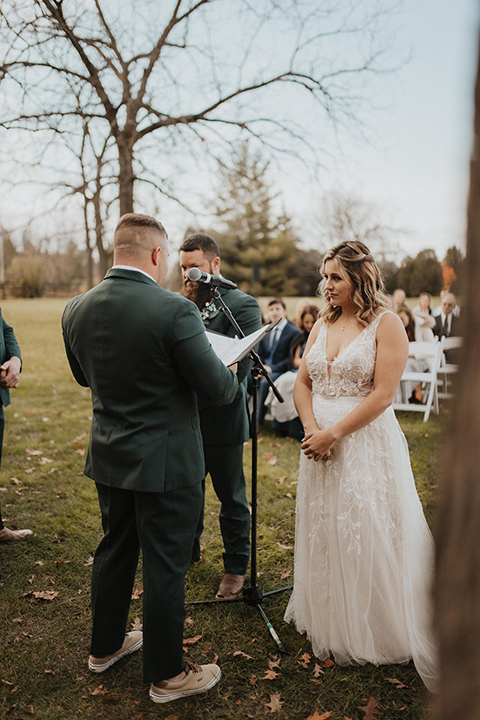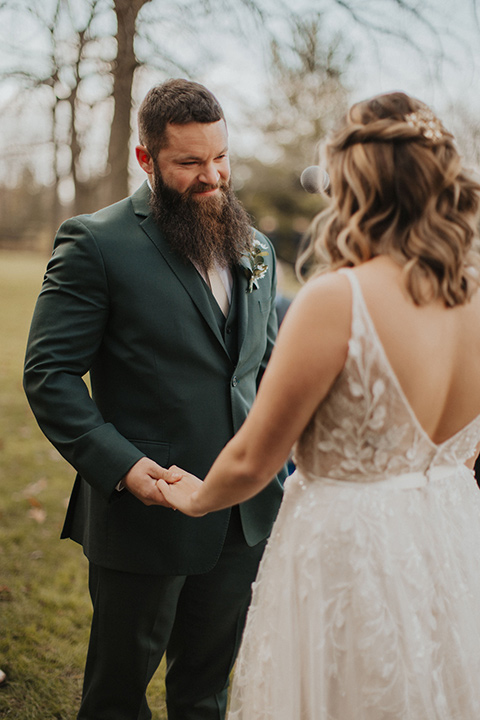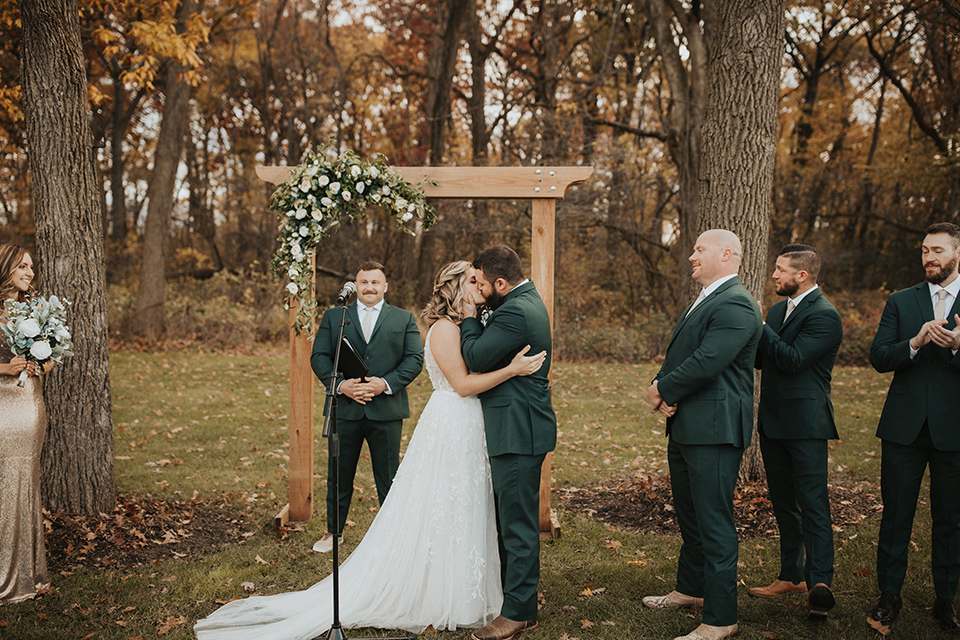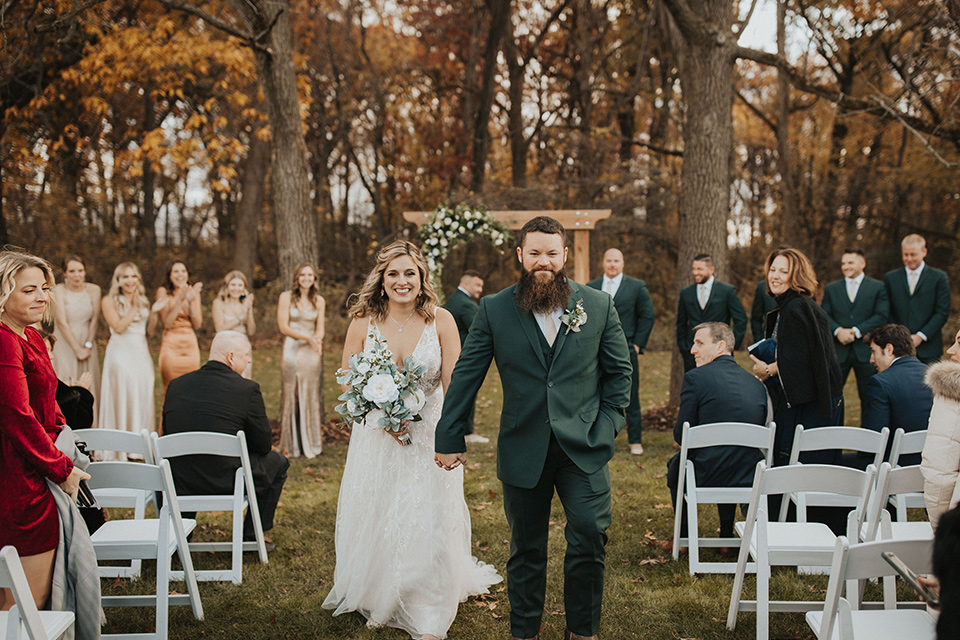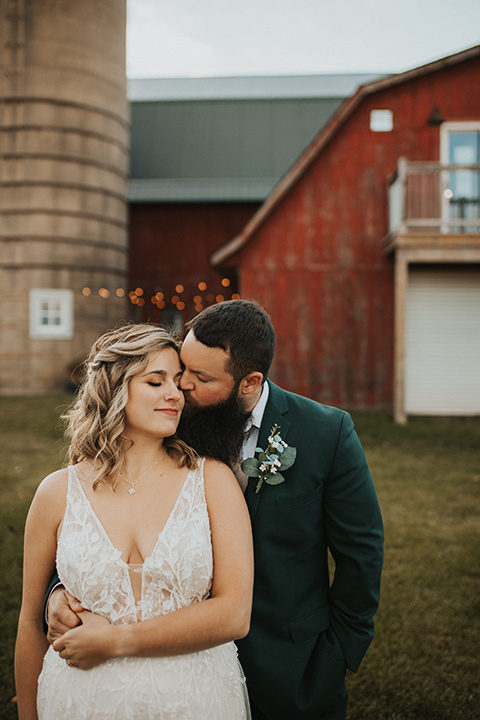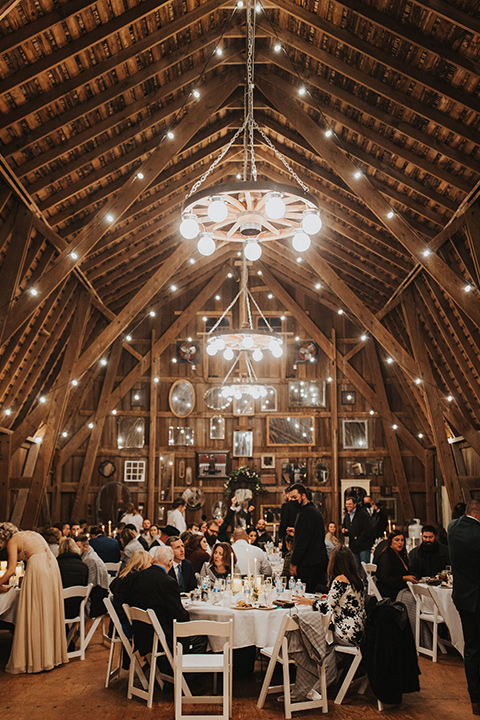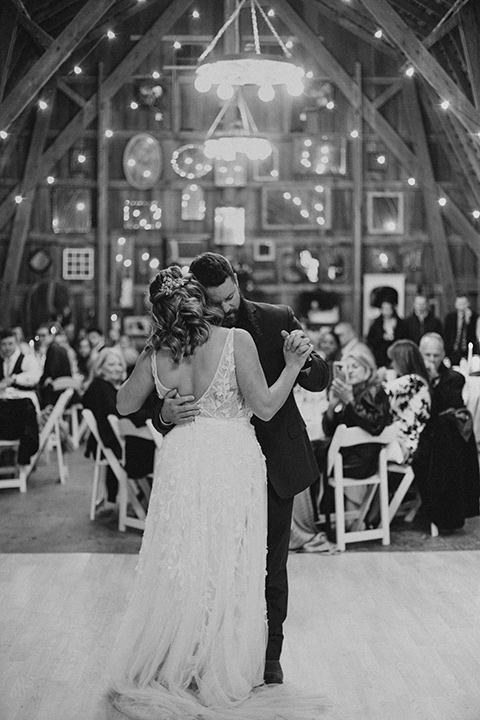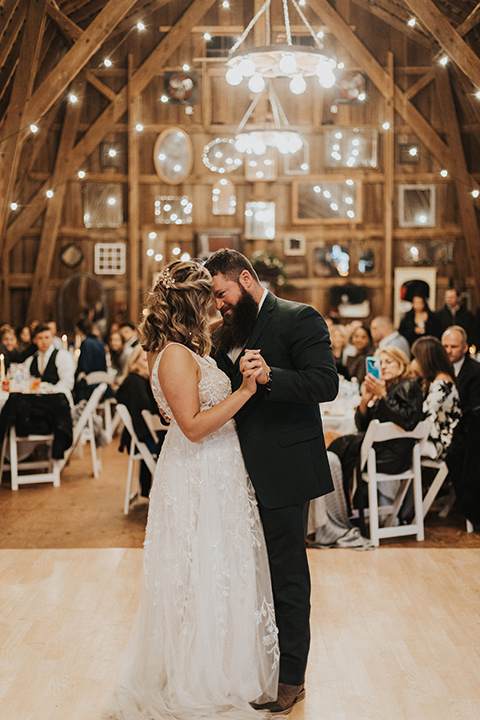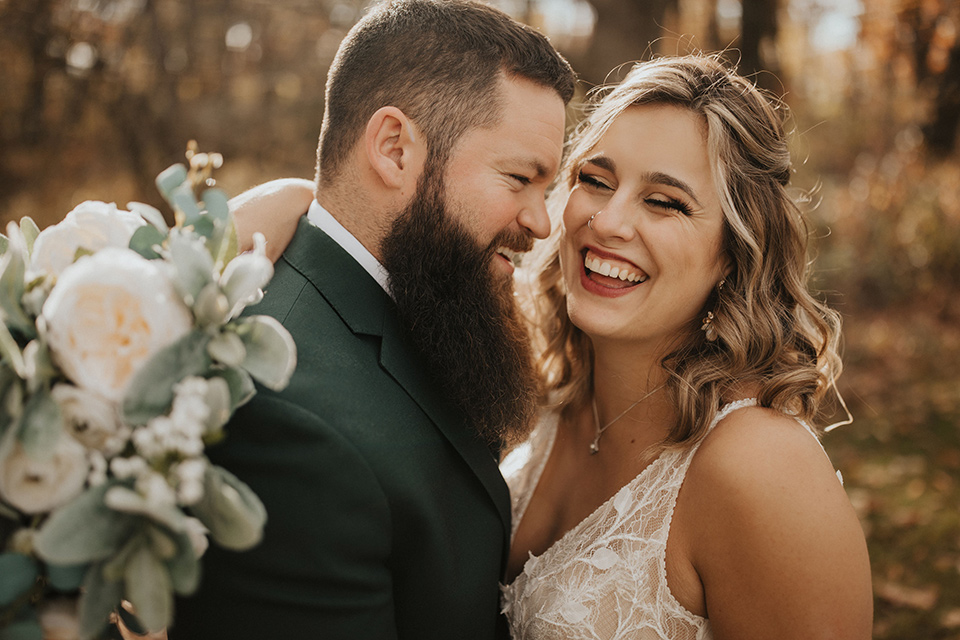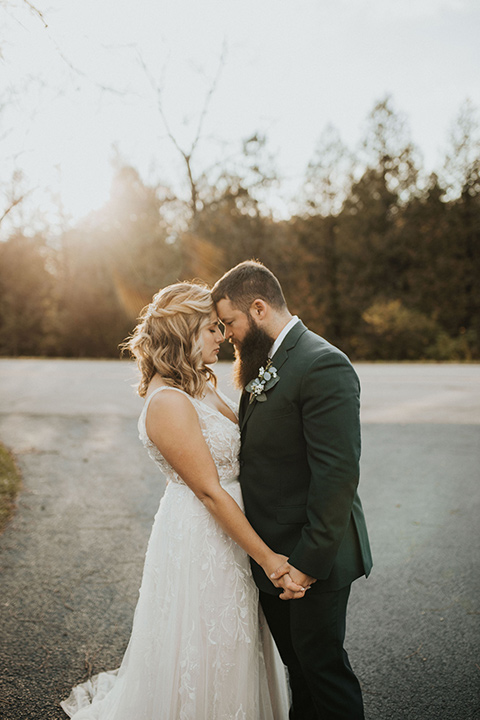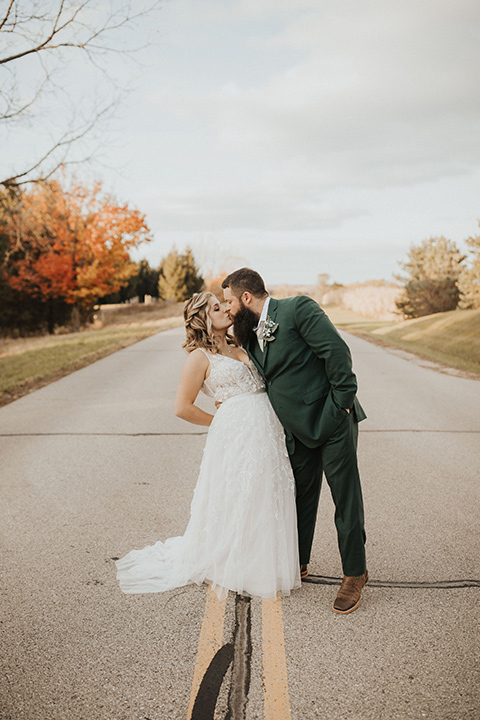 Hair: Tai's Beauty Lounge | Bride: Amber | Bridal Boutique: Veiled In Elegance | Beauty Boutique: Gia's Salon & Spa | Gown Designer: Pronovias | Groom: Tom
MOST READ BLOGS
MODERN CHIC WEDDING WITH ...

18 / 1 / 22 | Real Weddings

Venue: Black Swan Photography: DeGroot Film Co. Planning + Design: Wendi Ward Groom Style: Charcoal Grey Black Lapel Tuxedo with a black bow t

AN AMBER AND EMERALD WEDD...

18 / 1 / 22 | Real Weddings

Venue: Detroit, MI Photography: Emily Kyle Photography Groom Style: Caramel Notch Lapel Suit

BLACK TIE STYLE IN THE VI...

18 / 1 / 22 | Inspirational Photo Shoots

Venue: Sunstone Winery Photography: Katie Nicolle Photography Planning + Design: Sweetest Love Events Groom Style: Black Notch Lapel Tuxedo wi

MODERN BOHEMIAN FUN AT TH...

28 / 3 / 22 | Inspirational Photo Shoots

Venue: The Colony House Photography: Alyssa Marie Photography Co-Planning + Hosts: Alyssa Marie Photography + Nicole Kirshner Photography Coor

AMBER + BLUSH WHIMSICAL R...

28 / 3 / 22 | Inspirational Photo Shoots

Venue: Sunstone Villa Photography + Host: Jacqueline Benét Photography Creative Direction + Styling: Haute Fetes Groom Style: Café Brown Notch

RUSTIC-GLAM WOODLAND WEDD...

28 / 3 / 22 | Inspirational Photo Shoots

Venue: SkyPark Weddings Photography + Host: James Tang Photography Groom Style: Navy Notch Lapel Suit with a green velvet bow tie

PERFECTLY PURPLE SAN DIEG...

28 / 3 / 22 | Inspirational Photo Shoots

Venue: Brick 828 Photography + Host: Jessica Schmuckle Photography Host: Styled Shoots Across America Groom Style: Light Grey Peak Lapel Suit

LAVENDER + LACE LAS VEGAS...

28 / 3 / 22 | Inspirational Photo Shoots

Venue: Revere Golf Club Photography + Design: Ashley Laprade Photography Planning + Design: Angelica Rose Events Groom Style: Black Velvet Pea

A BOHO WEDDING WITH GORGE...

28 / 3 / 22 | Inspirational Photo Shoots

Venue: The Wit Studios Photography: Beba Vowels Planning + Design: Roamers Workshop Groom Style: Tan Notch Lapel Suit with a chocolate brown m

WILDFLOWERS AND CRYSTALS ...

28 / 3 / 22 | Inspirational Photo Shoots

Venue: Sequoia National Park Photography + Design: Trista Maja Photography Groom Style: Burgundy Shawl Lapel Tuxedo with a black bow tie

AN ELOPEMENT WITH A VIEW ...

28 / 3 / 22 | Inspirational Photo Shoots

Venue: Merry Go Round Rock in Sedona, AZ Photography + Host: Jane in the Woods Planning + Design: Leilani Weddings Groom Style: Dark Green Not