Amber + Honey Wedding at Red Rocks Country Club
Amber + Honey Wedding at Red Rocks Country Club
8 / 6 / 21 | Inspirational Photo Shoots
Venue: Red Rock Country Club
Photography: Julia Stockton Photography
Designer + Planner: Ashley Creative Events
Production: Ruffled Blog
Menswear Style: Caramel Notch Lapel Suit with a chocolate matte long tie
This wedding glows with stunning amber and gold colors, that makes it unique and romantic, and the Red Rocks Country Club in Las Vegas is the perfect backdrop for a gorgeous design such as this one. We love the interesting cascading floral arrangement at the ceremony, the way it flows down in an abundance of greens, golds, and ambers creates a stunning effect against the stone fireplace.
The reception tables were adorned with white and cream linens and furniture with tall honey-colored candles and fun golden florals. As well, we are OBSESSED with this modern, interesting cake design. It is a 3-teired white cake with a peony overlay that makes it look almost embossed. So chic and romantic.
The bride wore a modern white gown with a formfitting bodice and a strapless neckline. The groom wore our Caramel Notch Lapel Suit that complimented the wedding color palette perfectly. He paired his look with a chocolate brown matte long tie, to keep his look monochromatic but still very interesting.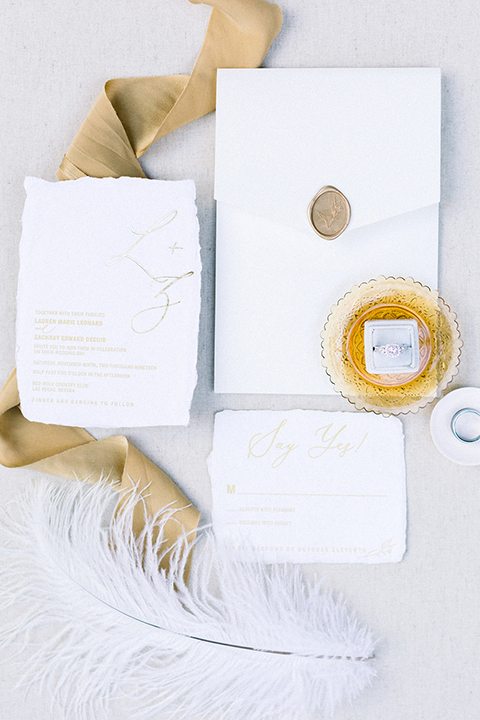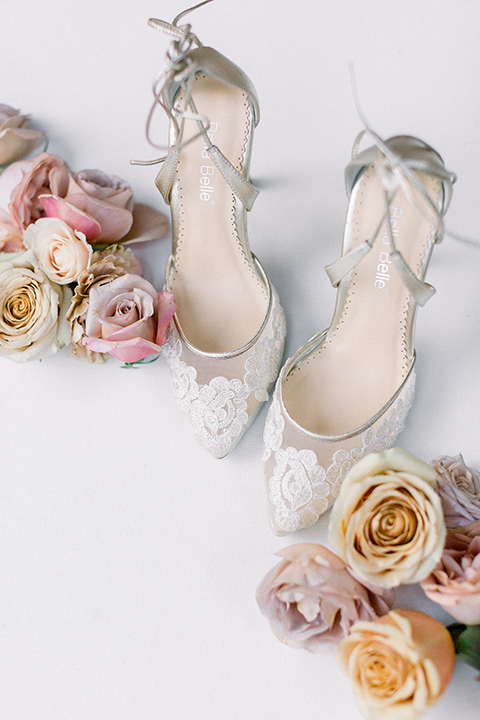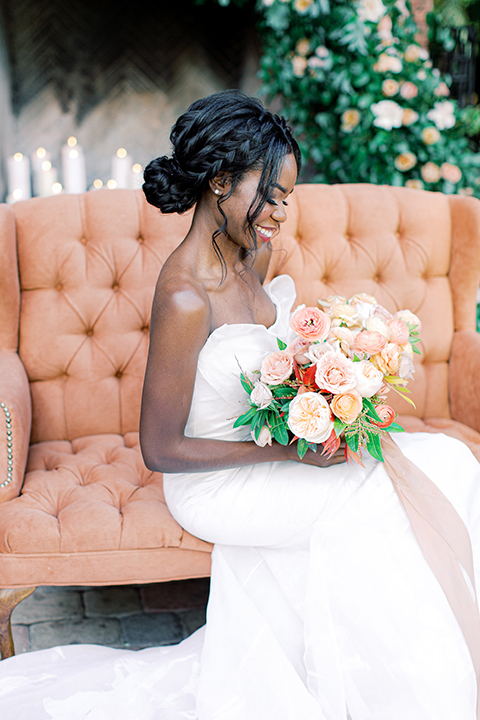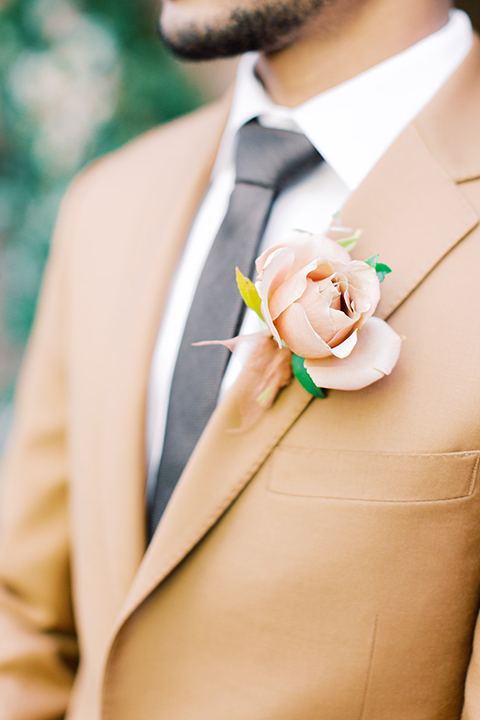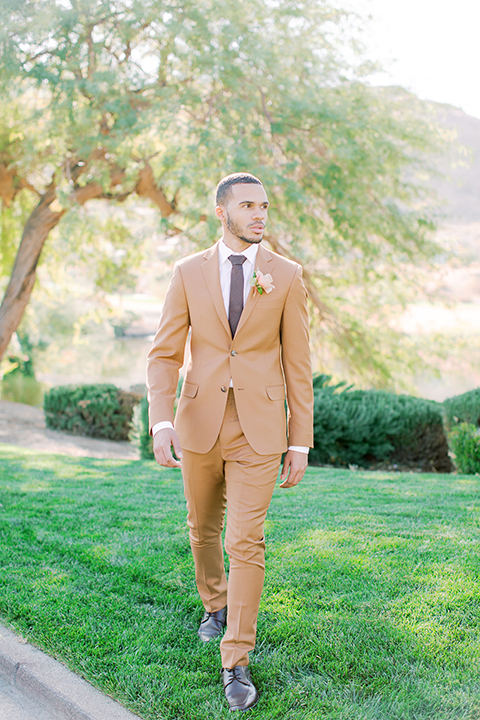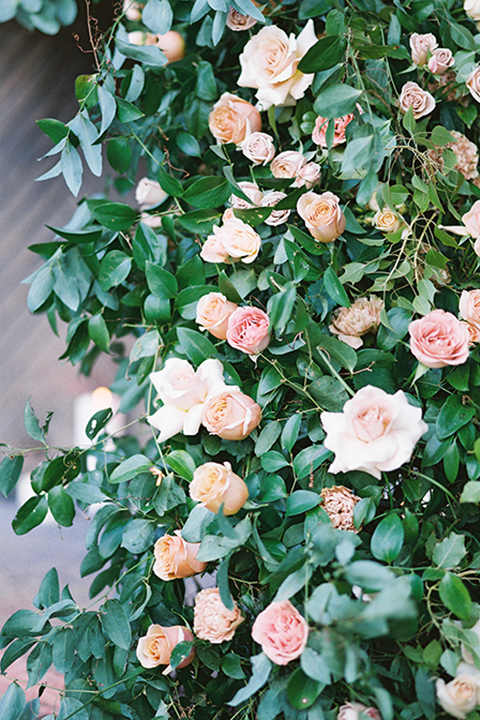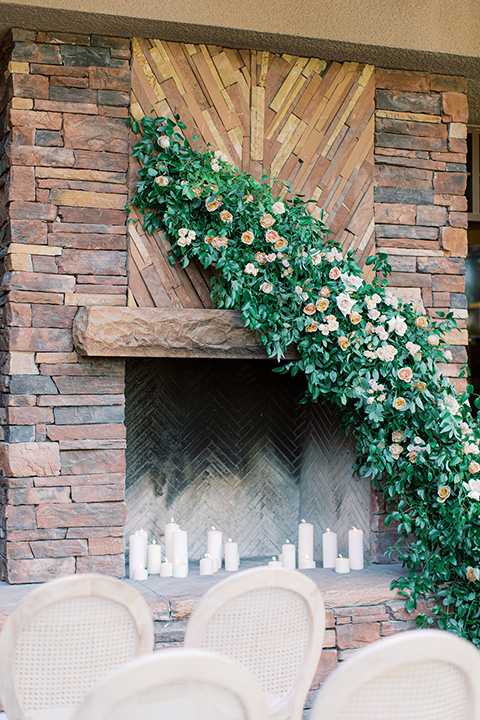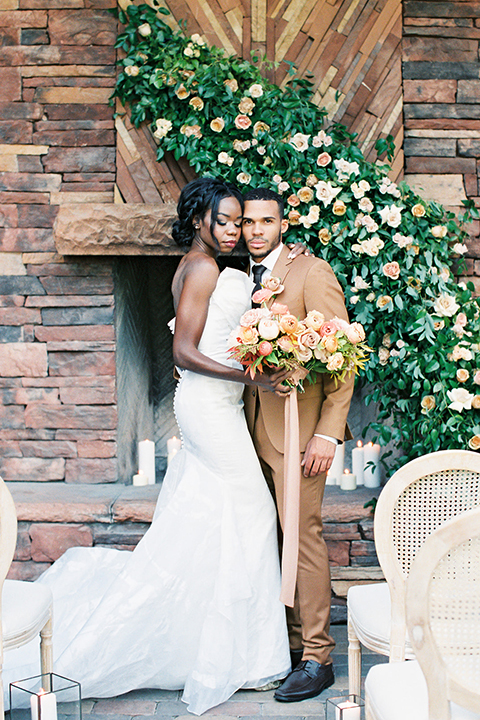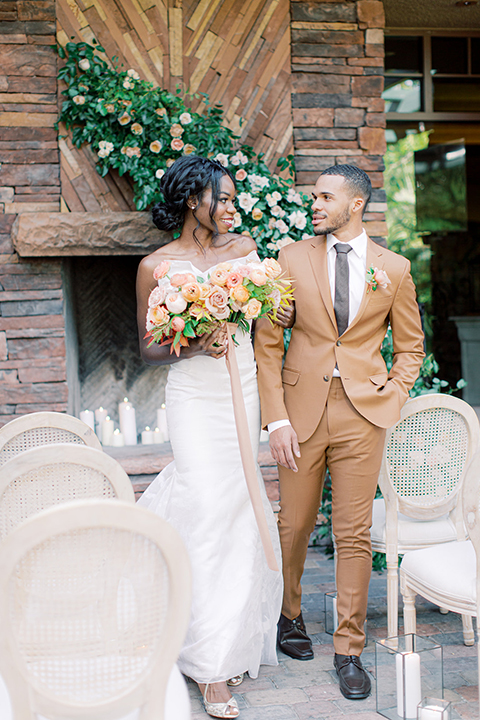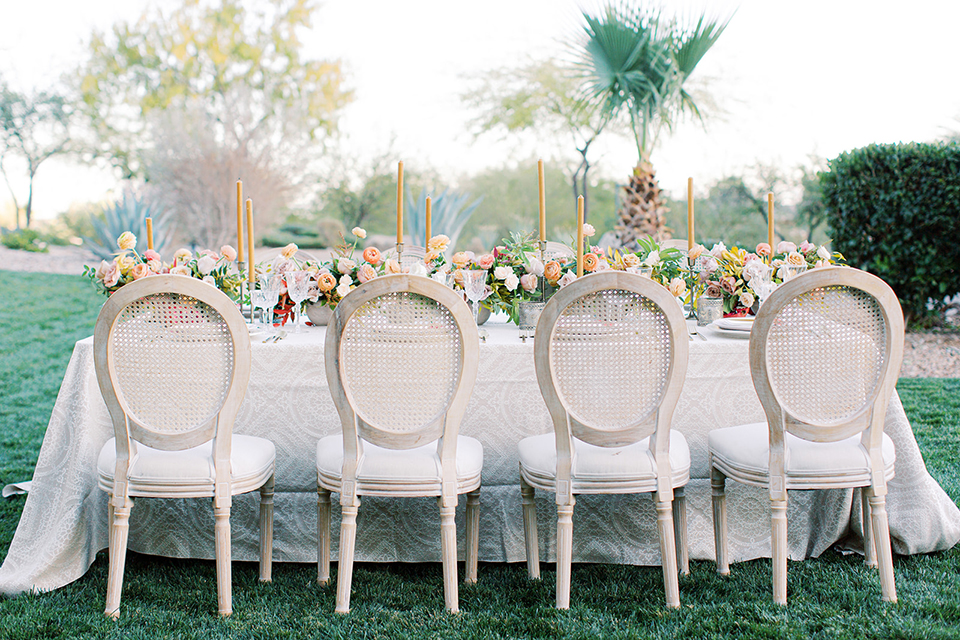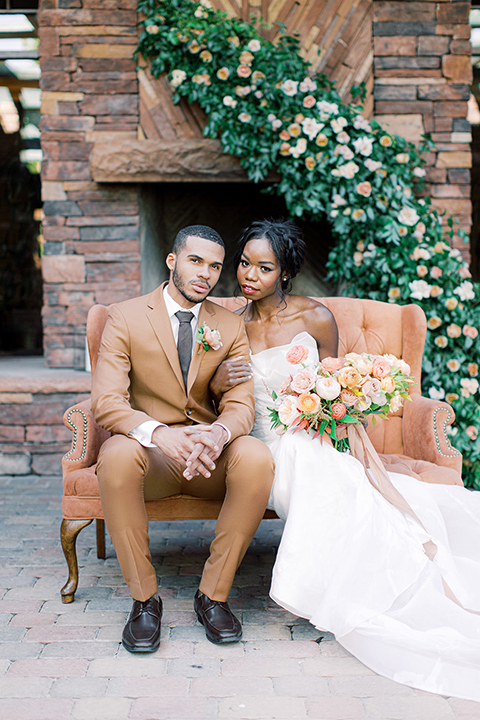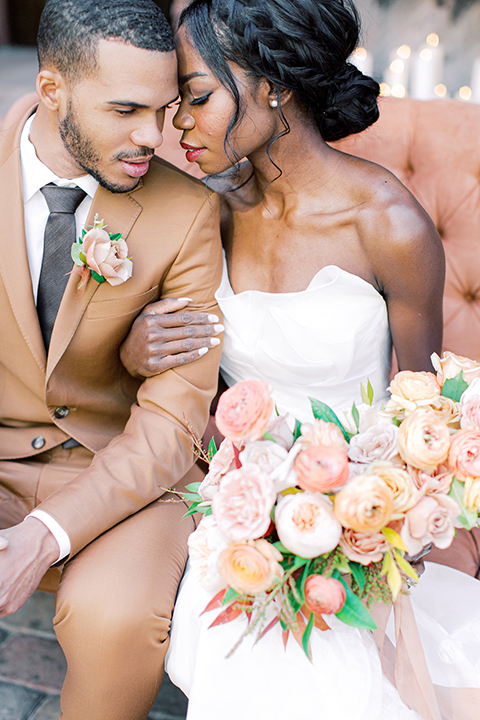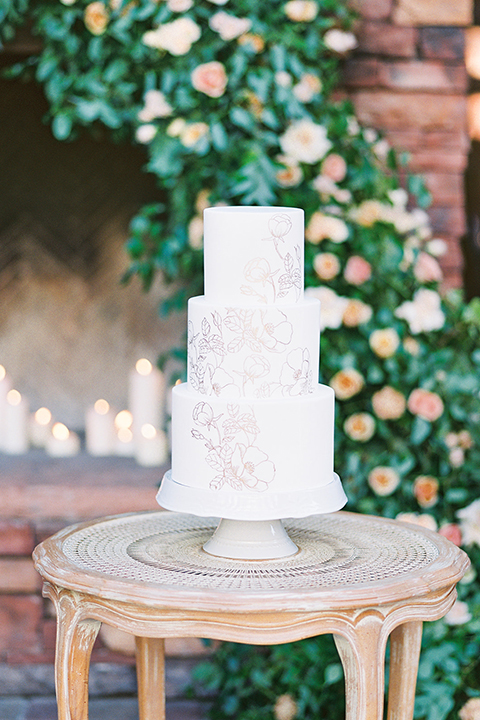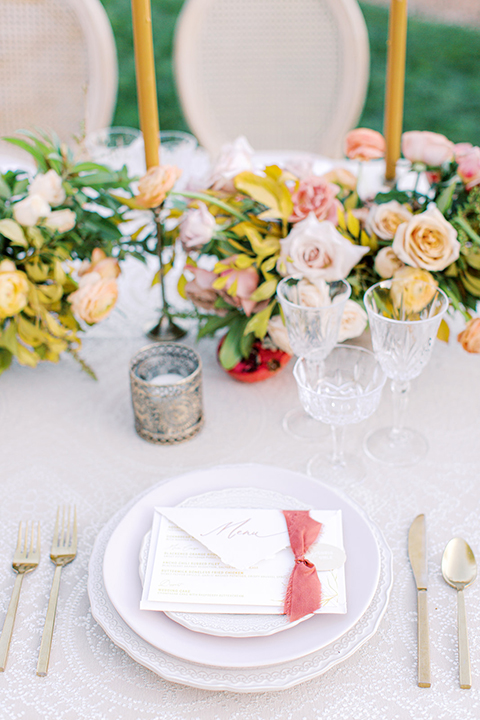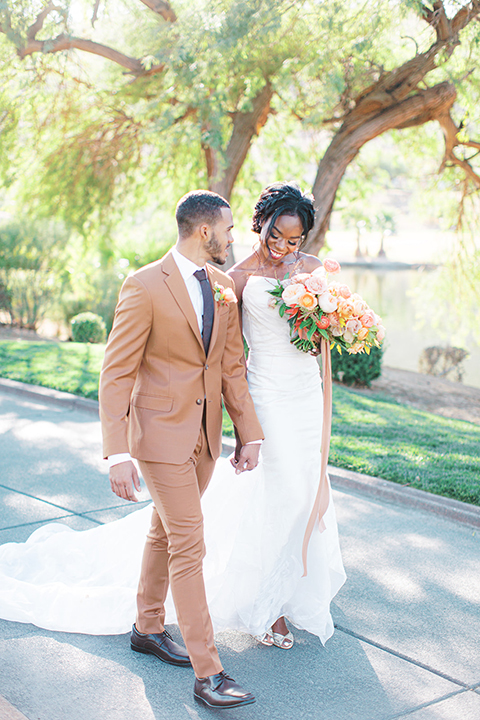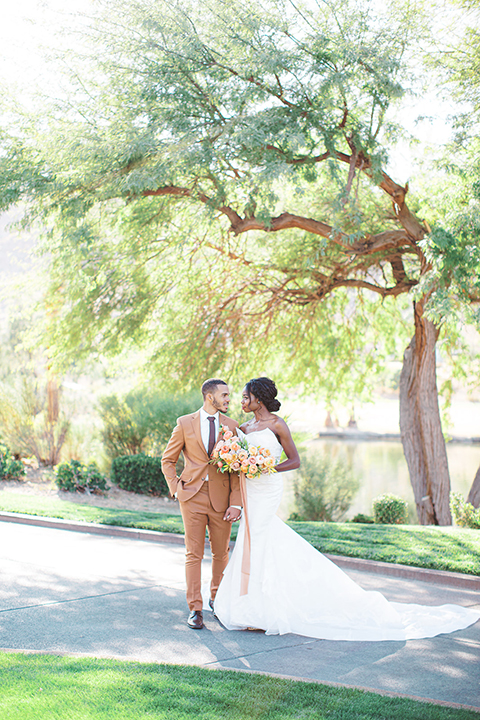 Bridal Model: Ashley Moore | Groom Model: Manuel Dayán Batista-Angarica | Model Management Company: TNG Models | Florals: City Blossoms | Gown: Carol Hannah | Hair + Makeup: Las Vegas Hair + Makeup | Rentals: RSVP Party Rentals | Modern Vintage Rentals: Modern Vintage Rentals | Paper Goods: Paper Refinery | Cakes: Las Vegas Custom Cakes | Linens: La Tavola Linen | Cocktails: The Craft LV | Styling Boards: Heirloom Bindery | Bridal Shoes: Bella Belle Shoes
MOST READ BLOGS
TEAL AND MARIGOLD WEDDING...

2 / 8 / 21 | Inspirational Photo Shoots

Venue: The Meekermark Photography: Sarah McKenzie Photography Event + Floral Design: Mibellarosa Planning + Coordination: Two be Wed Producti

PROVENCE GOLDEN BLISS AT ...

17 / 9 / 21 | Inspirational Photo Shoots

Venue: The Sunstone Winery Planning + Coordination: Couture Events Photography: The Ganey's Menswear: Gold Velvet Shawl Lapel Tuxedo with a lo

TIMELESS LOVE AT CYPRESS ...

2 / 11 / 21 | Inspirational Photo Shoots

Venue: Cypress Grove Estate Photography: Matlock and Kelly Photography Planning: Melanie Paige Events & Design Menswear Style: Black Performan

NORDIC BLUE INSPIRED WEDD...

2 / 11 / 21 | Inspirational Photo Shoots

Venue: Ethereal Garden Venue Photography: Melissa Fe Chapman Planning: Nicole Burbank Events Groom Style: Cobalt Blue Suit + Groomsmen Style:

MOODY CELESTIAL ELOPEMENT...

2 / 11 / 21 | Inspirational Photo Shoots

Venue: Blue Barn Events Photography: Alexandria Michelle Photography Hosting + Styling: Styled HWY Groom Style: Café Brown Suit

GOLD AND LACE WEDDING DES...

2 / 11 / 21 | Inspirational Photo Shoots

Venue: Higuera Ranch Photography: Ashley Rae Studio Planning: Wild Heart Events Groom Style: Asphalt Grey Suit

COLORFUL ELOPEMENT AT VAS...

17 / 1 / 22 | Inspirational Photo Shoots

Venue: Vasquez Rocks Photography: Stephanie Weber Photography Menswear: Rose Pink Notch Lapel Suit + Light Grey Pants

WHEN THE MUSIC AND CITY I...

18 / 1 / 22 | Real Weddings

Venue: Kimmel Cultural Campus Photography: Asya Photography Planning + Design: Truly You Events Groom Style: Light Dark Green Notch Lapel Suit

AMBER + TOM'S STUNNING WO...

18 / 1 / 22 | Real Weddings

Venue: The Barn at Back Acres Farm Photography: McKaila Singer Photography Groom Style: Light Dark Green Notch Lapel Suit with a tan matte long

MODERN CHIC WEDDING WITH ...

18 / 1 / 22 | Real Weddings

Venue: Black Swan Photography: DeGroot Film Co. Planning + Design: Wendi Ward Groom Style: Charcoal Grey Black Lapel Tuxedo with a black bow t

AN AMBER AND EMERALD WEDD...

18 / 1 / 22 | Real Weddings

Venue: Detroit, MI Photography: Emily Kyle Photography Groom Style: Caramel Notch Lapel Suit