A Glamping Wedding for 2 Grooms!
A Glamping Wedding for 2 Grooms!
4 / 18 / 19 | Inspirational Photo Shoots
Venue: Retro Ranch
Photography: Melissa Fe Chapman Photography
Menswear Style: Dark Blue Suit by Ike Behar + Dark Green Suit by Midnight Blue with alternating blue and green velvet bow ties
We are obsessing over this Glamping Wedding Design from the brilliant mind of photographer Melissa Fe Chapman and her team of vendors! The location of Retro Ranch is stunning, if you are ever looking for the perfect venue for your outdoors, bohemian, or rustic wedding this is the place to go to! Nestled on 10 acres of pure greenery, this private estate made for a gorgeous backdrop for this photoshoot.
With all the décor elements: from the macramé accents, geode inspired cake, and vintage airstream we wanted to keep the styling simple yet chic. Pulling inspiration from the nature surrounding the area, we decided to put one of the grooms in our new dark green suit by Midnight blue, and paired the look with a deep blue velvet bow tie and brown shoes. While we put the other groom in our favorite dark blue suit by Ike Behar with a coordinating dark green velvet bow tie and brown shoes. Together these looks compliment each other and the bohemian feel of the décor and surrounds, while still being uber sophisticated.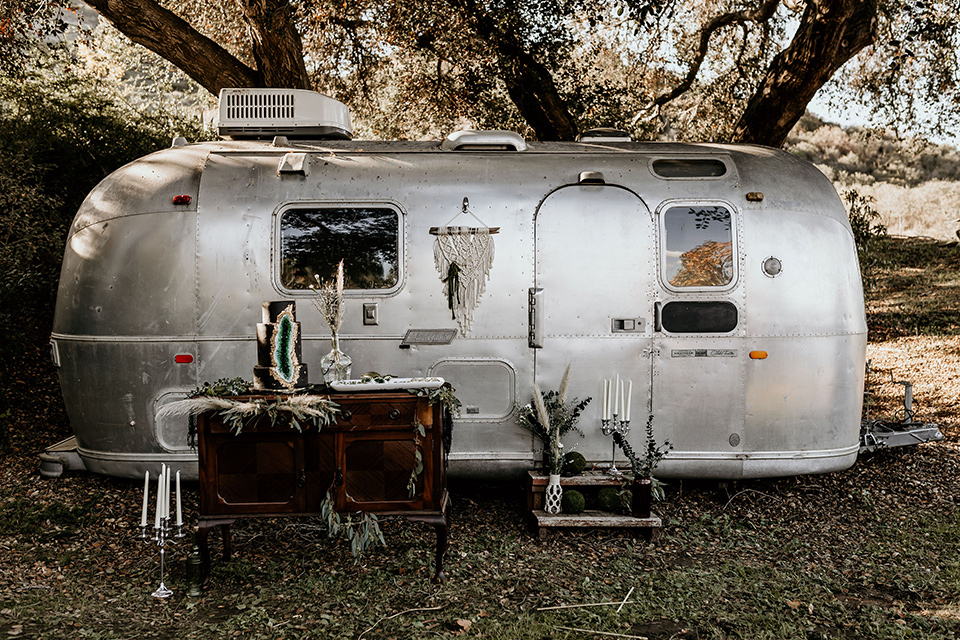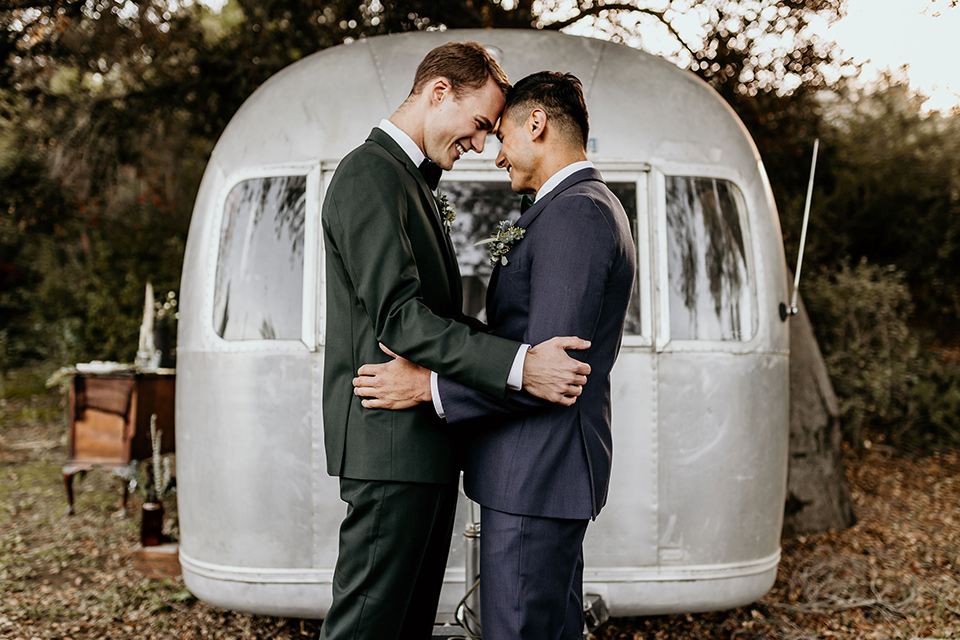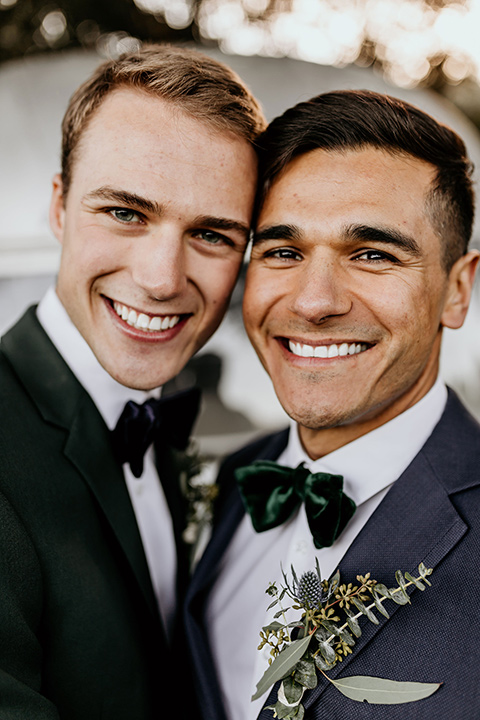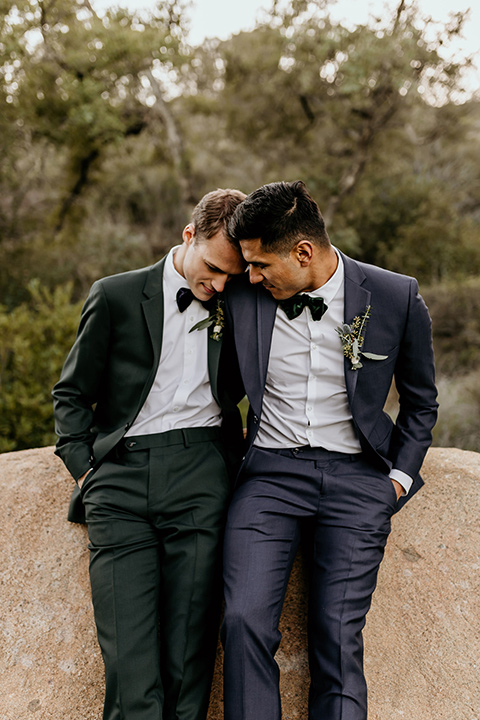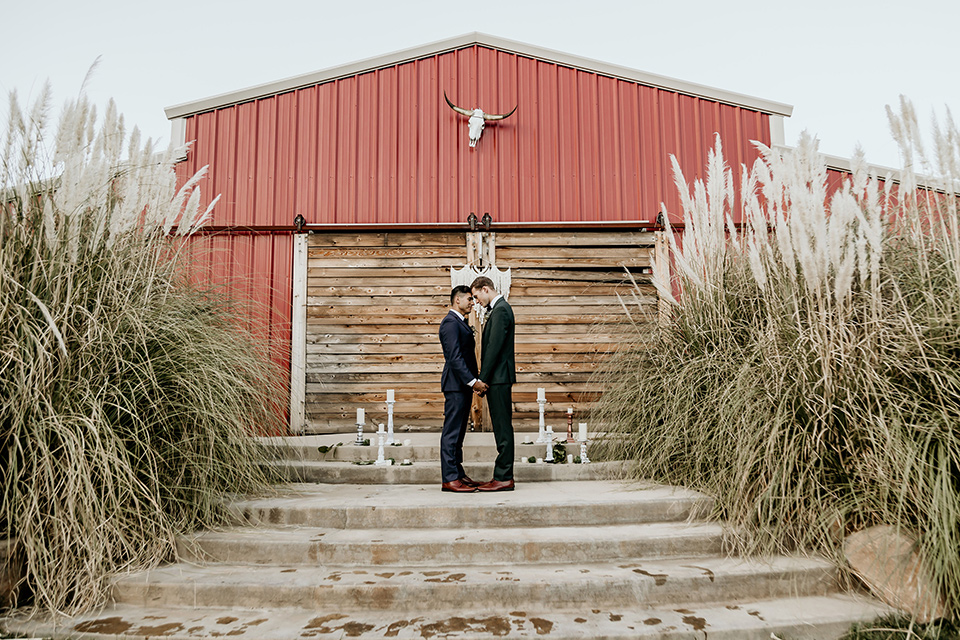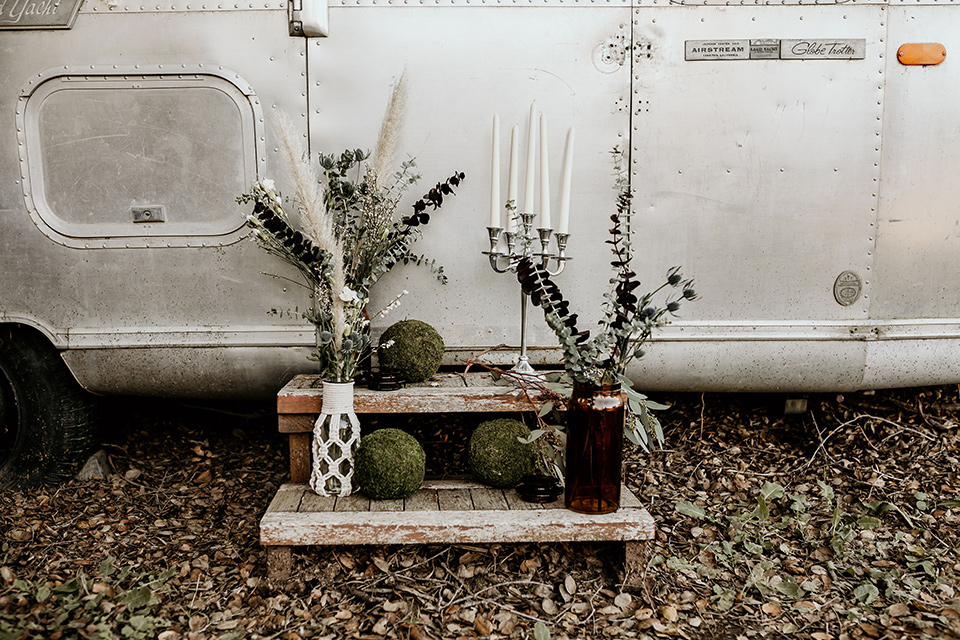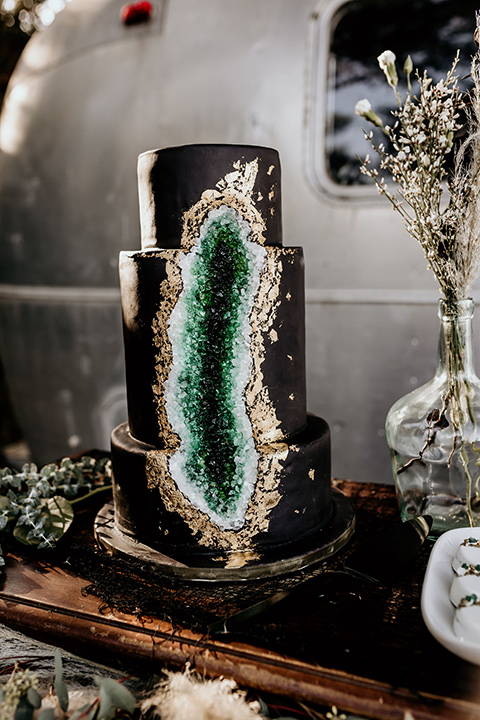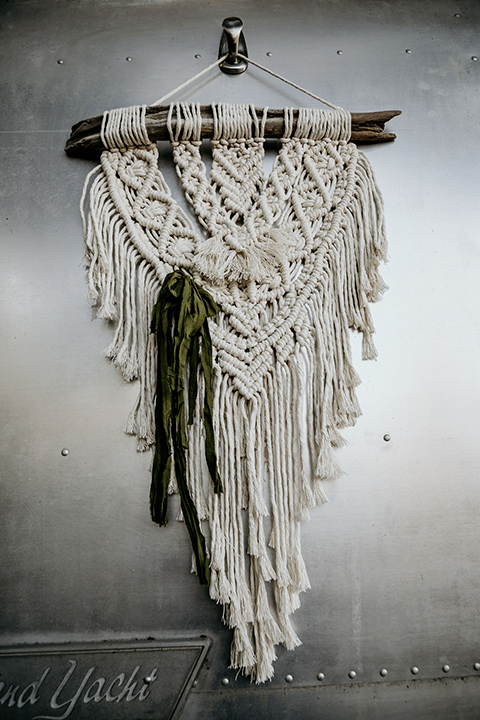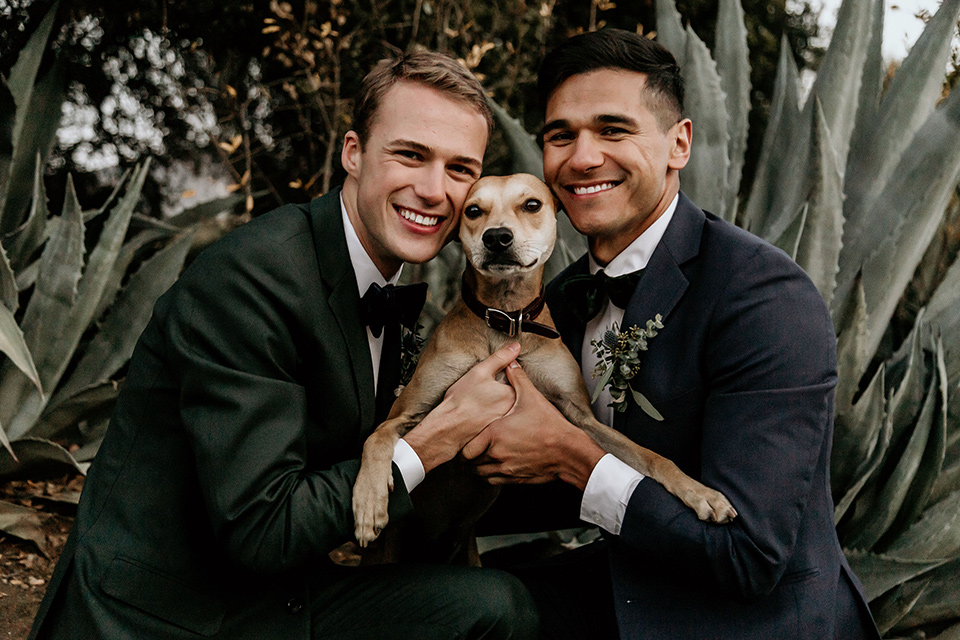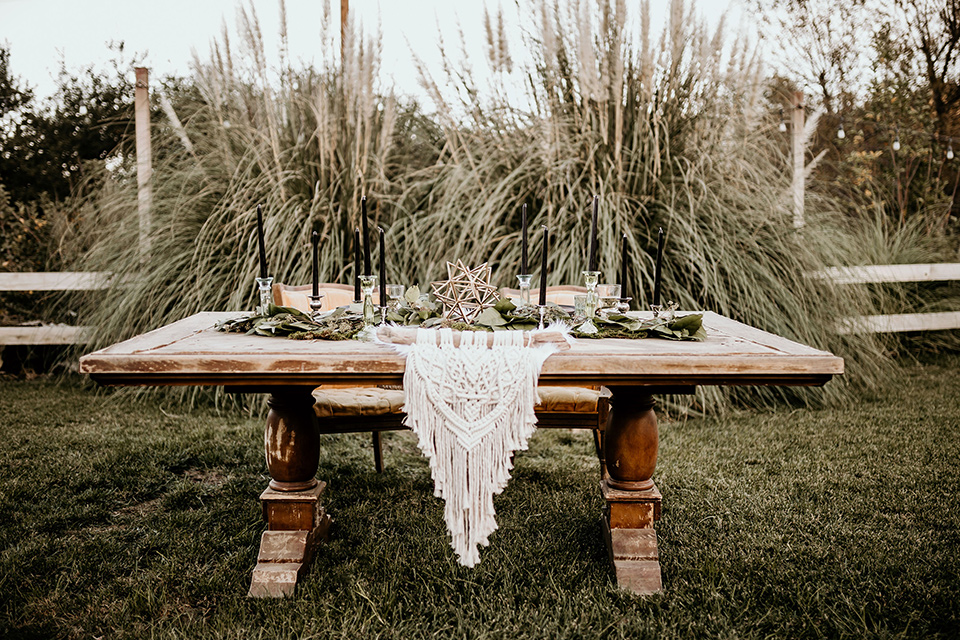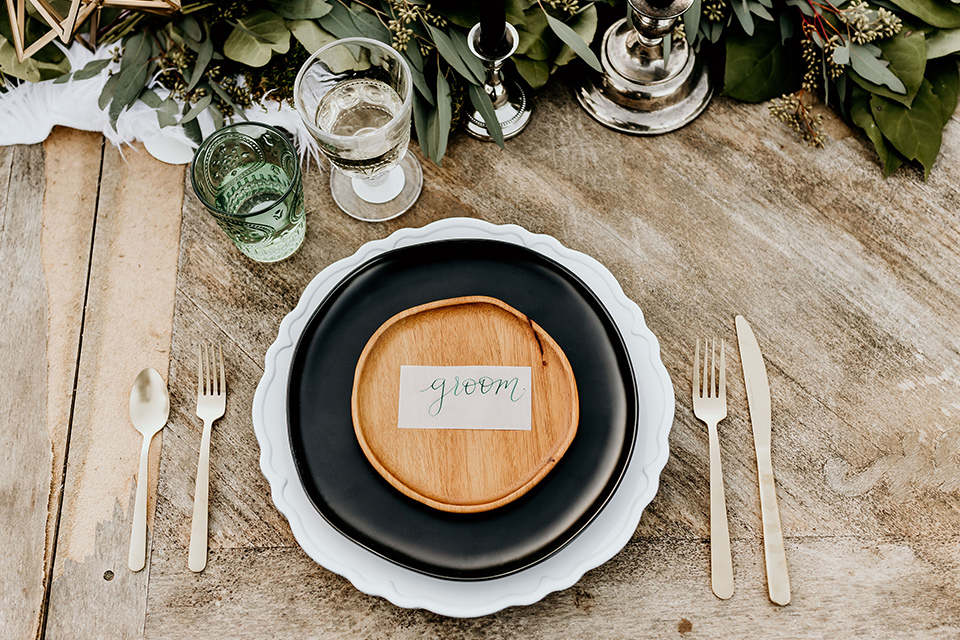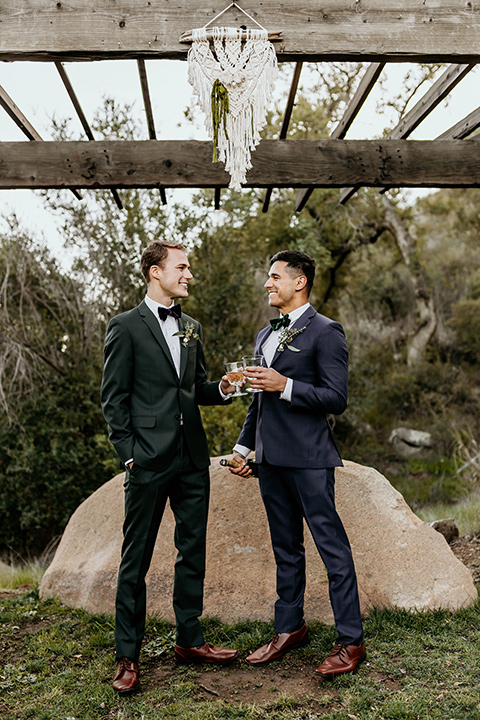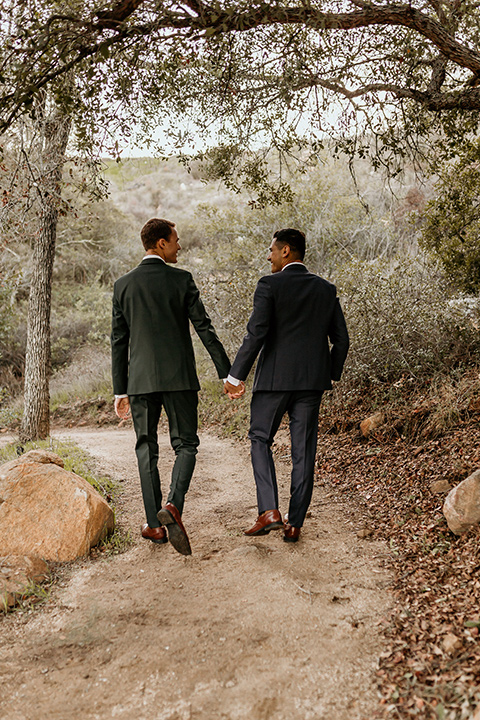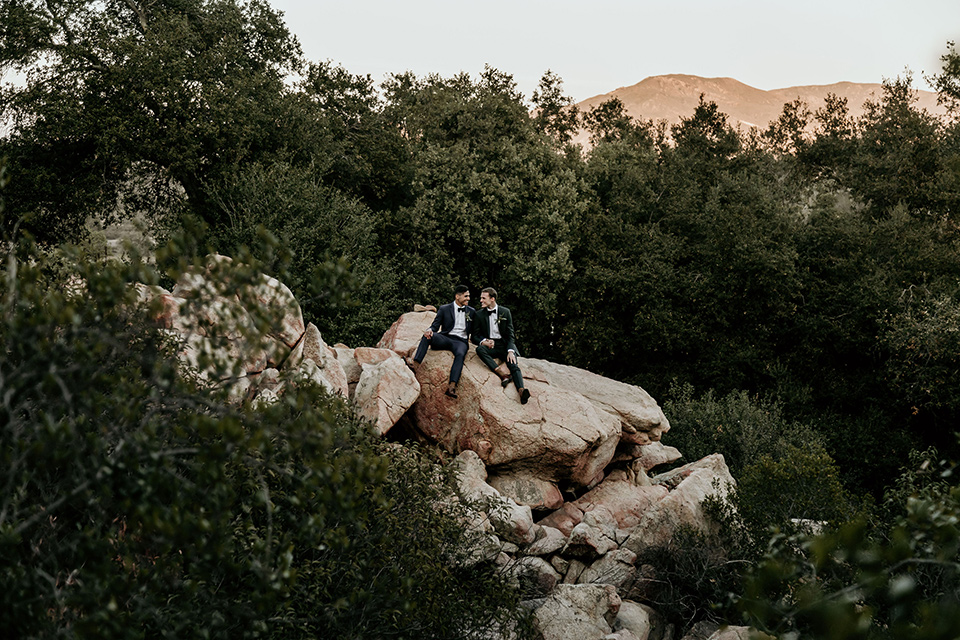 This shoot was also featured on: Intimate Weddings!
Men's Grooming: Brides + Grooms by Jlo | Cake: The Sweet Apron | Desserts: @vlocakepops | Macrame: Ox and Nag | Florals: Bloomie Creations | Caligraphy: Fiori Belle
MOST READ BLOGS
ROMANTIC WINERY WEDDING

27 / 5 / 20 | Inspirational Photo Shoots

Venue: Ganite Lion Cellars
Photographer: Alyssa Rachel
Menswear: Light Grey Peak Lapel Suit with a purple long tie

ELEGANT OLIVE GROVE WEDDI...

18 / 6 / 20 | Inspirational Photo Shoots

Venue: Temecula Olive Oil Company
Photography: Mallory Dawn Photography
Menswear Style: Navy Shawl Lapel Tuxedo with a black bow tie

ETHEREAL FRENCH WEDDING A...

18 / 6 / 20 | Inspirational Photo Shoots

Venue: Vista Valley Country Club
Photography: Mallory Dawn Photography
Menswear Style: Navy Shawl Lapel Tuxedo with a black bow tie

CLASSIC EUROPEAN WEDDING ...

18 / 6 / 20 | Inspirational Photo Shoots

Venue: Kestrel Park
Photography: Kalina And Co.
Menswear Style: White Casablanca Dinner Jacket with a black bow tie

STUNNING YOSEMITE CLIFF W...

18 / 6 / 20 | Inspirational Photo Shoots

Venue: Yosemite National Park
Photography: Taylor'd Southern Events
Menswear Style: Grey Notch Lapel Suit with a matte black long tie

COASTAL BLUSH BLISS

28 / 12 / 22 | Inspirational Photo Shoots

COLORADO MICROWEDDING WIT...

28 / 12 / 22 | Inspirational Photo Shoots

PRIMARY COLOR MAGIC AT A ...

29 / 12 / 22 | Inspirational Photo Shoots

A GRAND TETONS ELOPEMENT ...

29 / 12 / 22 | Inspirational Photo Shoots

MODERN MYSTICAL BLACK & W...

28 / 3 / 19 | Inspirational Photo Shoots

Venue: The York Manor
Photography: For the Love of It
Menswear Style: Black Valencia Suit by Midnight Blue

A SECRET GARDEN WEDDING

2 / 4 / 19 | Inspirational Photo Shoots

Venue: Blossom Valley Victorian
Photographer: Lori Phillips
Menswear Style: Charcoal Grey Suit