San Francisco City Hall Wedding
San Francisco City Hall Wedding
5 / 5 / 17 | Inspirational Photo Shoots
Venue: San Francisco City Hall
Event Styling + Design: Chloe + Mint
Photography: Tenth & Grace
Menswear Style: Black Shawl Lapel Tuxedo with a black bow tie
Write up from Chloe + Mint:
Gold was a huge trend at the recent 2017 Bridal Fashion Week in New York, and it might be the perfect color choice for an indoor wedding - as evidenced by this wedding editorial at San Francisco City Hall. Our main source of inspiration was the amazing gold-woven Centaurea gown, which recently debuted in Carol Hannah's 2017 collection. The gown was accented by a gold-flecked veil from Carol Hannah's accessories line.

Gold was reflected in every aspect of the shoot, designed and styled by Chloe+Mint. The Bloomery Co. Crafted a stunning bouquet that featured golden dried foliage as a substitute for traditional greenery, and the invitation suite from Seniman Calligraphy was crafted with flecks of gold foil. Angela Nunnink opted to keep the makeup fresh and simple to complement the decadence of the gown and veil. We couldn't be more thrilled with how it all came together, and we hope it will inspire brides to go with gold for their weddings.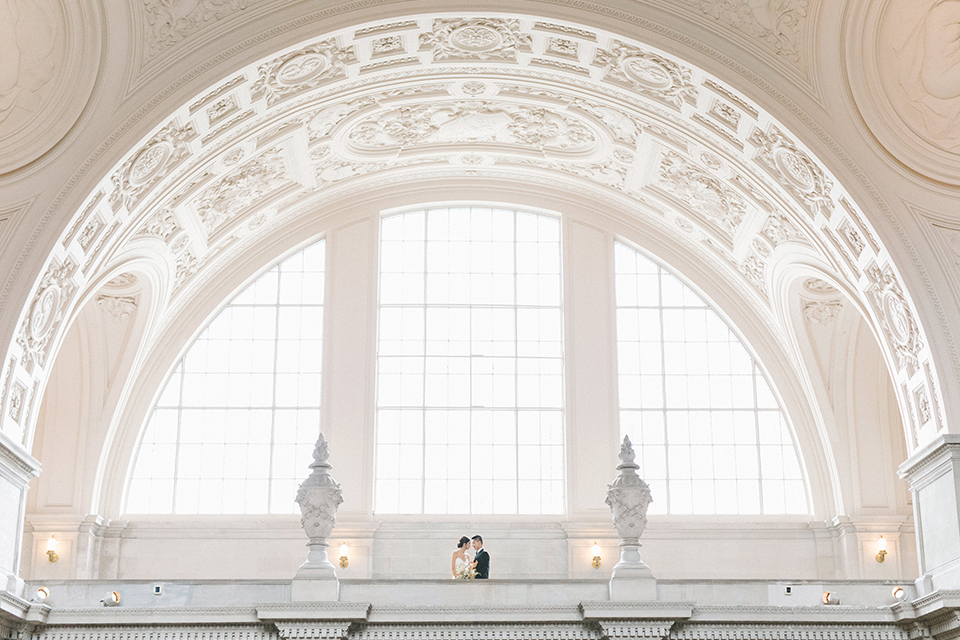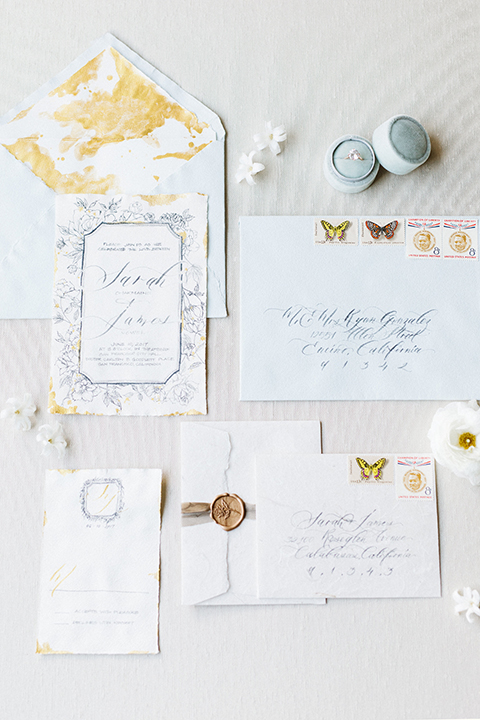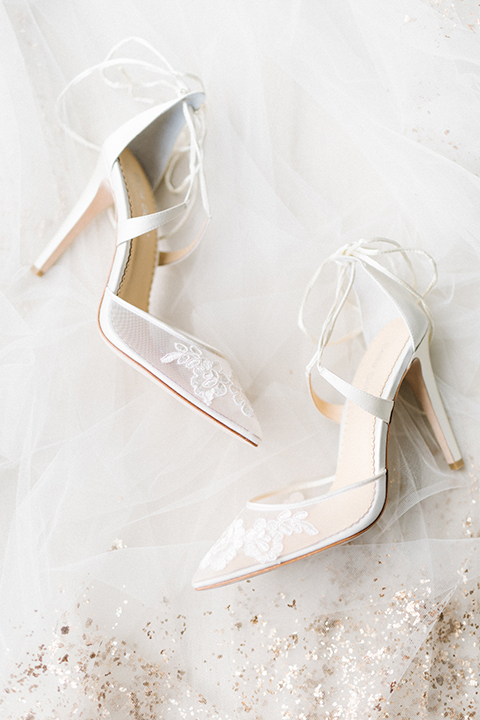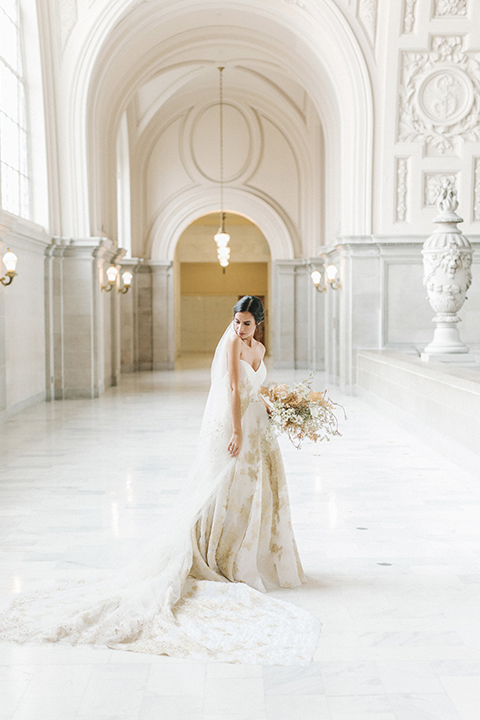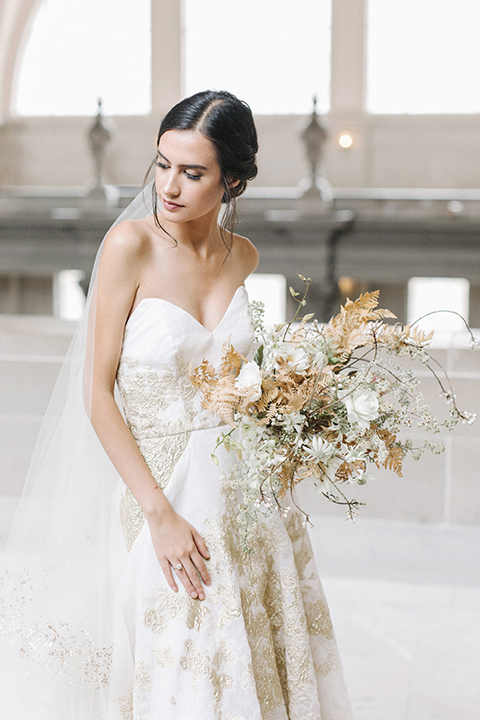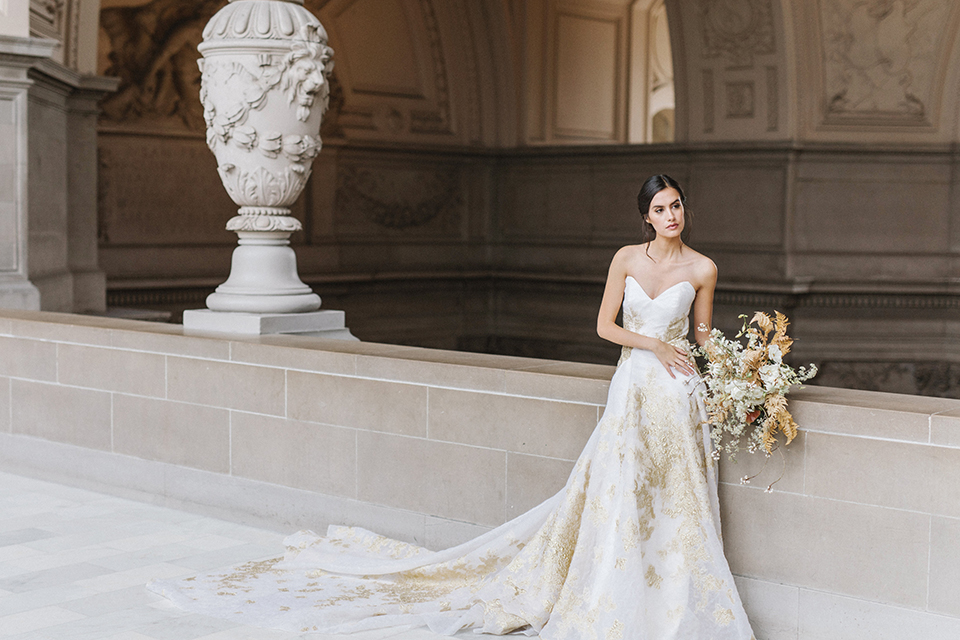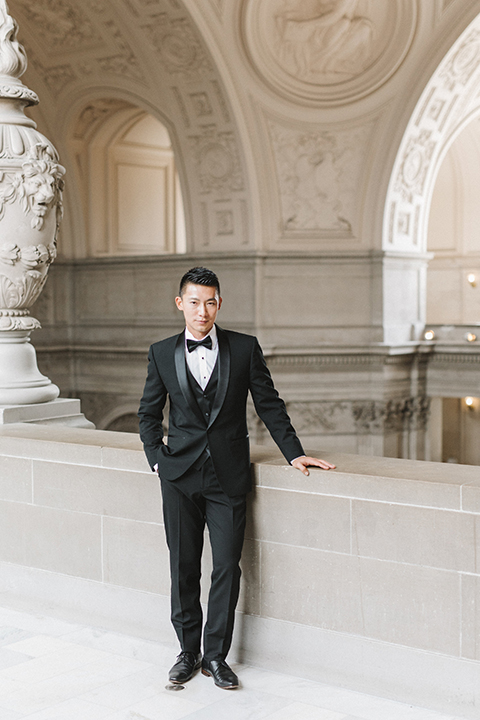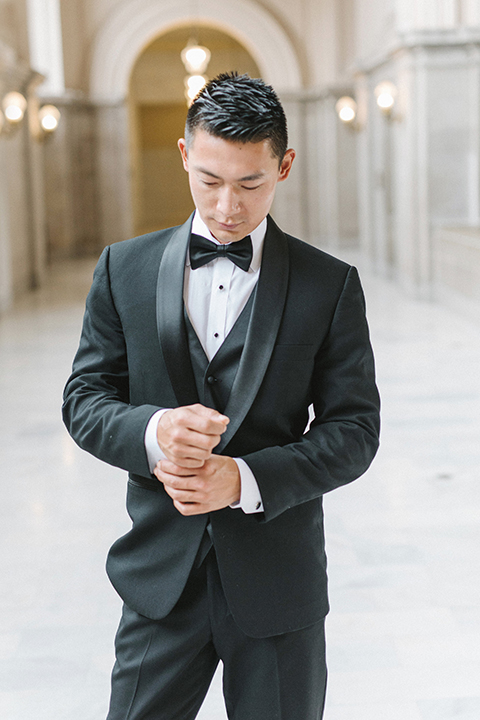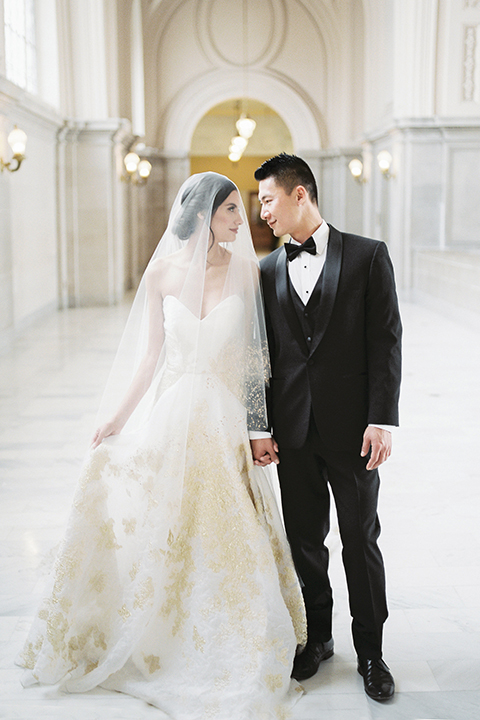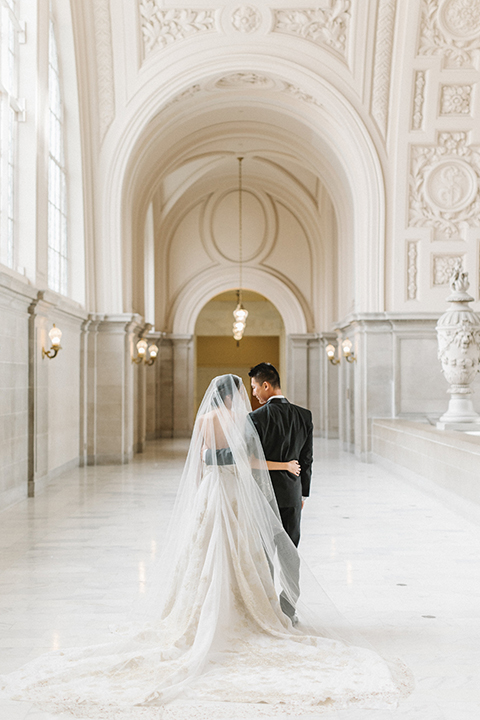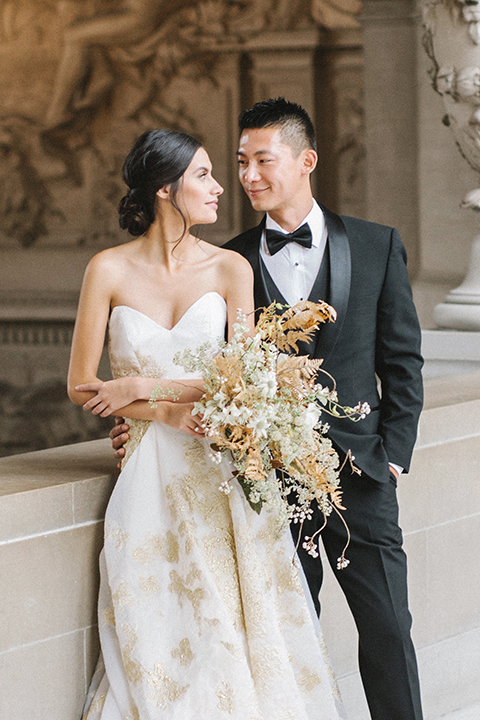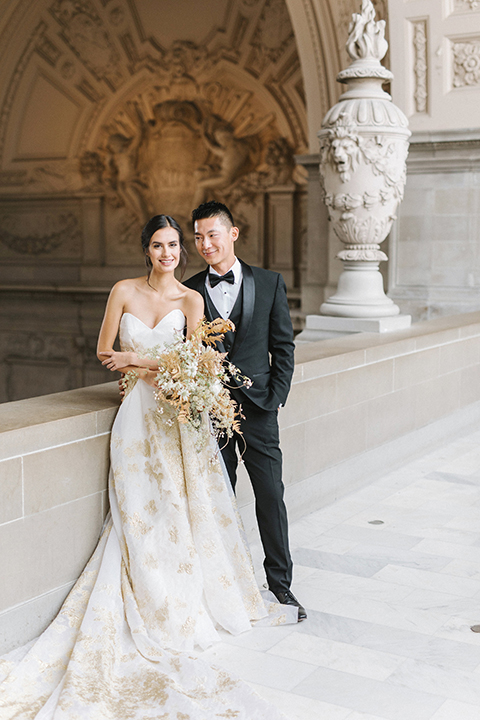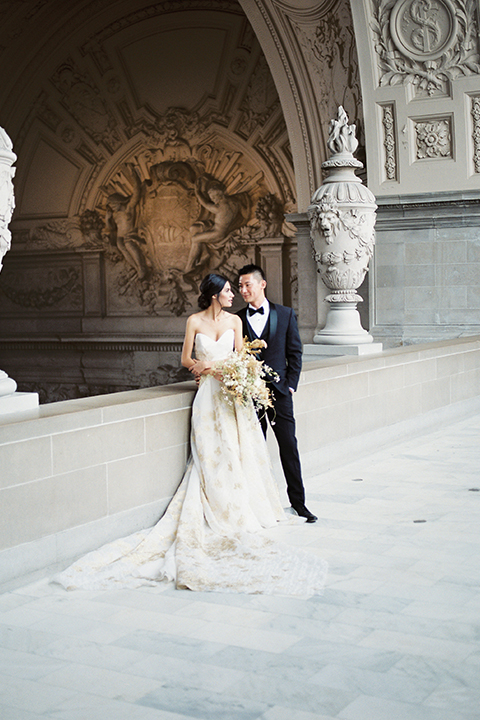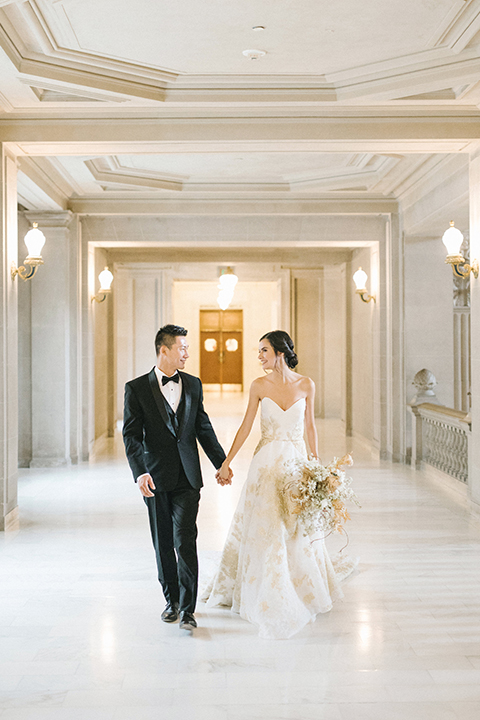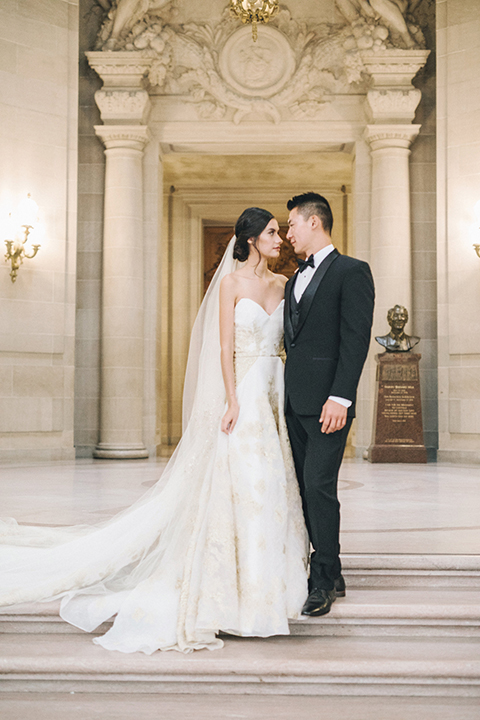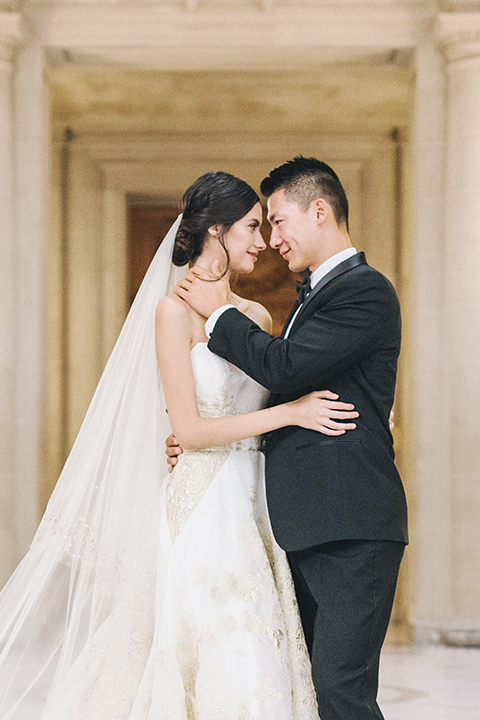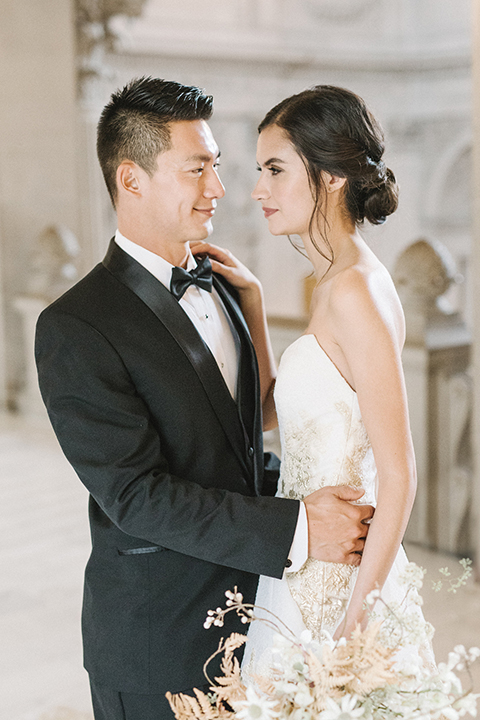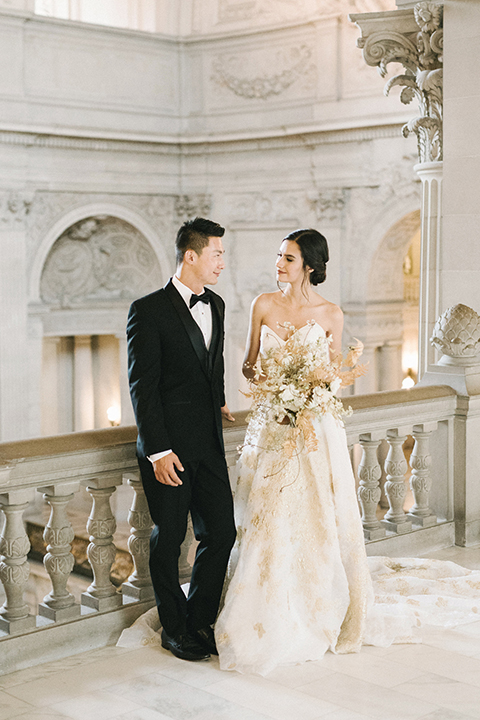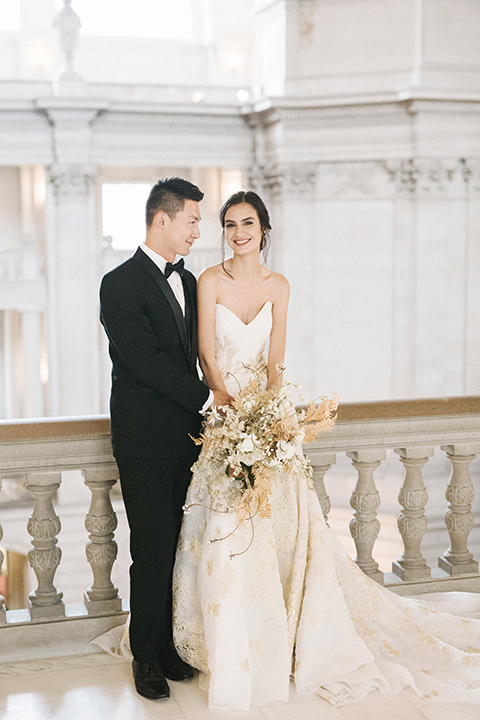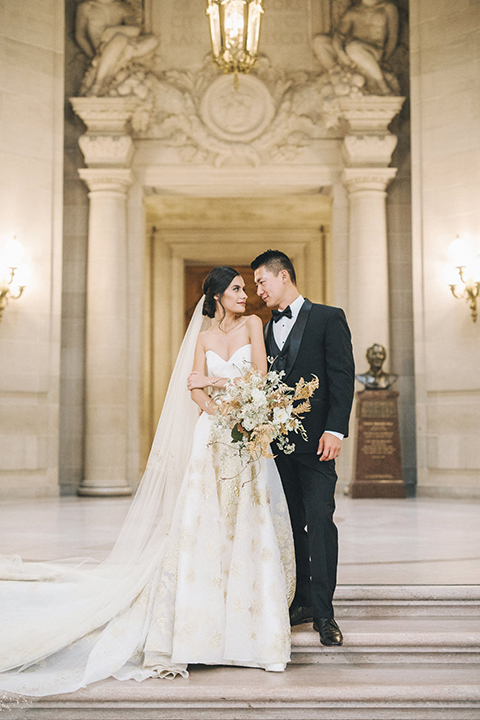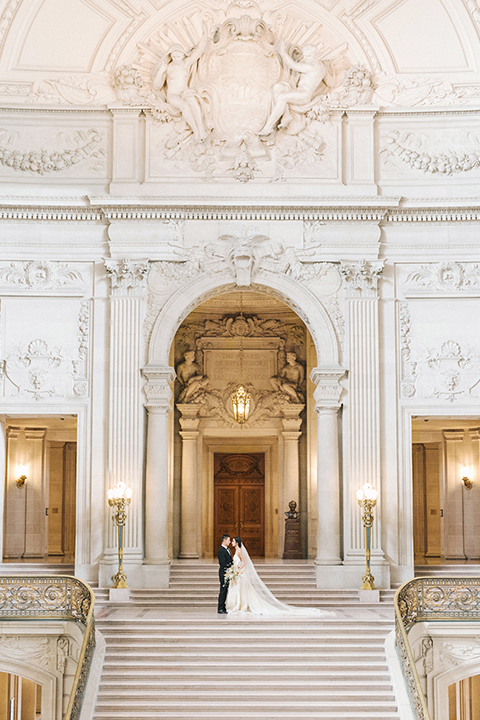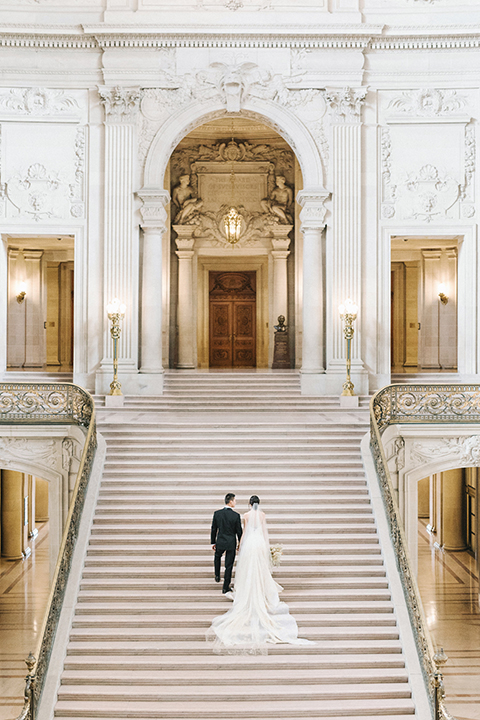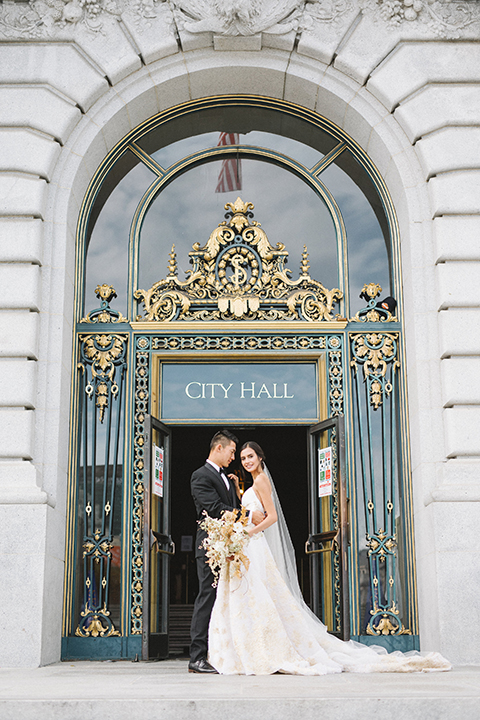 This shoot was also featured on Style Me Pretty!
Florals: The Bloomery Co. | Wedding Gown: Carol Hannah | Jewelry: Susie Saltzman | Shoes: Bella Belle | Hair + Makeup: Angela Nunnik | Ring Box: Amonie | Calligraphy: Seniman Calligraphy
MOST READ BLOGS
BOHO CHIC VINEYARD WEDDIN...

14 / 3 / 17 | Inspirational Photo Shoots

Venue: Triunfo Creek Vineyards
Photography: Wisteria Photography
Menswear Style: Slate Blue Notch Lapel Suit with a long grey tie

LOVE STORY INSPIRED WEDDI...

13 / 3 / 17 | Inspirational Photo Shoots

Venue: Le Meridian Delfina Santa Monica
Photography: Anna Delores Photography
Menswear Style: Charcoal Gray Michael Kors Shawl Lapel Tu

CITY ENGAGEMENT PHOTOS IN...

10 / 3 / 17 | Inspirational Photo Shoots

Venue: The London House
Photography: Rosanna Hanson Photography
Menswear Style: Charcoal Gray Michael Kors Notch Lapel Tuxedo with a na

LOVE POTION INSPIRED WEDD...

27 / 2 / 17 | Inspirational Photo Shoots

Venue: Viejas Casino & Resort
Photography: This Rad Love
Menswear Style: Burgundy Shawl Lapel Tuxedo with a black bow tie

RUSTIC BOHEMIAN BARN WEDD...

28 / 6 / 17 | Real Weddings

Venue: Cayucos Creek Barn
Photography: Alyssa Lavine Photography
Menswear Style: Slate Blue Notch Lapel Suits with the groom in a long

CHIC WEDDING AT CIELO FAR...

24 / 5 / 17 | Inspirational Photo Shoots

Venue: Cielo Farms
Photography: Jenny Quicksall Photography
Menswear Style: Black Notch Lapel Tuxedo by Michael Kors with a black and w

NATURE INSPIRED GRAND CAN...

22 / 5 / 17 | Inspirational Photo Shoots

Event Design: Deanna Nash Events
Photography: The Argus Image
Menswear Style: Slate Blue Notch Lapel Suit with a long silver tie

WOODLAND BOHEMIAN WEDDING

17 / 5 / 17 | Inspirational Photo Shoots

Coordination: Jenne Chanthaboury
Photography: Lin and Jirsa
Menswear Style: Gray Notch Lapel Suit with a long floral tie

PARK HYATT AVIARA BLACK T...

17 / 5 / 17 | Inspirational Photo Shoots

Venue: Park Hyatt Aviara
Photography: Evelyn Molina Photography
Menswear Style: Black Michael Kors Notch Lapel Tuxedo with a black bow

COLORFUL BOHEMIAN STYLE W...

16 / 5 / 17 | Inspirational Photo Shoots

Venue: Sherwood Country Club
Photography: Lucas Rossi Photography
Menswear Style: Navy Shawl Lapel Tuxedo with a black faux leather b

RUSTIC ROMANCE WEDDING

16 / 5 / 17 | Real Weddings

Venue: Villa San Juan Capistrano
Photography: Katelin Wallace Photography
Menswear Style: Navy Shawl Lapel Tuxedo with a black bow tie