Romantic Valentine's Day Inspired Wedding
Romantic Valentine's Day Inspired Wedding
2 / 14 / 18 | Inspirational Photo Shoots
Venue: Malibu Rocky Oaks
Event Styling + Florals: Kelly Oshiro
Photography + Videography: Mon Soleil
Menswear Style: Black Notch Lapel Suit with a long black skinny tie
Write up from Kelly Oshiro:
I was inspired by the concept of intersecting circles, or how two individuals, overlap and become one during the marriage ceremony. For the color story, I naturally looked to Valentine's Day, the most romantic day of the year, and chose the classic combination of pink and red. I added in hints of salmon, peach, and burgundy to add a little sophistication and depth to the palette. To incorporate the circle motif and the colors, Chasing Linen, the invitation designer, used circles of pink and red to symbolize the two halves of the couple. And at the ceremony, I made floating floral circles with the two center circles perfectly intersecting right above the couple as they said "I do."
On the table, La Tavola's luxurious light pink velvet linen provided a neutral background to pop the intense red in the flowers. I used three brushed gold trays to create a "runner" on the table to hold centerpieces, pillar candles, bud vases and loose blooms. For the floral arrangements I used red ranunculus, light pink nerine lilies, burgundy and pink orchids, upright burgundy amaranthus, calla lilies, and peach hyacinth. All were arranged in simple white, matte, pottery containers from Porch. For the menu, Chasing Linen silkscreened the text on to the actual napkins. And a subtle circle pattern on the plates and charges from Theoni Collection further drove home the circle theme. Finally, the couple made their getaway in a chic, silver, Jaguar XK120.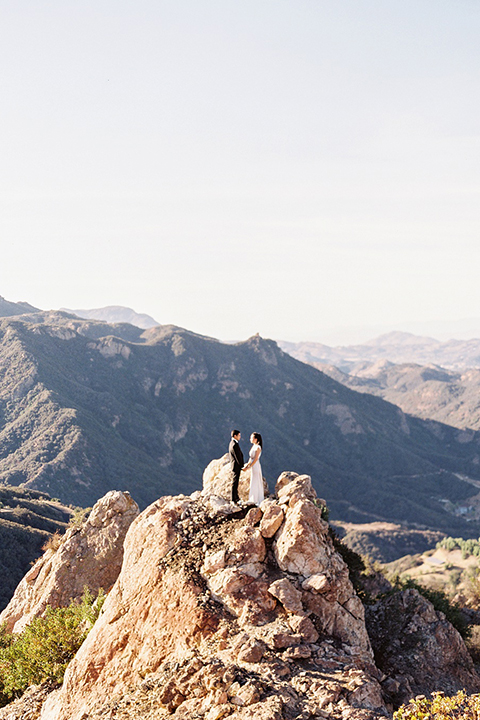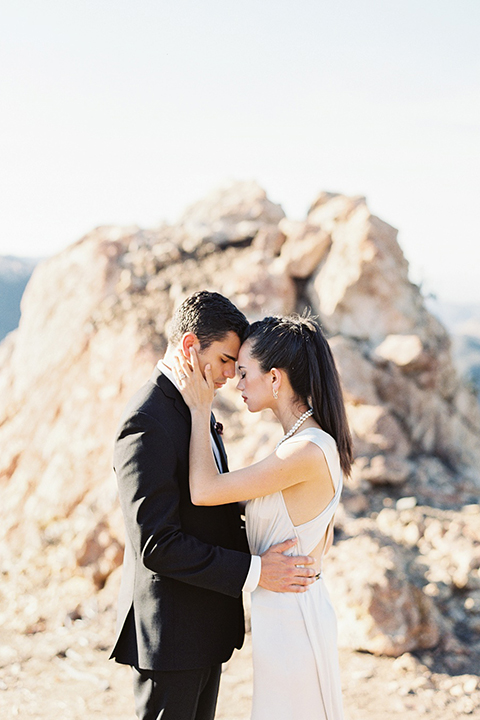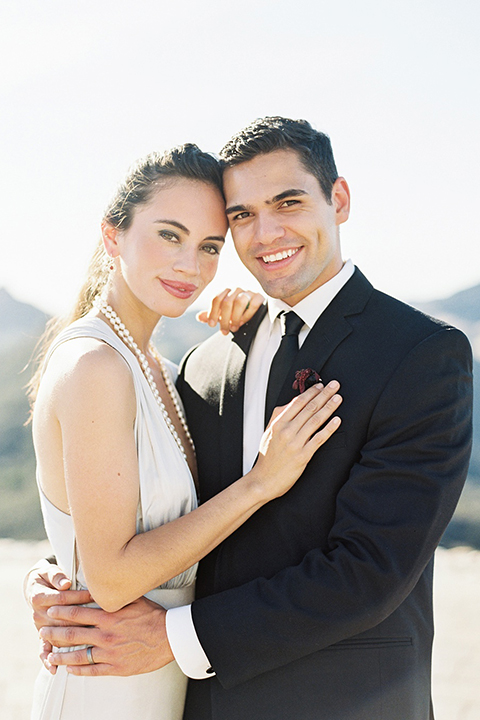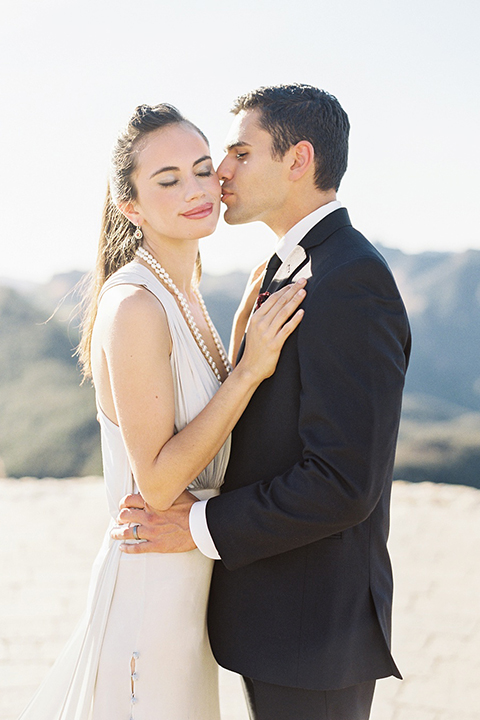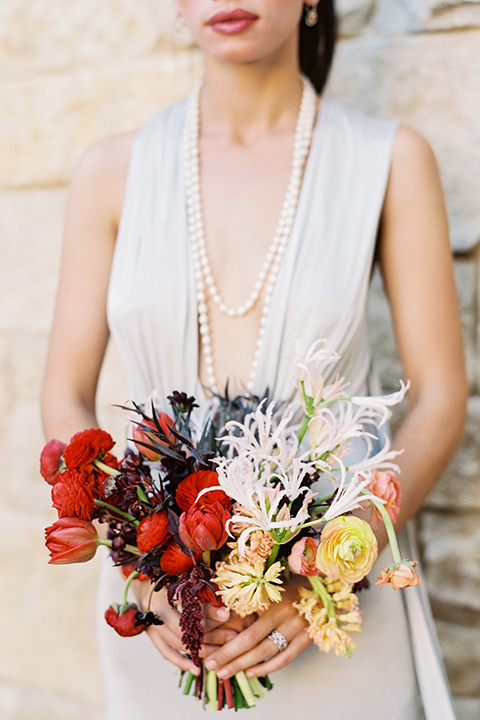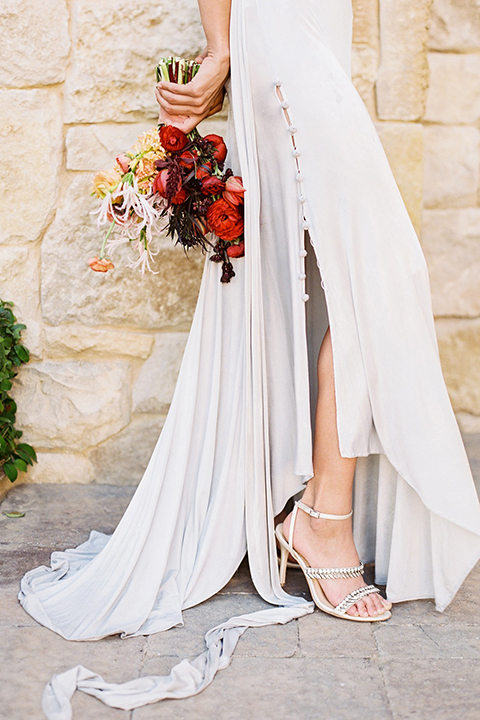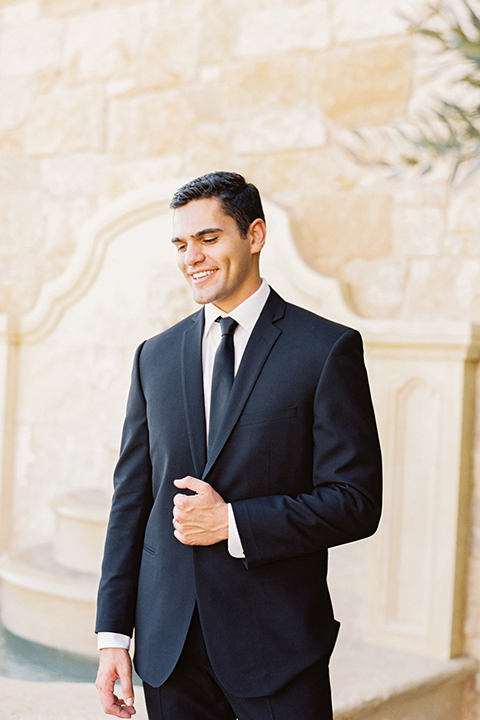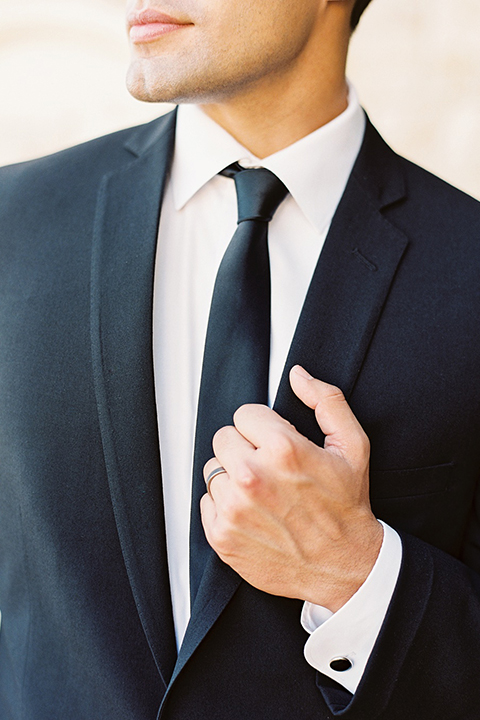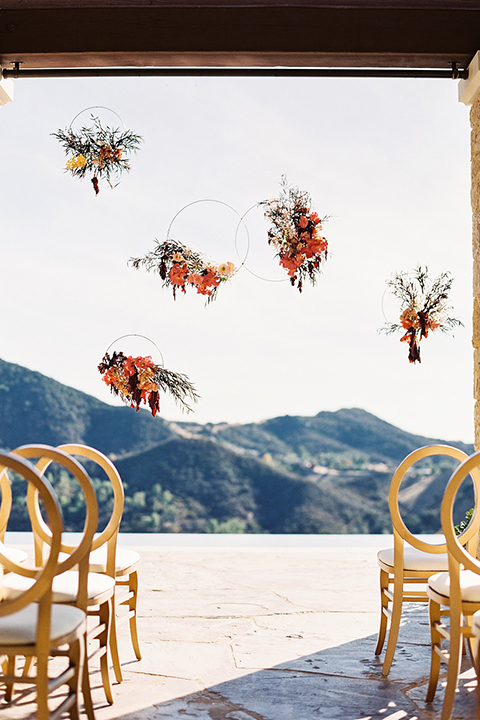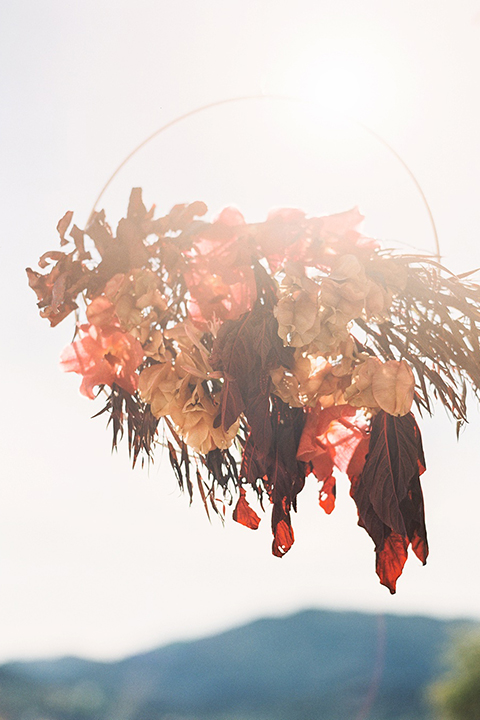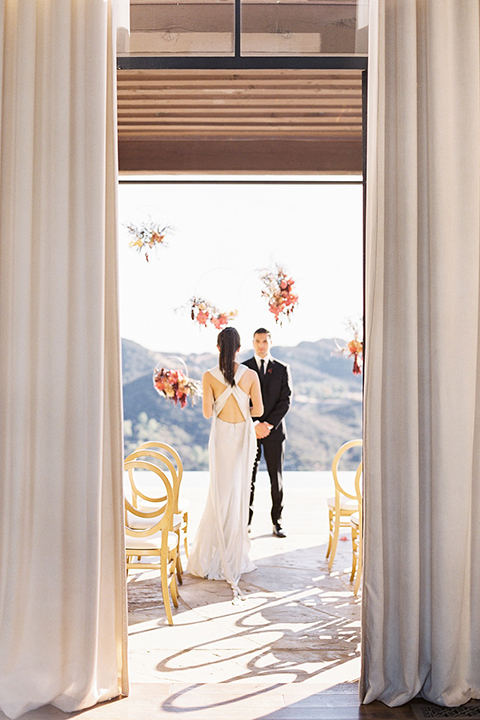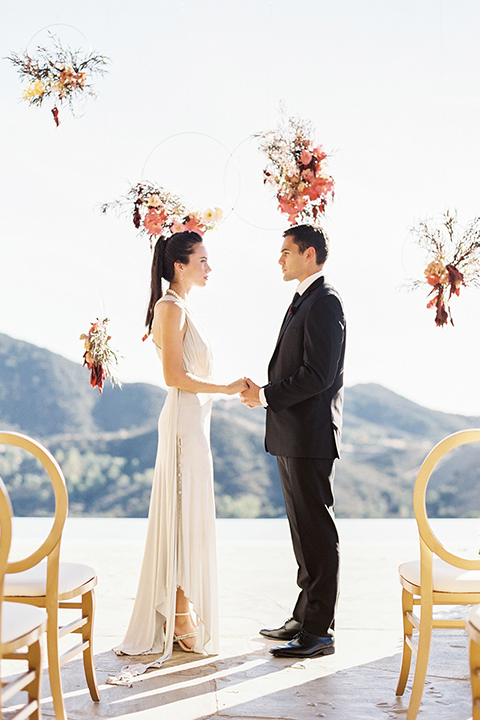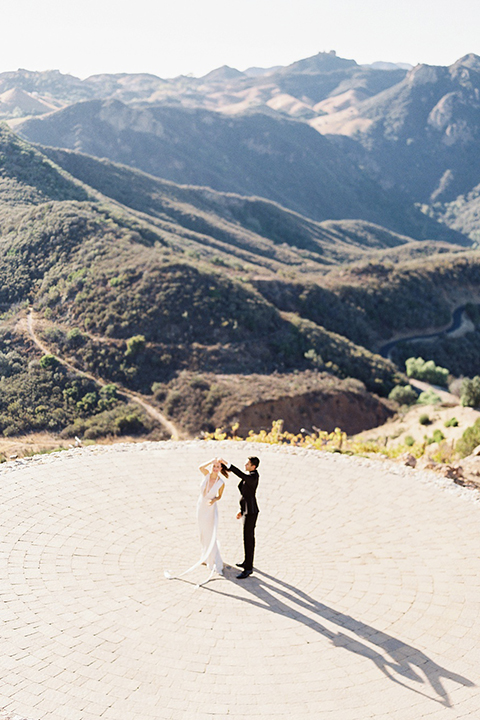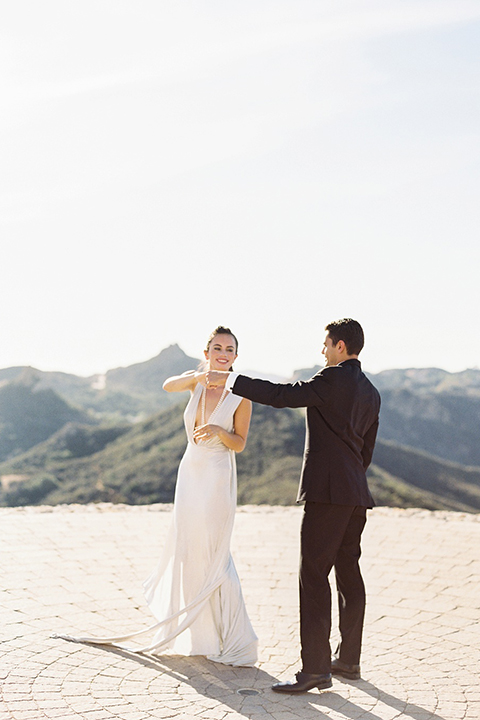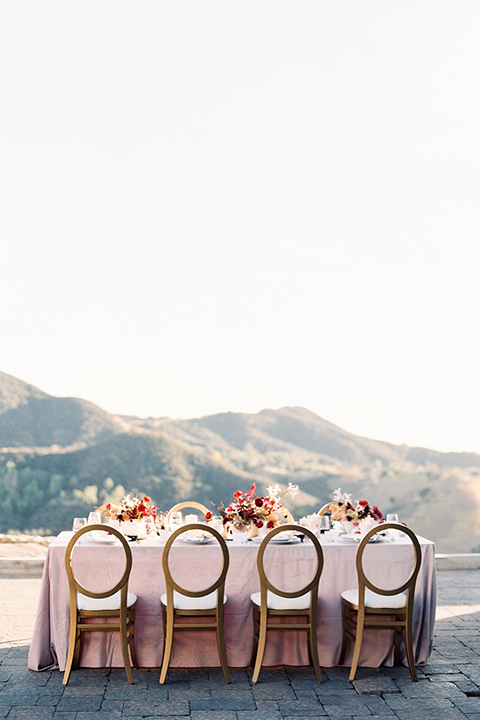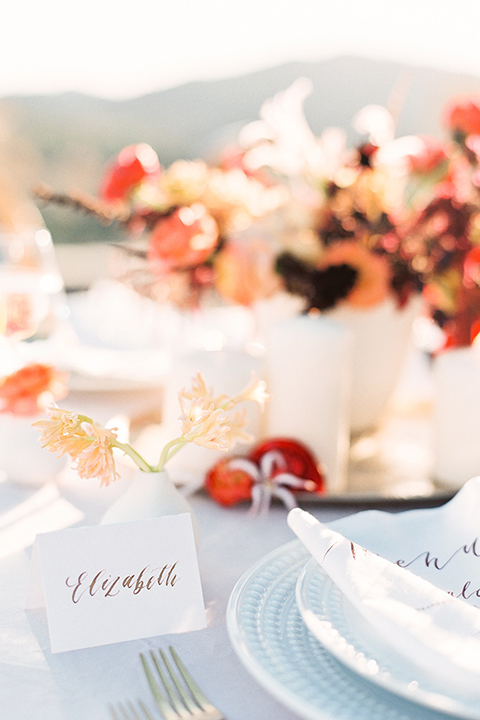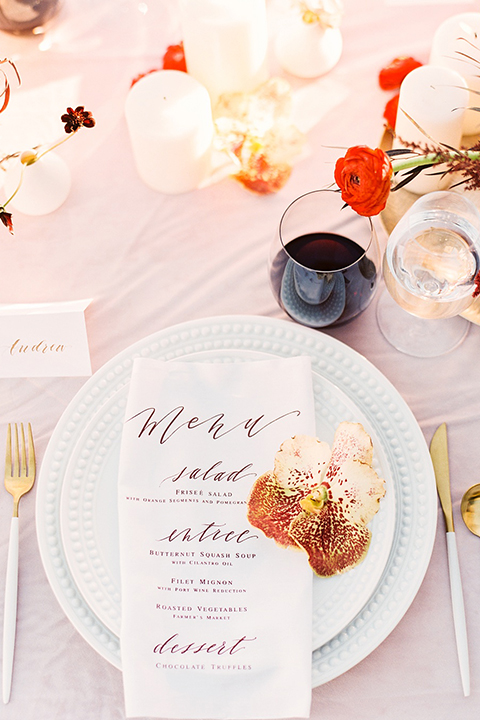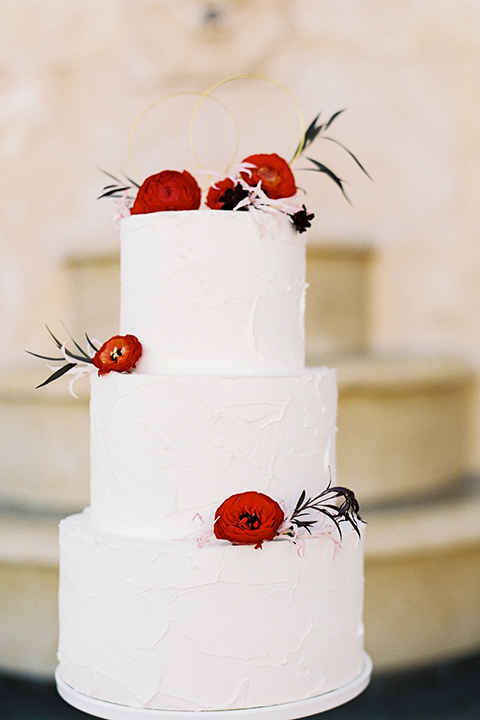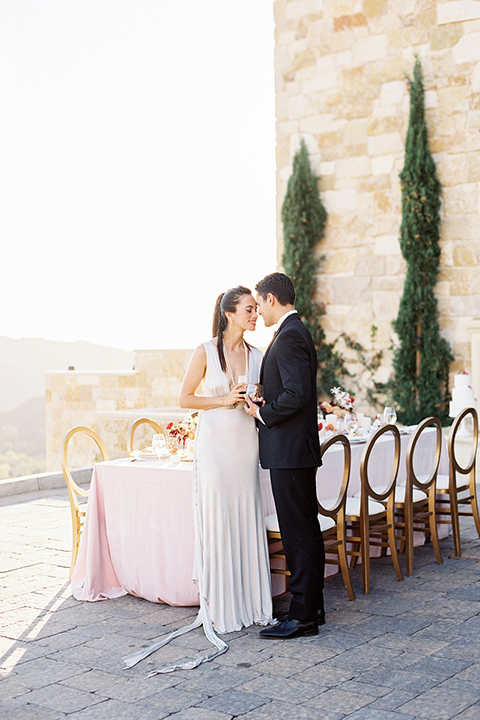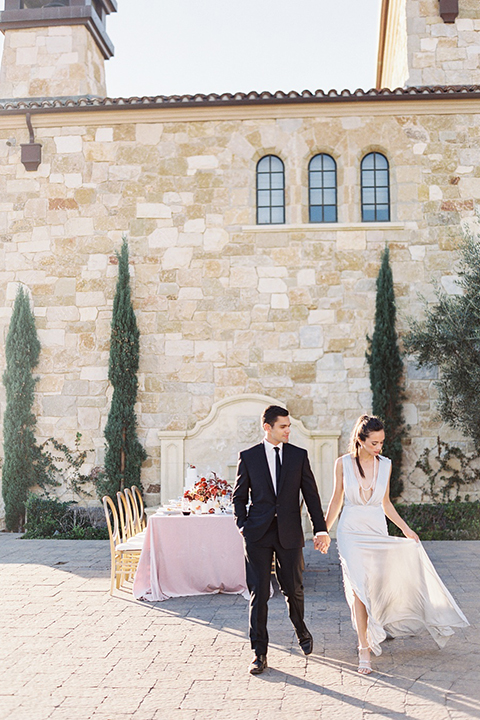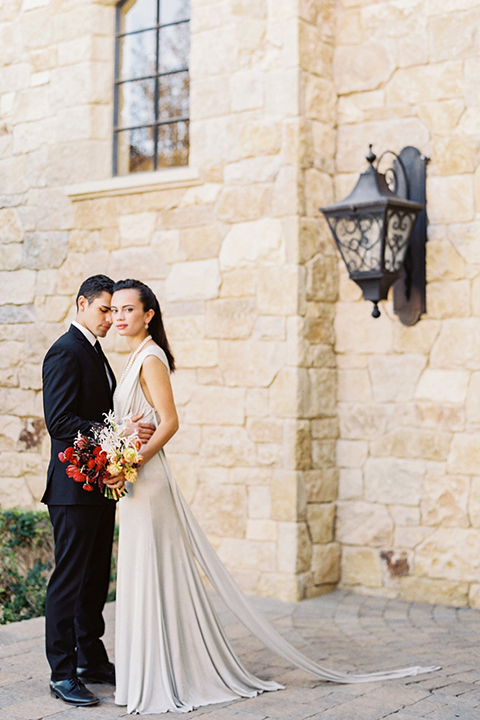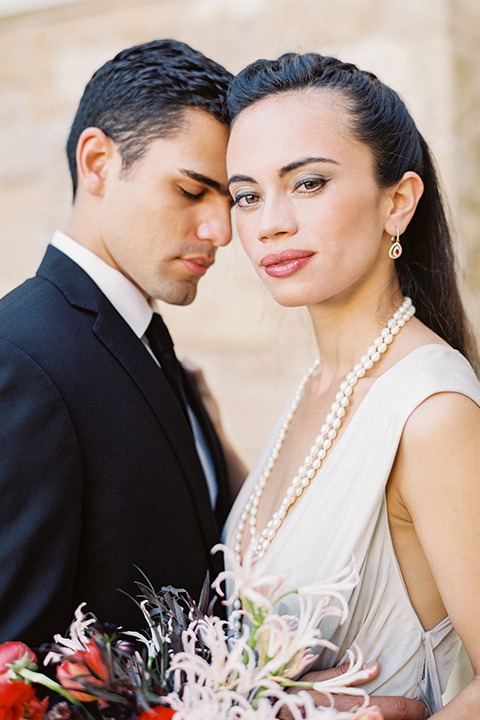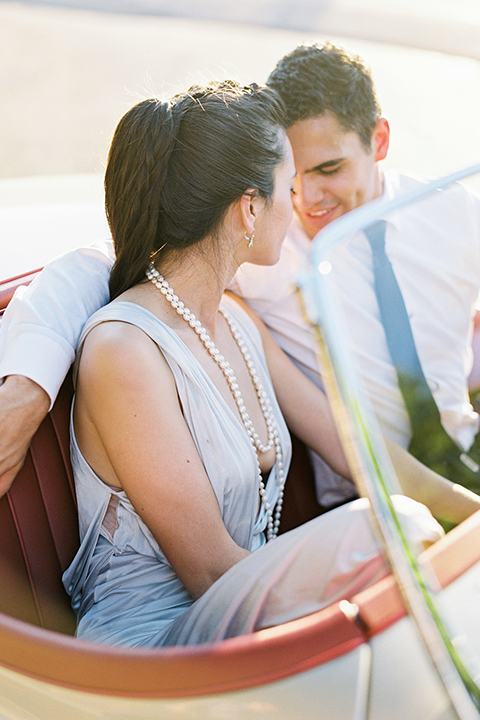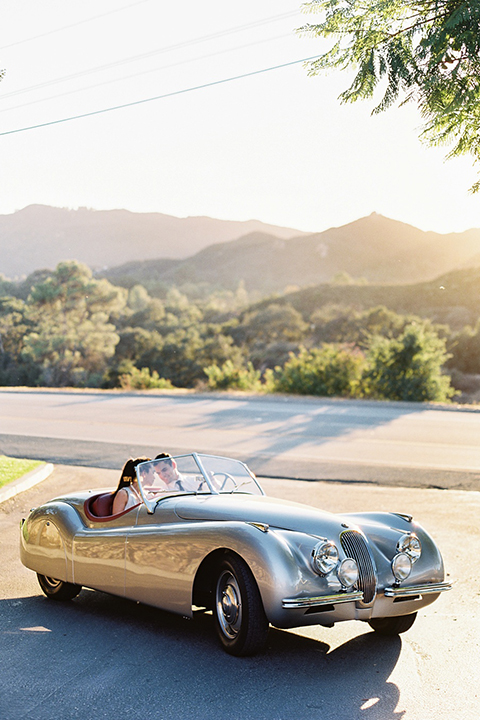 This shoot was also featured on 100 Layer Cake!
Wedding Gown: Gossamer | Hair + Makeup: Chateau Belle | Shoes: Bella Belle Shoes | Jewelry: 33 Jewels | Table + Chairs Rentals: Town & Country | Tabletop: Theoni Collection | Linens: La Tavola Linen | Cake: Lele Patisserie | Stationery: Chasing Linen
MOST READ BLOGS
AN ELOPEMENT WITH A VIEW ...

28 / 3 / 22 | Inspirational Photo Shoots

Venue: Merry Go Round Rock in Sedona, AZ Photography + Host: Jane in the Woods Planning + Design: Leilani Weddings Groom Style: Dark Green Not

ROMANTIC WINERY WEDDING

27 / 5 / 20 | Inspirational Photo Shoots

Venue: Ganite Lion Cellars
Photographer: Alyssa Rachel
Menswear: Light Grey Peak Lapel Suit with a purple long tie

ELEGANT OLIVE GROVE WEDDI...

18 / 6 / 20 | Inspirational Photo Shoots

Venue: Temecula Olive Oil Company
Photography: Mallory Dawn Photography
Menswear Style: Navy Shawl Lapel Tuxedo with a black bow tie

ETHEREAL FRENCH WEDDING A...

18 / 6 / 20 | Inspirational Photo Shoots

Venue: Vista Valley Country Club
Photography: Mallory Dawn Photography
Menswear Style: Navy Shawl Lapel Tuxedo with a black bow tie

CLASSIC EUROPEAN WEDDING ...

18 / 6 / 20 | Inspirational Photo Shoots

Venue: Kestrel Park
Photography: Kalina And Co.
Menswear Style: White Casablanca Dinner Jacket with a black bow tie

STUNNING YOSEMITE CLIFF W...

18 / 6 / 20 | Inspirational Photo Shoots

Venue: Yosemite National Park
Photography: Taylor'd Southern Events
Menswear Style: Grey Notch Lapel Suit with a matte black long tie

CHIC AL FRESCO SUMMER WED...

7 / 9 / 17 | Inspirational Photo Shoots

Venue: Rancho Las Lomas
Photography: Lily Tapia Photography
Menswear Style: Black Notch Lapel Tuxedo by Michael Kors with a grey bow ti

CITRUS AND CONFETTI WEDDI...

5 / 10 / 17 | Inspirational Photo Shoots

Venue: Howl Long Beach
Photography: Petersen Design & Photography
Menswear Style: Teal Carter Tuxedo by Ike Behar with black pants and

CITRUS & GREENERY ARTSY W...

24 / 10 / 17 | Inspirational Photo Shoots

Venue: Madera Kitchen
Photography: Sarah Mack Photography
Fashion Style: Women's Black Shawl Tuxedo

COTTAGES AT POLO RUN GLAM...

18 / 12 / 17 | Inspirational Photo Shoots

Venue: The Cottages at Polo Run
Photography: Jenny Quicksall Photography
Menswear Style: White with Black Shawl Lapel Tuxedo with a bla

BEACH BOHEMIAN ELOPEMENT ...

27 / 12 / 17 | Inspirational Photo Shoots

Venue: Ocean Institute
Photography: Ashley Paige Photography
Menswear Style: Light Grey Peak Lapel Suit by Ike Behar