Modern Laguna Beach Wedding with Two Grooms
Modern Laguna Beach Wedding with Two Grooms
6 / 28 / 18 | Inspirational Photo Shoots
Venue: Surf & Sand Resort
Event Planning + Design: Trina Schmidt Weddings
Photography: Lin & Jirsa
Menswear Style: Black Notch Lapel Tuxedo by Michael Kors with a black and white gingham plaid bow tie. Navy Shawl Lapel Tuxedo with a black bow tie
Write-up by Savannah Connolly:
When you combine a classic simple design with white and a little bit of sparkle, you get the perfect combination of modern glam. This sleek inspired shoot at the beachfront luxury Surf & Sand Resort, captured by Lin & Jirsa Photography features stylish creativity from Trina Schmidt Weddings & Special Events. From the combinations of all white modern floral textures from Flowers by Cina, to the diamond sparkle linens from Luxe Linens, all set with a lovely white banquette and chairs, and a show-stopping backdrop from Revelry Event Designers, this design will have everyone saying "I DO". Our debonair male couple had us drooling with perfection in their tailored suits from Friar Tux, and styling from Design Visage. And if theis oceanfront setting doesn't give you enough of that "wow" factor, this design couldn't be complete without just the right amount of sleekness in the custom invitations & menu cards from Honeycrisp Designs and the simple sweetness in the mini desserts from Its All About the Cake.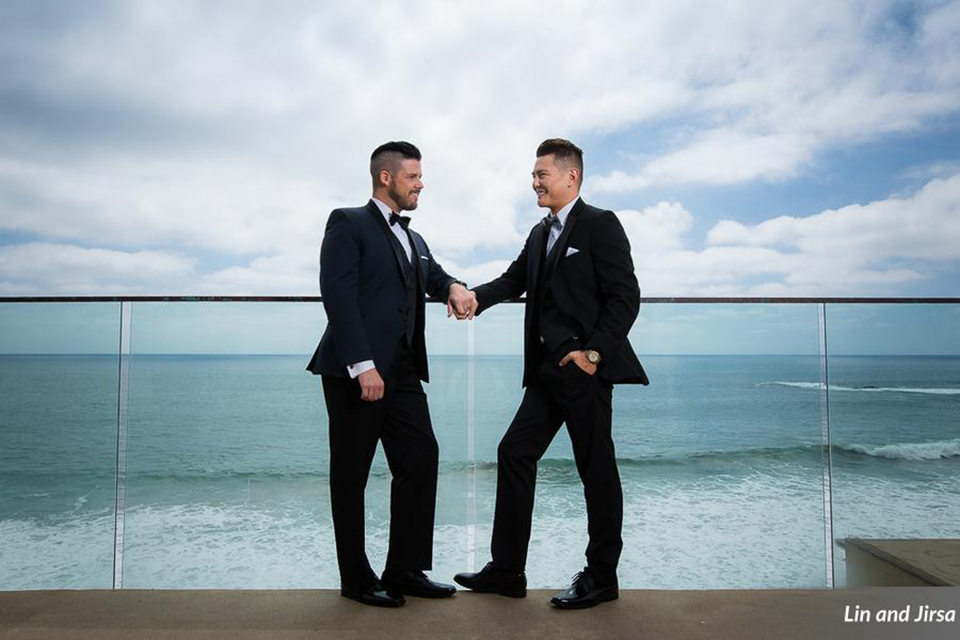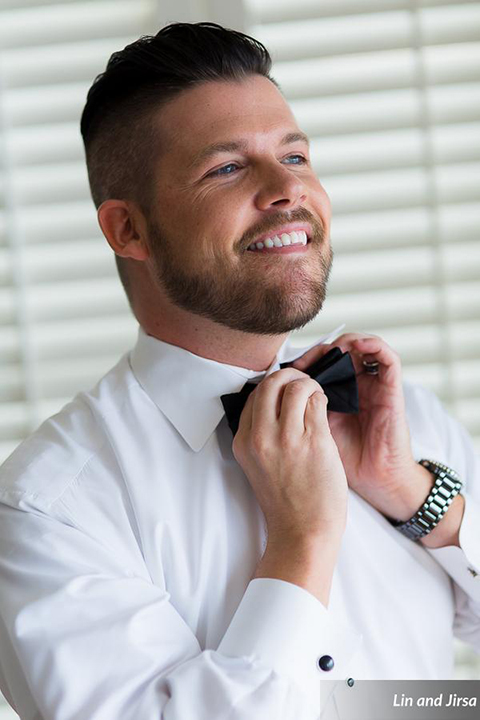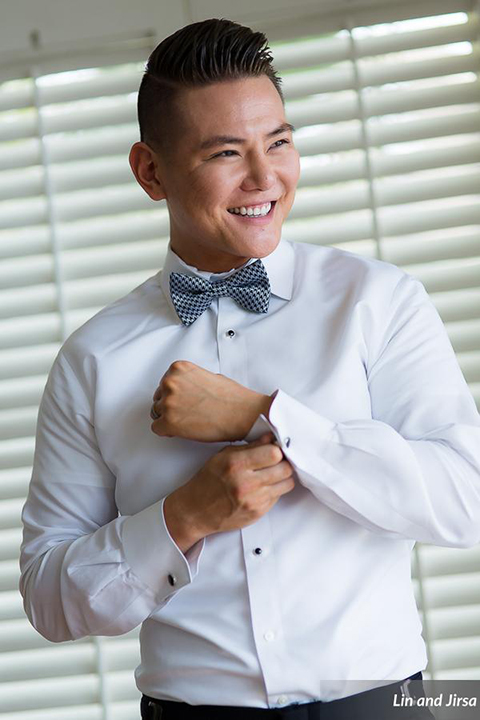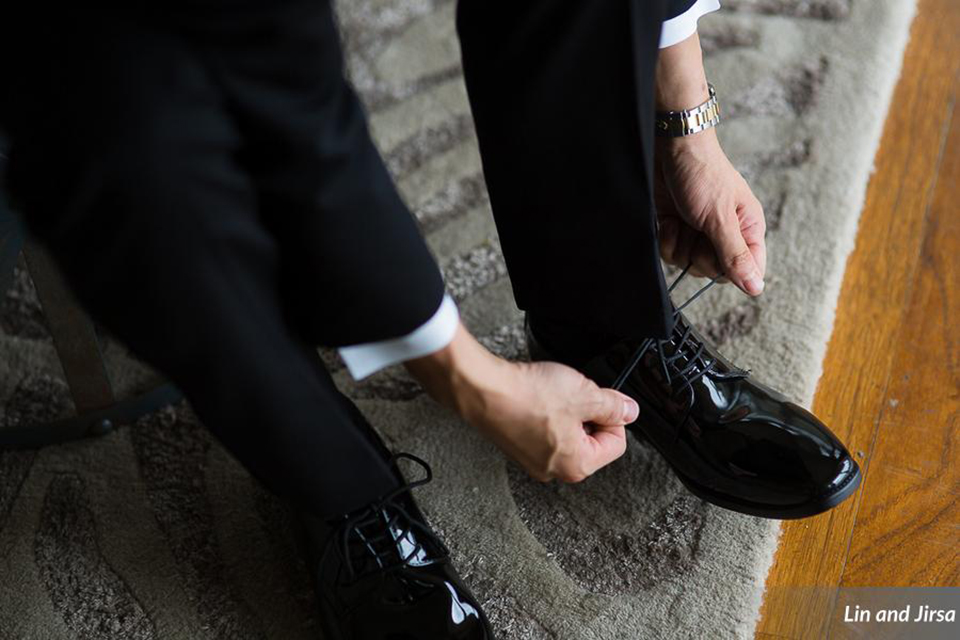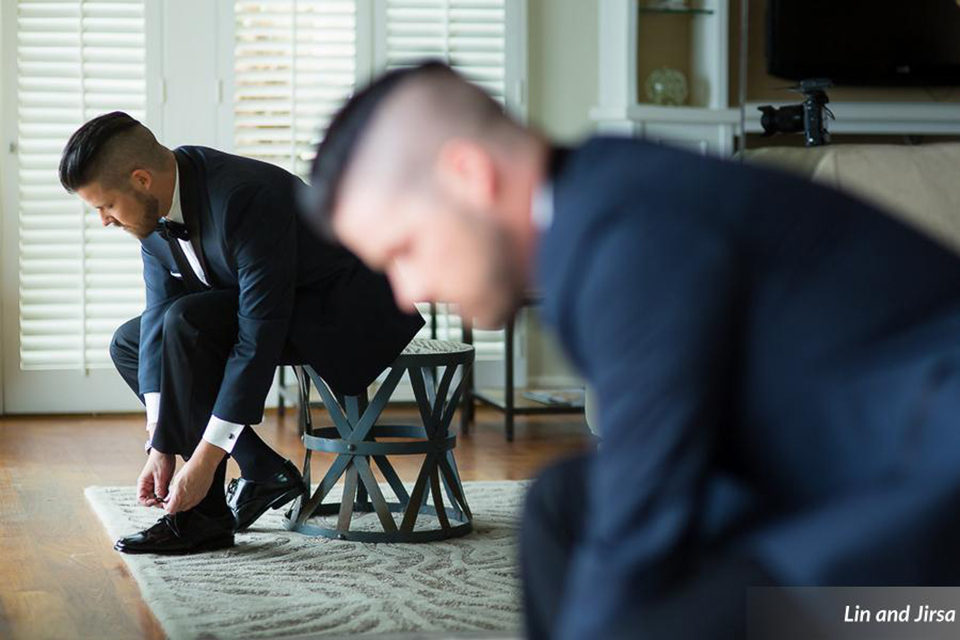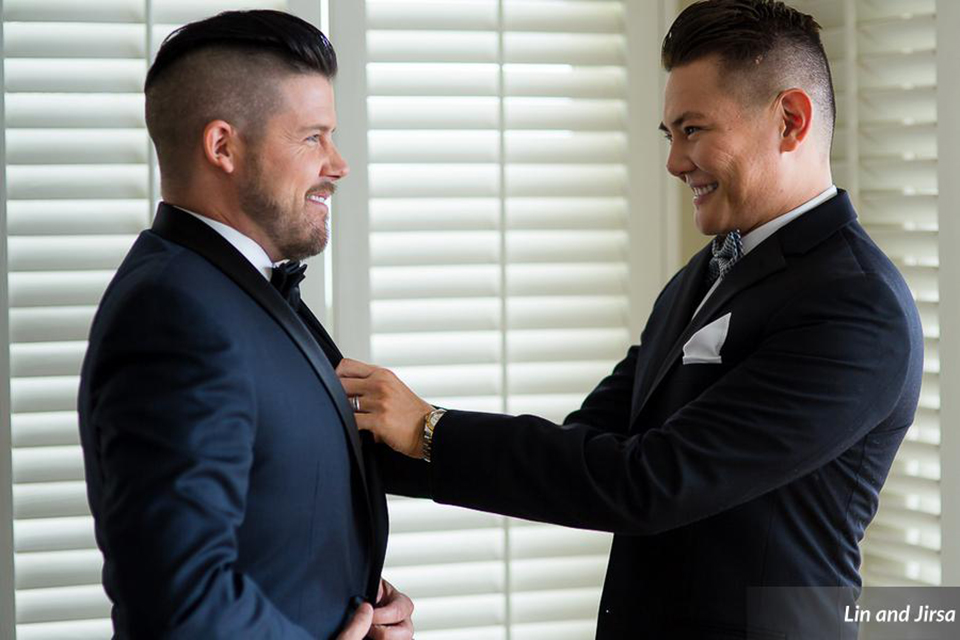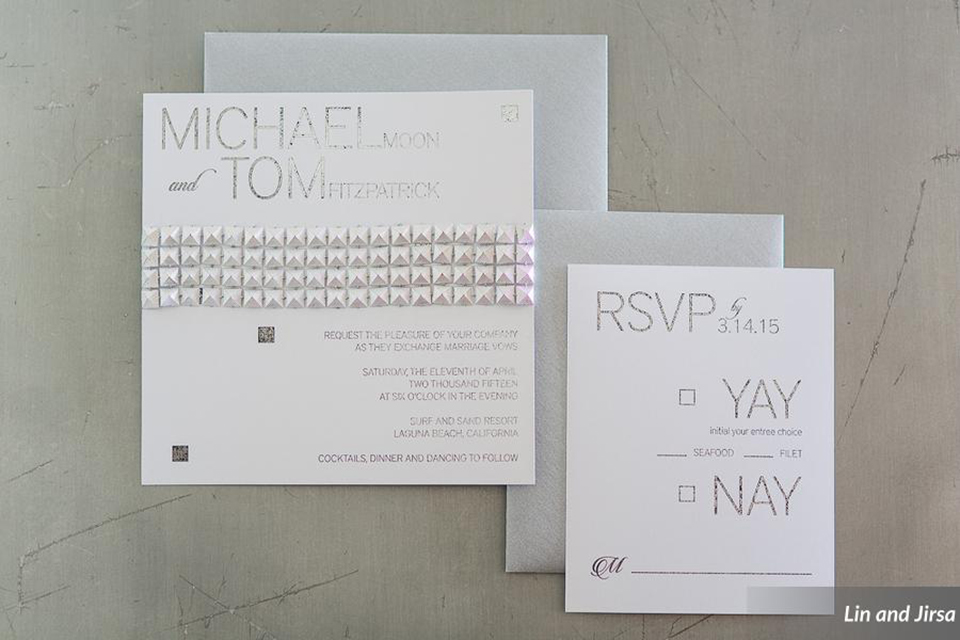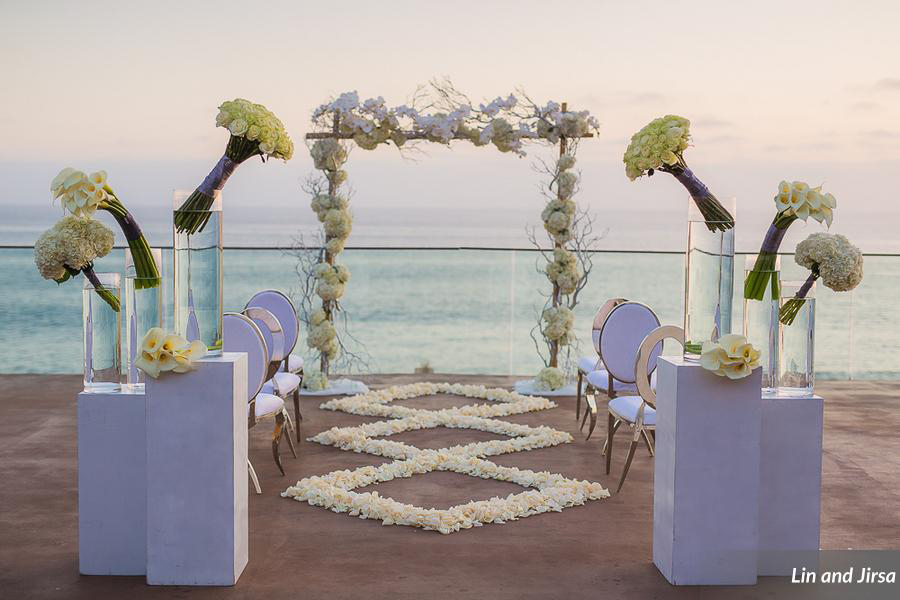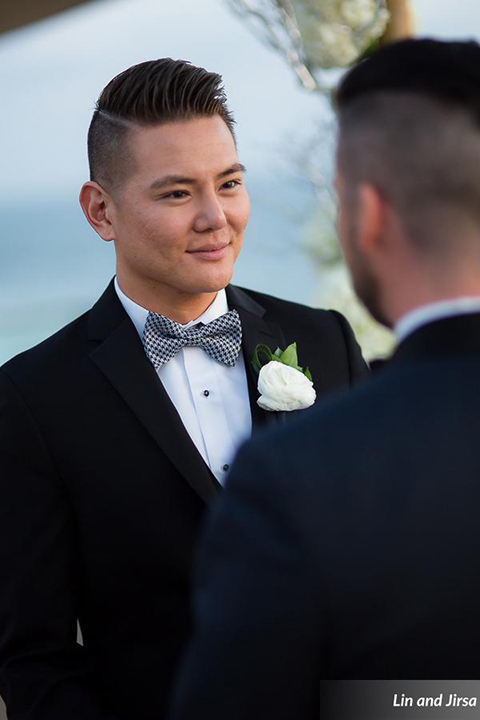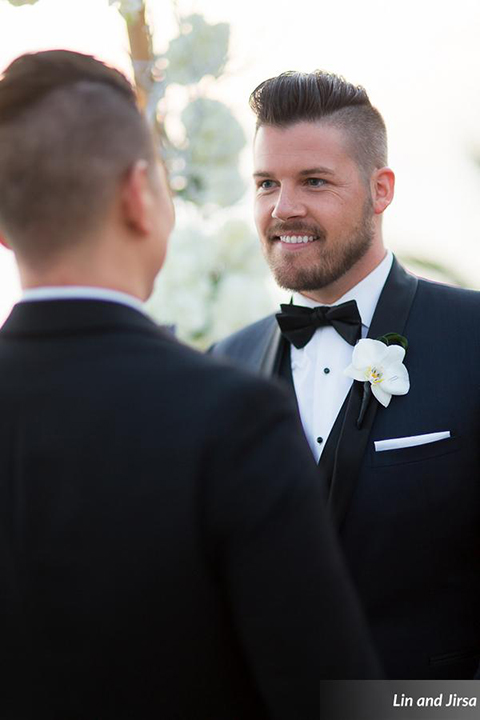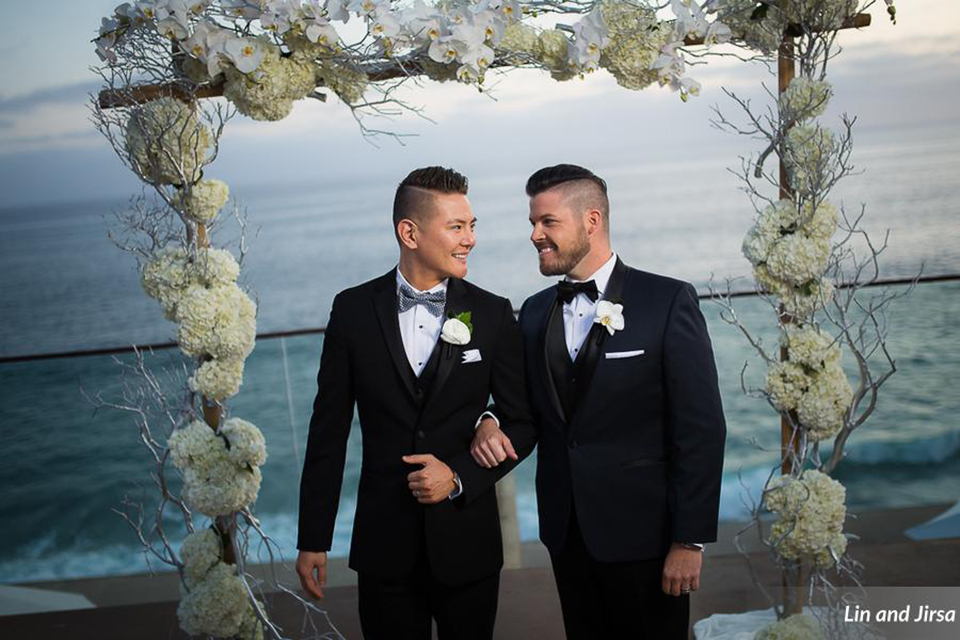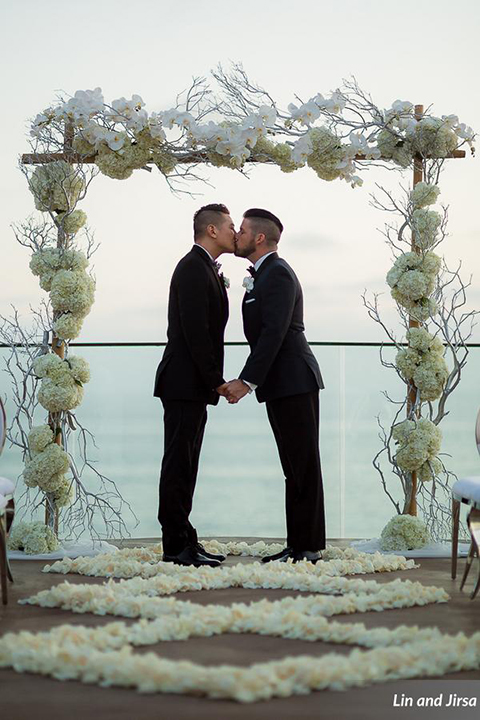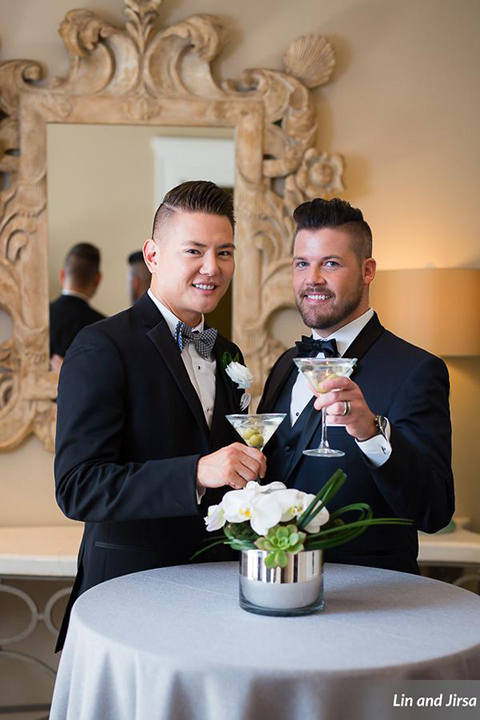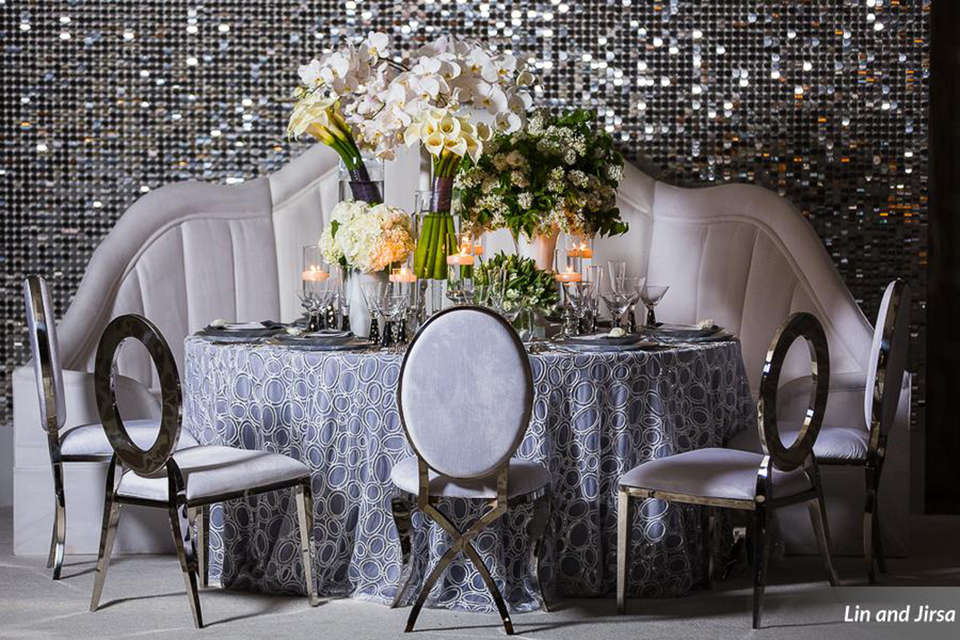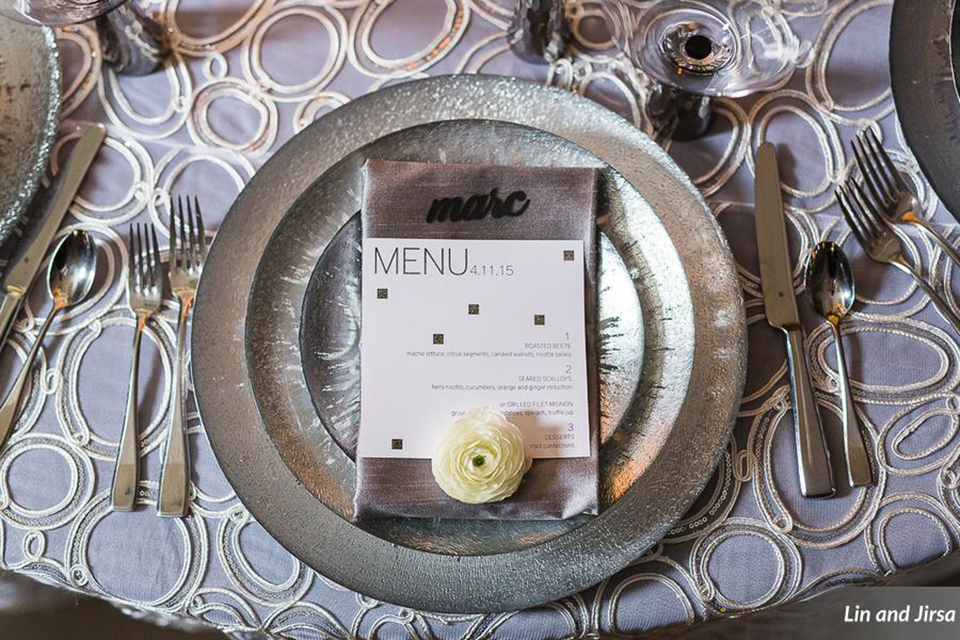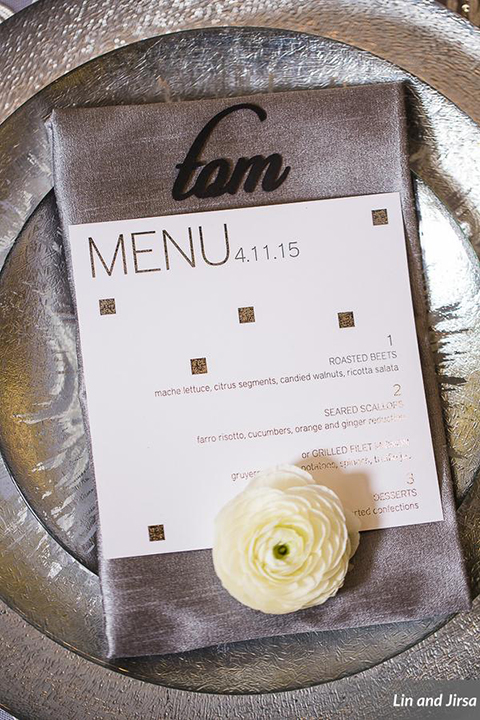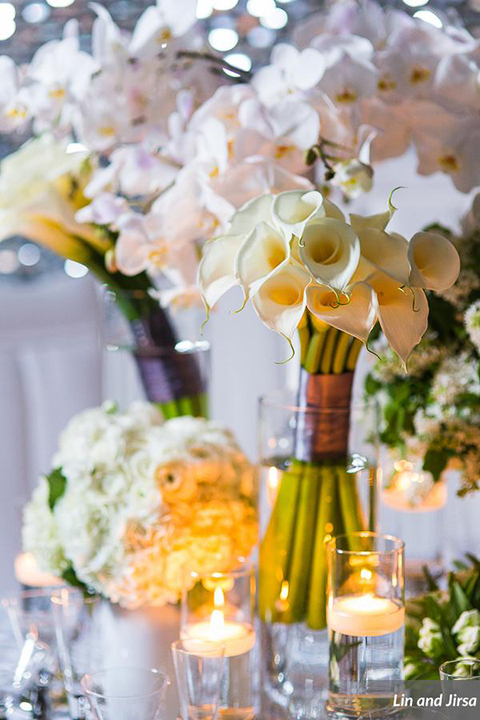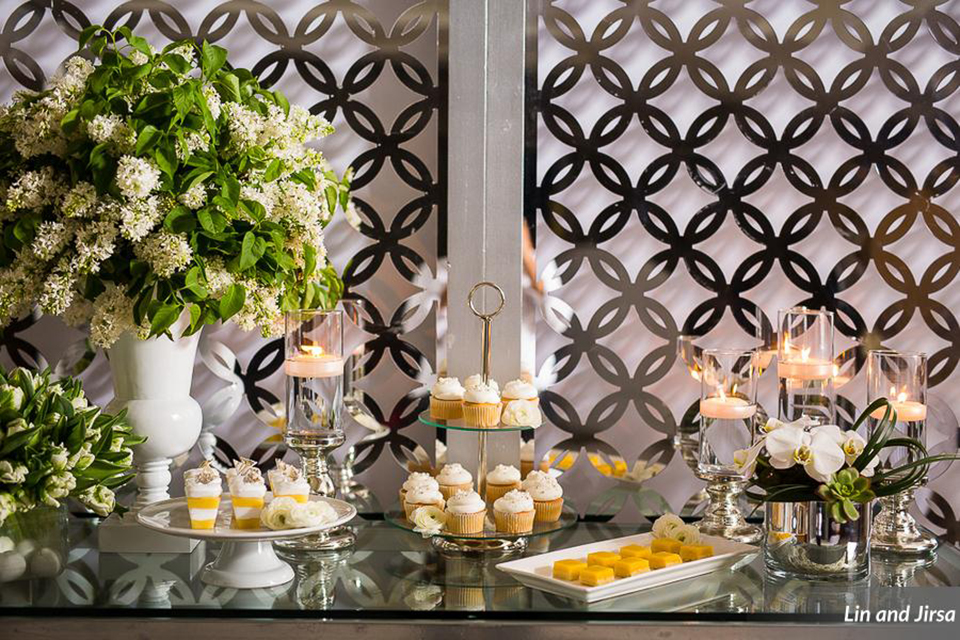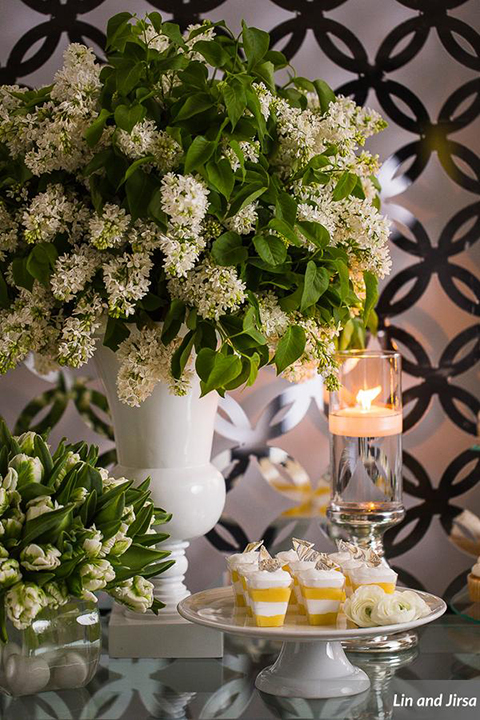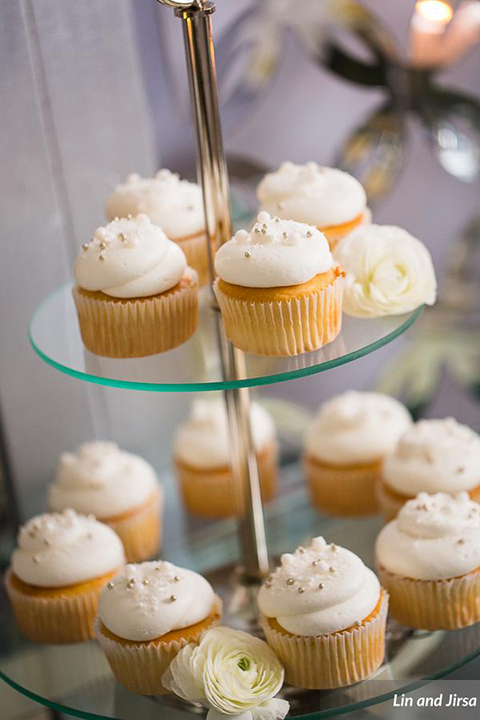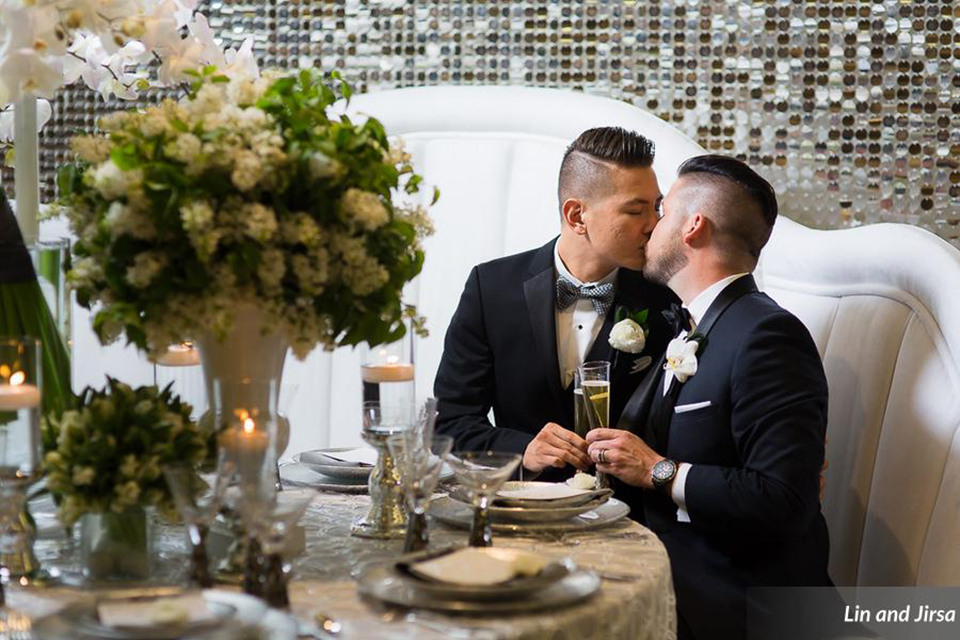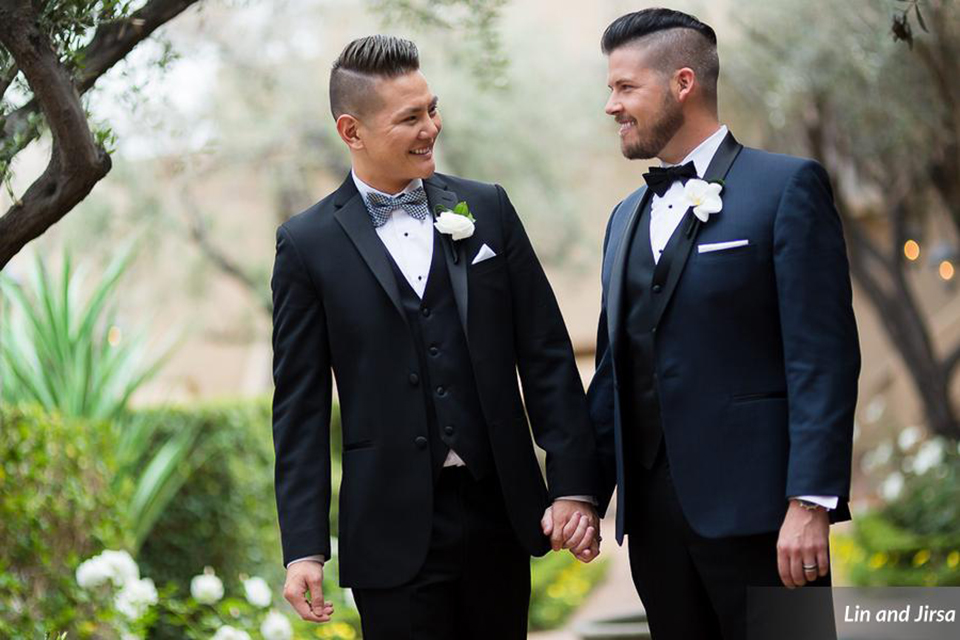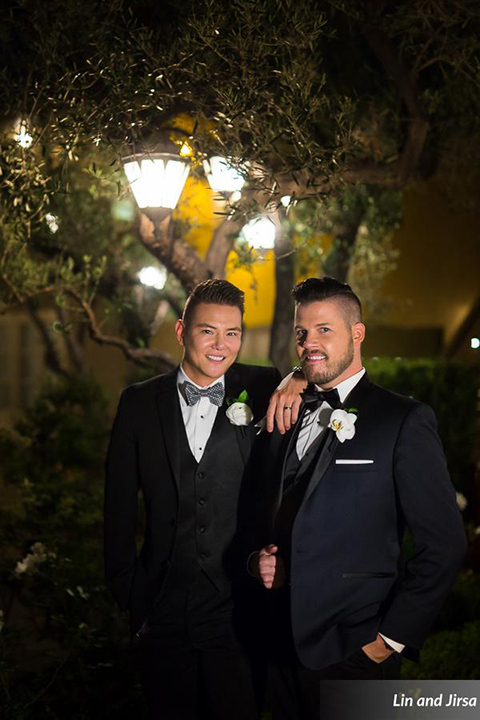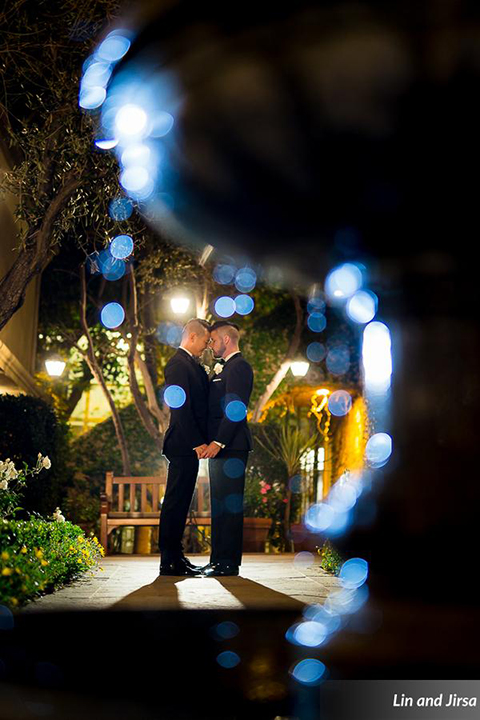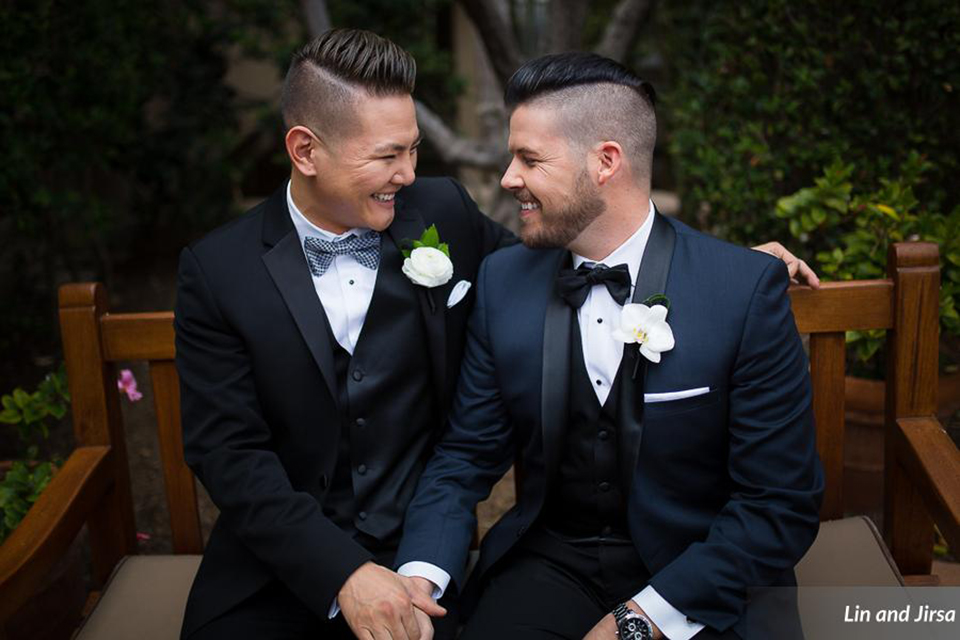 This shoot was also featured on H&H Weddings!
Florals: Flowers by Cina | Hair + Makeup: Design Visage | Accessories: Styled by TC | Rentals: Revelry Event Designers + Sweet Salvage Rentals + Signature Party Rentals + Classic Party Rentals | Linens: Luxe Linens | Cake + Desserts: It's All About The Cake | Lighting: Illuminated Events | Paper Goods: Honeycrisp Designs
MOST READ BLOGS
CHIC LOFT WEDDING WITH A ...

10 / 4 / 18 | Inspirational Photo Shoots

Venue: FD Photo Studio
Photography: Whiskers and Willow Photography
Menswear Style: Charcoal Notch Lapel Suit by Allure Men with a long

RED ROCKS DESERT ELOPEMEN...

1 / 2 / 19 | Inspirational Photo Shoots

Venue: Red Rock Canyon, Las Vegas NV
Photography: Heather Anderson Photography
Menswear Style: Charcoal Grey Suit by Allure Men with a

HAWAII INSPIRED WEDDING S...

8 / 3 / 18 | Inspirational Photo Shoots

Photography: Koman Photography
Florals: Lavenders Florals
Menswear Style: Navy Notch Lapel Suit with blush pink bow tie

MODERN ELEGANCE SAN FRANC...

12 / 3 / 18 | Inspirational Photo Shoots

Venue: Palace of Fine Arts San Francisco
Photography: Tenth and Grace
Menswear Style: Black Shawl Lapel Tuxedo with a black bow tie

RETREAT MALIBU SECRET GAR...

20 / 3 / 18 | Inspirational Photo Shoots

Venue: Retreat Malibu
Photography: Wisteria Photography
Menswear Style: Tan Notch Lapel Suit with a long floral tie

A ROMEO AND JULIET INSPIR...

29 / 3 / 18 | Inspirational Photo Shoots

Venue: Sunstone Winery
Photography: Kurt Boomer
Menswear Style: Charcoal Notch Lapel Tuxedo by Michael Kors with a black bow tie

ROMANTIC WINERY WEDDING

27 / 5 / 20 | Inspirational Photo Shoots

Venue: Ganite Lion Cellars
Photographer: Alyssa Rachel
Menswear: Light Grey Peak Lapel Suit with a purple long tie

ELEGANT OLIVE GROVE WEDDI...

18 / 6 / 20 | Inspirational Photo Shoots

Venue: Temecula Olive Oil Company
Photography: Mallory Dawn Photography
Menswear Style: Navy Shawl Lapel Tuxedo with a black bow tie

ETHEREAL FRENCH WEDDING A...

18 / 6 / 20 | Inspirational Photo Shoots

Venue: Vista Valley Country Club
Photography: Mallory Dawn Photography
Menswear Style: Navy Shawl Lapel Tuxedo with a black bow tie

CLASSIC EUROPEAN WEDDING ...

18 / 6 / 20 | Inspirational Photo Shoots

Venue: Kestrel Park
Photography: Kalina And Co.
Menswear Style: White Casablanca Dinner Jacket with a black bow tie

STUNNING YOSEMITE CLIFF W...

18 / 6 / 20 | Inspirational Photo Shoots

Venue: Yosemite National Park
Photography: Taylor'd Southern Events
Menswear Style: Grey Notch Lapel Suit with a matte black long tie