Modern Industrial Wedding
Modern Industrial Wedding
7 / 19 / 17 | Inspirational Photo Shoots
Venue: Smashbox Studios
Planning + Design: Rheefined Company
Photography: Vitae Weddings
Menswear Style: Black Notch Lapel Tuxedo by Michael Kors with a black bow tie
We are obsessed with this industrial themed wedding at Smashbox Studios! The mixture of organic materials such as wood and metal next to the clean lines and geometric shapes make the look so unique. We are especially loving the exposed hanging light bulbs throughout the ceremony and reception for lighting.
The bride wore two stunning dresses that have a very similar style in texture. Her first dress shown is a tulle ballgown with pearl and crystal florettes creating a fun abstract pattern on the dress. Her second dress was an A-line style with the same pattern, yet with a more dramatic bottom where the dress is see through at the knee. Both looks are perfect for the industrial theme of the wedding, by creating soft and dramatic lines.
The groom wore our perfectly tailored Michael Kors Tuxedo for a classic groom's style in the modern industrial venue. This designer tuxedo has a notch lapel and sleek lines, paired this a black satin bow tie for a traditional look. We love the way this tuxedo fits and makes any groom or groomsmen look like a celebrity on the red carpet. Thank you Smashbox Studios and all our fabulous vendors for allowing us to be a part of this fun styled shoot!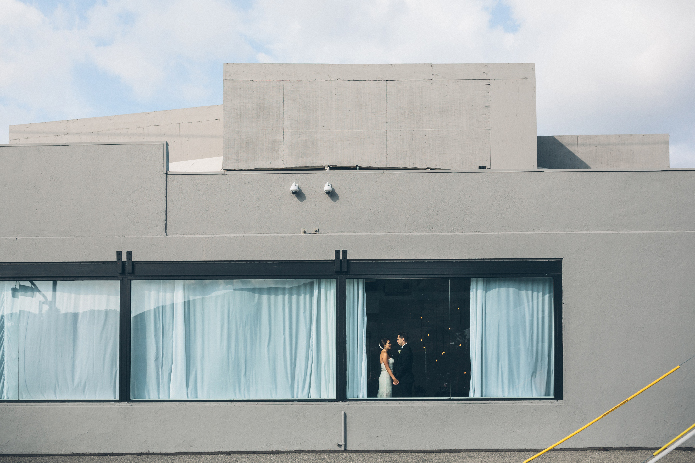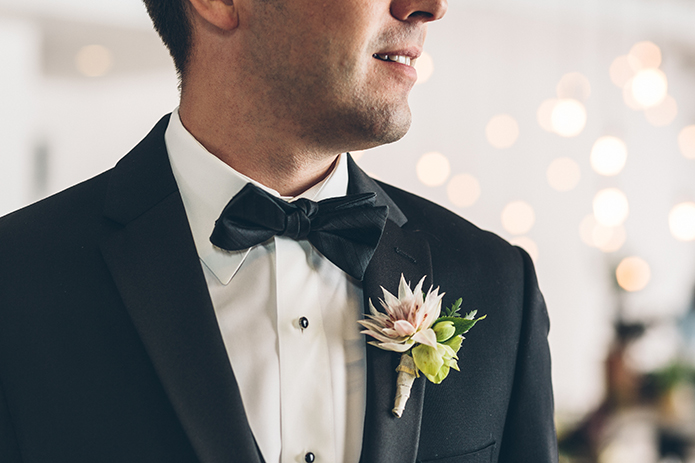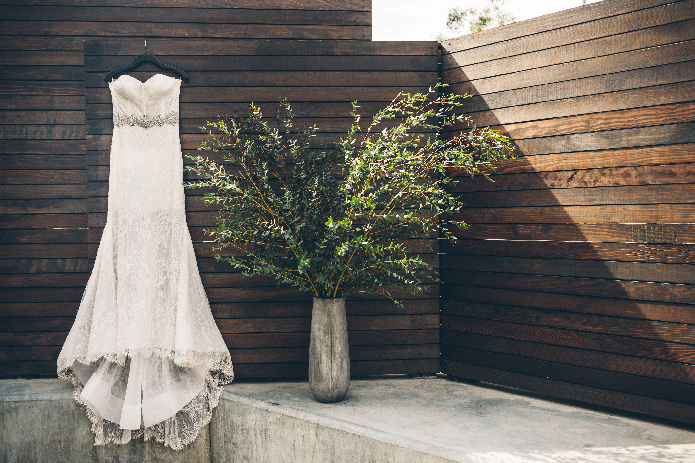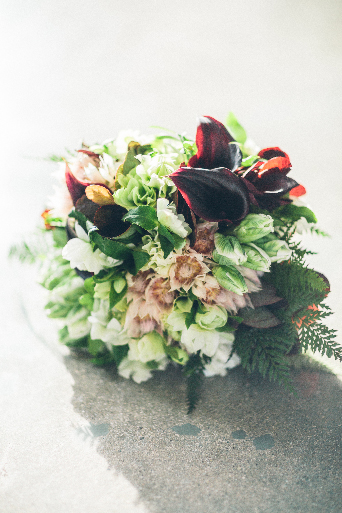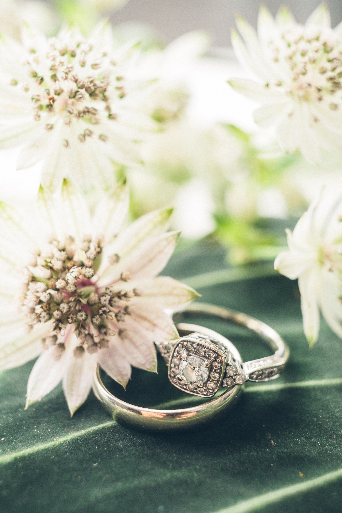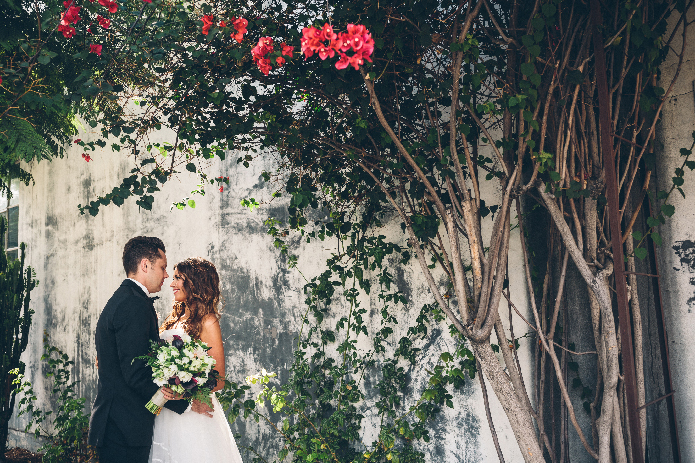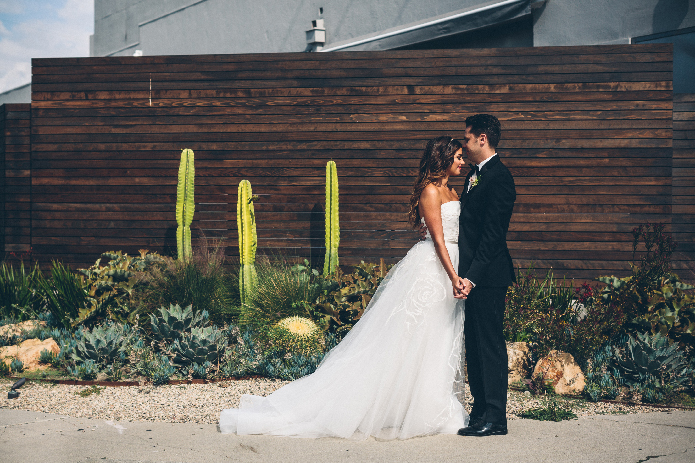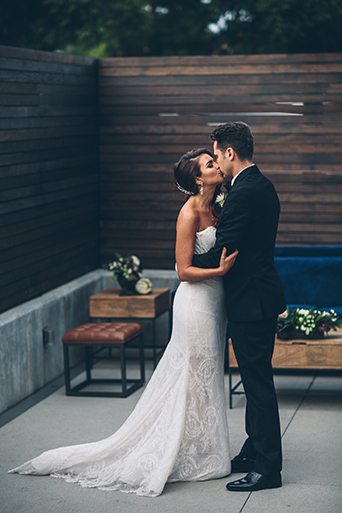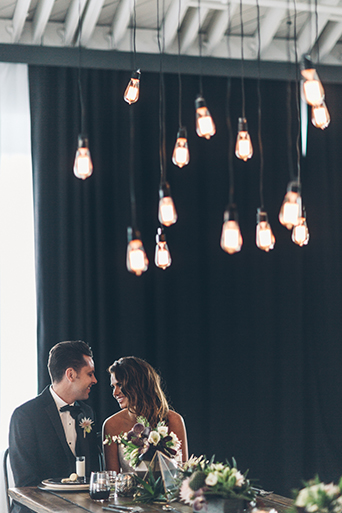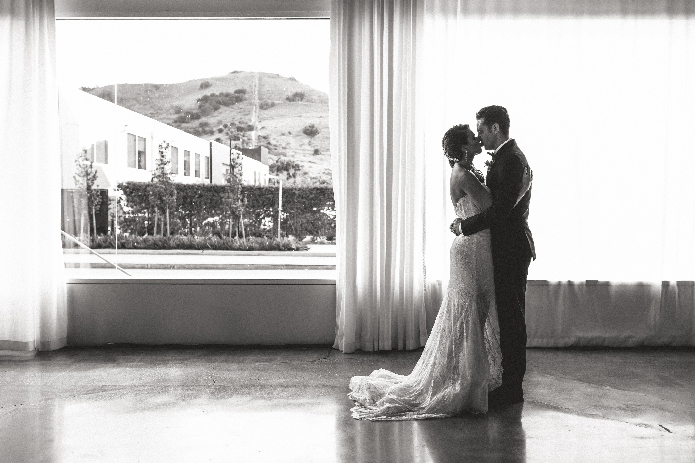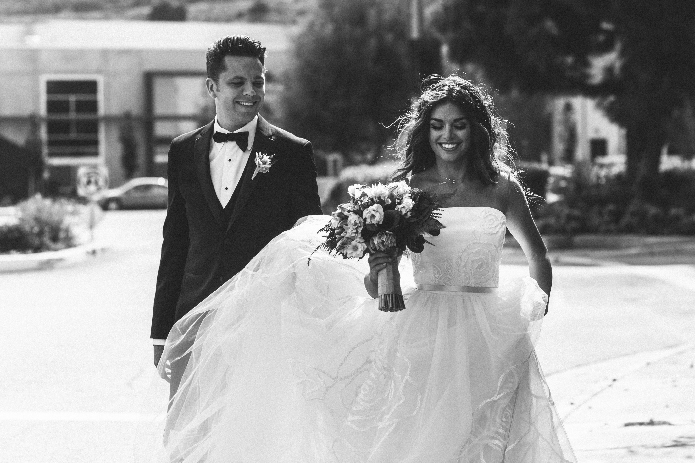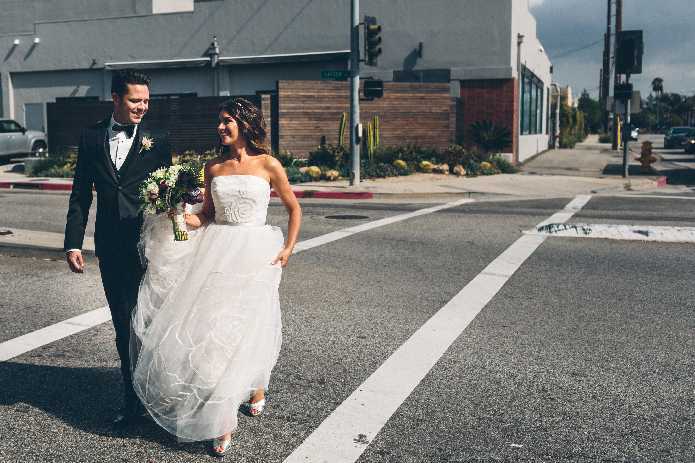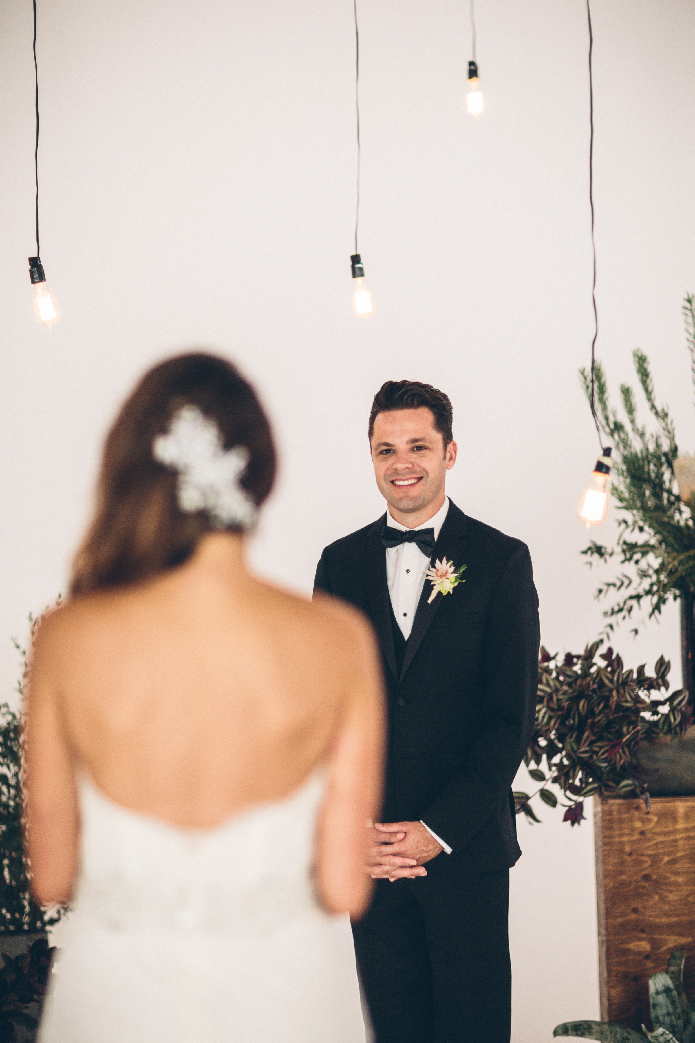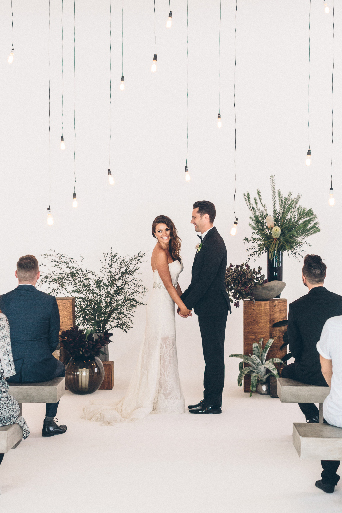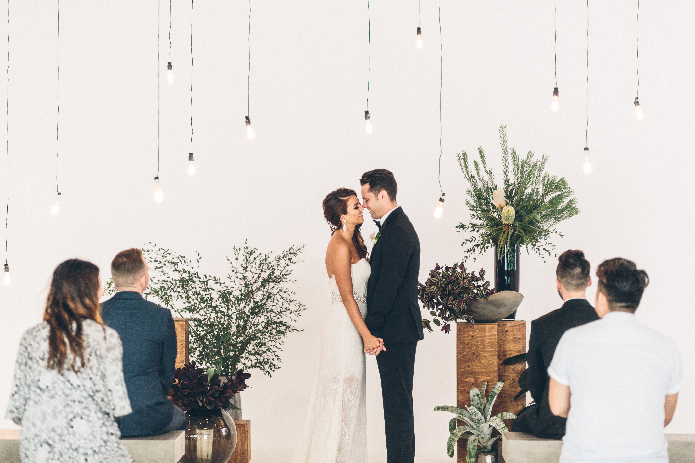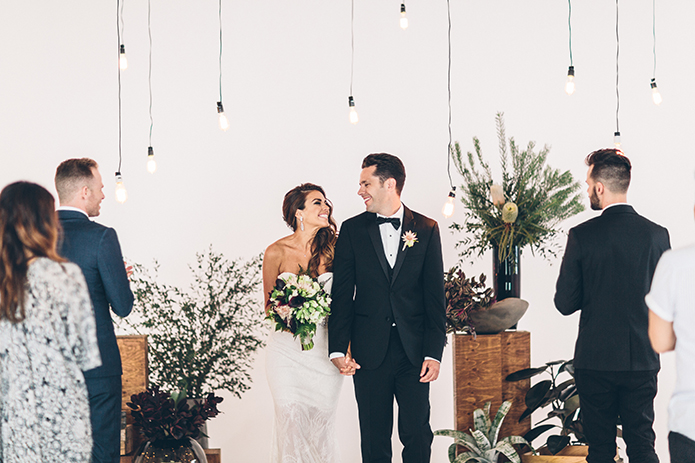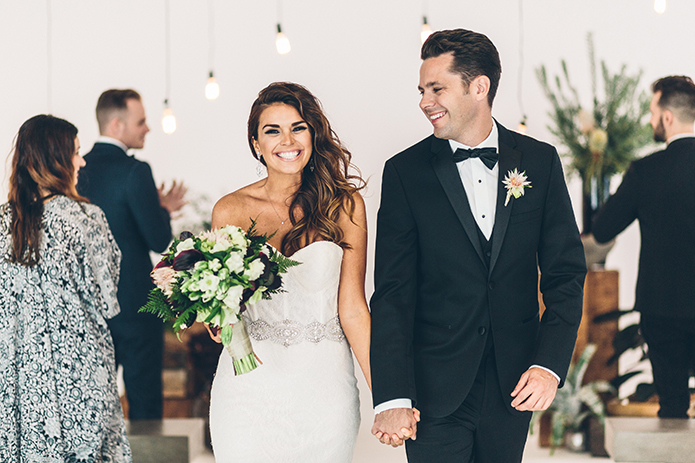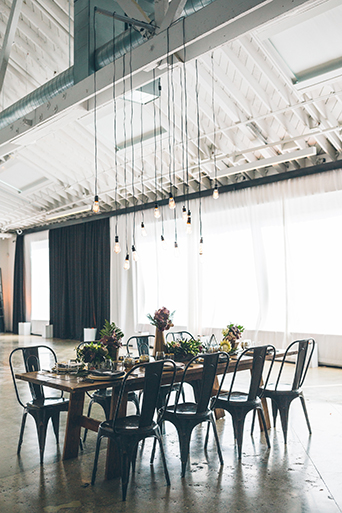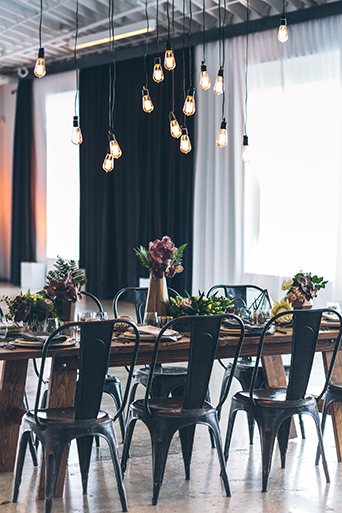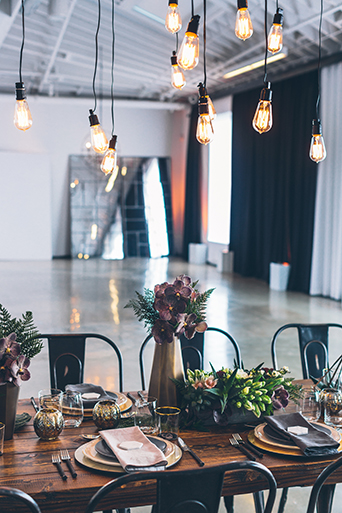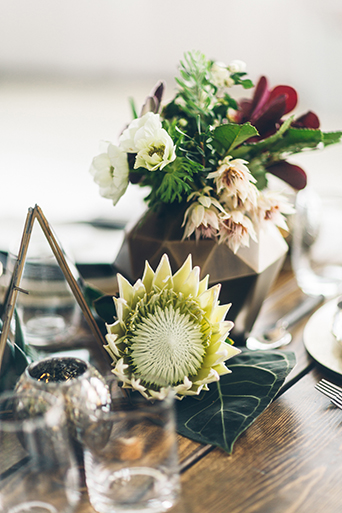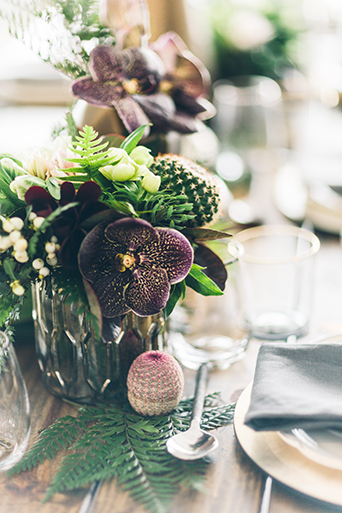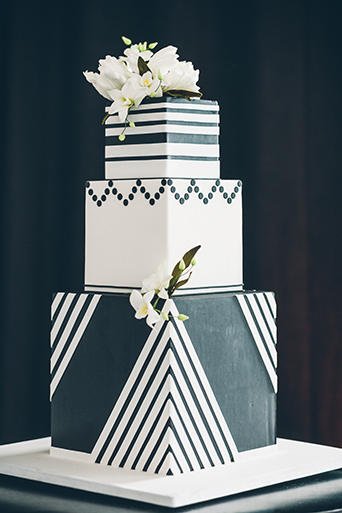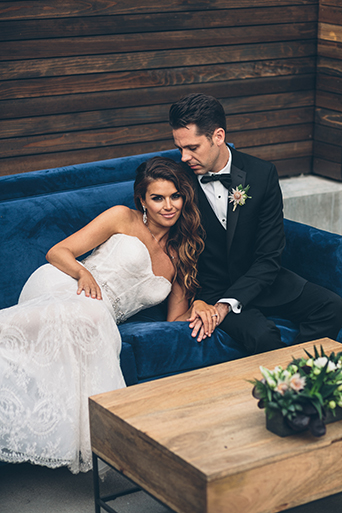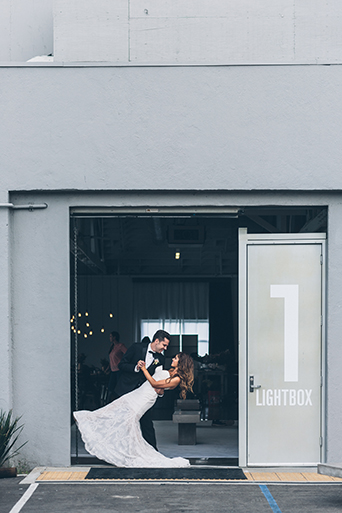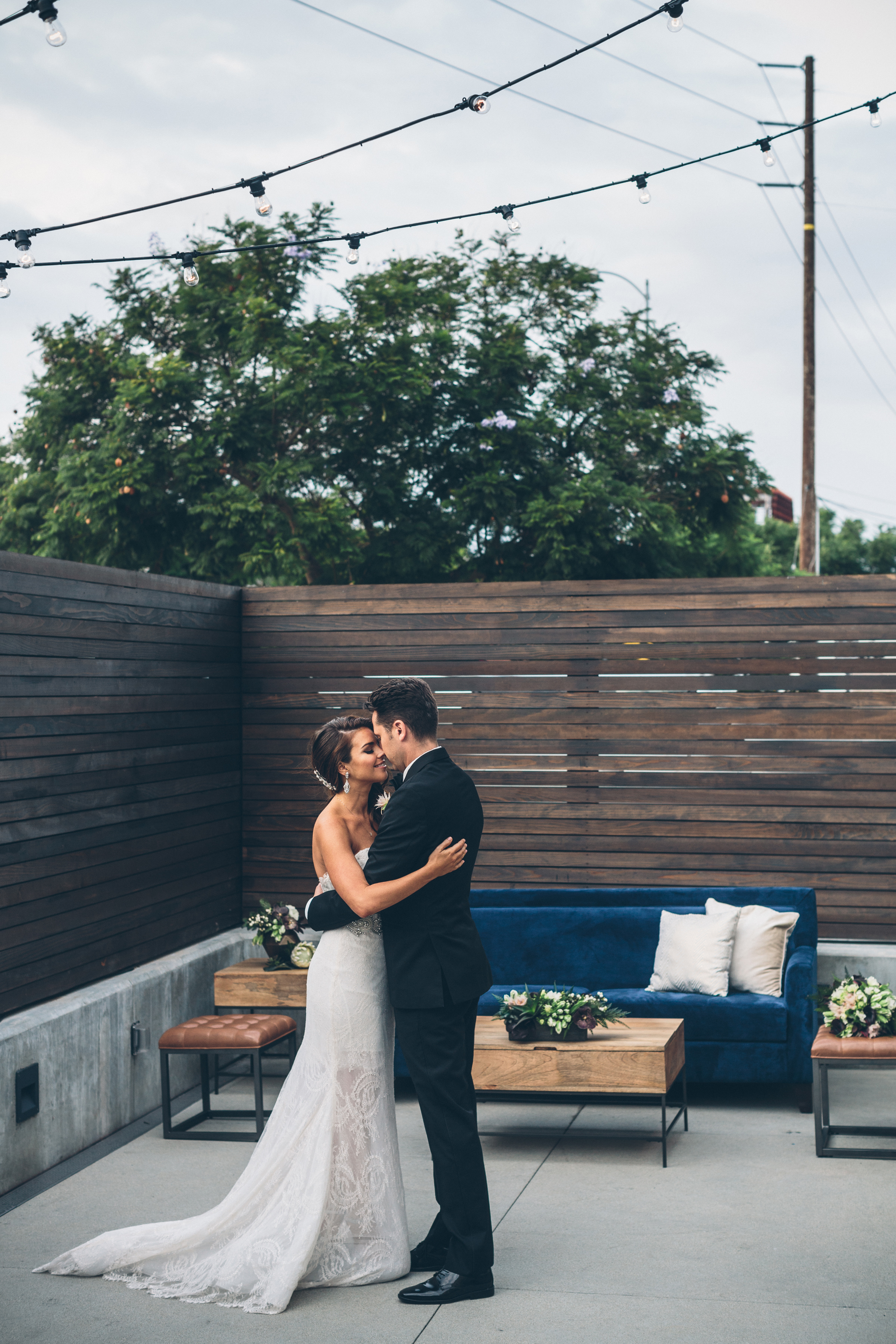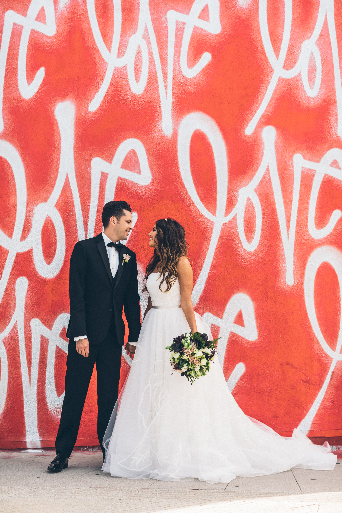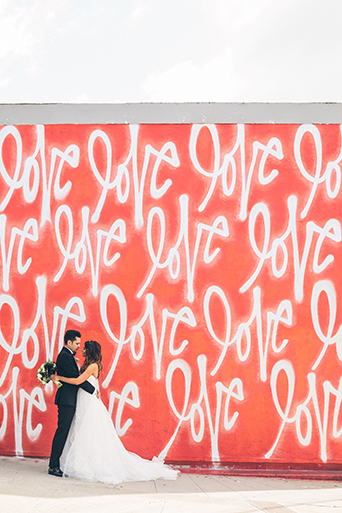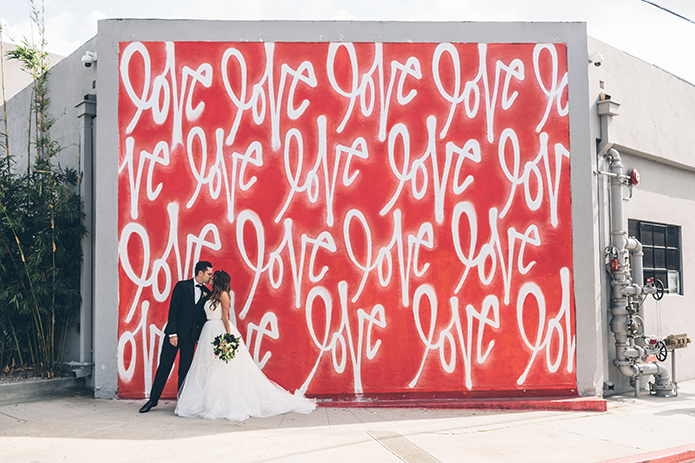 PR: The Little Gray Book | Florals: Fiore Designs | Catering: Made by Meg Catering | Rentals: Choura Event Rentals | Bridal Gown + Accessories: JLM Couture | Lighting: Lighten Up Inc. | Hair + Makeup: Make-Up Therapy | Paperweight Favors: /Shippe | Cake: James Rosselle
MOST READ BLOGS
URBAN STYLED LESBIAN WEDD...

25 / 9 / 17 | Inspirational Photo Shoots

Photography: Simply Adri Photography
Event Styling + Florals: La Rosa Que Crecio + Play Grnd
Fashion Style: Women's Black Shawl Tuxedo

ICE BLUE AND CREAM COLORE...

2 / 11 / 17 | Inspirational Photo Shoots

Venue: Rancho Las Lomas
Photography: Dennis Roy Coronel
Menswear Style: Cobalt Notch Lapel Suit with a long light blue striped tie

BEACH BOHEMIAN ELOPEMENT ...

27 / 12 / 17 | Inspirational Photo Shoots

Venue: Ocean Institute
Photography: Ashley Paige Photography
Menswear Style: Light Grey Peak Lapel Suit by Ike Behar

JOSHUA TREE GLAMOROUS DES...

23 / 7 / 18 | Inspirational Photo Shoots

Venue: The Ruin Venue
Photography: Mink Photography + Heather Anderson Photography
Menswear Style: Black Notch Lapel Tuxedo by Michael

MODERN INDUSTRIAL WEDDING...

6 / 9 / 18 | Inspirational Photo Shoots

Venue: Sandbox
Event Planning + Design: Nicole Manalo Events
Photography: Celina Kenyon Photography
Menswear Style: Cobalt Bl

NATURE INSPIRED GRAND CAN...

22 / 5 / 17 | Inspirational Photo Shoots

Event Design: Deanna Nash Events
Photography: The Argus Image
Menswear Style: Slate Blue Notch Lapel Suit with a long silver tie

WOODLAND BOHEMIAN WEDDING

17 / 5 / 17 | Inspirational Photo Shoots

Coordination: Jenne Chanthaboury
Photography: Lin and Jirsa
Menswear Style: Gray Notch Lapel Suit with a long floral tie

PARK HYATT AVIARA BLACK T...

17 / 5 / 17 | Inspirational Photo Shoots

Venue: Park Hyatt Aviara
Photography: Evelyn Molina Photography
Menswear Style: Black Michael Kors Notch Lapel Tuxedo with a black bow

COLORFUL BOHEMIAN STYLE W...

16 / 5 / 17 | Inspirational Photo Shoots

Venue: Sherwood Country Club
Photography: Lucas Rossi Photography
Menswear Style: Navy Shawl Lapel Tuxedo with a black faux leather b

RUSTIC ROMANCE WEDDING

16 / 5 / 17 | Real Weddings

Venue: Villa San Juan Capistrano
Photography: Katelin Wallace Photography
Menswear Style: Navy Shawl Lapel Tuxedo with a black bow tie

HOW TO STYLE A WOMEN'S TU...

9 / 5 / 17 | Inspirational Photo Shoots

Venue: Franciscan Gardens
Photography: Christine Bentley Photography
Attire: Women's Black Shawl Lapel Tuxedo