Custom Accessories
Custom Ties & Pocket Squares

You've found the perfect fabric, let us complete your vision with our custom accessory service!
Trying to match bridesmaid dresses? Want everyone in your wedding to wear a different patterned tie? Are you just not into what you are seeing at stores and you have a better idea? Our team of tailors have decades of menswear experience and can make custom bow ties, long ties and pocket squares for your wedding or event using the fabric of your choice.
Please note that this service is completed by our parent company, Friar Tux Shop, all contact is through the corporate office.
One-of-a-Kind Accessories
Long Ties

Bow Ties

Pocket Squares

Available in men's regular and long at a width of 2.5"
Available in kids' size
$35 each

Tie it yourself or order it pre-tied
Sizes for men and boys
$35 each

8"x8" with folded and sewn edges
One size fits all!
$15 each

*Ordering more than 20 of one item? Contact us for a quote based on your quantity.


You will be taken to a Friar Tux Shop (our parent company) order form


Requirements and details:
Please ship your fabric/order as early as possible; sewing may take up to 4 weeks after receiving your order.
Allowable fabric types: Cotton, linen, wool, polyester, rayon, poplin, twill, velvet, knits, denim chambray (avoid thick denim), faille, velveteen, lycra, and other sturdy fabrics that aren't excessively thick
Non-allowable fabrics: Elastine, lace (unless it has a solid backing), charmeuse, chiffon, georgette. Please send an email with a photo and description of your fabric if you are uncertain about whether or not it will work for your accessories
If you want to use a prints/patterns, small patterns tend to work best
Pin a tag with "top" written on it to your fabric to indicate preferred layout (diagonal is usually best for striped patterns)
Minimum length of fabric required per item (bolts are typically 48"-60" in height, either is fine):
Pocket Square- ¼ yard
Bow Tie – ¾ yard
Long Tie- ¾ yard
Fabric minimums are listed, you may include slightly more per piece. Please include approximately 25% additional yardage if your fabric has a very specific pattern orientation or if it needs to be cut on the diagonal.
If ordering multiple items, do not cut fabric for each item ordered.
Note: It is highly unlikely that your fabric will be damaged in the construction process but in the event that fabric is ruined, we will reimburse the amount listed on a receipt of up to $20/yard.
Still have questions? Please email accessories@friartux.com or call 714-635-4936.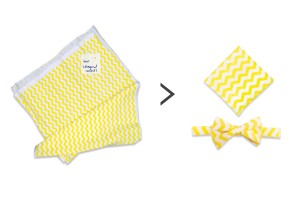 You will be taken to a Friar Tux Shop (our parent company) order form