And the Oscar Goes To....Velvet Tuxedos!
And the Oscar Goes To....Velvet Tuxedos!
2 / 26 / 19 | News and Events
Welcome to the 2019 Oscars menswear fashion recap, we'd say that the 91st Academy Awards red carpet delivered!
Black Velvet
Black velvet is just…cool. There's not much else to say! This jacket is subtle enough to be worn to any type of event, while still looking sophisticated and stylish. We love how Henry Golding wore his black velvet jacket with a traditional wing-tip shirt, a white waistcoat, and white bowtie. Creating the perfect mix of modern and traditional. Mario Lopez styled his look with minimal black accessories, making him look as dapper as ever. Where Joe Alwyn paired his velvet jacket with an oversized butterfly bow tie.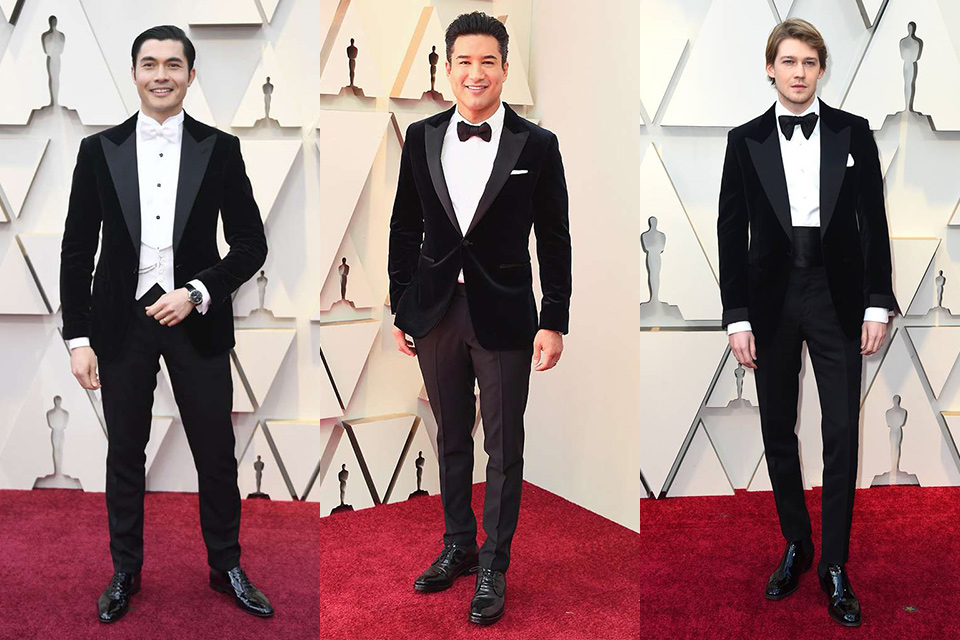 Getty Images | Wire Images | Invision
Shop the look here: Black Velvet Tuxedo

Blue Hues
We were LIVING for the blue velvet tuxedos that graced the red carpet! Chris Evan's slate blue coat was the perfect shade of dusty blue and chic grey. Pairing the look with black pants and a black bow tie just made the look come together so effortlessly. Michael B Jordan's royal blue jacket shimmered perfectly in the lights of the red carpet, his style never ceasing to amaze us! (Side note look for our own Royal Blue Velvet Jacket coming this Spring!) Then there was David Oyelowo's green/blue velvet tuxedo with the double-breasted scoop vest and chain clasp that was to die for! Trying to balance trendy and sophisticated can be hard at times, and David made it look perfectly easy.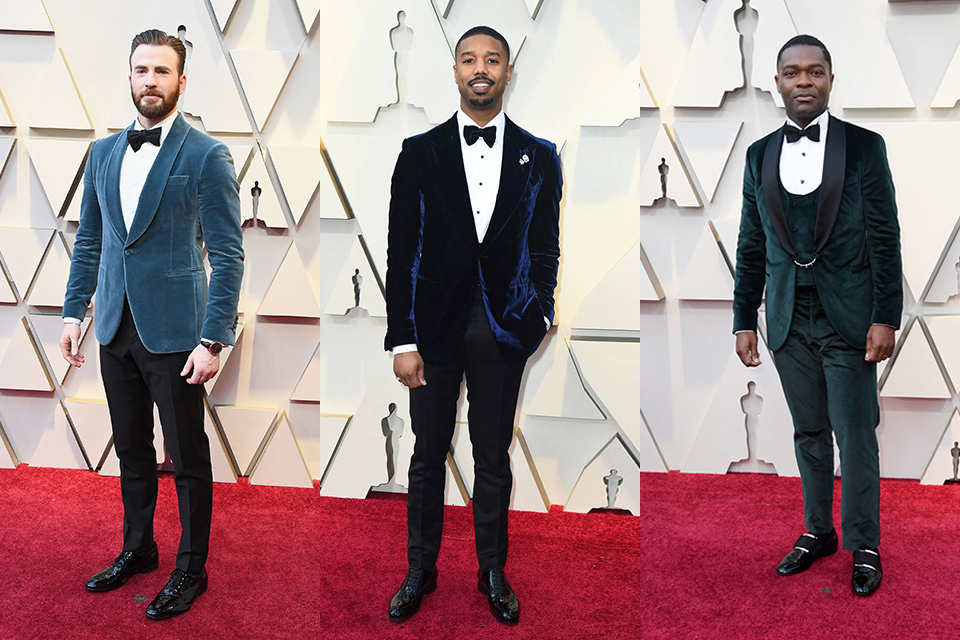 Getty Images | Invision | Getty Images

Real Men (and Aquamen) Wear Pink
We were totally blown away when we saw these stars take the risk of wearing Red and Pink on the red carpet. It was totally unexpected and original, and we were all about the moment! Stephan James wore this fitted red velvet tuxedo with a double-breasted vest paired with a butterfly red bow tie and white ankle boots. Where the Aquaman himself, Jason Mamoa, wore a light blush tuxedo with a black satin trim and let us not forget to mention the matching scrunchy! Rupert E. Grant looked dapper as ever in his deep cranberry velvet tuxedo with a black pant and black bowtie. His look was uber sleek and sophisticated like the leading man we is on screen.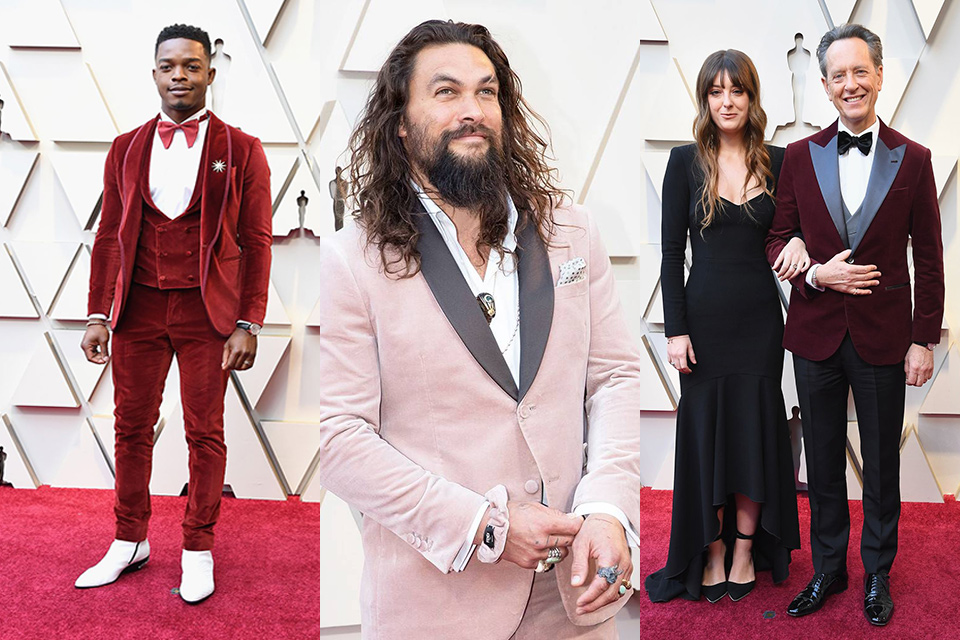 Getty Images | Getty Images | Invision

Ladies of the Red Carpet
We had to take a moment to give a round of applause to the women of the red carpet who adorned themselves in tuxedo inspired fashions! We loved their blend between masculine and feminine! Amy Poehler rocked it out with her wide legged pants and black ruffled shirt paired with a black tail coat jacket. Awkwafina sparkled her way into all our hearts with her blush tuxedo look. This monochrome dream was fun and flirty, while still bringing out her gorgeous quirky sense of style. Elsie Fisher wore a fun tuxedo look with a framed lapel, a jeweled button cover, and patent leather boots.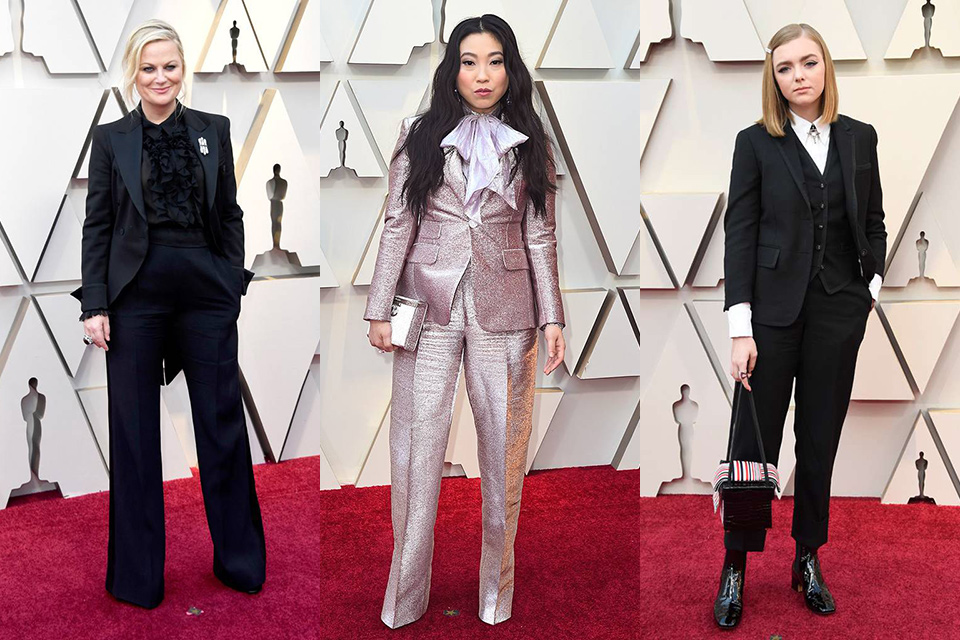 Getty Images | Invision | Getty Images
Shop the look here: Women's Tuxedo
MOST READ BLOGS
NATURE INSPIRED GRAND CAN...

22 / 5 / 17 | Inspirational Photo Shoots

Event Design: Deanna Nash Events
Photography: The Argus Image
Menswear Style: Slate Blue Notch Lapel Suit with a long silver tie

WOODLAND BOHEMIAN WEDDING

17 / 5 / 17 | Inspirational Photo Shoots

Coordination: Jenne Chanthaboury
Photography: Lin and Jirsa
Menswear Style: Gray Notch Lapel Suit with a long floral tie

PARK HYATT AVIARA BLACK T...

17 / 5 / 17 | Inspirational Photo Shoots

Venue: Park Hyatt Aviara
Photography: Evelyn Molina Photography
Menswear Style: Black Michael Kors Notch Lapel Tuxedo with a black bow

COLORFUL BOHEMIAN STYLE W...

16 / 5 / 17 | Inspirational Photo Shoots

Venue: Sherwood Country Club
Photography: Lucas Rossi Photography
Menswear Style: Navy Shawl Lapel Tuxedo with a black faux leather b

RUSTIC ROMANCE WEDDING

16 / 5 / 17 | Real Weddings

Venue: Villa San Juan Capistrano
Photography: Katelin Wallace Photography
Menswear Style: Navy Shawl Lapel Tuxedo with a black bow tie

HOW TO STYLE A WOMEN'S TU...

9 / 5 / 17 | Inspirational Photo Shoots

Venue: Franciscan Gardens
Photography: Christine Bentley Photography
Attire: Women's Black Shawl Lapel Tuxedo

2017 MET GALA BEST DRESSE...

2 / 5 / 17 | News and Events

The 2017 Met Gala theme was "Rei Kawakubo/Comme de Garcones: Art of the In-Betweens," check out how the celebs interpreted this on the red carpet

SAN FRANCISCO CITY HALL W...

1 / 5 / 17 | Inspirational Photo Shoots

Venue: San Francisco City Hall
Photography: Tenth & Grace
Menswear Style: Black Shawl Lapel Tuxedo with a black bow tie

BOHO CHIC VINEYARD WEDDIN...

14 / 3 / 17 | Inspirational Photo Shoots

Venue: Triunfo Creek Vineyards
Photography: Wisteria Photography
Menswear Style: Slate Blue Notch Lapel Suit with a long grey tie

LOVE STORY INSPIRED WEDDI...

13 / 3 / 17 | Inspirational Photo Shoots

Venue: Le Meridian Delfina Santa Monica
Photography: Anna Delores Photography
Menswear Style: Charcoal Gray Michael Kors Shawl Lapel Tu

CITY ENGAGEMENT PHOTOS IN...

10 / 3 / 17 | Inspirational Photo Shoots

Venue: The London House
Photography: Rosanna Hanson Photography
Menswear Style: Charcoal Gray Michael Kors Notch Lapel Tuxedo with a na