2019 Golden Globes Red Carpet
2019 Golden Globes Red Carpet
1 / 7 / 19 | News and Events
Last night the world got to be a part of the 2019 Golden Globes, a night where we honor those artists in film and television in a respectable manner. As well as gush and explode from excitement with fashion on the red carpet. Here is our best dressed and best fashion trends from last night golden night. Enjoy!
Classic Perfection:
There is nothing safe or boring about the classic tuxedo look. This look screams elegance and chivalry. It makes a statement in the most subtle of ways, because it is a gentleman's look. The classic black and white tuxedo look has been a staple in formalwear for centuries now, and we will always be on board with it! The key to this look is fit! Make sure you have your tux tailored to perfection, that allows you to look modern and sophisticated for years and years to come.
Take a look at all our black rental tuxedos to create your timeless attire!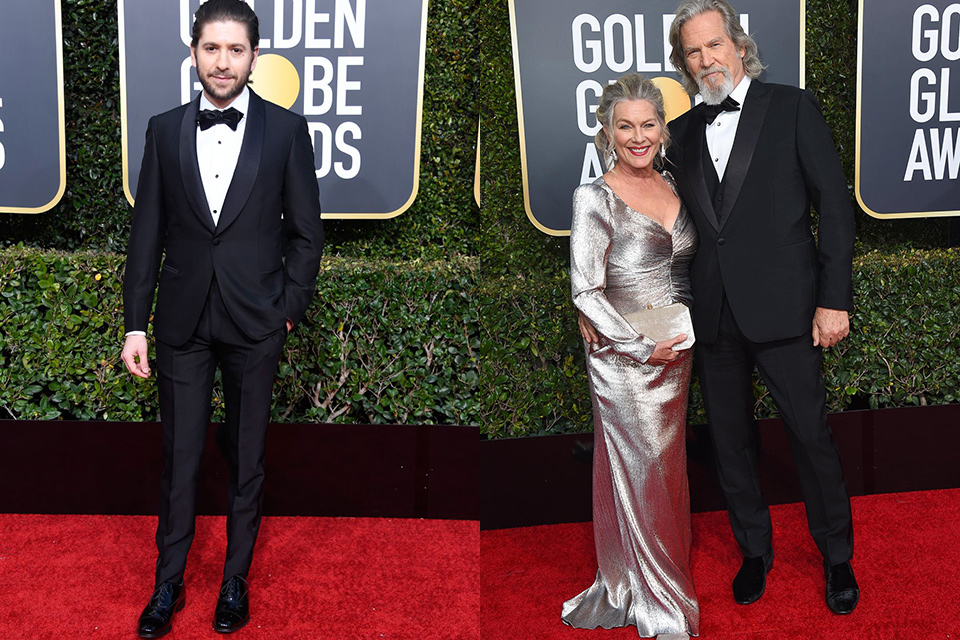 Photo Credit: Getty Images | Invision
Monochrome Dreams:
When it comes to a monochrome look you want to make sure that you play with different textures and tones. This allows your look to seem more dynamic and interesting. See how the satin of the lapel and neckwear are the same for all these leading men? That shine allows you to play up he subtle satin texture when keeping your shirt more matte. Another way to play up this look is with small patterns in the jacket or neckwear. This look is great for grooms, groomsmen, prom, or if you want to break the old-school rules of a black-tie event.
Take a look at all our black tuxedo to rent online to achieve this dreamy look!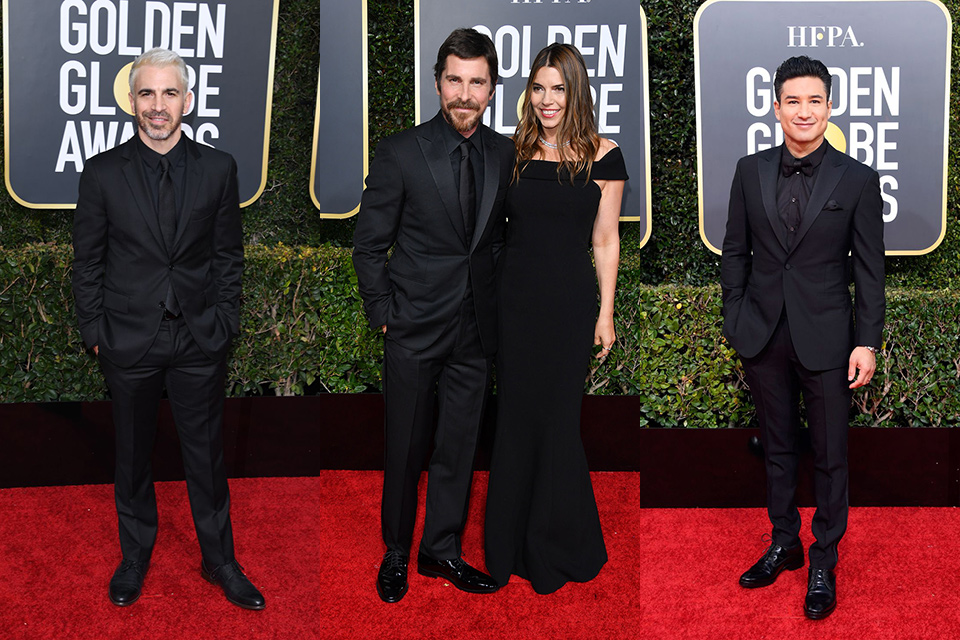 Photo Credit: Getty Images
Velvety Swag:
If you are looking for a style that will make it hard for your date to keep their hands off you, why not go for the soft fabric of velvet? This smooth style is bound to make you the epitome of style and class. Combining all the perfect fit of the classic tuxedo, and adding a vamped up fabric changes the game completely. We love the different colors of this style that graced the red carpet last night!
Did you know that we here at Stitch and Tie have our own velvet collection? Yes, we certainly do! Check out our velvet tuxedo coat to and bow ties to make your own look while shopping online.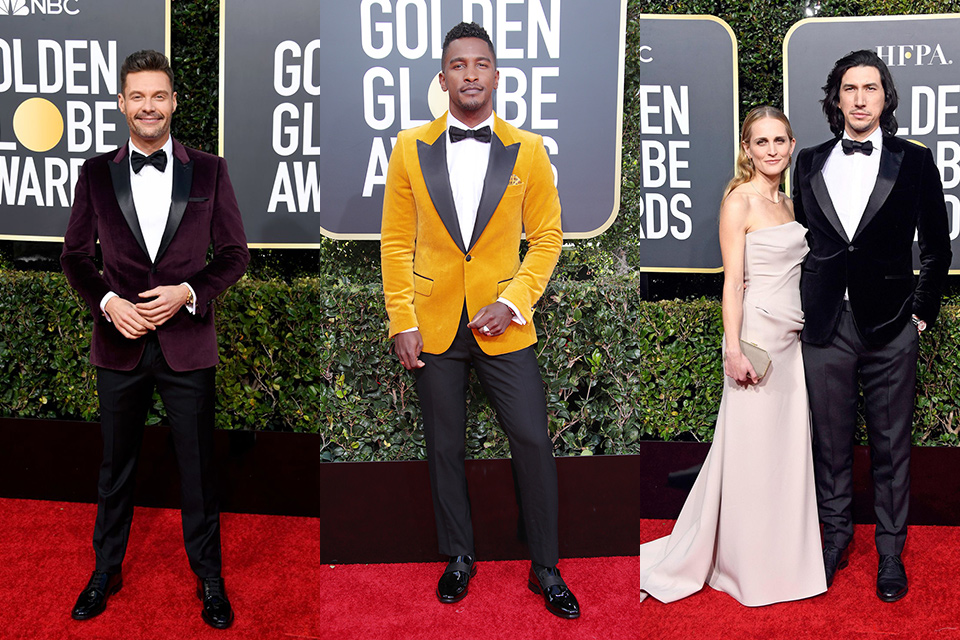 Photo Credit: Getty Images | Shutterstock | Getty Images
Double the Buttons, Double the Style:
Okay, this whole double-breasted look that is coming back into style…WE ARE INTO IT! It's so classic and chic, yet modern in fit and tailoring! Now, we know that the average groom or event going patron may not be totally committed to this Mr. Darcy style look. So, we are bringing a stylish compromise…be prepared in 2019 for our double-breasted vest. This will be a great way to achieve this look by keeping it modern, yet still paying homage to the style of the past. So keep your eyes peeled for our new collection coming later this year!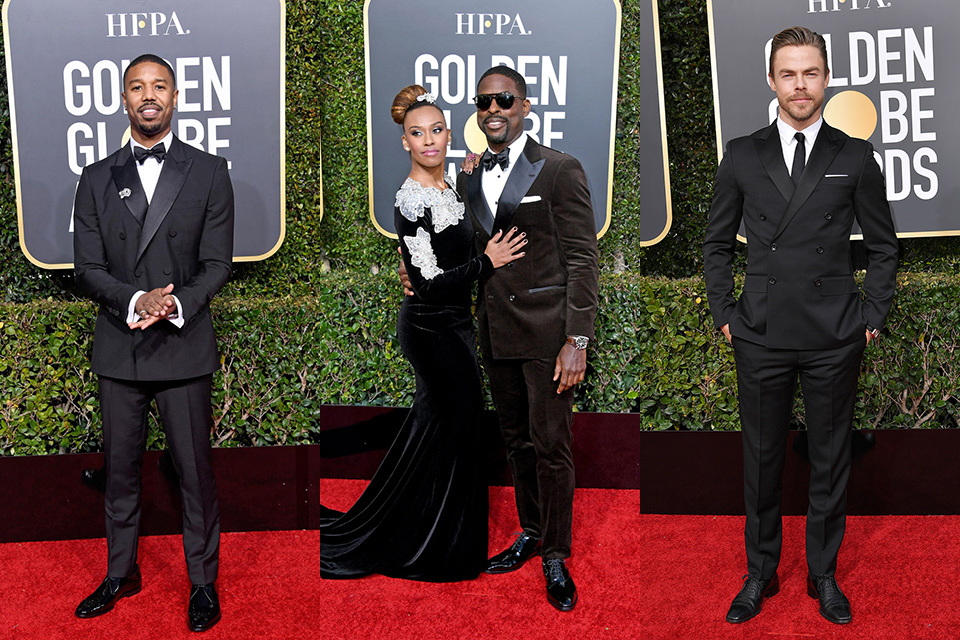 Photo Credit: Getty Images | Shutterstock | Getty Images
All Aboard the Navy Train!
Navy is a great way to bring color to a classic style tuxedo without going overboard or too bright. Navy looks great next to pretty much any dress color and still allows you to play with accessories and style. A way to enhance your navy look is to pair it with black pants for create a mix and match look to die for.
We have one of the largest collections of blue formalwear for rental online, we know you will find the perfect shade you are looking for.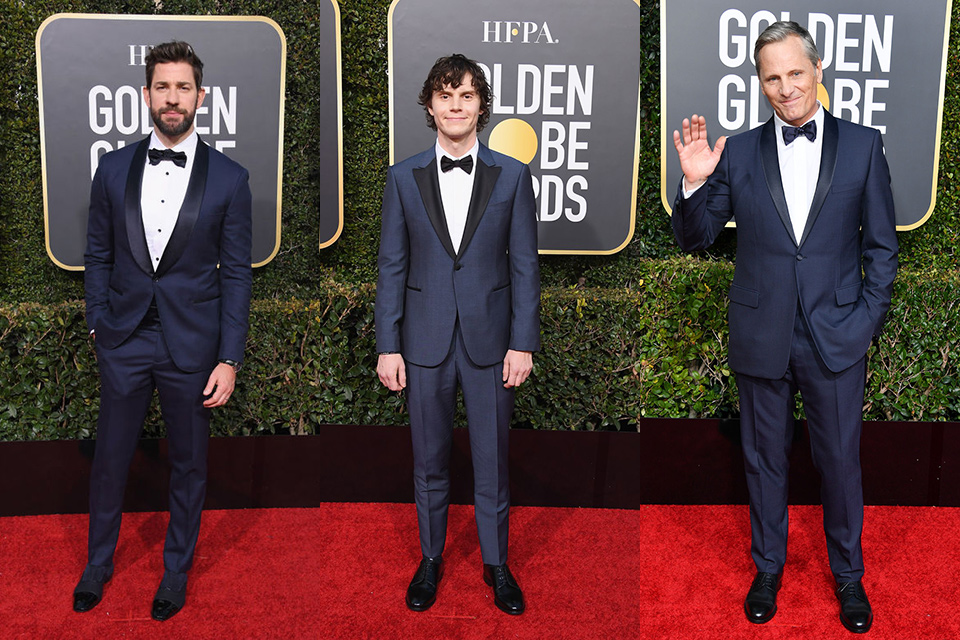 Photo Credit: Getty Images | Getty Images | WireImage
Fashion, Not for the Weak of Heart:
Pattern, color, and texture: Oh my! We love a great pattered dinner jacket! It makes a statement and instantly creates a presence when a person wearing one enters a room. This look can be done in bold ways like Darren Criss, in luxurious colors Idris Elba, or in subtle monochrome ways like Danny Franco. There is no right or wrong way, this is a look that just needs to speak to you on a fashion spiritual level.
Keep an eye out later this year on our own upcoming paisley tuxedo collection! #UpcomingStyle2019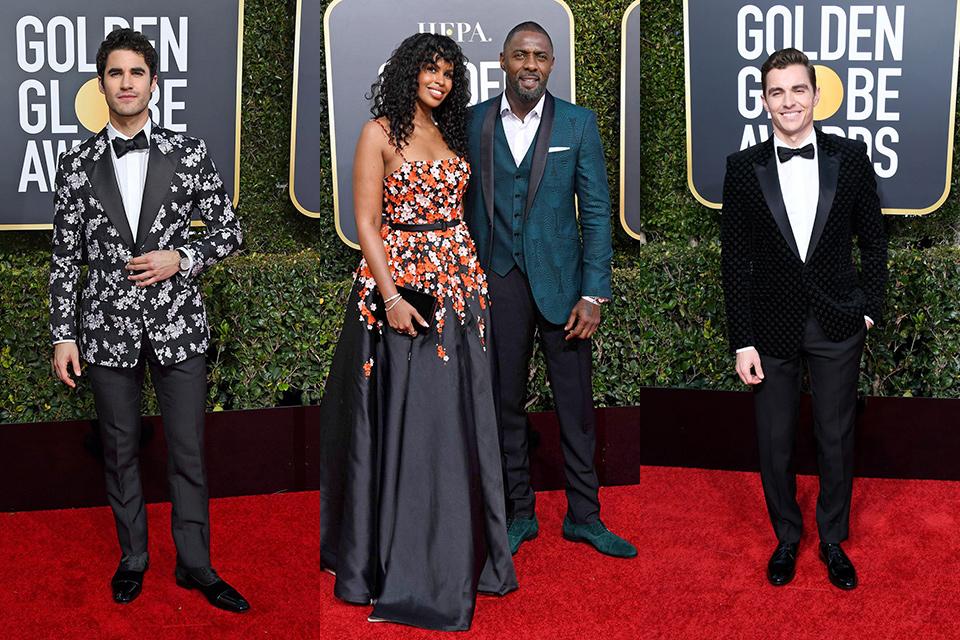 Photo Credit: Associated Press | Getty Images | Getty Images
The White/Ivory Tuxedo:
There are several ways to wear the white tuxedo: you can wear it stylish and trendy like Sir John David Washington and Sir Tony Shalhoub and pair your look with a black shirt underneath.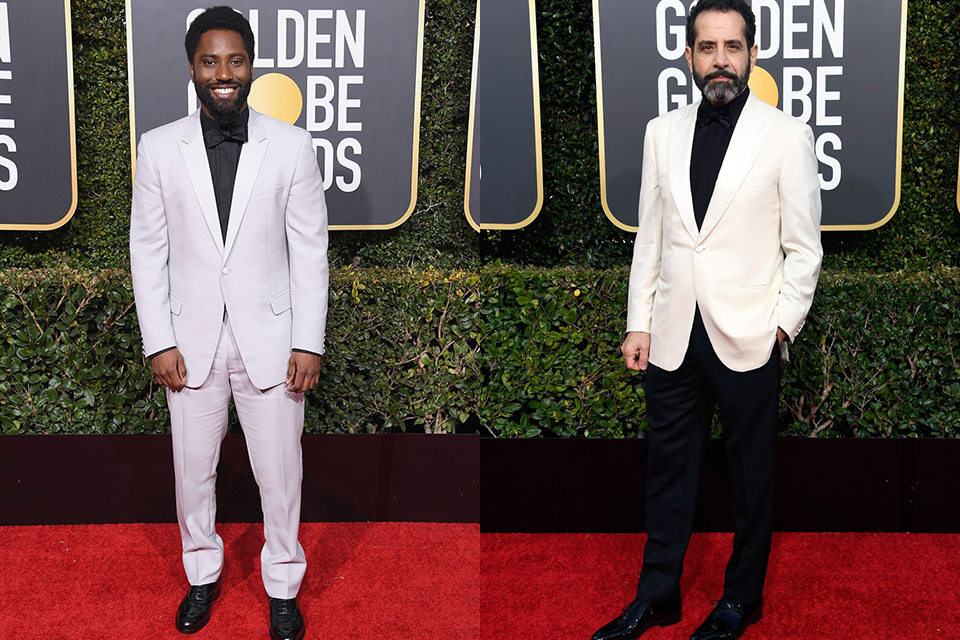 Or you can keep it more classic and dapper with a white shirt underneath like the great leading men: Luke Evans and Bradley Cooper.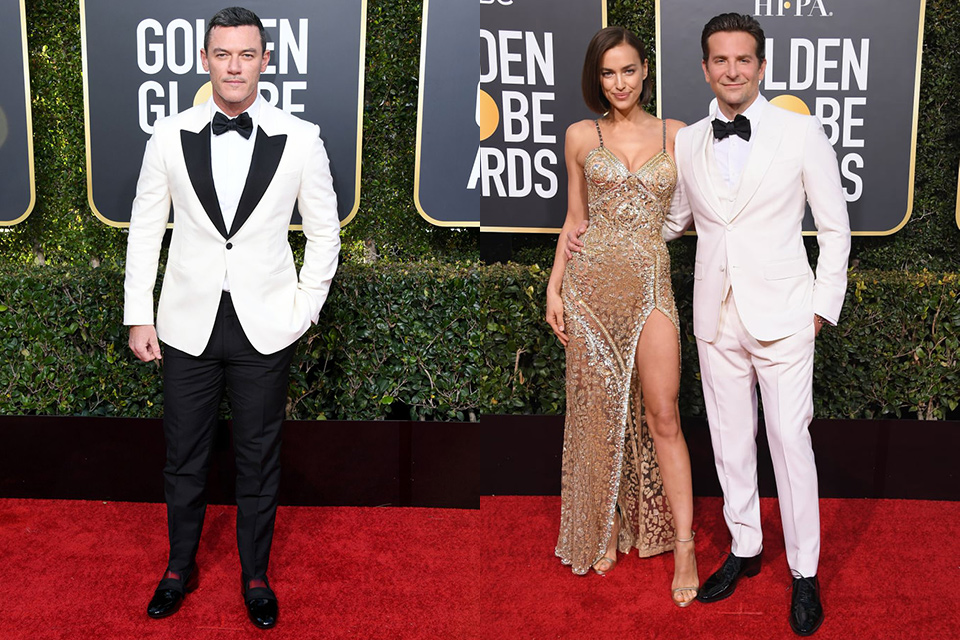 Photo Credit: Getty Images
Either way this look is amazing for fun white tie events and grooms. Grooms why not go with a white tuxedo look and your groomsmen in all black? Trendy yet still plays with the trendy themes of today. Check out all our white jacket ensembles today.
Accessories Game on Point:
We love accessories here at Stitch & Tie. There is something so personal about how one finishes their look. From the neckwear, jewelry, socks, shoes, lapel pins. You can take a simple look and make it completely your own depending on the little touches of style.
One trend that is becoming more and more popular is the slightly oversized bow tie. Note we are not talking about a bow tie that is so big it covered you like a giant turtleneck sweater. This look is ever so slightly bigger than the average bow tie. This look is bold without being obnoxious, it is style without taking away from your own personal glamour. We love how A.J. Gibson and Edgar Ramirez kept their oversized bows subtle with classic and perfectly fitting tuxedos. Making the look seem effortlessly styled and cool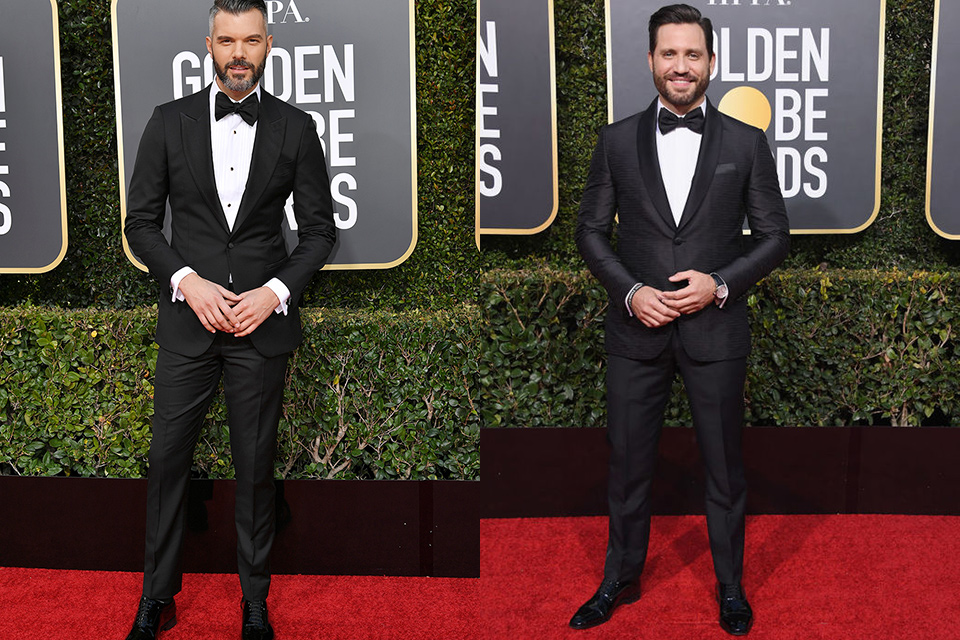 Photo Credit: Shutterstock | Getty Images
Shoes!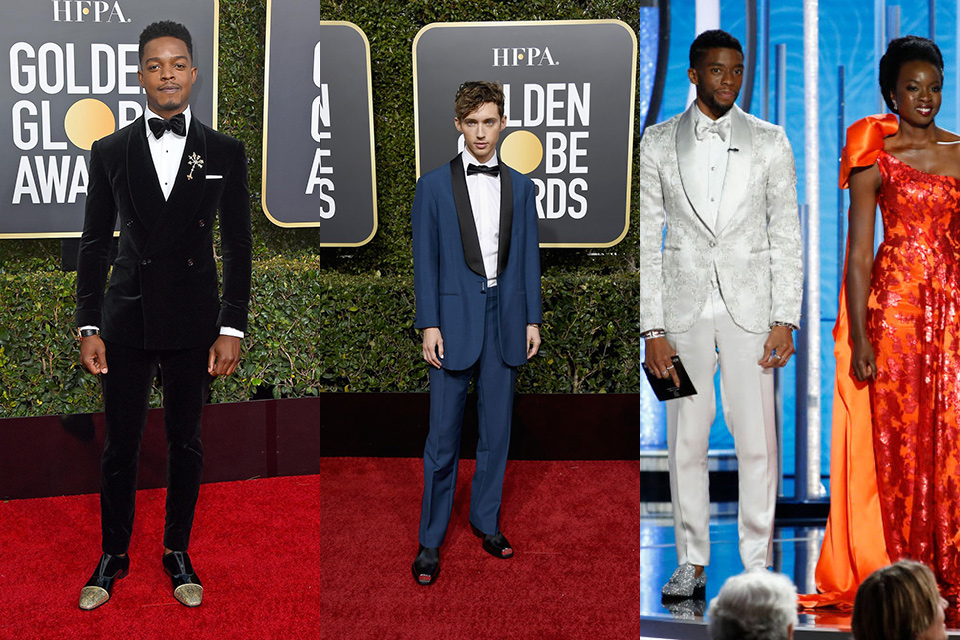 Photo Credit: Associated Press | Getty Images | Getty Images
Powerhouse Women:
We love to see a woman who is not afraid to rock a pants look at a red carpet event. There is something so powerful and strong about it. Not to mention it is always a fashion moment. We love the opposition in femininity in these two women's outfits. Judy Geer plays with the masculine tones of the traditional tuxedo, where Julia Roberts looks just as stunning as ever in this fun feminine jumpsuit.
To all out ladies out there: check out our women's tuxedo and create your own black tie look!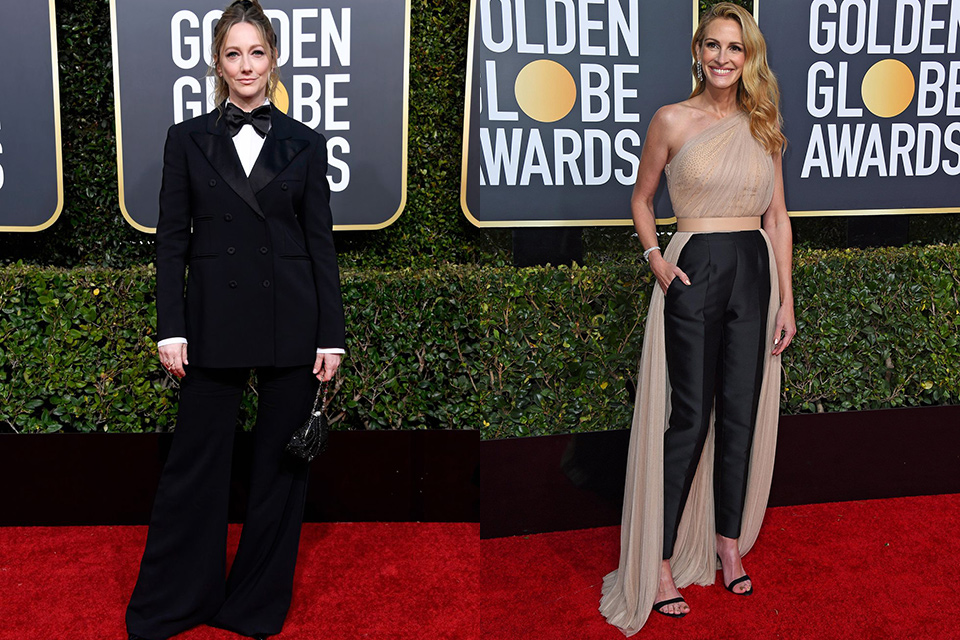 Photo Credit: Getty Images | Associated Press
Chat up one of our stylists about how to create your own red-carpet-worthy tuxedo look!
MOST READ BLOGS
ALICE IN WONDERLAND INSPI...

10 / 9 / 19 | Inspirational Photo Shoots

Venue: Chateau Adare
Photography: Stephanie Webber Photography
Menswear Style: Light Blue Suit with dark blue pants and a floral neck t

NATURE INSPIRED GRAND CAN...

22 / 5 / 17 | Inspirational Photo Shoots

Event Design: Deanna Nash Events
Photography: The Argus Image
Menswear Style: Slate Blue Notch Lapel Suit with a long silver tie

WOODLAND BOHEMIAN WEDDING

17 / 5 / 17 | Inspirational Photo Shoots

Coordination: Jenne Chanthaboury
Photography: Lin and Jirsa
Menswear Style: Gray Notch Lapel Suit with a long floral tie

PARK HYATT AVIARA BLACK T...

17 / 5 / 17 | Inspirational Photo Shoots

Venue: Park Hyatt Aviara
Photography: Evelyn Molina Photography
Menswear Style: Black Michael Kors Notch Lapel Tuxedo with a black bow

COLORFUL BOHEMIAN STYLE W...

16 / 5 / 17 | Inspirational Photo Shoots

Venue: Sherwood Country Club
Photography: Lucas Rossi Photography
Menswear Style: Navy Shawl Lapel Tuxedo with a black faux leather b

RUSTIC ROMANCE WEDDING

16 / 5 / 17 | Real Weddings

Venue: Villa San Juan Capistrano
Photography: Katelin Wallace Photography
Menswear Style: Navy Shawl Lapel Tuxedo with a black bow tie

HOW TO STYLE A WOMEN'S TU...

9 / 5 / 17 | Inspirational Photo Shoots

Venue: Franciscan Gardens
Photography: Christine Bentley Photography
Attire: Women's Black Shawl Lapel Tuxedo

2017 MET GALA BEST DRESSE...

2 / 5 / 17 | News and Events

The 2017 Met Gala theme was "Rei Kawakubo/Comme de Garcones: Art of the In-Betweens," check out how the celebs interpreted this on the red carpet

SAN FRANCISCO CITY HALL W...

1 / 5 / 17 | Inspirational Photo Shoots

Venue: San Francisco City Hall
Photography: Tenth & Grace
Menswear Style: Black Shawl Lapel Tuxedo with a black bow tie

BOHO CHIC VINEYARD WEDDIN...

14 / 3 / 17 | Inspirational Photo Shoots

Venue: Triunfo Creek Vineyards
Photography: Wisteria Photography
Menswear Style: Slate Blue Notch Lapel Suit with a long grey tie

LOVE STORY INSPIRED WEDDI...

13 / 3 / 17 | Inspirational Photo Shoots

Venue: Le Meridian Delfina Santa Monica
Photography: Anna Delores Photography
Menswear Style: Charcoal Gray Michael Kors Shawl Lapel Tu