2019 Emmys Best Tuxedo Looks
2019 Emmys Best Tuxedo Looks
9 / 27 / 19 | News and Events
Thank you celebrities for delivering awesome looks at the 2019 Emmy Awards! Here's our curation of the best looks of the evening and links to book these celebrity inspired tuxedos online through Stitch & Tie.
Squad Goals for Days…Or At Least Until Winter Officially Starts
Yes the end of Game of Thrones has happened and we are still recovering, but we are also trying to recover from these amazing looks the leading men were serving us on the red carpet! Nikolaj Coster-Waldau wore a satin finished embossed gold coat, which he paired with a shinier black tuxedo pant and bow tie. Alfie Allen wore a deep navy tuxedo with simple black accessories. John Bradley wore a simple tuxedo with a black long tie and a detailed pocket square. Liam Cunningham wore a personal favorite look of ours, a black velvet tuxedo with a slightly oversized bow tie. While the Three-Eyed Raven/youngest living male Stark/Bran the Broken/ The King….whatever you feel like calling him- wore a uber chic double-breasted tuxedo with a fun patterned bow tie. All these men wore their looks perfectly, and each had their tuxedos perfectly tailored in a slim fitting way (this is key for any suit or tuxedo!).
Shop the black tuxedo look here: Rent a Black Tux Online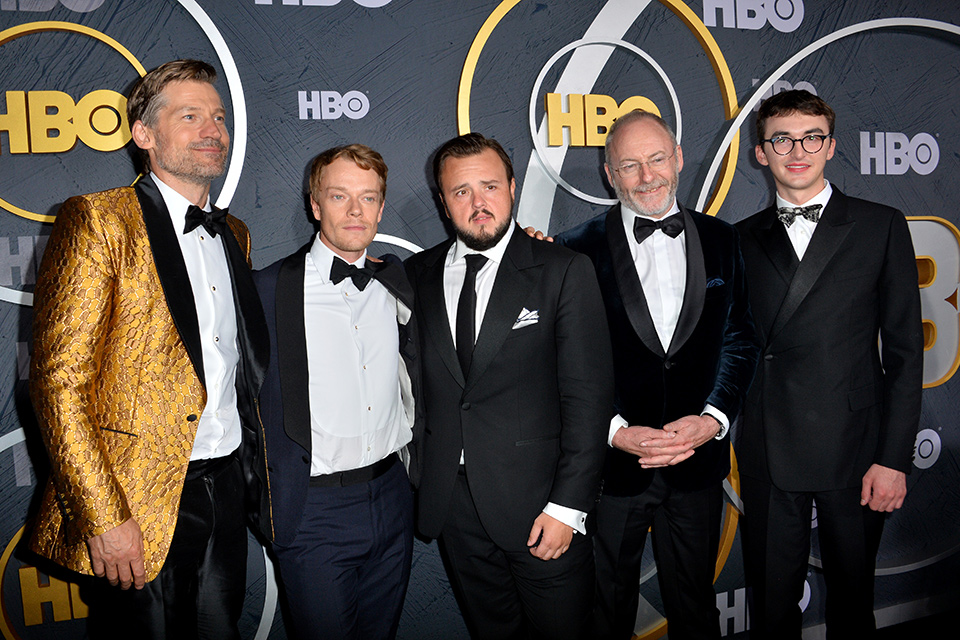 Photo Credit: Featureflash Photo Agency / Shutterstock.com
Blue + Tuxedo = Classic Perfection
Navy is just classic. That's just all there is to it, and these A-listers know how to perfectly rock them! Jason Bateman wore a navy tuxedo with a black peak lapel and a simple black bow tie (and his Emmy in hand, but not all of us can get that accessory). While Seth Meyers work his deep midnight blue tuxedo with a black shawl lapel and black bow tie. We love seeing a navy tuxedo with classic accessories, it brings out the color and chicness of the overall look.
Shop the blue tuxedo look here: Rent a Blue Suit or Tuxedo Online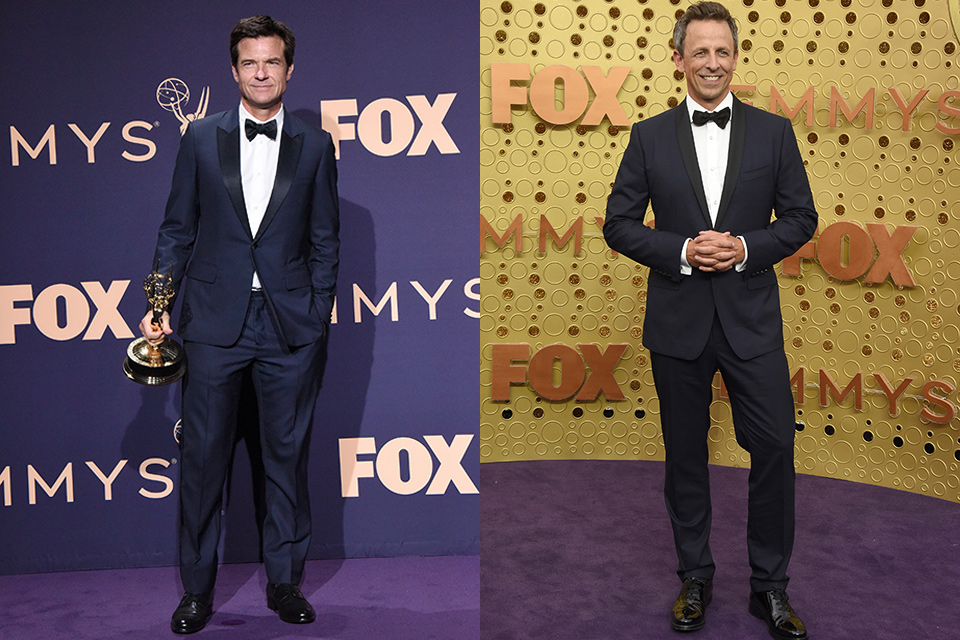 Photo Credit (from left to right): Kathy Hutchins . John Photography / Shutterstock.com
The Updated Neutral
What you are seeing here folks is the neutral of 2020 (yes we know it is the 2019 Emmys, were just trying to prepare you for what is to come). Gold, bronze, ivory, chocolate…this color scheme is just a sneak peak on what is to come for this years fashion and we are loving every moment of it! Yes, that is Nikolaj Coster-Waldau again- what can we say, we are obsessed with his gold coat! Antoni Porowski modernized the traditional ivory sports coat look by having it in a double-breasted style and tailored to perfect! Kendrick Sampson made our jaws drop to the ground in this bronze velvet tuxedo with black accessories. While our favorite father son comedy duo made our fashion hearts soar, Eugene Levy wore a classic navy tuxedo while his son Daniel wore a deep chocolate double-breasted tuxedo.
Shop the neutral tuxedo look here: Rent a Brown or White Neutral Tuxedo Online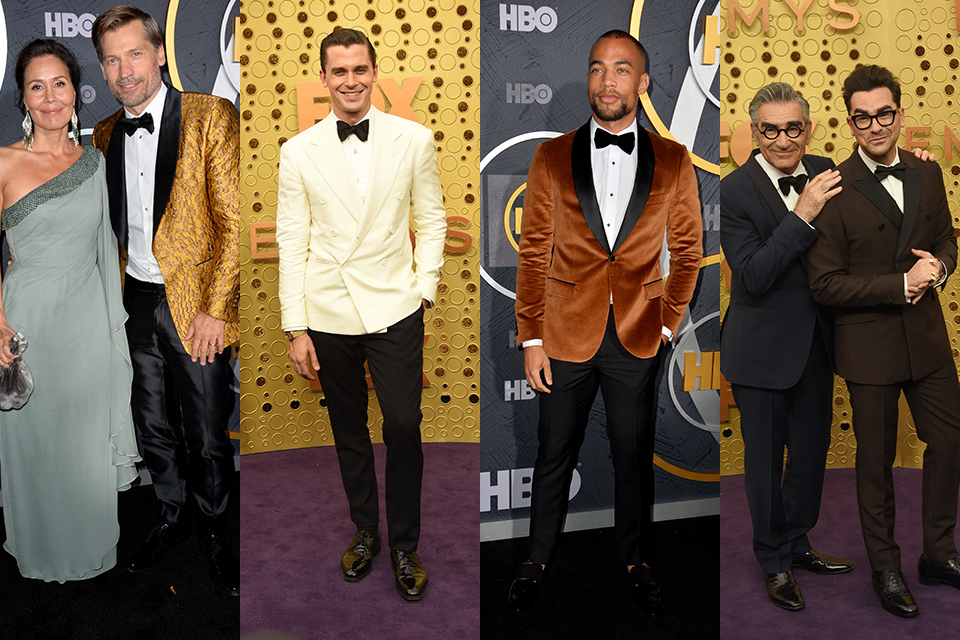 Photo Credit (from left to right): Featureflash Photo Agency . Kathy Hutchins . Featureflash Photo Agency . Kathy Hutchins / Shutterstock.com
Purple Tuxedo Power!
Is this the new color of the award season? Well that is still yet to be determined since we are only one big award in, but it certainly was the color of the 2019 Emmys! Tom Kaulitz paired his black tuxedo with a deep purple shirt in an unbuttoned relaxed style. William Jackson Harper wore a uber dapper plum colored tuxedo with an interesting embossed texture. While Lucas Adams wore is purple look in a brighter color with complimenting black pants and accessories.
Photo Credit (from left to right): Featureflash Photo Agency . Kathy Hutchins . Michael Mattes / Shutterstock.com
From High Contrast to Monochrome Tuxedo Styles
A major trend that is not new to the red carpet, but seemed to be out in abundance at this years awards was wearing a black shirt with a tuxedo look. This is a great way to make your colorful or patterned tux pop, but is also a great way to play with textures in a more subdued monochrome way. Courtney B Vance wore his deep purple tuxedo with a black shirt to make his shimmering lapel pop. Sterling K Brown wore a bold red tuxedo with his black shirt and a red velvet bow tie. Asante Blackk wore his bright and bold lighter blue tuxedo with his black shirt and white studs for and extra accessory choice. And Dyllon Burnside kept his look all black, allowing his perfect tailoring and winning smile steal the show.
Shop the high fashion tux look here: Rent a Colorful Tuxedo Online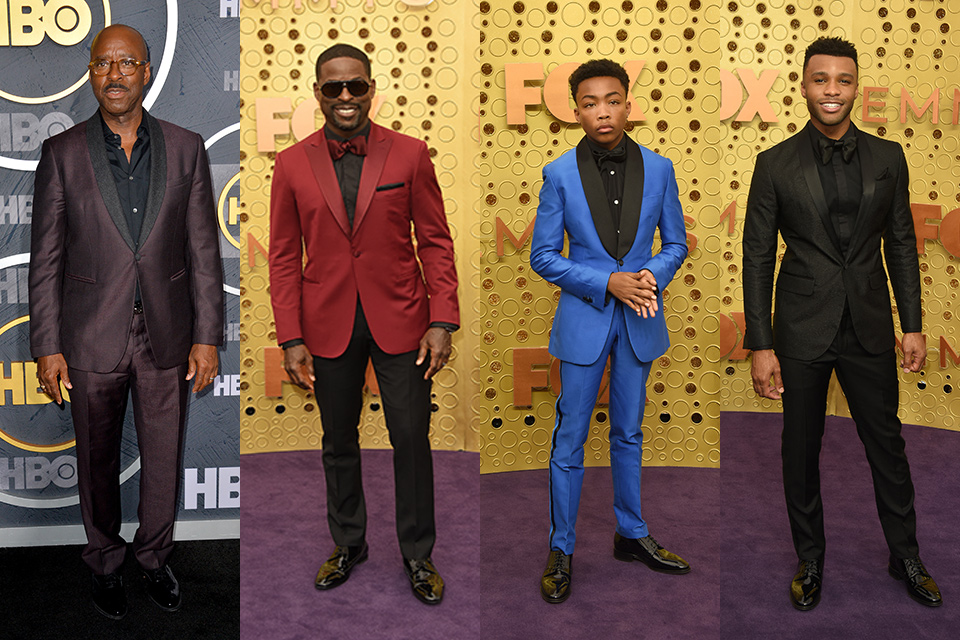 Photo Credit (from left to right): Featureflash Photo Agency . Kathy Hutchins . Kathy Hutchins . Kathy Hutchins / Shutterstock.com
The Power Pose
Women wearing tuxedos or jumpsuits may be some of our favorite moments on any red carpet, and these ladies did not disappoint! Jennifer Morrison wore a formfitting jumpsuit with a long train and a silver glittering bodice. While Clea DuVall more a traditional tuxedo style with a black satin lapel, tuxedo pants, and an oversized bow tie to pull it all together.
Shop the women's tux look here: Rent a Women's Tuxedo Online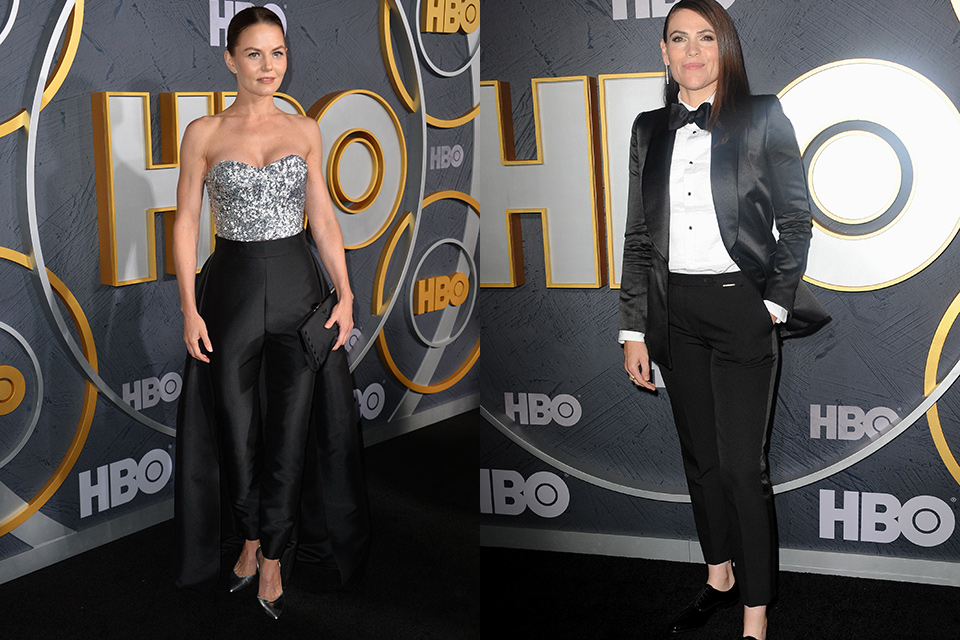 Photo Credit (from left to right): Featureflash Photo Agency . Tinseltown / Shutterstock.com
MOST READ BLOGS
NATURE INSPIRED GRAND CAN...

22 / 5 / 17 | Inspirational Photo Shoots

Event Design: Deanna Nash Events
Photography: The Argus Image
Menswear Style: Slate Blue Notch Lapel Suit with a long silver tie

WOODLAND BOHEMIAN WEDDING

17 / 5 / 17 | Inspirational Photo Shoots

Coordination: Jenne Chanthaboury
Photography: Lin and Jirsa
Menswear Style: Gray Notch Lapel Suit with a long floral tie

PARK HYATT AVIARA BLACK T...

17 / 5 / 17 | Inspirational Photo Shoots

Venue: Park Hyatt Aviara
Photography: Evelyn Molina Photography
Menswear Style: Black Michael Kors Notch Lapel Tuxedo with a black bow

COLORFUL BOHEMIAN STYLE W...

16 / 5 / 17 | Inspirational Photo Shoots

Venue: Sherwood Country Club
Photography: Lucas Rossi Photography
Menswear Style: Navy Shawl Lapel Tuxedo with a black faux leather b

RUSTIC ROMANCE WEDDING

16 / 5 / 17 | Real Weddings

Venue: Villa San Juan Capistrano
Photography: Katelin Wallace Photography
Menswear Style: Navy Shawl Lapel Tuxedo with a black bow tie

HOW TO STYLE A WOMEN'S TU...

9 / 5 / 17 | Inspirational Photo Shoots

Venue: Franciscan Gardens
Photography: Christine Bentley Photography
Attire: Women's Black Shawl Lapel Tuxedo

2017 MET GALA BEST DRESSE...

2 / 5 / 17 | News and Events

The 2017 Met Gala theme was "Rei Kawakubo/Comme de Garcones: Art of the In-Betweens," check out how the celebs interpreted this on the red carpet

SAN FRANCISCO CITY HALL W...

1 / 5 / 17 | Inspirational Photo Shoots

Venue: San Francisco City Hall
Photography: Tenth & Grace
Menswear Style: Black Shawl Lapel Tuxedo with a black bow tie

BOHO CHIC VINEYARD WEDDIN...

14 / 3 / 17 | Inspirational Photo Shoots

Venue: Triunfo Creek Vineyards
Photography: Wisteria Photography
Menswear Style: Slate Blue Notch Lapel Suit with a long grey tie

LOVE STORY INSPIRED WEDDI...

13 / 3 / 17 | Inspirational Photo Shoots

Venue: Le Meridian Delfina Santa Monica
Photography: Anna Delores Photography
Menswear Style: Charcoal Gray Michael Kors Shawl Lapel Tu

CITY ENGAGEMENT PHOTOS IN...

10 / 3 / 17 | Inspirational Photo Shoots

Venue: The London House
Photography: Rosanna Hanson Photography
Menswear Style: Charcoal Gray Michael Kors Notch Lapel Tuxedo with a na