2017 Met Gala Best Dressed Men
2017 Met Gala Best Dressed Men
5 / 2 / 17 | News and Events
The Metropolitan Museum of Art holds the Met Gala the first Monday of May every year to fund it's only self-funded department, the Costume Institute (or the fashion department). About 600 people attend and tickets are an easy $30K a pop. This year's theme was Rei Kawakubo/Comme de Garcones: Art of the In-Betweens. If you're one of the 99.9% of people that don't know that reference, check out this NY Times article which explains the Met Gala 2017 theme. What do we love about the Met Gala? It's a black-tie event but people go in an atypical direction with their looks. Men embrace their creative ideas, or the ideas of their stylists, and try unusual pieces and combinations. This year Rami Malek got props for his pure red ensemble, we loved Joe Jonas in burgundy, all the white dinner jackets were a little safe for the event but looked super sharp, and Tom Brady in Tom Ford rounded out our favorites. Check out all the details and how to create your own look below.
Ryan Reynolds and Blake Lively, need we say more? If one thing is certain...it's that Ryan Reynolds knows how to rock a navy blue suit and light blue bow tie.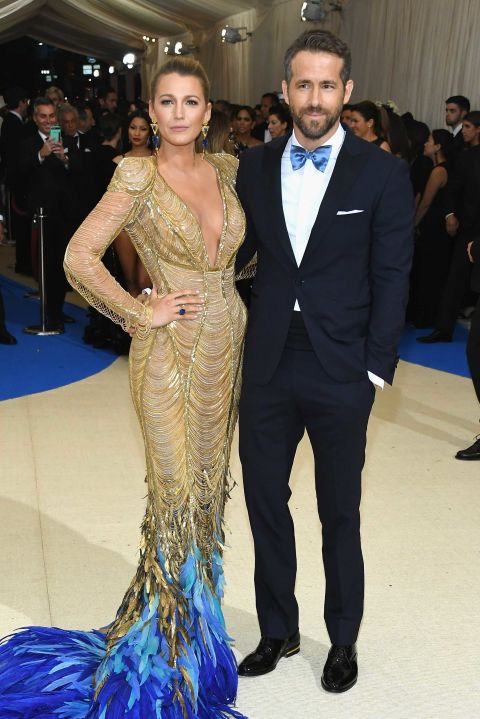 Photo Credit: Esquire.com
Eddie Redmayne rocked his blue tuxedo look with a double breasted coat and matching bow tie.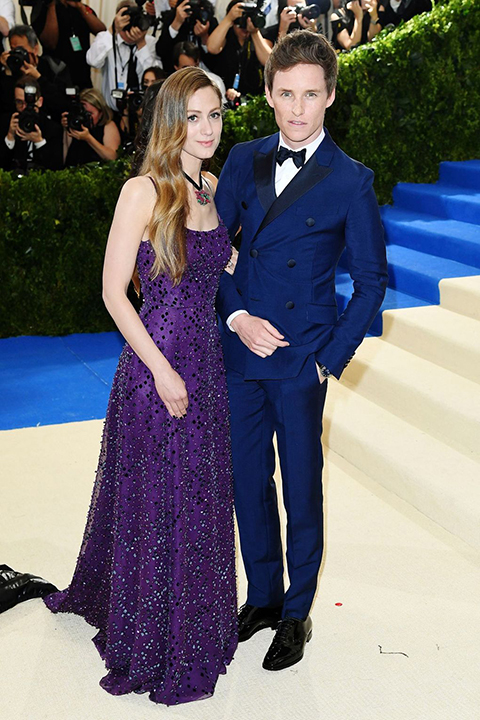 Photo Credit: GQ.com
Presley Gerber went with this blue suede tuxedo coat style that seems to be gaining popularity on the red carpet these days.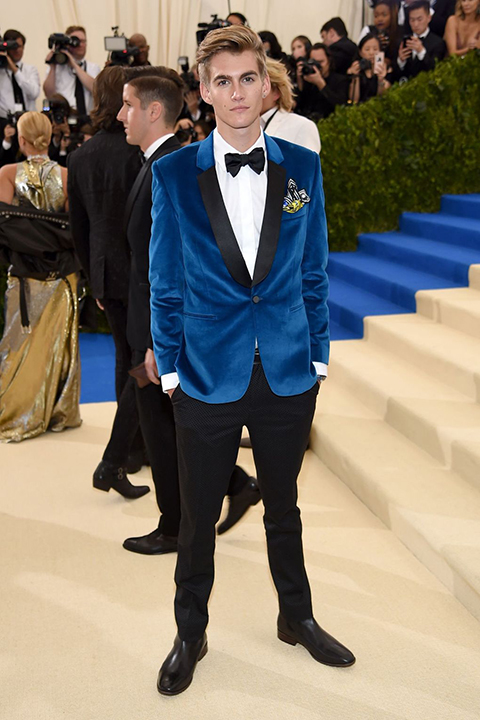 Photo Credit: GQ.com
Ansel Elgort played it safe with his white dinner jacket and black bow tie combo, but still looking sharp as always.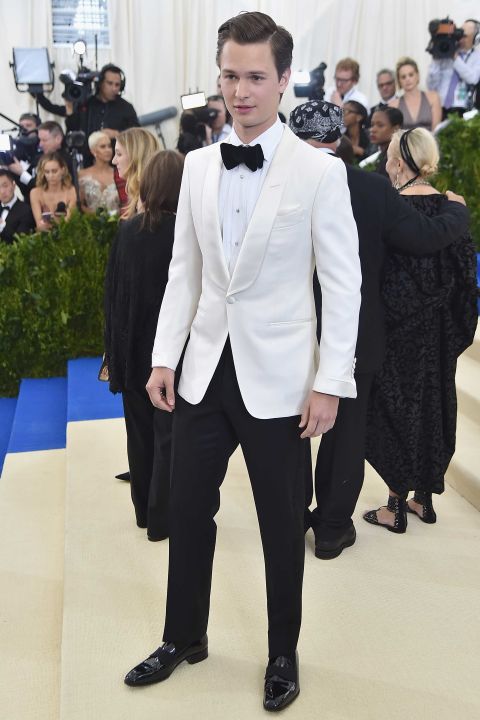 Photo Credit: Esquire.com
John Legend went with a Burberry white dinner jacket and black tie, and continues to be relationship goals with Chrissy Teigen.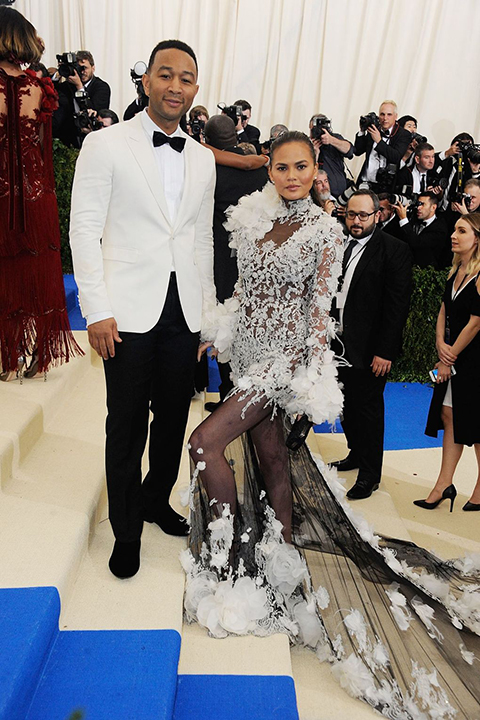 Photo Credit: GQ.com
Alexander Skarsgard showed us more of the same white dinner jacket and black bow tie, but still looked as sharp as ever.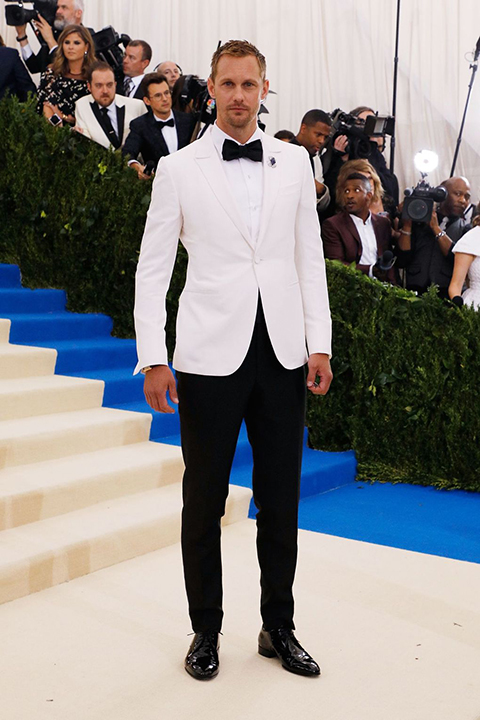 Photo Credit: GQ.com
Joe Jonas met and exceeded our burgundy expectations with this pin stripe H&M tuxedo.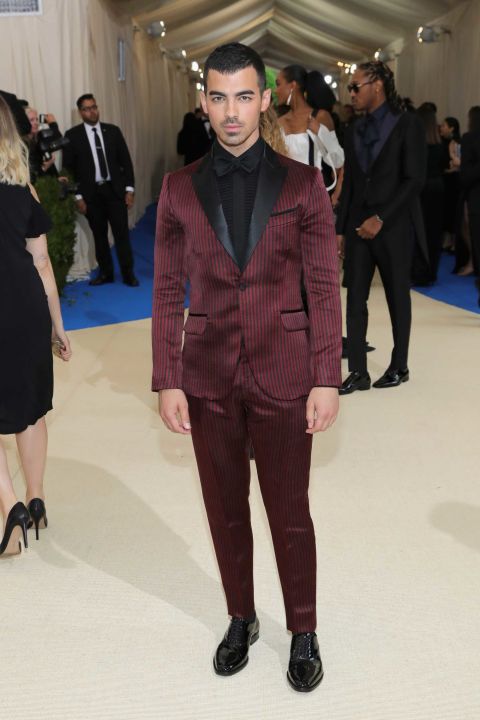 Photo Credit: Esquire.com
Nick Jonas went with a fun, patterned design on his Ralph Lauren tuxedo while balancing it out with a simple black bow tie.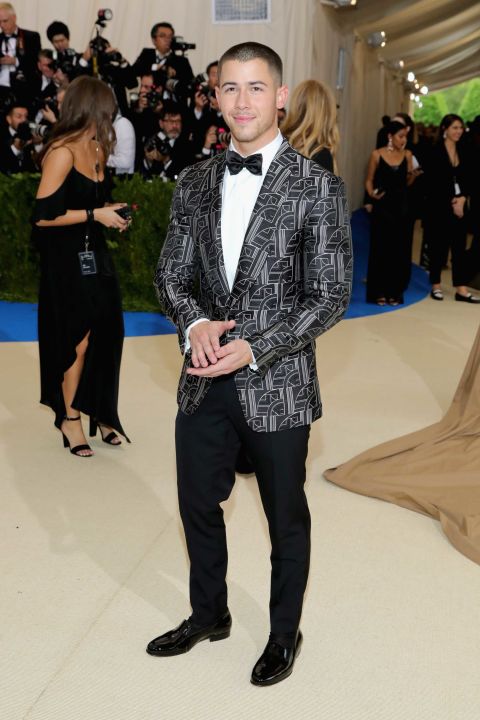 Photo Credit: Esquire.com
Tom Brady wearing Tom Ford, how fitting. He always knows how to look good on the red carpet, and this grey suede number is no exception.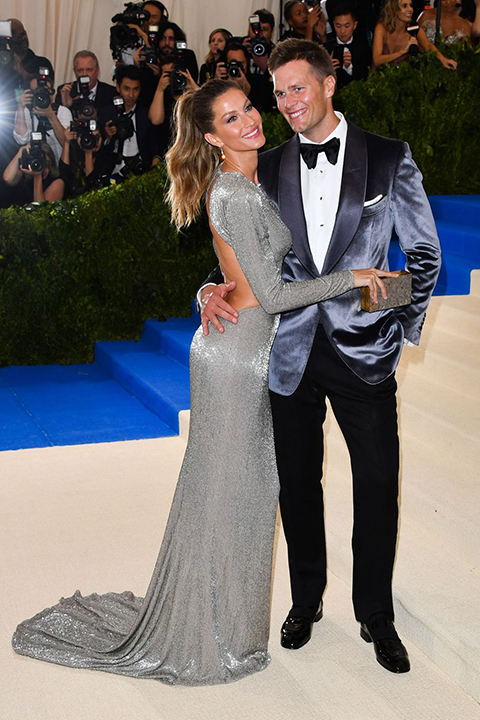 Photo Credit: GQ.com
We can't figure out where the red carpet starts and where Rami Malek ends! Going for a bold red tuxedo by Dior Homme, it was definitely a look that paid off for him.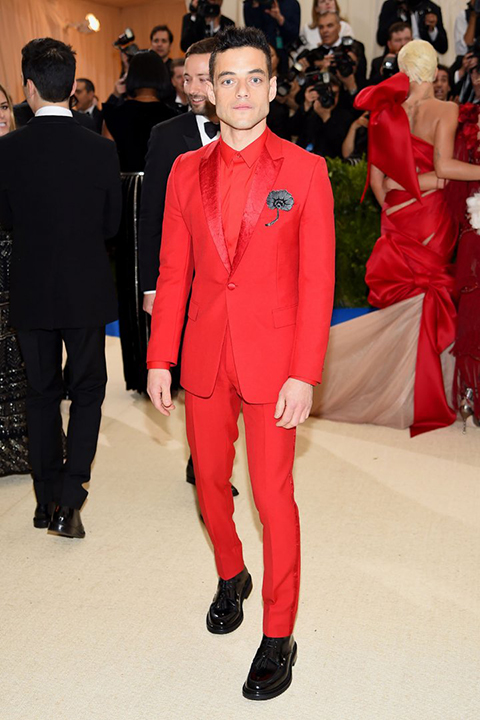 Photo Credit: Hollywoodreporter.com
Future adds a little interest to his black tuxedo look with a navy blue peak lapel and ruffled dress shirt.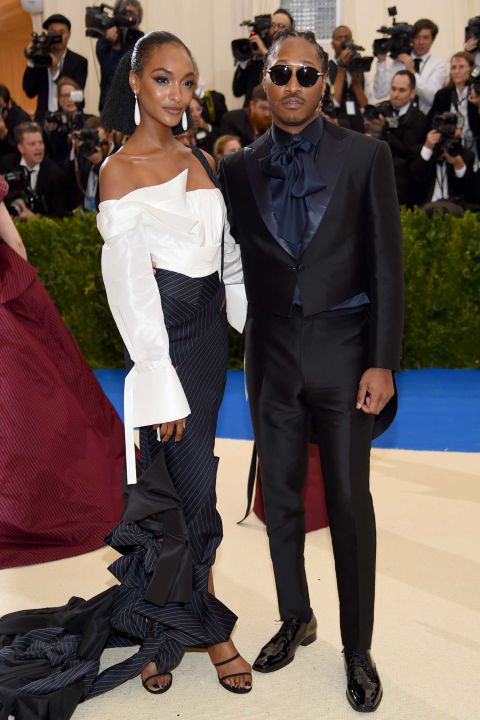 Photo Credit: Esquire.com
Riz Ahmed goes with a more casual all-black look, opting out of wearing a tie for his red carpet debut.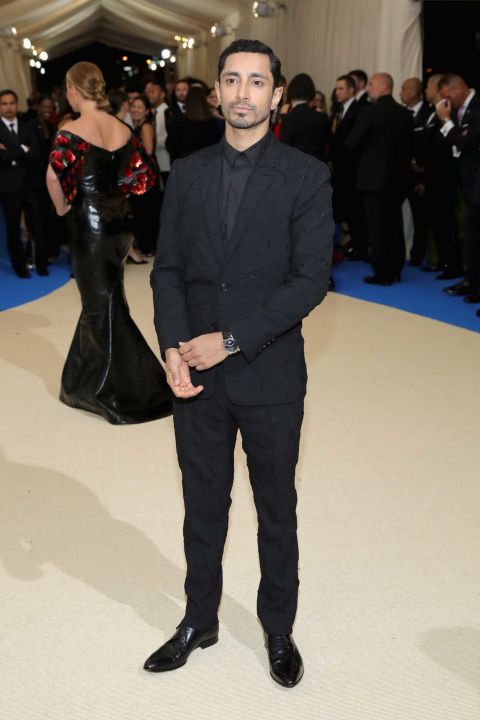 Photo Credit: Esquire.com
Bobby Cannavale keeps it dark on the red carpet with an all black Ralph Lauren tuxedo and black tie.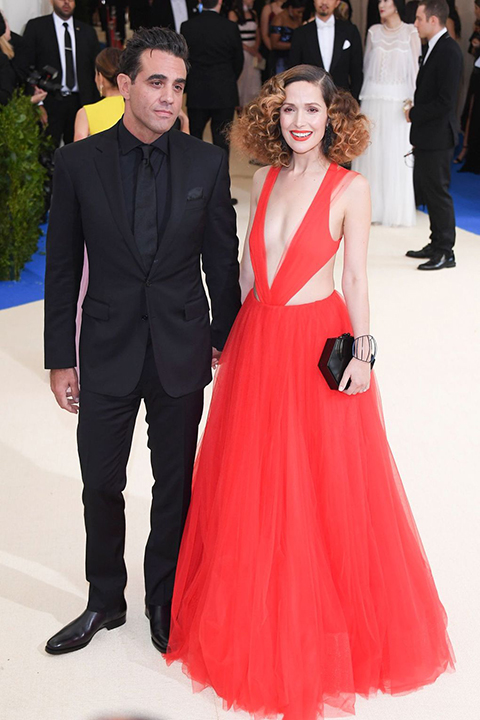 Photo Credit: GQ.com
Luke Evans known for his role in Beauty and the Beast, can be seen on the red carpet keeping his look simple and elegant wearing Louis Vuitton.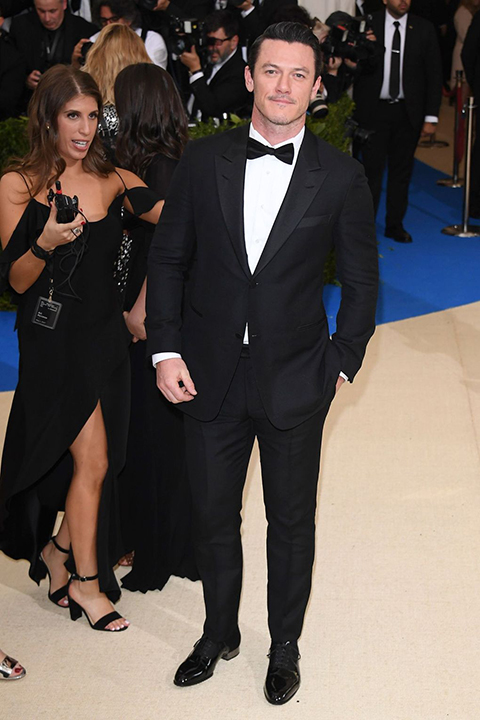 Photo Credit: GQ.com
The Weeknd can't feel his face when he is looking sharper than ever on the red carpet in a solid black tuxedo and bow tie.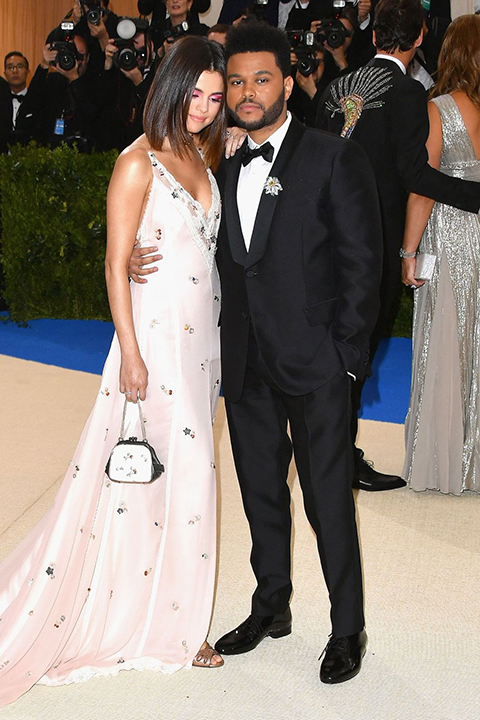 Photo Credit: GQ.com
Matt Smith kept his look classic in a black Burberry tuxedo, but added a unique touch with his large, slouchy bow tie. Sometimes all you need is a cool accessory to stand out.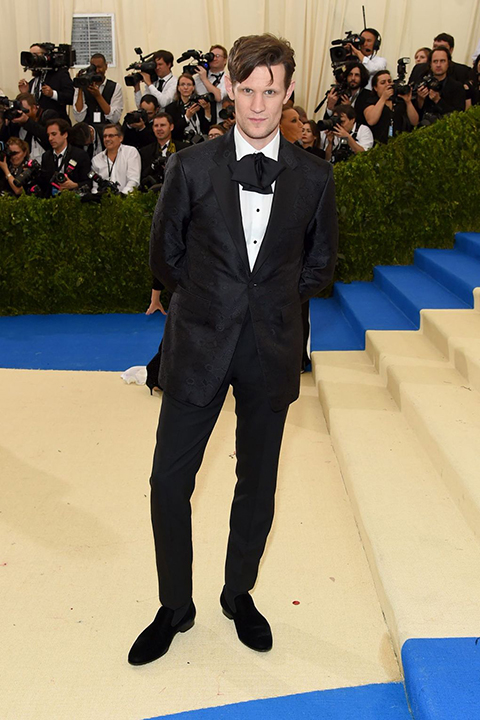 Photo Credit: GQ.com
Create your Met Gala-worthy look with our customizable online tuxedo rental system now. Our stylists are happy to assist with styling questions via email, chat or phone.
MOST READ BLOGS
NATURE INSPIRED GRAND CAN...

22 / 5 / 17 | Inspirational Photo Shoots

Event Design: Deanna Nash Events
Photography: The Argus Image
Menswear Style: Slate Blue Notch Lapel Suit with a long silver tie

WOODLAND BOHEMIAN WEDDING

17 / 5 / 17 | Inspirational Photo Shoots

Coordination: Jenne Chanthaboury
Photography: Lin and Jirsa
Menswear Style: Gray Notch Lapel Suit with a long floral tie

PARK HYATT AVIARA BLACK T...

17 / 5 / 17 | Inspirational Photo Shoots

Venue: Park Hyatt Aviara
Photography: Evelyn Molina Photography
Menswear Style: Black Michael Kors Notch Lapel Tuxedo with a black bow

COLORFUL BOHEMIAN STYLE W...

16 / 5 / 17 | Inspirational Photo Shoots

Venue: Sherwood Country Club
Photography: Lucas Rossi Photography
Menswear Style: Navy Shawl Lapel Tuxedo with a black faux leather b

RUSTIC ROMANCE WEDDING

16 / 5 / 17 | Real Weddings

Venue: Villa San Juan Capistrano
Photography: Katelin Wallace Photography
Menswear Style: Navy Shawl Lapel Tuxedo with a black bow tie

HOW TO STYLE A WOMEN'S TU...

9 / 5 / 17 | Inspirational Photo Shoots

Venue: Franciscan Gardens
Photography: Christine Bentley Photography
Attire: Women's Black Shawl Lapel Tuxedo

SAN FRANCISCO CITY HALL W...

1 / 5 / 17 | Inspirational Photo Shoots

Venue: San Francisco City Hall
Photography: Tenth & Grace
Menswear Style: Black Shawl Lapel Tuxedo with a black bow tie

BOHO CHIC VINEYARD WEDDIN...

14 / 3 / 17 | Inspirational Photo Shoots

Venue: Triunfo Creek Vineyards
Photography: Wisteria Photography
Menswear Style: Slate Blue Notch Lapel Suit with a long grey tie

LOVE STORY INSPIRED WEDDI...

13 / 3 / 17 | Inspirational Photo Shoots

Venue: Le Meridian Delfina Santa Monica
Photography: Anna Delores Photography
Menswear Style: Charcoal Gray Michael Kors Shawl Lapel Tu

CITY ENGAGEMENT PHOTOS IN...

10 / 3 / 17 | Inspirational Photo Shoots

Venue: The London House
Photography: Rosanna Hanson Photography
Menswear Style: Charcoal Gray Michael Kors Notch Lapel Tuxedo with a na

LOVE POTION INSPIRED WEDD...

27 / 2 / 17 | Inspirational Photo Shoots

Venue: Viejas Casino & Resort
Photography: This Rad Love
Menswear Style: Burgundy Shawl Lapel Tuxedo with a black bow tie